On paper, Netflix's new teen drama Grand Army looks like a game-changer. The show presents itself as a powerful, nuanced depiction of adolescents in present-day New York City: traumatized, tired, yet stubbornly immune to despair. Perhaps most crucially, Grand Army's cast looks like the youth of New York City; most of the series' main characters are people of color. But peeling back the curtain on the writer's room reveals a now-familiar waft of controversy—aaaand inevitable Twitter drama. To understand why a dark cloud now hovers over the release, we did a little digging into the backlash.
So what's the deal with this show?
Grand Army is the creation of teacher, playwright and director Katie Cappiello, who lifted material—most obviously protagonist Joey—from her celebrated play Slut, first written and directed in 2013. But the Netflix production goes far beyond the limited world of Slut; it expands to follow five main characters as they navigate the trials and tribulations of high school. There's Joey, a dancer and activist who perhaps fails to see her own faults. There's Dom, hard-working but weighed down by her family's financial troubles. Sid's on the swim team, but after a terrorist attack rocks the neighborhood, he's terrified of being racially profiled by classmates. Jayson plays saxophone and likes some innocent fun…until that fun's not so innocent anymore. Finally, there's Leila, the Chinese-born daughter of white Jewish parents, who wants to be an actress but is bullied, somewhat perplexingly, by the Chinese students at her high school.
The production might seem a shining example of how casts ought to work in 2020. But that polished image was rocked back in early September, when the trailer for Grand Army dropped, and playwright and screenwriter Ming Peiffer aired her grievances on Twitter.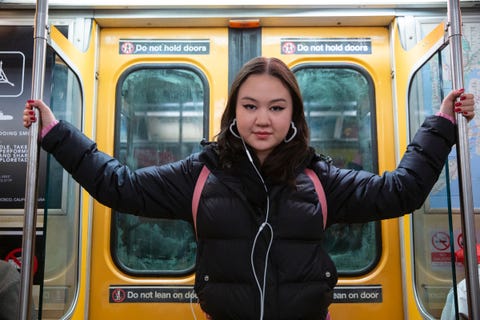 What did Peiffer say?
Peiffer's first tweet to catch widespread attention was a quote tweet of the trailer itself, in which she wrote and alleged, "Me and the 3 writers of color who worked on the show quit due to racist exploitation and abuse. The show runner and creator went full Karen and called Netflix hr on the Black writer in the room for getting a haircut. Yes you read that correctly. Who wants to interview us?" That so-called Karen was, of course, Cappiello.
After correcting herself by clarifying that there were three total writers of color on set, including herself, Peiffer continued to explain on the alleged racism she experienced. In particular, she shared her frustration with the wording in the trailer.
Source: Read Full Article