Hoda Kotb is a steady presence on the Today Show every weekday morning, yet on Dec. 21 fans saw the NBC co-host with quite a different look. Apparently Kotb experienced quite a dyeing disaster when she went to get her hair done.
Hoda's 'happy accident'
Kotb explained to viewers and guest co-host Sheinelle Jones how she wanted to make sure she looked coiffed for her arriving family.
"My whole family's coming today so I decided I wanted to do that keratin treatment I like to do," Kotb said on Today with Hoda & Jenna. "It just takes the frizz out so I'm like 'I'll do that early, I'm gonna be on it. '"
Usually sporting intertwining blonde and caramel strands, the Today star shared that what she came out with was something she's considering a "happy accident". After getting her hair done by her stylist, Kotb was stunned with the finished product.
"Three hours later, I got up and it was like fire-engine orange – like Bozo orange," Kotb revealed, chalking it up to a chemical reaction and adding that her stylist is "amazing". "I looked and I go 'What happened?'… I think it was something funky with the chemicals."
'Today Show' star got a 3:15 a.m. color correction
Jones thought Kotb was exaggerating on the outcome of her hair process, so the NBC anchor held up a Kleenex box to provide an example of her hair's shocking color.
"It was like this orange on the Kleenex box," Kotb remarked. "I was like an orange Q-tip."
Thankfully, the mom of two was able to get an early-morning (as in 3:15 a.m. early) redo on set by her stylist and is now enjoying life as a brunette. "She just started putting stuff on it and it's dark brown now, so that's the way it is," Kotb said. "So there."
The color chaos earned a post on the Today Show's Instagram account, with accolades for Kotb's mahogany mane.
"Bye-bye, blond highlights!" the caption read alongside a photo of Kotb pre-color change. "So long, caramel undertones! @hodakotb has a stylish new do! And we'll be BRB because we're about to call our own hairstylist for this look."
Viewers raved over the 'Today' star's new look
Fans flocked to post their praise of Kotb's darker 'do and many hope she stays with the new shade.
"Love, Love, Love the hair color!!!" a viewer wrote.
"Looks better really," another remarked.
"LOVE IT!!! You look amazing being a brunette!!!" a fan posted.
"It looks great!!!!!! Keep it!" a follower advised.
"Absolutely looks sooo much better!! Love it Hoda! It actually makes you look younger and your eyes pop!!" another fan commented.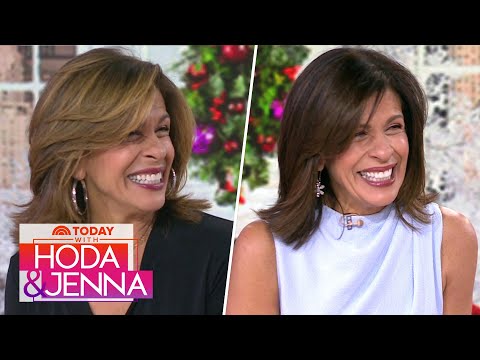 Kotb may soon be sharing a family fashion look for the holidays with a tradition she launched with fiancé Joel Schiffman and their two daughters, Haley, 4, and Hope, 2.
"We all started the tradition of wearing the same Christmas jammies, which I'm not sure if Joel ever really liked, but he plays along," Hoda said last year, as reported by Prevention. "And every year they're different."
Source: Read Full Article