Hunter King is fire. Every show needs a resident schemer, and for "The Young and the Restless," that character is Summer Newman. When the young Newman is not plotting to have things her way, she finds herself entangled in interesting relationships. Just when Summer thought that she and Kyle Abbott, played by Michael Mealor, had finally found their happy ending, a secret love child pops up. Of course, Sally Spectra, played by Courtney Hope, is using Kyle's son to get Summer out of the way for once and for all. The latest plot developments have sparked rumors that she may be leaving the show, per The Sun.
The two-time Daytime Emmy Award winner is super talented. She owned the role of mean girl Adriana Masters on "Hollywood Heights," per TV Source, and showed another side of her acting skills when she landed the role of Clementine Hughes in the sitcom "Life in Pieces." She once compared the genres and told Soaps.com, "You don't know if they want you to improvise or if you'll get a laugh from the crew." King added, "It's just a whole other beast from soaps but I love that."
But there's more to King than what meets the eye. Keep scrolling to find out more about the actor that has the gifts of comedic timing and an ability to turn on the tears at the drop of a hat.
Hunter King chose her fate early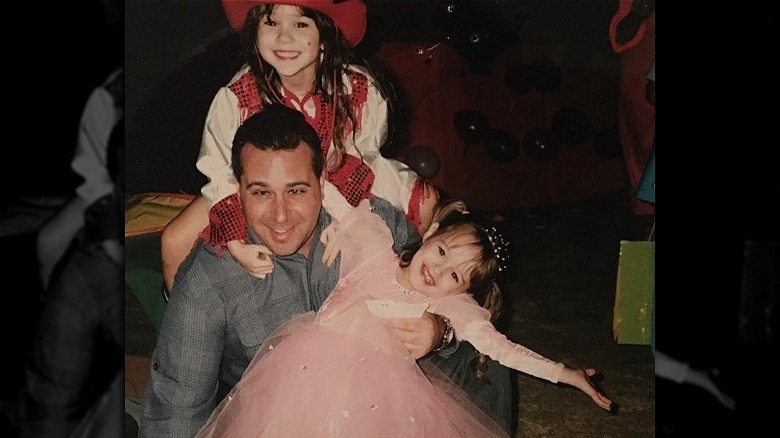 Hunter King always knew that she was meant to be on the stage, especially because her siblings are equally talented. She is the middle of the King sisters and all of them have dabbled in the acting world. She told Soap Opera Digest about how she got her start. "I always feel guilty whenever people ask me where I'm from that are in the business. I'm like, 'I'm sorry. I don't have a cool story. I'm from here.' Yeah, I'm from here," she said. King then revealed how she was exposed to show business. "My older sister kind of got into acting when I was 6," she said.
Per Familytron, King's older sister Kelli no longer works as an actor, but inspired her to give it a go. She added, "And I decided when I was 6 I wanted to do it even though I was painfully shy. And the rest is history!" She scored her first role on "A.I. Artificial Intelligence" at the age of 8 and went on to star in "Roswell," "Hidden Hills," "Dexter," and a range of other productions. She even starred in Miley Cyrus's "7 Things" music video and sported a side-ponytail for the gig.
Her and Kelli's youngest sister, Joey King, is a star in her own right. The 21-year-old had the lead in the "Kissing Booth" franchise and used to date her co-star, Jacob Elordi. King and Joey are very close and even have matching ladybug tattoos.
Hunter King is a mental health advocate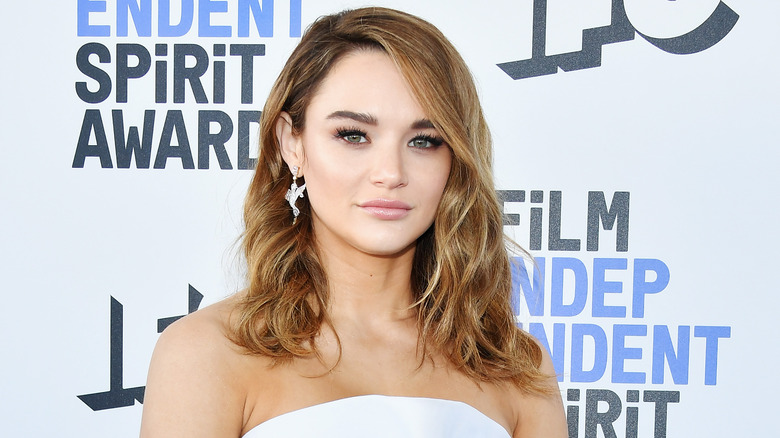 Playing a role like "The Young and the Restless'" Summer Newman could spell bad news for some actors. Sometimes fans can get downright mean and lash out at the actors themselves. In an interview with TV Source Magazine, Hunter King said, "Sometimes they just don't like me … for whatever the reason. They don't like the way I talk, the way I walk, the way I look, but you can't please everybody, so I try to let it roll off my back." 
King described herself as an introvert, but revealed that she needed to learn to cope with the negativity sometimes thrown at her. "That's why I'm such an advocate for mental health," she divulged, before later adding, "Words are the most powerful things humans have. You have to use your words in the right way. You have to speak kindly to yourself and others."
Initially, King wasn't used to the kind of negative feedback that she would sometimes receive from avid fans. She dished that she uses a different approach now than she did earlier in her career. "I've developed a thicker skin now and I've learned my boundaries," she revealed. King also takes concrete action and said, "If I am seeing things that are upsetting to me, I just have to turn it off and not look anymore."
On Hunter's Daytime Emmy and a wardrobe malfunction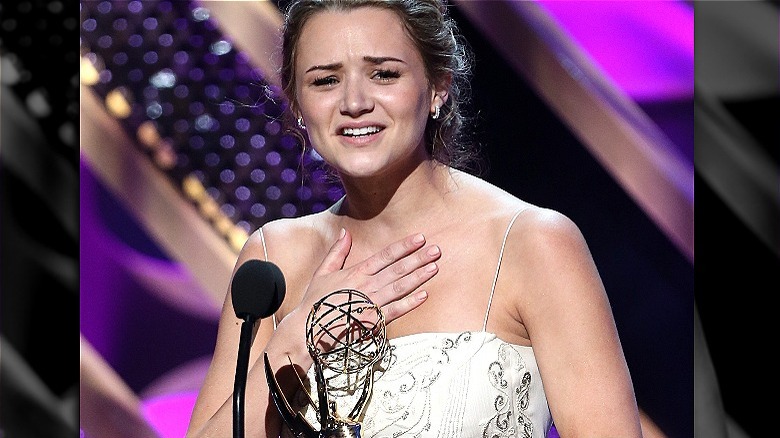 Hunter King looked fierce when she accepted her second Daytime Emmy for Outstanding Younger Actress in a Drama Series for her role as Summer in "The Young and the Restless." The star wore a tight-fitting dress with embroidered detail that clung to her curves, much like "Y&R's" Victor Newman (Eric Braeden) clings onto his mustache. Little did the audience know what was actually happening on the stage in front of them.
King told Soap Opera Digest what went down when they announced that she had won the category for the second year running. "I remember in 2015 my dress broke as soon as I hugged whoever was holding the statue," she confessed. That year, Jacob Young and Karla Mosley presented her with the coveted award when the situation occurred. She continued, "The strap of my dress came flying off and I put my arm to my boobs to hold my boobs up."
King recalled, "I don't think anyone noticed, but I do remember that. A great moment to have a wardrobe malfunction." Hunter King — the only actor who can casually pull up her dress and pass it off as nothing while giving her acceptance speech. Now that's G.O.A.T. behavior! 
Here's how Hunter King's dog got her name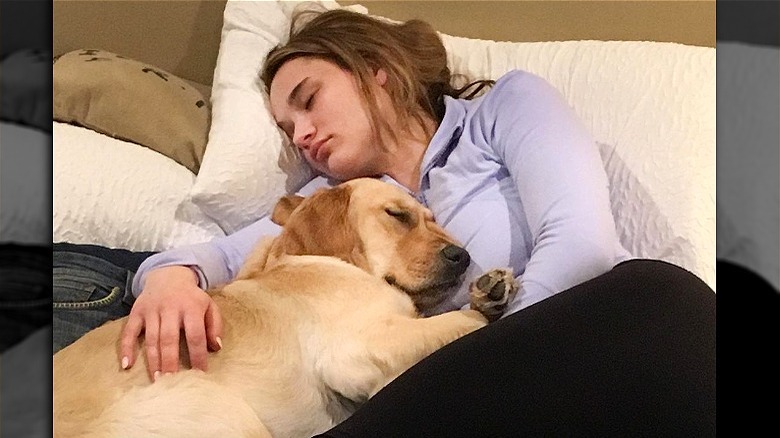 A quick scan of Hunter King's Instagram page will reveal that she is a dog mama. She's wild about her golden retriever and shows her off every chance that she gets. She even celebrated Poppy's first birthday in style. Now that's a dog's life!
However, not everyone knows how her pooch got his name. King shared the story with Soap Opera Digest and dished, "I'm really bad at names." She then went on to illustrate how dire the situation can get, confessing, "When I fostered a kitten, I called her Kitty." Imagine how she felt when she realized that she needed to name her new pup.
Luckily, a childhood classic came to the rescue. King continued, "The new Mary Poppins movie came out and I was like 'Oh, Poppin!'" What an adorable name! Poppin', or Poppy for short, was also showed off to her castmates. King revealed, "Robert Adamson [Noah] just came over the other day to meet her." What's a dog got to do, but paw up and meet the celebs!
This is where Hunter King keeps her Daytime Emmys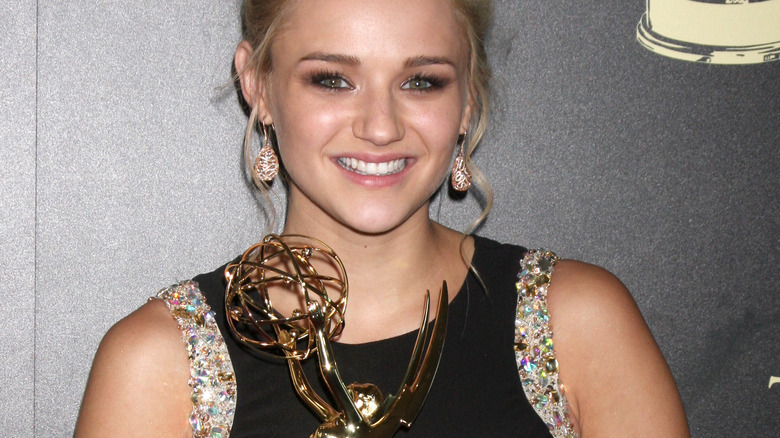 Hunter King revealed that she has a wicked sense of humor. The actor has scooped two Daytime Emmy Awards for her role as Summer Newman in "The Young and the Restless." And while some winners may build special display cabinets for the prestigious accolade, King had other ideas about where she would keep it. 
King admitted to Soap Opera Digest, "I keep one of them in the bathroom upstairs, like, the powder room and I keep it on the toilet, like, on the back of it." She also provided a reason she chose the unusual spot for the award, claiming, "It's a good conversation when people come over. They're like, 'Wait, what? An Emmy is in the bathroom?' Because you need a conversation starter after they pay a visit to the throne.
"The other one I move around. Sometimes it goes in this little shelf in my kitchen area. Sometimes I put it in the pantry, just for fun, to kind of freak people out," King dished. Perhaps if she wins her third Emmy she may attempt to live out her fantasy. She told the outlet, "I wanted to be the moment in Mean Girls where she breaks up a part of her tiara and throws it to all the people in the crowd … I wanted to do that with my Emmy, like, 'One for you! And a piece for you!'" Loving the Hunter King-goes-Oprah moment.
Source: Read Full Article