Fans of "The Real Housewives of Atlanta" were devastated when it was announced that Gregg Leakes, the husband of reality star NeNe Leakes, had died at age 66 on September 1, 2021. His colon cancer had returned that June, as NeNe revealed in an interview with The Jasmine Brand, which meant that Gregg had to be hospitalized following a "difficult" surgery. By late August, a video of the Bravo star addressing a crowd about Gregg's health was shared online, showing NeNe admitting that her husband was "transitioning to the other side." Around this time, she simply posted the word "Broken" on her Instagram account, accompanied by prayer hands and heartbroken emojis.
As the Bravo website notes, Gregg was an Atlanta native, who was "born and raised" in Georgia. Once the businessman appeared on screen in "The Real Housewives of Atlanta," he quickly won over viewers with his level-headed personality and charmed his fellow co-stars, who reunited to honor Gregg's memory following his death, per ET. 
Keep reading to find out more about Gregg Leakes and his remarkable life.
Gregg Leakes previously worked in real estate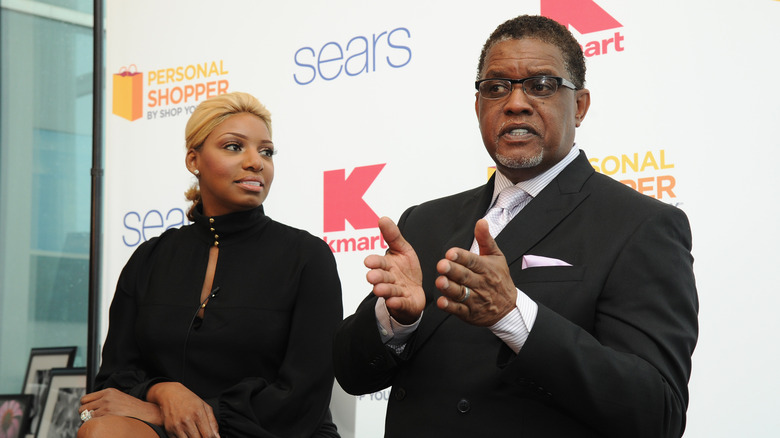 Before he was a reality star, Gregg Leakes was a "self-taught businessman," according to his Bravo bio. The Atlanta native had built up his career by himself when he first met NeNe Leakes, per Celebrity Net Worth, working for over two decades as a "real estate investor and consultant." On top of his contracts with Bravo, that real estate career helped him earn a net worth of $4 million.
Gregg and NeNe caused a stir in 2015, when they spent $2,075,000 on a mansion in Duluth, Georgia, as Variety reported. The six-bedroom house was part of a gated community called the "Sugarloaf Country Club," which sounded suitably fancy for a pair of in-demand reality TV stars. The couple then ran into money issues, however, when it was reported that they owed $870,000 in taxes. Gregg had a history with the IRS, according to Radar, since the businessman allegedly hadn't paid his taxes from 2004 to 2012.
He had kids from a previous relationship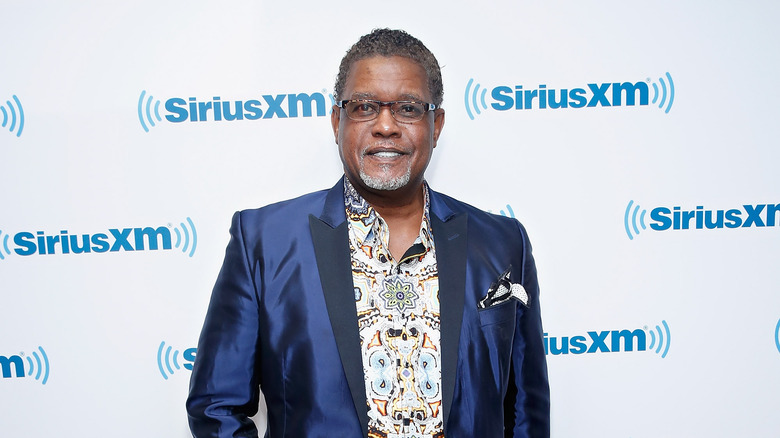 Gregg Leakes will be remembered by his legions of fans as a staple of "The Real Housewives" franchise — but more importantly, he was also a husband and a family man.
When he first encountered NeNe Leakes, Gregg already had five children from a previous marriage, according to Us Weekly: four sons called Daryl, Damian, Dexter, and Denton, as well as one daughter named Katrina. Although they have sometimes clashed with their stepmother on camera, Gregg insisted in a blog post for Bravo that at the end of the day, they were a family. "NeNe loves my children, and truth be known, my children, all 5 of them, have nothing but love for her," he claimed. While blending their separate families could be complicated at times, since NeNe also already had a son called Bryson, Gregg wrote that it was his responsibility to "get all this love floating around in the air to descend on each of us." 
For her part, NeNe acknowledged that "divorce is hard on everyone in the situation" in her own blog post. "The way Gregg and his ex-wife chose to divorce and be bitter with each other produced hurt children," she noted.
Speaking about his first wife on "Bethenny," Gregg admitted that the divorce was his fault, declaring, "If I would have listened, I would have never had to go through it."
How Gregg Leakes met NeNe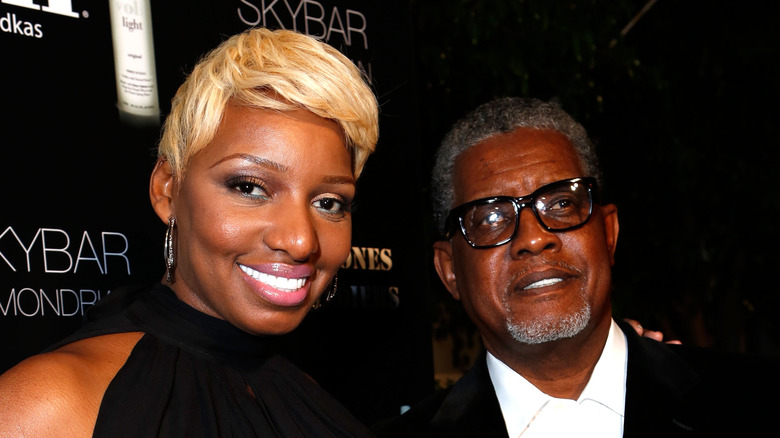 As NeNe Leakes revealed in an episode of "The Real Housewives of Atlanta," her romance with Gregg Leakes started while she was working in a strip club.
"You and me exchanged numbers and he left me a voicemail and he was like, 'Give Big Daddy a call,'" she recalled, per The Daily Dish. "And I was like, 'Oh, hell, no!'" Gregg apparently made his move by declaring that he would become NeNe's husband. "He said, 'I'ma marry you one day.' I said, 'Uh uh uh!' He did not ask me to sleep with him. Actually, I was thinking to myself, like, 'Now, what's going on?'" the reality star joked, revealing that he had surprised her. "And from that point on, I was just in the bed with no clothes on."
NeNe also observed their 13-year age gap in an interview with Essence. "I was very young dating Gregg by the way, I was 28 when I met him, and I was a mother, though," she clarified. "Okay, so that's a different kind of story. I was a single mom and … I needed stability." NeNe also spoke about why she loved Gregg from the start, commenting that "he allows me to be who I am, and I allow him to be who he is."
The Leakes' were married in 1997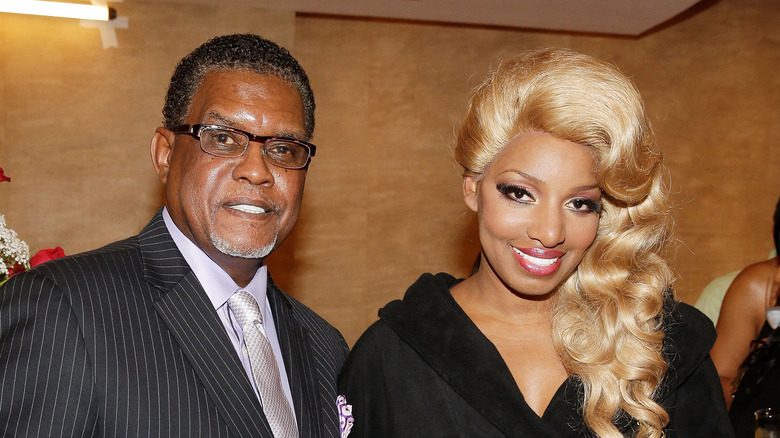 Years before they became a power couple on "The Real Housewives of Atlanta," NeNe Leakes was being won over by Gregg Leakes. "I could just really roll with Gregg on a conversation with him and everything," she observed to Essence, adding that Gregg was "really into" her, "because we were talking on the same level, really, at the end of the day." That connection led to the couple growing closer and eventually tying the knot in 1997.
Footage of their first wedding, which showed NeNe happily kissing her new husband, emerged in 2013. "I am the most happy man in the world — happiest, rather — to have a beautiful wife like NeNe," Gregg insisted in the video, which was published by The Daily Dish. "I love her with all my heart. I look forward to making her happy the rest of my life." The couple combined their families, as they both already had kids, and went on to have one son together.
Brentt Leakes was born in 1999, as NeNe noted while celebrating his birthday on Instagram. "A king entered the world on this date after a full day of labor and changed my life forever!" the proud mother wrote in part in February 2020.
Gregg Leakes invested his own money into RHOA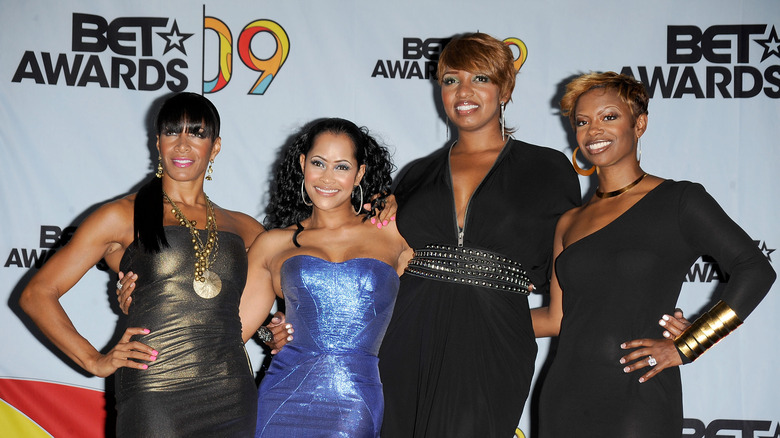 After his marriage to NeNe Leakes hit a difficult patch, Gregg Leakes revealed that he had invested his own money on funding the first season of "The Real Housewives of Atlanta."
In a 2010 conversation heard on the radio show, LargeFM, he hinted that divorce was in the cards and insisted that he wanted "every dime" of his money back, per Majic ATL. "I spent $300,000 of my own money. I wanted to make sure that she jumped off in that show," the real estate investor claimed. "We knew that if they made that show around her, you have got to blow up." According to Gregg, the success "got to her head" after NeNe became a stand-out fan-favorite. "The problem is when you get fame, and everywhere you go everybody knows your name, you begin to think, 'Well, d**n, I am large. I don't need nobody. If I do need somebody, I need a millionaire,'" he explained, arguing that she "wouldn't be nothing without that $300,000."
According to Essence, Gregg later apologized to NeNe for the tape, which, according to his legal team, had been aired without his permission by radio host Corey King. "Throughout the duration of the call with Mr. King, Mr. Leakes was under the impression that he was simply confiding in a friend after an argument with his wife," Gregg's legal team stated (via Reality Tea), calling it "an unauthorized audiotaped conversation."
He and NeNe Leakes got a divorce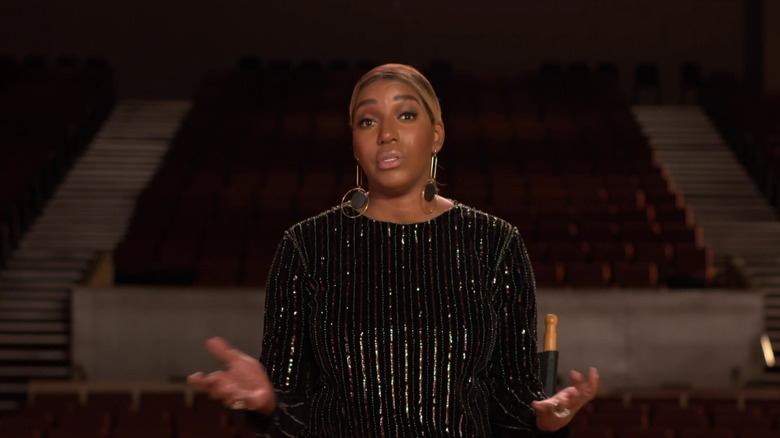 After Gregg Leakes was caught on tape discussing his marriage and the $300,000 that he wanted back from NeNe Leakes, the couple were torn apart.
As People reported, NeNe spoke about their impending divorce for the first time in an episode of "The Real Housewives of Atlanta." Although she hinted that she wanted it to be "a wake-up call for Gregg" rather than a permanent change, the radio conversation ultimately pushed the reality star too far. "I stood by you when you have done me wrong as your wife but you want to make other people think that I have done you wrong. I have never done you wrong," NeNe insisted, declaring that the couple had "lost loyalty and trust."
She later described that period as "a bumpy road" in an episode of TV One's "Uncensored," reflecting on the reasons for their rift. "I think a lot of people were surprised when I filed for divorce," NeNe commented, revealing that she decided to file in 2010 because in her opinion, Gregg "wasn't treating" her right: "It was me teaching Gregg a lesson, and I think he got it."
Gregg and NeNe Leakes remarried in a Bravo special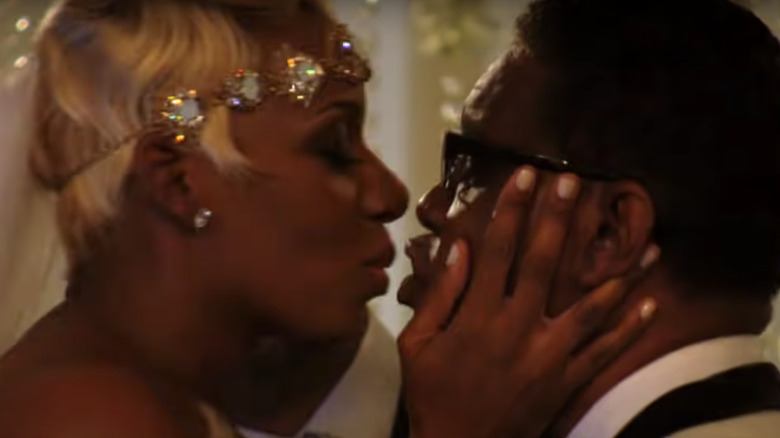 The Leakes' divorce didn't last long, and the couple reunited in 2013. Their second wedding was filmed for "I Dream of NeNe: The Wedding," a Bravo spin-off special that showed Gregg and NeNe Leakes figuring out their relationship. In an emotional speech, the groom thanked his bride for being the "light" of his life, as USA Today reported. "I couldn't do this without you. I couldn't. I wouldn't even try," Gregg admitted. "So I want to thank you, baby."
In a wedding blog written for Bravo, the proud husband wrote that the ceremony was "soooo beautiful," noting that NeNe looked "breathtaking" in her dress. "I was extremely happy to see the rewards of my efforts to blend our families and to be able to share a fun time with lots of love," Gregg continued. "Thank you to all our fans for allowing NeNe and I to share our journey with you. Our hope is that you witnessed something that can and will improve your marriage, your family, and your life."
He was dubbed the level-headed 'pastor' of RHOA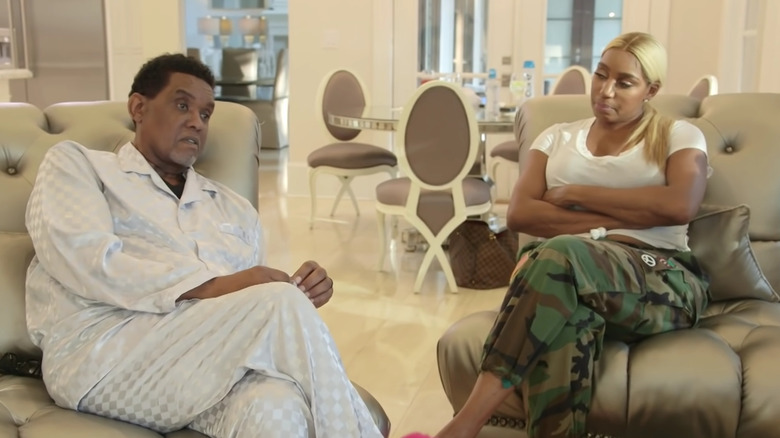 Many people paid tribute to Gregg Leakes and reflected on what he brought to reality TV in the wake of his tragic death — including his former co-star on "The Real Housewives of Atlanta," Cynthia Bailey, who tweeted that they had shared "so many good times & so many amazing memories," alongside a picture of the two. "Gregg was always so loving, funny & kind. So blessed to have had him in my life," Bailey wrote, sending her "heartfelt condolences" to NeNe Leakes and their family. "Thinking of you & my heart and prayers are with you," she added.
Executive producer Andy Cohen also paid tribute to Gregg, reflecting on his down-to-earth and practical personality. "I jokingly called him 'Pastor Leakes' but in truth he was a strong voice of reason & commanded great respect among the entire #RHOA team," the "Watch What Happens Live" host reflected on Twitter, adding that he was "heartbroken" by the death of a "wonderful" husband and father. "I am sending love and strength to @neneleakes & the entire Leakes family," Cohen continued.
Gregg Leakes was open about his cancer diagnosis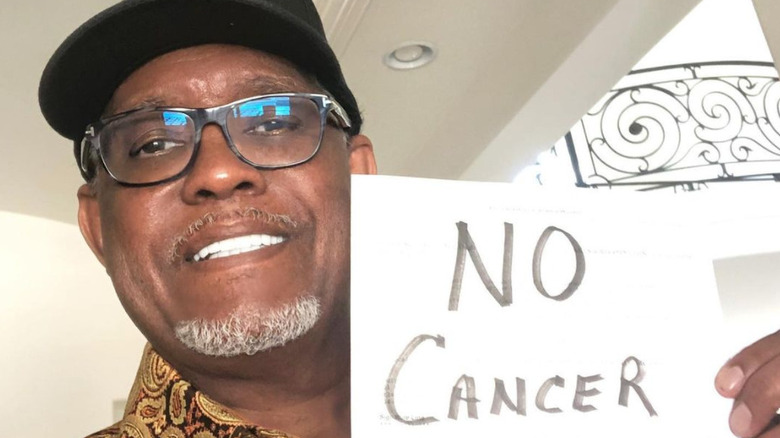 In 2018, NeNe Leakes revealed the shocking news that Gregg Leakes had been diagnosed with stage 3 colon cancer, announcing on Instagram that this was their "new normal."
The couple was open about their journey on "The Real Housewives of Atlanta," showing moments where they struggled with his illness. During the Season 11 premiere, for example, NeNe shared how Gregg had been rushed to hospital after experiencing severe pain that year on Cinco de Mayo, per USA Today. "I guess the scariest part about all of this is when we got to the hospital and the doctor saying that, 'We need to do surgery on you tonight or you ain't going to make it,'" Gregg recalled.
The Atlanta businessman left a letter for NeNe to read in case he didn't survive the emergency surgery, as he tearfully admitted. "I wrote a note to my doctor and I told him to give it to you if I didn't come out," Gregg shared, adding that it was "the hardest thing I ever did in my life." After the surgery, he received treatment and went into remission, which NeNe announced on Instagram in May 2019. "Look at God! We are overjoyed to say, we saw the doctors for the results of Gregg's Pet Scan he took last week! Test show, wait for it…. WE ARE CANCER FREE!!!" she wrote.
The RHOA husband stood by NeNe Leakes against online criticism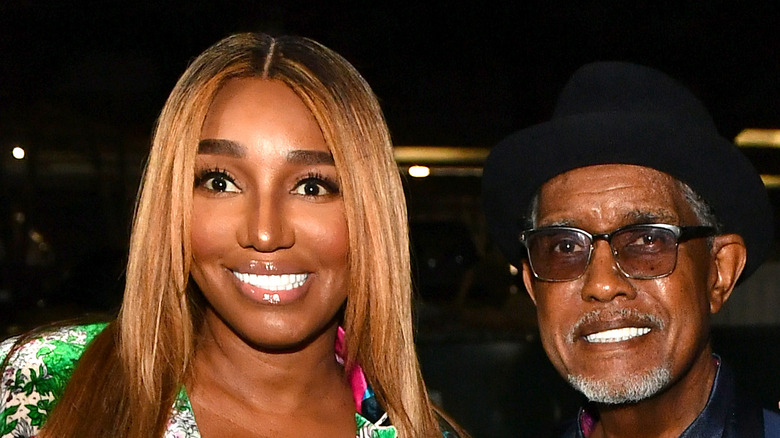 While they kept shooting "The Real Housewives of Atlanta," Gregg Leakes and NeNe Leakes were open about how his cancer had taken a toll on their marriage. In November 2018, she admitted that it had been "a big transition" for the whole family in an interview with People. "Our lives just changed that day. Our whole routine changed. Just … everything changed. I don't have cancer. Gregg has cancer. But I feel like our whole house has cancer."
NeNe went on to clarify that he was a "changed person," and that Gregg's "attitude" had entirely shifted. "I feel like that day I lost my husband. Our whole dynamic changed," she revealed. "Sometimes I forget that he's sick and I need to remind myself because he's so on edge. He's not nice, but he can't help it." The tension between the couple could be seen on screen and led to some criticism of how NeNe was acting as a caregiver. However, Gregg made it clear that he didn't need anyone coming to his defense against his wife.
"This woman right here has put a mountain on her back and carried it with grace. She's given so much of herself," he told online critics in part in a December 2018 Instagram post, adding, "So what she hit a wall and her cup run over! Pray for her, encourage her, lift her up. What good is tearing down gonna do?"
He marched for Black Lives Matter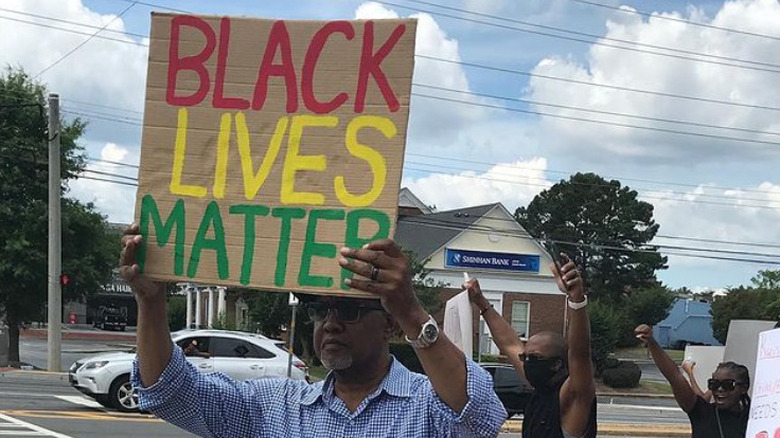 After the murder of George Floyd sparked a surge of protests in 2020, Gregg Leakes took to the streets with a handmade sign, declaring "Black Lives Matter." 
As NeNe Leakes wrote on Instagram, Gregg wanted to participate and speak out despite the risk that the COVID-19 pandemic posed to his immune system. Both of them were "afraid" of getting sick "considering his past cancer and the blood clots I had in my lungs," as the reality star noted. "However Gregg really felt he wanted to get out and try for a few and let everyone know that no matter what, we stand loud and proud!" Alongside pictures from the rally, NeNe concluded, "Black Lives Matter and it has ALWAYS mattered. Thank you to everyone out here in the hot sun protesting daily! We love you and support you." 
The couple's co-stars, Cynthia Bailey and Porsha Williams, also got involved in the movement, which was shown on "The Real Housewives of Atlanta." "That's one of my favorite things that happened this season is the fact that we were able to bring our real-life situation onto the show," Bailey told Digital Spy, adding that they were "all affected" by the cause. "We're a Black cast, we're Black people, we have our own Black communities. We want to help uplift and support our people, as people."
Gregg Leakes died surrounded by family and friends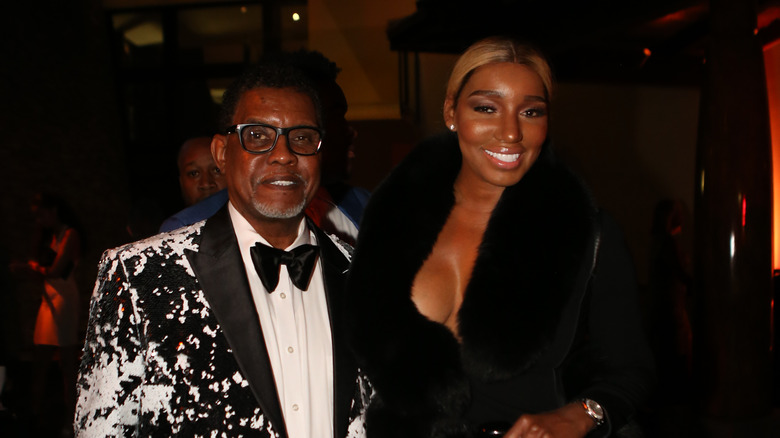 In his last days, Gregg Leakes was at home in Georgia, as Ernest Dukes — the reality TV star's family friend and publicist — told People in September 2021. "Today the Leakes family is in deep pain with a broken heart. After a long battle with cancer, Gregg Leakes has passed away peacefully in his home surrounded by all of his children, very close loved ones and wife Nene Leakes," Dukes announced, asking the public to "pray for peace and strength over their family" and give them privacy to process their grief "during this very very difficult time."
Gregg and NeNe Leaks' son, Brentt, also urged fans to learn from their family's tragedy. "Spend time with your loved ones every chance you get," he wrote in an emotional Instagram Story, which was reposted by The Shade Room. "Time is so … valuable dog. I can't express it. I'm learning the hard way watching my dad fight every day." He concluded by telling his followers to "go create memories with ya people."
For her part, NeNe remembered her husband by posting memories of happier days on Instagram, writing, "Today we celebrate you Gregg with love, just the way you wanted it."
Source: Read Full Article