Anyone else mindlessly log into Netflix over the weekend only to find that something called The Empress was lurking in the Top 10? Same, and turns out it's a stunning period drama about the early life of Empress Elisabeth "Sisi" of Austria and her romance with Emperor Franz Joseph I. The fashion? Impeccable. The romance? Horny enough to tide you over 'til Bridgerton season 3. The drama? Literally endless, in the best way possible. And on top of all that, the acting is suburb and the show is exquisitely filmed.
WATCH NOW
Obviously, we're all used to Netflix producing amazing period dramas based on the royals (yes, hi, The Crown, we see you), but while the British royal family dominates headlines daily, you might know slightly less about the Habsburgs circa the 1850s. Meaning, if you found yourself frantically Googling Sisi and Franz's relationship, you're not alone. And while The Empress is definitely rooted in reality, it's a fictionalized account of history—so yeah: what you saw on TV is only part of what happened in real life.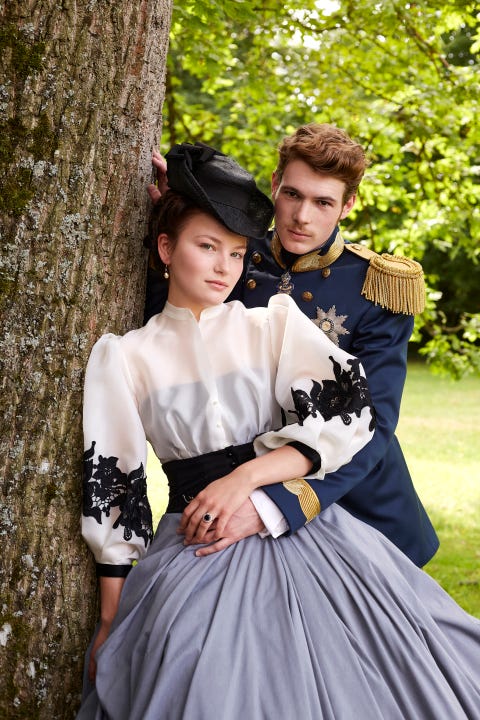 Elisabeth's Childhood Was Pretty Wild
Empress Sisi was born into a prominent Bavarian family—in fact, her mother was the King of Bavaria's daughter. But instead of being brought up in the court, Elisabeth was raised by her parents in the countryside and spent her time living a very un-princessy life (by which I mean she was super rich and fancy, but like…also frolicked in the woods).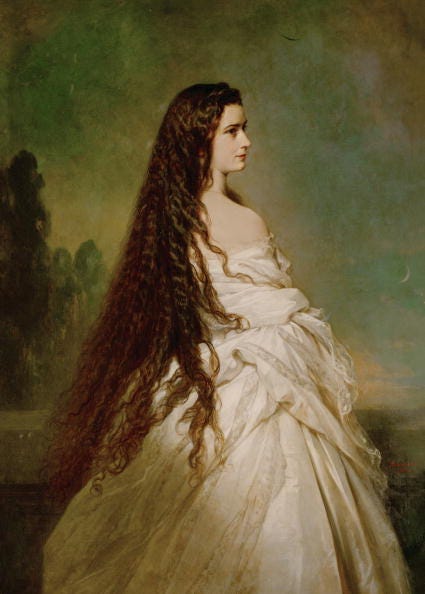 In the biography The Lonely Empress: Elisabeth of Austria, author Joan Haslip describes Sisi and her sister Helene as "wild, undisciplined little girls" who were "full of jokes and laughter."
That Black Dress Drama From the Show? Fully True
Elisabeth was just a teenager when she met 23-year-old Emperor Franz, and they fell for each other during a trip where Franz was supposed to propose to Helene—just like The Empress depicts. And yep, they most definitely showed up in all-black mourning clothes, a big a problem since Helene looked "her very worst in black."
Meanwhile, Elisabeth obviously looked amazing in everything: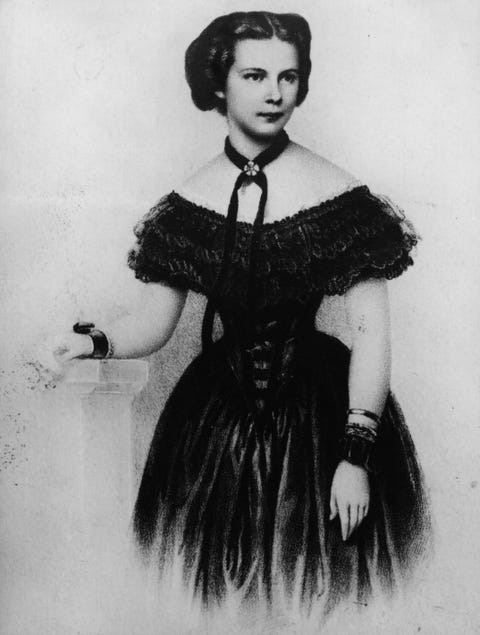 Poor Helene, but the cards were honestly stacked against her from the start. Haslip writes that on the way meet her, Franz's memory of Helene's "sharply chiseled features inspired him to very little enthusiasm." 🙁
Nope, Franz and Sisi Did Not Meet in the Woods
Haslip writes that Elisabeth and Franz's meeting has been wildly romanticized, and there was "no poor Cinderella left behind at the hotel, whom Francis Joseph [aka Franz] met by chance riding in a forest." Instead, they met in his mother's drawing room, where Sisi was "standing modestly beside her governess" while her black dress accentuated her "exquisite grace and the delicate texture of her skin."
One thing from The Empress that is true, though? All those moments where Elisabeth and Franz couldn't stop looking at each other. Haslip writes that he was "much younger and far better looking than she remembered," and when he glanced her way, "she always found him staring at her with a strangely serious expression which made her blush hot with embarrassment."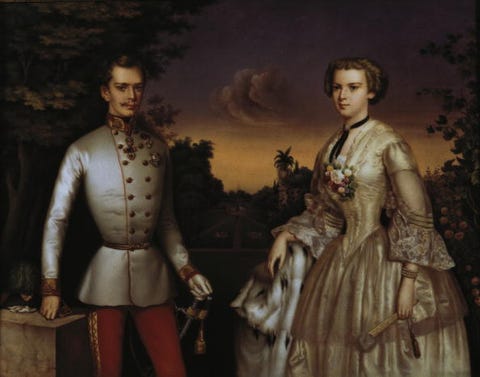 Meanwhile, Franz couldn't stop gushing to his mom about how "enchanting" Elisabeth was and described her as "fresh and unspoilt as a green, half-opened almond" (er, kay) with lips like "ripe strawberries."
So…Did That Kiss Happen?
Honestly, who knows what went on behind closed doors. But we do know there was a huge ball where Franz only danced with Elisabeth. Like, Helene (pray for her!) showed up in a gorgeous gown, and this dude only had eyes for her sister—and basically never left Sisi's side all night. Haslip writes that Franz "threw all discretion to the winds and danced with no one but her" and "all his bouquets were laid at her feet; not even one was spared for Helene."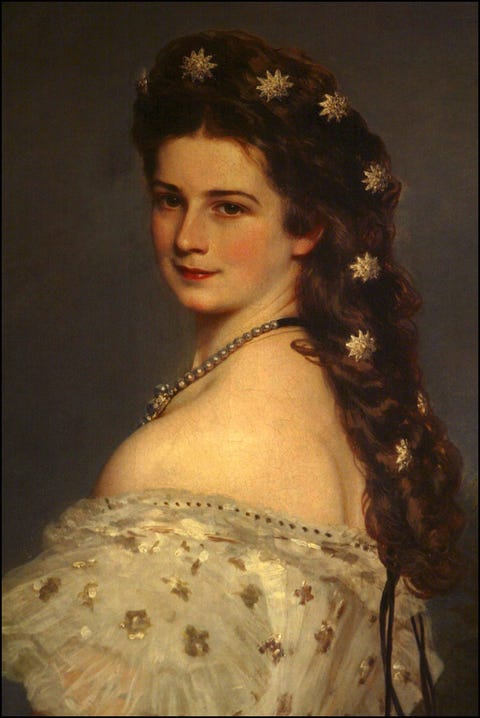 Franz Announced Their Engagement on His Birthday
But not in front of a whole group of people. Instead, Franz told his mother to ask Sisi's mother for her hand. And when Sisi was told of his plans, she said, "Of course I love him, how could I help but love him?" before bursting out sobbing and saying "if only he were not an emperor."
As we know from The Empress, Sisi and Franz got married during a lavish ceremony, and while things were…tense…they went on to have four children together. On that note, I'll just be here gazing at this picture if you need me: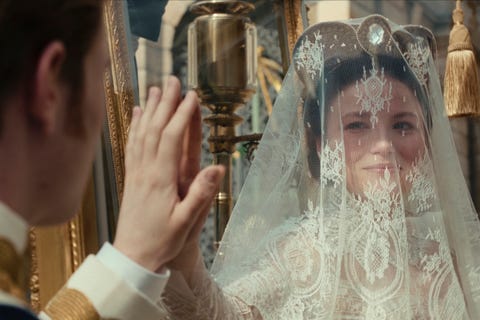 Source: Read Full Article