By the premiere episode alone, it's clear that the competition will be fierce on Season 4 of The Masked Singer. The Sun, who gave one of the most jaw-dropping performances of the night, sounded like a seasoned singer. But her clue package hints she might be a Disney star.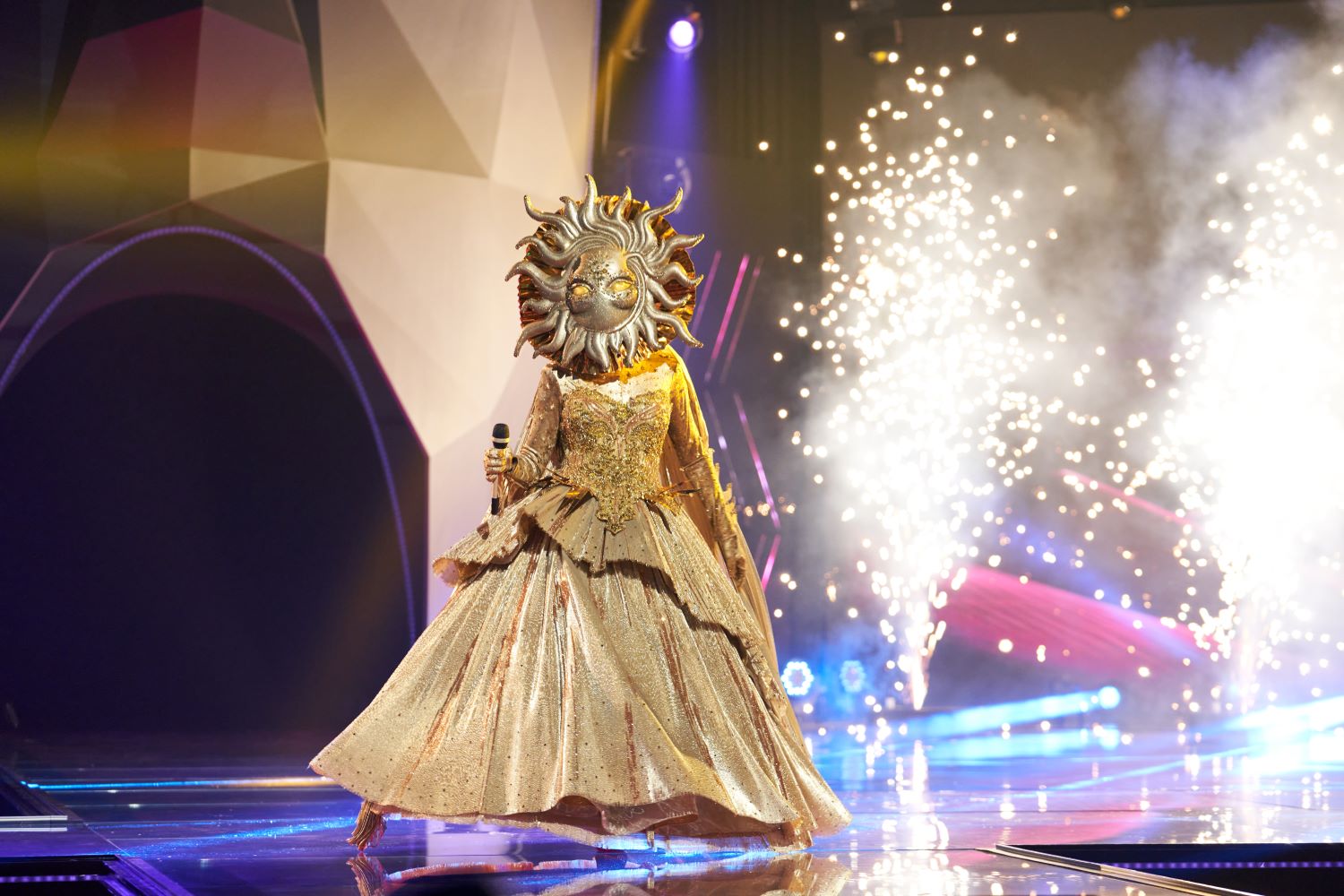 What are the Sun's clues so far?
The Masked Singer is its fourth season, and by now, fans have learned to pay attention to every tiny detail. From costumes to song choices, there are clues in almost every aspect of the competition. But the contestants' clue packages, which feature hints about the celebrity's past and present lives, are by far the most telling.
This season's early fan favorite is the Sun. She wears a bright golden costume, with rays of sunlight as her hair.
"Rise and shine friends, and welcome to my solar sanctuary," the Sun says in her clue package. "I have had some extreme seasons in my life. When I sprung into existence, I felt like the center of the universe. At first, stardom was great, but it was a ton of pressure. The spotlight was scorching, and I got burned out."
Throughout the clip, images of a small dog, a jaguar, and a card with the phrase "Gold Member" are shown. And the Sun stands atop the Earth, while other planets move around her.
"So came my fall into a deep depression," she continued, as a shadowy image of Mickey Mouse is shown. "I was frozen, but within the darkness of a quiet place, I transformed into a ray of light."
Who could the Sun be?
After hearing her amazing vocal performance, The Masked SInger judges knew the Sun was a seasoned singer. Referencing the image of a jaguar in her clue package, Nicole Scherzinger wondered if she was American Idol and Smash star Katharine McPhee.
Noting the "Ray of Light" wording, Ken Jeong guessed she could be Madonna. And taking the "Frozen" and Mickey Mouse references into account, Jenny McCarthy speculated the Sun might be Demi Lovato.
The Masked Singer fans think the Sun could be former Disney star
After seeing all of the Sun's clues, and hearing her soaring voice, some The Masked Singer fans are convinced she's Demi Lovato. The Grammy-nominated pop star sang the radio version of "Let it Go," and as a teen, she appeared in a number of Disney projects.
"It HAS to be Demi Lovato, first of all, there was the Disney Mickey ears, which is where she started," one Reddit fan suggested. "She also had a low point in her life (which the Sun talked about) — Also, when she was on Disney, she starred in a show called "Sonny with a Chance", maybe that's where she came up with the costume, the Sun?"
Others think she might be LeAnn Rimes. The singer and actor made her TV debut on the Disney Channel with a concert special called LeAnn Rimes in Concert. And she also recorded a song for Disneyland's 50th Anniversary album.
"Definitely LeAnn!" a Reddit fan wrote. "She sang a Disney song in '05 for a Disneyland celebration. The Jaguar is for the book 'Jag' she wrote."
"100000% LeAnn Rimes," another Redditor added. "As soon as she opened her mouth I screamed it. She did have a Disney concert special."
Whoever the Sun is, with a voice like that, she probably won't be unmasked anytime soon. Fans will just have to wait for more clues to see if she really is a Disney star, or if that clue was just misdirection. New episodes of The Masked Singer air Wednesdays at 8 p.m. ET on FOX.
Source: Read Full Article