Fans of The Last Kingdom may have heard by now that the series is back in production in Hungary. However, season 5 will be the final season of the series. It's a hard thing to get over, but at least there will be one more season to come before it's all really over.
Eliza Butterworth, who plays Lady Aelswith, recently shared an image with her on-screen "grandson," played by Harry Gilby.
Lady Aelswith and Aethelstan in 'The Last Kingdom'
Fans will recall that Eliza's character, Lady Aelswith, is originally from Mercia, and she is the wife of King Alfred (David Dawson). She has two children, King Edward of Wessex (Timothy Innes) and Lady Aethelflaed (Millie Brady), who is now ruler of the Mercians. Aelswith is poisoned by Lord Aethelhelm (Adrian Schiller) in season 4 while held captives by the Danes. Although eventually allowed free, Aelswith falls, and her fate is unclear at the end of season 4.
Harry Gilby plays Aethelstan in season 5. Aethelstan is the first son of King Edward. He's given over to Uhtred (Alexander Dreymon) when he is a child at the end of season 4. It will be interesting to see him after being with Uhtred, who is tasked with making Aethelstan a warrior.
Eliza Butterworth (Lady Aelswith) shares image with her on-screen 'grandson' in 'The Last Kingdom'
https://www.instagram.com/p/CP8qpAgnlWo/
Eliza recently shared an image with Harry. On June 10, 2021, Eliza shared a black and white photo of herself and Harry, who plays her on-screen grandchild. In it, Eliza stands next to Harry while wearing a shirt with a portion of her stomach showing. She also has on a printed ensemble from the waist down. She throws up a peace sign as she smiles for the camera with her hair down. Harry's head appears to be touching Eliza's as he wears a dark-colored ensemble.
The photo is tagged in Budapest, Hungary. Eliza tagged Harry's account in the post, and captioned it: "Nana & Grandson. #aelswithandaethelstan. The wonderfully talented @harrygilby who I am honoured to call my grandson in @thelastkingdom 👵🏻💗👲🏻." She also revealed the photo was taken by Stefanie Martini, who plays Eadith, tagging her in the caption as well. Over 18,000 people liked the post, and over 100 commented on it.
Emily Cox (Brida) recently shared an image with Mark Rowley (Finan)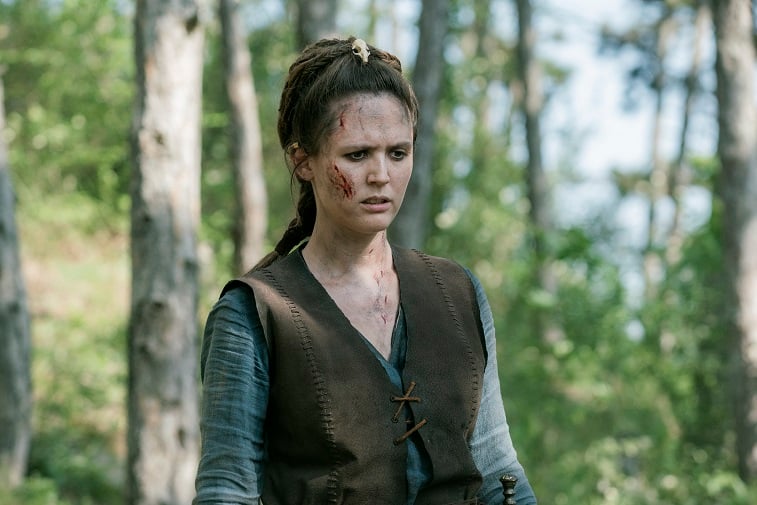 Of course, there have been a number of images of the actors shared on social media since production began again. On June 9, Emily Cox, who plays Brida, shared an image on Instagram of herself with Mark Rowley, who plays Finan. In the black and white photo, she tagged Rowley's account and the official Instagram account for the series. Both of the actors have on headphones and sunglasses in the image. Emily wears a zip-up jacket with her done as Brida. She makes a popular symbol with one of her hands, sometimes referred to as the rocker symbol. Mark does the same with one of his hands as well, and he's wearing what looks like armor with a hat on. Behind them a trailer can be seen.
Emily captioned the post on Instagram: "Finan and Brida in the house😎… Who can guess what music we're listening to?" She tagged Mark again and added a few hashtags: "#thelastkingdom #brida #finan."
Hopefully, we'll get to see even more images now that production is taking place for season 5 of The Last Kingdom.
Source: Read Full Article