Week three of The Bachelor with Peter Weber was full of drama, romance, and pillow fights. Going into the rose ceremony, three contestants are holding roses—which had fans a bit confused. Let's take a look at how each of these ladies secured their coveted date roses.
[Warning: The Bachelor Week 3 spoilers ahead]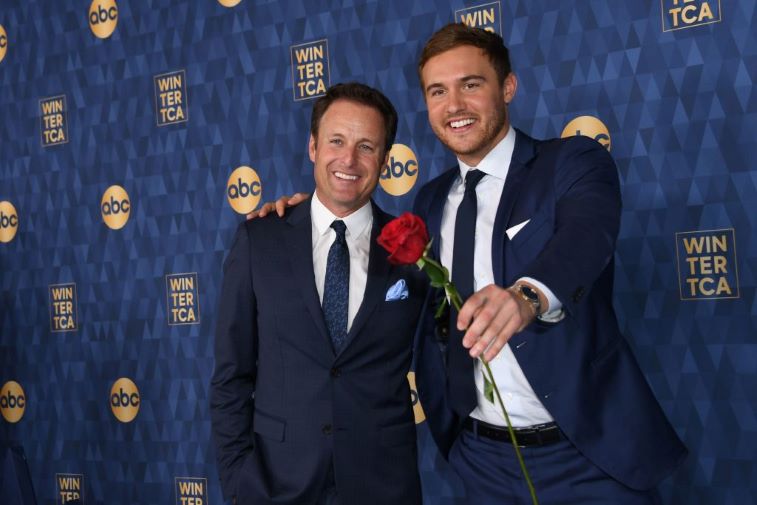 Who received the first date rose on 'The Bachelor' Week 3?
Before the drama of Alayah and Sydney ensued, Weber had a great time at his "favorite wine bar." The pilot chose to take Victoria P. on his first one on one date in week three. The first stop was to purchase cowboy boots and hats.
Next, Weber drove Victoria P. around his hometown, pointing out his high school and other favorite places. Then they went to The Canyon to go country-line dancing.
"It was so fun to see her smiling and having a good time," Weber told the cameras. "She impressed me like no other today."
His hometown date felt natural and comfortable. The 27-year-old nurse fits right into the pilot's top spots.
"I'm a little smitten right now," Victoria P. told Weber after the date.
Later on, she told the bachelor about her tough childhood. Her father passed away at a young age, which left her mother struggling. Victoria grew up fast, taking care of both her and her sister.
"I have never been inspired by someone so much," Weber told Victoria after she opened up to him. "You have shown me so much of your heart. It feels so right with you, insanely right. And so early on, I know, but that's totally okay with me. Victoria, will you accept this rose?"
Of course, she accepted the special date rose, and the two romantically kissed. It was an extraordinary date compared to the drama that happened on the group date that followed.
Who received the group date rose on 'The Bachelor' Week 3?
For the next date, Demi Burnett returns from The Bachelor in Paradise. She takes the ladies to Demi's Extreme Pillow Fight Club. The ladies must get in the ring and go at it one-on-one against each other. In the final round, Sydney faces off against Alayah. Demi announces that Alayah is the winner—mostly because she sat on Sydney who couldn't get up.
While on the date, Sydney calls out Alayah as being fake. Then she goes behind Alayah's back and tells Weber that some of the women are not there for the right reasons. He is visibly upset and asks her to tell him who is being dishonest. Sydney does not hesitate to call out Alayah in front of all of the women on the group date.
Weber already told Alayah that there was something about her, "that really draws me in." However, he is also terrified of getting to the end with someone who is only on the show for publicity and not to find true love.
So, he gives the group date rose to Sydney for being open and honest with him.
Why did 3 women already have a rose on 'The Bachelor' Week 3 going into the rose ceremony?
Some viewers were confused when they saw not two but three women holding roses as Weber walked into the rose ceremony. We watched Victoria P. and Sydney get their roses tonight, but where did that one in Victoria F.'s hand come from?
It is easy to forget that the first two weeks of The Bachelor held the rose ceremony during the middle of the show. Last week, after the rose ceremony, we watched the group date to Revolve happened. The whole mid-episode rose ceremony has many fans thrown off a bit. We are happy that this week's episode returned to a standard format with the ceremony as the last event of the night.
In week two, Hannah Ann won the runway show, but Victoria F. won Weber's heart with her honesty and tears. She was open with Weber and told him that she doesn't know if her mental health can take much more.
With hopes of her sticking around, Weber gave the first date rose to Victoria F. Then, in week three, he gave a rose to Victoria P. and Sydney. Three women had their spots at the mansion secured already going into the ceremony on Monday night.
Weber gave roses to twelve more women in week three; Hannah Ann, Madison, Kelley, Lexi, Savannah, Tammy, Natasha, Deandra, Kelsey, Kiarra, Shiann, and MyKenna. That left Alayah, Jasmine, Sarah, and Alexa to pack their bags and head home.
Although scenes for next week reveal that Alayah is coming back. See who secures roses next week, and whether or not Miss Texas sticks around when The Bachelor returns on Monday, Jan. 27, 2020, at 8 p.m. ET on ABC.
Read More: 'The Bachelor': Is Alayah Real or Fake? Fans Are Torn Over Whether to Believe Her
Source: Read Full Article