The actress portraying Maeve Millay on 'Westworld' sweetly praises the 'Eternals' star with a message she posts on her social media account that reads, 'I love you.'
AceShowbiz -Thandiwe Newton (Thandie Newton) is showing some support and love to Salma Hayek. Taking to social media, the Maeve Millay depicter on "Westworld" sweetly penned a message to her "Magic Mike's Last Dance" replacement.
On Sunday, April 25, the 49-year-old actress posted a poster of "Beatriz at Dinner" on Instagram Story. Over the movie poster, she wrote, "For me, no finer performance, no finer film, about the real questions we need to be asking." She went on to say, "I love you," as she tagged Salma's Instagram handle.
"Beatriz at Dinner" was released in 2017. The Mexican movie follows Salma's character, a holistic medical practitioner, as she attends her wealthy client's dinner party when her car breaks down.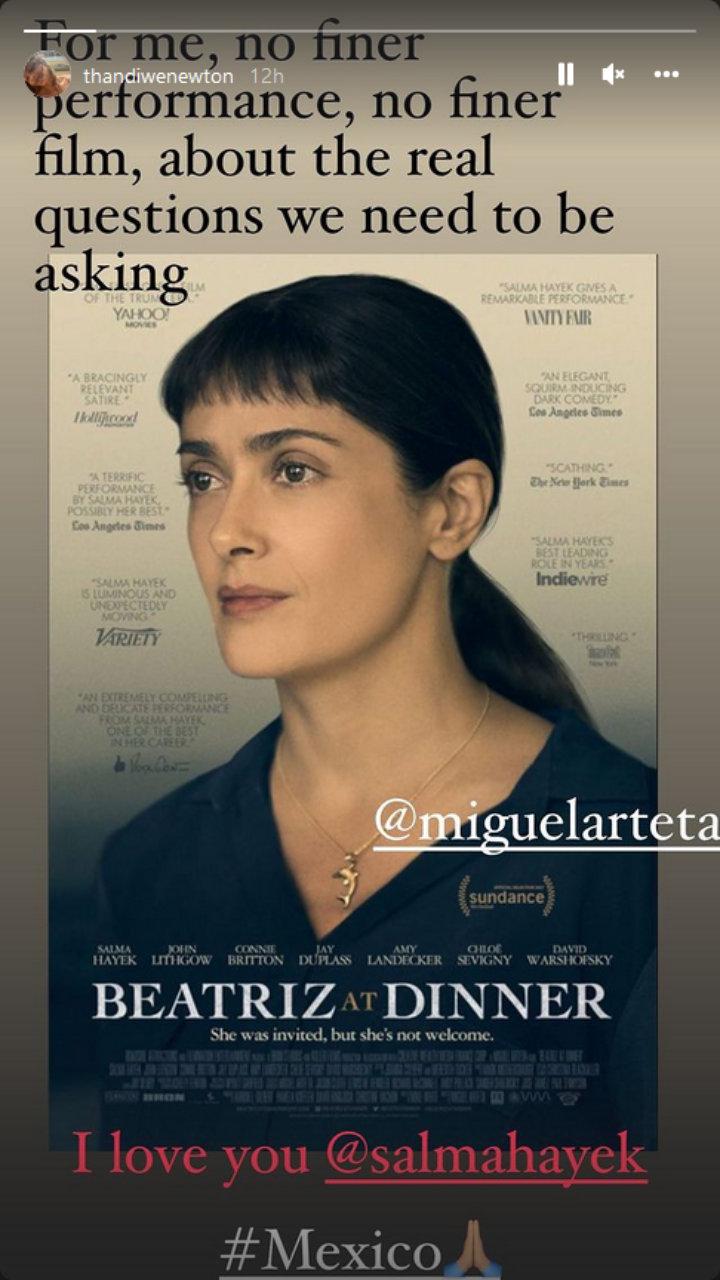 Thandiwe Newton praised her 'Magic Mike's Last Dance' replacement Salma Hayek on social media.
Earlier this month, Thandiwe stepped away from "Magic Mike's Last Dance" to "deal with family matters." A source close to the film production spilled, "Her apparent breakdown caused so much disruption, it became clear she couldn't play the role. She seemed so stressed she even brought her two pet rabbits to her hotel for emotional support."
After Thandiwe's exit, Warner Bros. Pictures unveiled that Salma was brought in to replace her in the undisclosed role. On Friday, April 22, Salma was spotted on the set of "Magic Mike's Last Dance" at a London theater. In photos obtained by Page Six, the "Eternals" star was photographed entering her car to leave the shooting location while holding a script.
Salma could be seen wearing an oversize coat, comfortable sweats and boots. The 55-year-old Mexican-American actress appeared to be wearing minimal makeup and her hair was naturally blown out.
As for Thandiwe, she reportedly has "a lot going on" in her personal life after she called it quits with her husband of 24 years, Ol Parker. On April 19, Ol was spotted out and about in London without his wedding ring.
A few days later, Thandiwe, who's reportedly dating 25-year-old musician Lonr., was also seen ditching her wedding band while she was hanging out with Lonr. in California, Malibu. At one point, the rumored couple was caught cuddling and kissing passionately.
Source: Read Full Article