Did the best woman win her season? We debate the winners of "RuPaul's Drag Race" and its "All-Star" editions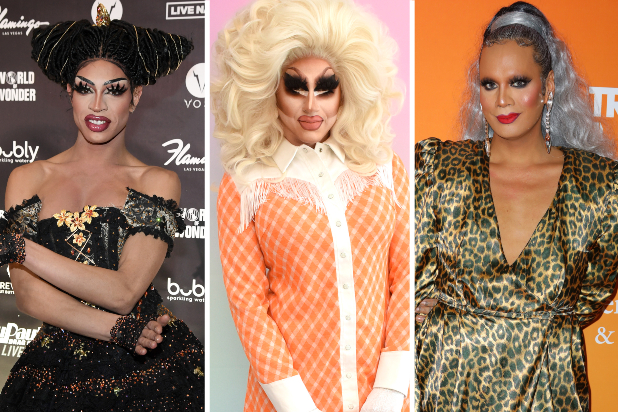 Photo credit: Getty Images
"RuPaul's Drag Race" — the long-running reality TV competition that started on Logo and currently airs on VH1 — has crowned many worthy winners.
These champions were able to channel their charisma, uniqueness, nerve and talent to snatch the crown and title of America's Next Drag superstar.
TheWrap takes a look at some of the more debatable winners from "Drag Race" and its "All-Star" editions. We're not throwing shade at the winners; we just argue that they had fierce — and sometimes title-worthy — competition.
Tyra Sanchez over Raven (Season 2)
Tyra was young, beautiful and ambitious, but even she seemed surprised that she bested experienced queen Raven in the Season 2 finale. After her name was announced Tyra collapsed and started hyperventilating.
Tyra courted controversy over the years, and eventually quit drag entirely. Raven went on to far greater success, appearing on the inaugural "All Stars" edition (where she again placed second), hosting the digital Fashion RuView web series, and becoming RuPaul's make-up artist and creative producer on the show.
Raja Gemini over Manila Luzon (Season 3)
Raja — who previously worked as a make-up artist on "America's Next Top Model" — was one of the series' first bonafide high fashion queens.
Many thought runner-up Manila Luzon — who herself had many memorable fashions and great comedic chops — would've also been a worthy winner. Manila has since become a fan favorite (competing on two seasons of "All Stars") and considers Raja one of her close friends.
Jinkx Monsoon over Ro-Laska-Tox (Season 5)
Jinkx was the sleeper hit of the season; she literally has narcolepsy. She not only stood up to the powerful alliance of Roxxxy Andrews, Alaska and Detox — the talented trio that made up Ro-Laska-Tox — but ended up victorious in the end.
Alaska, who was visibly distraught after Jinkx was named the winner, would beat her teammates to win "All Stars" a few years later.
Violet Chachki over well, pretty much everyone else (Season 7)
Season 7 boasted an impressive cast that included pageant pro Kennedy Davenport, theater queen Ginger Minj, and the multi-talented Trixie Mattel and Katya — all of whom would be deserving winners. But it was burlesque beauty Violet that was the polished gem that outshone the rest. 
Bob the Drag Queen over Kim Chi/Naomi Smalls (Season 8)
Runners-up Kim Chi and Naomi Smalls are two of the most fashionable queens to ever grace the main stage, but it was Bob's humor and smarts that won her the crown, even though her looks were perhaps a notch below the competition's.
Sasha Velour over Shea Coulee, Peppermint, and Trinity Taylor (Season 9)
Season 9's final four is arguably the strongest in the show's history. It was the first season "Drag Race" introduced sudden death lip sync. After slaying her good friend Shea in the semi-final with her now-legendary rose petal reveal, Sasha took down the vivacious Peppermint in the final.
Trinity and Shea would go on to win "All Stars," so they are truly the cream of the crop.
Trixie Mattel over well, everyone else (All Stars 3)
Trixie is an extremely talented and well-liked queen, but her path to victory was secured when frontrunner BenDeLaCreme eliminated herself after winning 4 out of the first 5 challenges. Shangela — who many predicted to be a finalist — was left out of the running when a jury of her peers did not vote her into the Top 2.
Shangela has done just fine though, appearing in "A Star Is Born" and the HBO series "We're Here."
Monet X Change and Trinity the Tuck over each other (All Stars 4)
For the first time in "Drag Race" history, RuPaul named co-winners. Both Monet and Trinity appeared surprised by the decision and somewhat shoddily edited finale (the show tapes several endings to keep the results from leaking).
"There's a tie?" Trinity asked in disbelief while watching the finale.
Yeah, we don't quite get it either…
Yvie Oddly over Brooke Lynn Hytes and A'Keria C. Davenport  (Season 11)
Conceptual beat out conventional when self-proclaimed oddity Yvie beat out Brooke Lynn, a stunningly polished dancer, and A'Keria C. Davenport, an experienced pageant queen 
Shea Coulee over Jujubee (All Stars 5)
Shea Coulee edged out Jujubee — a fan favorite who previously finished in the Top 3 twice. Coulee previously finished in the Top 4 of Season 9, losing to eventual winner Sasha Velour and her infamous rose petal wig reveal.
Symone over Rosé and Gottmik (Season 13)
Symone epitomized Black excellence throughout Season 13, but struggled with self-confidence as the finale neared. After her biggest competition — Gottmik and Rosé — were eliminated before the finale, Symone easily defeated Kandy Muse, who had the weakest track record of the Top 4.
Source: Read Full Article