Fans of The Real Housewives of Atlanta are still trying to process Porsha Williams' engagement to her co-star Falynn Guobadia's ex-husband, Simon. Apparently, so are some of Williams' other castmates. Cynthia Bailey is typically neutral amongst the group. But she admits Williams' engagement is shocking. Though Bailey has yet to really speak publicly about it, her silence may have rubbed Williams the wrong way.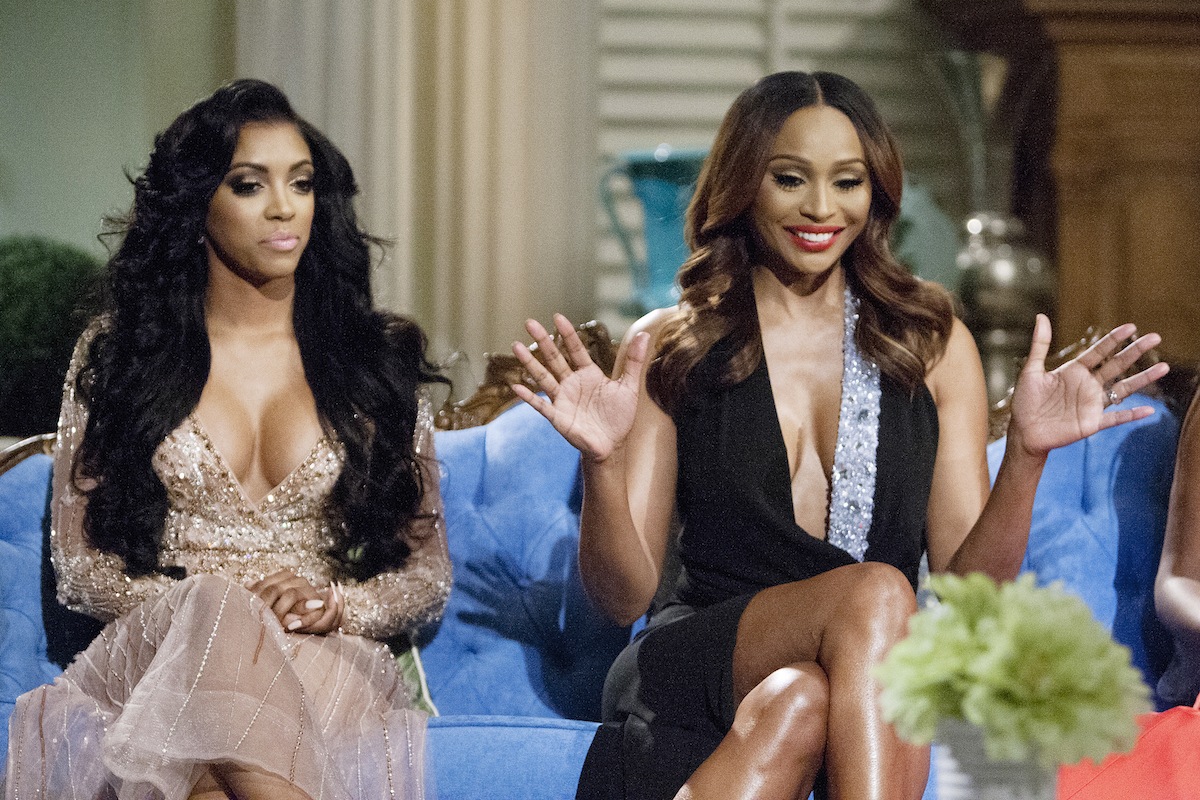 Porsha Williams unfollows Cynthia Bailey on Instagram; Bailey says she thinks it's because of her silence
Social media fans instantly noticed that Williams unfollowed Bailey on Instagram amid the scandal of her engagement breaking. Bailey, who hadn't spoken publicly about Williams' engagement at that point, didn't find out about the unfollow nor Williams' engagement until the rest of the world did.
"I was surprised because I didn't see it coming," Bailey tells OK! Magazine about Williams' engagement. "I had no idea that they were like…I just didn't know and I met Falynn at her house filming for the first time, so it took me aback."
So when she realized Williams unfollowed her, Bailey says it could have only been attributed to her silence. "I kind of stayed mum on the whole social media part of it when she made her announcement, and I don't know, maybe my silence kind of made her feel some kind of way," she continued. "I just felt like, 'You know what, I'm going to sit this one out until it just plays out and I get to see what happens.'"
Regardless, she says there's no beef coming from her and she doesn't care what Williams does in her romantic life. "Whatever makes Porsha happy, I'm happy for her," she insists. "The only relationship I'm really concerned about is my own."
Cynthia Bailey and Porsha Williams previously got into a physical altercation
Though things are more gentle between the two women now, it hasn't always been. During Season 8, a fun day on a boat turned violent between the women.
Kenya Moore organized a cheer-up party on the boat for Bailey, who was going through marital trouble at the time with her ex, Peter Thomas. The co-stars drank and danced for much of the day but amid an argument with Moore and Williams, Bailey took offense to Williams calling her a b–ch.
Williams tried to apologize but things grew more intense. Verbal jabs were thrown between both women and at one point, Williams stood over top of Bailey. Bailey responded by kicking Williams off of her. Williams had to be restrained by several security guards and was escorted off the boat.
At a cast lunch, the women made amends and later admitted at the season 8 reunion that things were blown out of proportion. Bailey said that she may have had too many drinks and that her anger was misplaced.
Looking back, Bailey says her relationship with Williams has been more consistent since the incident.
"Porsha and I are not like besties or anything, we kind of have a little rollercoaster relationship," she admits. "We get along for the most part, but we do have our little ups and downs."
Source: Read Full Article