Inside Discovery CEO's 'Eye-Popping' Pay – Is David Zaslav Worth More Than Bob Iger? | Charts
MASTERCHEF: A Contestant, chef/host Gordon Ramsay and guest judge Emeril Lagasse in the "Legends: Emeril Lagasse – Auditions Round 1" season premiere episode of MASTERCHEF airing Wednesday, June 2 (8:00-9:00 PM ET/PT) on FOX. © 2019 FOX MEDIA LLC. CR: FOX.
'MasterChef' Season 11 Premiere Orders Up Ratings Win for Fox
But Fox's kitchen shows settle for fourth place in terms of total viewers
If you can't take the kitchen, get out of Fox's primetime. On Wednesday, the Season 11 premiere of "MasterChef" — a "legends" season — was strong enough to carry Fox and "Crime Scene Kitchen" to a first-place finish among adults 18-49.
Of course, it helps that Fox, unlike its "Big 4" competition, doesn't schedule the relatively low-rated 10 o'clock hour. Even so, Fox finished fourth last night counting viewers of all ages.
Continue reading
Join WrapPRO for Exclusive Content,
Full Video Access, Premium Events, and More!
ABC finished first in terms of total-viewer averages last night, drawing 3.09 million from 8 p.m. to 11 p.m. NBC was close behind with an average of 3.06 million total viewers.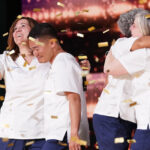 Fox was first in ratings with a 0.5 rating/4 share in the advertiser-coveted 18-49 demographic, but fourth in total viewers with an average of 2.1 million, according to preliminary numbers. 
More to come…