Fans quickly send the Oscar-winning actress well wishes, while some others insist that her 'Black Panther' co-star Letitia Wright is the one to blame for Lupita's COVID-19 diagnosis.
AceShowbiz –Lupita Nyong'o is the latest celebrity to test positive for COVID-19 amid the surge of Omicron variant case. It prompted her to miss out virtual interviews for her new movie "The 355". The Oscar-winning actress shared her diagnosis on her Twitter account on Tuesday, January 4.
"I too have tested positive for COVID-19," the "Black Panther" actress wrote to her followers on the blue bird app. "I'm fully vaccinated and taking care in isolation, so I trust I will be well. Please do all you can to keep yourself and others protected from serious illness," she added, before concluding her message with a hashtag to urge people to "Stay Masked and Vaxxed."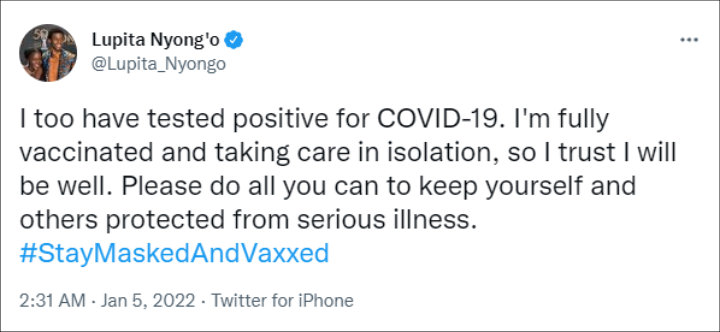 Lupita Nyong'o shared she tested positive for COVID-19.
Fans quickly flooded her replies with well wishes. "This breaks my heart I really hate that she has to go through this man!!!!!!!" one fan said. "you better get it together, that's all imma say," another fan penned.
Some people, meanwhile, blamed Lupita's "Black Panther: Wakanda Forever" co-star Letitia Wright for it. "I blame #letitiawright," one user wrote. One other urged Lupita to "stay away from Letitia, Queen!" Someone was visibly mad as tweeting, "LETITIA WHEN I CATCH YOU. WHEN I F**KING CATCH YOU B***H."
It was previously reported that Letitia, who plays Shuri in the MCU franchise, was an anti-vaxx and even promoting an anti-vaxx agenda on the set of the "Black Panther" sequel. However, the actress quickly shut down the speculations which she called "completely untrue."
"It saddens me to have to address the reports published by The Hollywood Reporter on October 6th 2021," the British actress posted on Instagram back in October. "The report spoke about my conduct on the set of 'Black Panther 2'. I honestly assert that this was completely untrue."
"Anyone who knows me or has worked with me, knows that I work incredibly hard at my craft & my main focus is always to do work that's impactful and inspiring," the 27-year-old further insisted. "That has been & will continue to be my only focus."
That aside, "The 355" follows a story about a wild card CIA agent joins forces with three international agents on a lethal mission to retrieve a top-secret weapon that's fallen into mercenary hands, looking at the same time to stay a step ahead of a mysterious woman who's tracking their every move. In addition to Lupita, the movie stars Jessica Chastain, Diane Kruger, Penelope Cruz, Fan Bingbing, Edgar Ramirez and Sebastian Stan.
Directed by Simon Kinberg, "The 355" is set to be released on Friday, January 7.
Source: Read Full Article