Viewers watched strangers talk and fall in love without seeing each other in the first episodes of Love Is Blind. Now they will have to continue to watch the Netflix series to see if they'll stay in love. A future episode will show Lauren and Cameron talking about their pet peeves.
Singles would speed date in the beginning of 'Love Is Blind'
The experiment had 30 singles talk in pods to try to form a connection. The beginning of the process looked a lot of like speed dating.
"In the beginning, we wanted people to have the opportunity to really meet everyone in the facility," creator Chris Coelen told A.V. Club. "That part was sort of structured by production, and we rotated people sort of musical-chairs style, speed-dating style. But then they controlled their own destiny."
He continued, "They asked what they wanted to ask. We would take them out after about seven to 10 minutes in that first encounter and rotate them to the next person. And then, really, from there on, they were encouraged to focus on the people that they wanted to focus on, spend time with the people they want to spend time with."
Lauren and Cameron is one couple fans are rooting for
Cameron works in computer science and Lauren is a content creator. They managed to form a connection in the pods and leave engaged.
Lauren has voiced some concern about issues they may face as an interracial couple. However, they both seem to be on the same page about facing them together and having kids one day.
Fans have shown their support for the couple on social media. "Only here for Lauren and Cameron!#LoveIsBlind," one fan tweeted. "Me: What a stupid show. Who can fall in love without seeing people. Also me: Wow, Cameron & Lauren are so cute. Their love is REAL!! I STAN!!! #Loveisblind," another fan tweeted.
Lauren thinks it's gross Cameron would share a toothbrush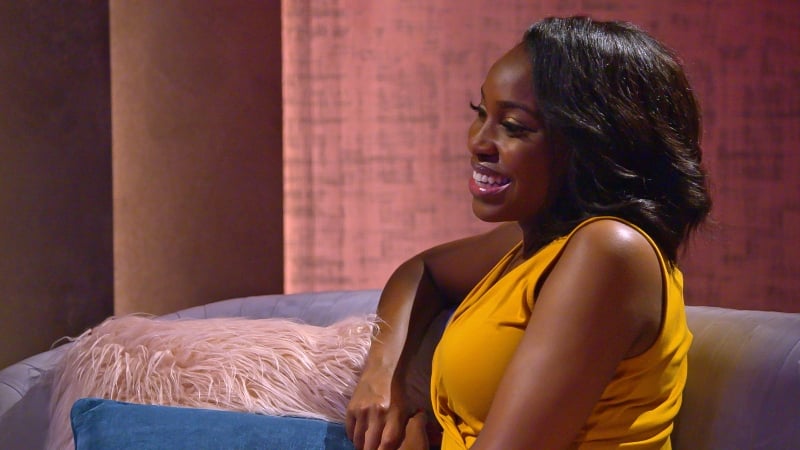 The more solid couple will continue to get to know each other. A sneak peek given to Entertainment Tonight shows them talking about their pet peeves.
"It's funny because, one of my pet peeves is when I can hear people chew," Lauren said despite the fact she was chewing loudly while they were eating together. "I'm a clean person, so I don't like clutter. And I feel like if you use a dish, just, like, wash it," she added.
There is another thing she won't do. "Even though I love you, don't use my toothbrush. Some people do that," she told Cameron. "Do you do that?"
He admitted that he "wouldn't mind" her using his toothbrush. Lauren didn't think this was sweet.
"As a married woman, I am willing to share a lot of things with my husband. We can share food, we can share a bed, we can share a pillow. But I'll be damned if we are sharing a toothbrush, Cameron," she said. "That is nasty! That is nasty. Nasty! No! I just can't believe he even said that. Unbelievable. No way."
Fans will have to keep watching to learn more about the couple. Episodes six through nine of Love Is Blind will be available on Netflix Feb. 20.
Source: Read Full Article