"Jersey Shore" star DJ Pauly D is strict about his 'GTL' routine: gym, tan, and ladies (but really, it's laundry)! The reality star is quite selective when it comes to finding women who are wifey material. During his single years on "Jersey Shore," the reality star was notorious for bringing home a new woman or two a night. In fact, Pauly D was such a ladies' man that he even had his own stalker! Sadly for those ladies that Pauly D met on the shore, none of them piqued his interest enough to get into a serious relationship. 
After "Jersey Shore" ended, fans were shocked to know that Pauly D had a daughter from a previous one-night-stand. Viewers also saw Pauly D get more serious about settling down as he appeared on dating shows, including "Double Shot At Love" where he met his girlfriend, Nikki Hall. From temporary flings to baby mamas, it's safe to say that Pauly D's love life has been pretty tumultuous and possibly the most interesting of the "Jersey Shore" cast. With more buzz surrounding his relationship with Nikki, fans are wondering who the once-religiously single DJ dated in the past. His dating track record might surprise you. Read on!
Pauly D hooked up with a few of his 'Jersey Shore' housemates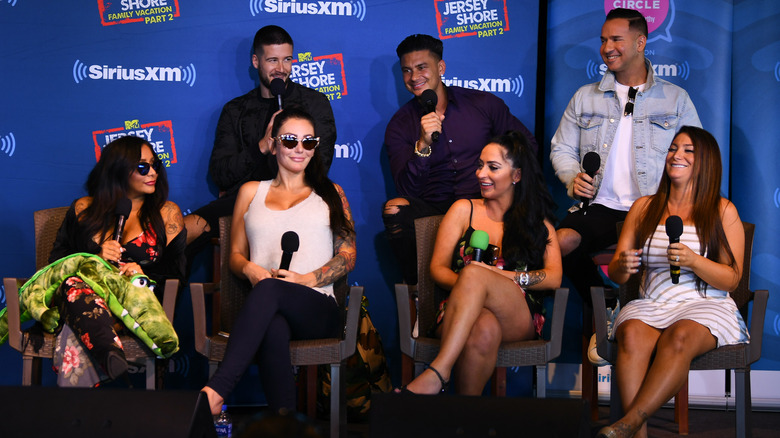 Although Pauly D brought home women from the club nearly every night on "Jersey Shore," there were times where he also hooked up with a few of his roommates. The first and most memorable was Jenni "JWoww" Farley, who at the time was dating Tom Lippolis, per Showbiz Cheat Sheet. Pauly and Jenni have an interesting history together that unfolded throughout the seasons of "Jersey Shore"; although the two were never actually in a relationship, they have explored the possibility of dating a number of times. Jenni once revealed on an episode of "Jersey Shore: Family Vacation" that she wouldn't mind taking her friendship with Pauly to the next level (via People): "I would be very open to talking to Pauly. But I haven't seen that effort yet." Unfortunately, Pauly missed his shot with Jenni once Zack "24" Carpinello came into the picture.
Pauly also hooked up with Deena Cortese during the cast's trip to Italy in season 4 of the show. According to a former producer who worked on the first three seasons of "Jersey Shore," Pauly once hooked up with Angelina Pivarnick. "During a promotional trip — it was either in LA or New York, but I think it was LA — [Angelina] hooked up with Pauly," the producer revealed on Reddit. The DJ never dated any of his cast mates, but his in-house hookups definitely sparked a lot of buzz. Love thy roommate, right?
Pauly D welcomed a daughter with Amanda Markert after a one-night-stand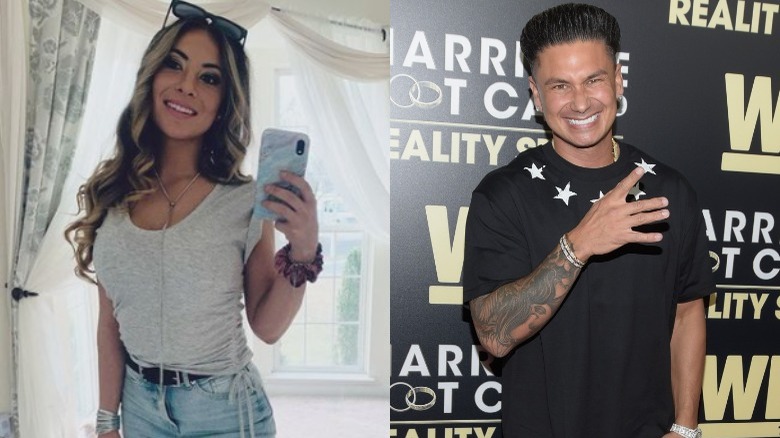 One of Pauly D's hookups changed his life for the better when he became a father. Pauly D met Amanda Markert in August 2012 at a nightclub in Las Vegas. The two had a one-night-stand, which resulted in Markert getting pregnant. Pauly and Markert welcomed their daughter, Amabella Sophia Markert, in May 2013, per Showbiz Cheat Sheet. When the reality star found out he was having a child, he couldn't have been happier. "I'm proud I'm a father," Pauly D told Us Weekly in October 2013. "I am excited to embark on this new part of my life."
Fatherhood hasn't been the easiest for Pauly, given that he and Markert were in a nasty custody battle after Amabella was born. According to Gossip Cop, Markert wanted child support from the "Jersey Shore" star, but did not want him to have any custody rights. In response, Pauly filed a suit for full custody of Amabella, claiming that Markert was using his child for fame. He also claimed she was an unfit mother because she worked at Hooters and as a bottle girl. There is very little detail about their custody settlement, but it seems that Markert has full custody of Amabella, per her Instagram.
All baby mama drama aside, Pauly D is a proud girl dad. During "Double Shot at Love" Season 1, he emphasized to contestants the importance of finding the perfect mother-figure for his daughter — he even put the ladies to the test with a prank featuring a paid actor to play his daughter. We love to see it!
Pauly D and Aubrey O'Day's relationship didn't end amicably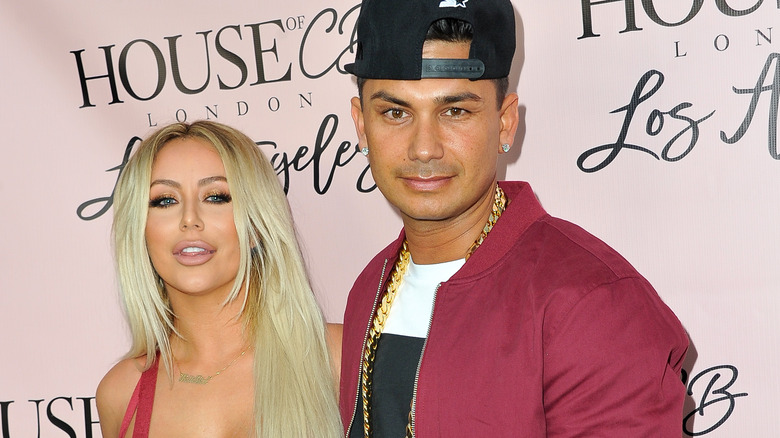 Pauly D's most public relationship is with former Danity Kane singer Aubrey O'Day. The two met on reality series "Famously Single" in 2015, and began dating a few months after filming. According to O'Day, the two instantly hit it off. "It ended up just like becoming, like, this chemistry happened within the house with a few of the castmates and Pauly and I were one of them," O'Day explained to E! News. "Which everybody always laughs, I feel like people think we're completely different but ended up being pretty alike in a lot of ways."
Their on-and-off romance of a year and a half played out on television and in the tabloids before they officially called it quits in July 2017. A source told People at the time, "They're definitely broken up. It was a long time coming — they were always on and off." After their split, the couple appeared on "Marriage Boot Camp: Reality Stars" in 2018, where their private issues came to light and they failed to get back together. The show seemed to make their "situationship" worse, as O'Day claimed her ex had allegedly been abusive and wished death on him.
Their relationship didn't end amicably, and it seems that the two are happy without each other. Pauly D told Page Six in September 2018 that he was "so happy" that he is no longer dating O'Day. "The way I feel is I dodged a bullet. I'm glad that I was out of that whole situation." On the other hand, O'Day echoed the same sentiments when revealed to Us Weekly that she felt "tortured" in her relationship. Yikes.
Pauly D dated multiple women at once on 'Double Shot At Love'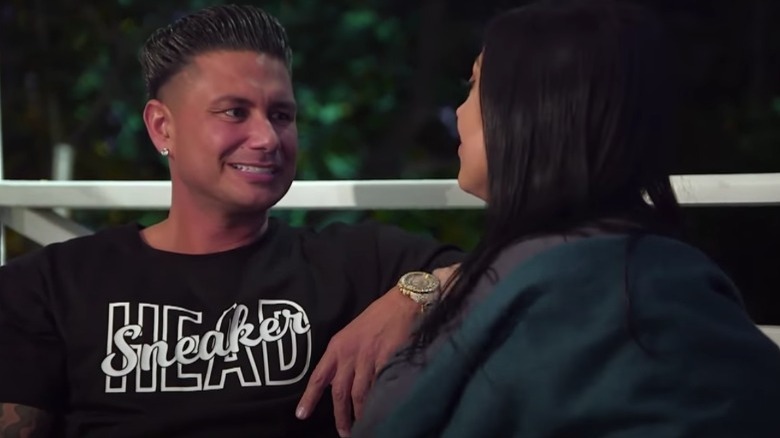 After "dodging a bullet" by splitting from Aubrey O'Day, Pauly D gave love a second chance on MTV's "Double Shot At Love." On the reality series, both Pauly D and his "Jersey Shore" castmate Vinny Guadagnino pursued a group of contestants in hopes of finding love and pursuing their respective "Mrs. Right." Pauly D had a number of prospects he was interested in, but at the end it came down to Nikki Hall and Derynn Paige in the season 1 finale. Although Pauly D let Paige go first, it didn't mean he was taking Nikki home. Unfortunately, her feelings were too strong for Pauly to handle at the moment. He told Nikki at the time, "I'm rolling solo for now," resulting in her leaving the house in tears.
Pauly's reality TV dating didn't end there, however. The search for love continued with season 2 of "Double Shot At Love," and the tension from last season seemed to boil over when Pauly and Vinny invited their exes to join them in Las Vegas at Drai's nightclub (via Screen Rant). Nikki tried to avoid Pauly until special guest Lauren Sorrentino stepped in and urged her to go get Pauly back. From there on, it was history for Pauly D and Nikki, and the two seem to be happy in their relationship.
Pauly D and Nikki Hall's relationship grew stronger in quarantine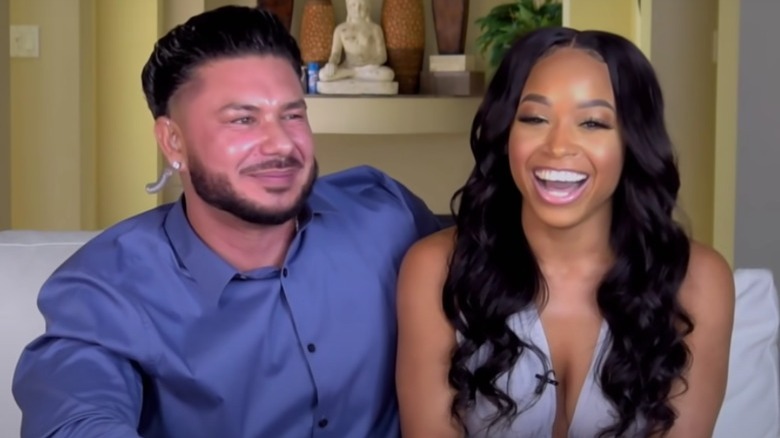 Most "Jersey Shore" fans can agree that Pauly D seems to be happiest when he is in a relationship, especially with girlfriend Nikki Hall. After season 2 of "Double Shot at Love" wrapped up, Pauly insisted on taking things slow with Nikki. However, social media detectives came to the conclusion that Nikki was quarantining with Pauly at his home in Las Vegas during the COVID-19 pandemic — especially because of her weekly cooking videos being a kitchen that was way too familiar. During the "Double Shot" reunion, the two revealed they've been living together since the season wrapped.
During a "Jersey Shore" cast dinner via Zoom, Pauly explained how the pandemic helped him and Nikki's relationship become stronger. "Through this pandemic, I'm full of surprises — I grew myself, I grew a beard and I got a girlfriend," said Pauly (via InTouch Weekly). "Nikki and I, we left 'Double Shot' with a connection, and we rebuilt that connection on 'Double Shot 2.' It's pretty crazy how my relationship has grown. This whole quarantine thing has been a blessing and a curse. It pulled tour away from me, but it brought me closer together with my relationship with Nikki."
Since then, Nikki has become a major part of Pauly's life. Not only did she meet his daughter Amabella, but she's also met the "Jersey Shore" crew, who have unanimously agreed that Pauly just might've found "the one." Clearly, Vinny Guadagnino needs to get on board with the commitment train next; hopefully with the help of Nikki and Pauly, he'll find love on season 3 of "Double Shot at Love."
Source: Read Full Article