Union said Tuesday that the talks with the AMPTP don't "reflect the urgency" of the workers' needs
@runolgarun on Twitter
IATSE has set a deadline for this coming Monday that if a deal is not reached between the union and the studios, a strike will begin.
The International Alliance of Theatrical Stage Employees International president Matthew Loeb announced Wednesday that unless an agreement is reached, union members will begin a nationwide strike against the Alliance of Motion Picture and Television Producers (AMPTP) on Monday, October 18 at 12:01 a.m., PDT.
The deadline makes good on Loeb's previous statement that he wanted the negotiating to end one way or another in "days, not weeks." And the announcement even includes a countdown clock until that date and time. Loeb said the union will continue bargaining with the producers this week in the hopes of reaching an agreement that addresses core issues, such as reasonable rest periods, meal breaks, and a living wage for those on the bottom of the wage scale.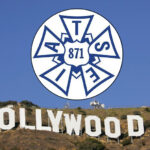 "However, the pace of bargaining doesn't reflect any sense of urgency," Loeb said in a statement to members. "Without an end date, we could keep talking forever. Our members deserve to have their basic needs addressed now." 
In a memo from Tuesday following the seventh day of talks, IATSE leadership said that the studios "repeatedly refuse to do what it will take to achieve a fair deal."
"Either they don't recognize what has changed in our industry and among our members or they don't care. Or both," the memo continues.
Approximately 60,000 film and TV workers voted last week to authorize a strike, which would shut down nearly all of Hollywood's productions at a time when studios were hoping to make up for time lost to the COVID-19 pandemic and streaming services are ramping up production on original titles. Even productions shooting outside of IATSE's jurisdiction in North America that may hire local, non-IATSE crew members would be affected as most of them still hire IATSE members for key department head positions like lead costume designer, cinematographer and lead makeup artist.
The strike vote from last week was voted on by 90% of IATSE members with an overwhelming 98.6% voting to approve a strike.
Source: Read Full Article