If you've tried to watch Love Island, you know that it takes a LOT of determination. New episodes air every weeknight, which is…a lot. But across the pond, local fans of the UK version have made it a full-fledged cultural phenomenon. Here are a few helpful pointers for successfully watching Love Island from some of the show's OG fans…plus, some insight about why you're going to be obsessed with it, too.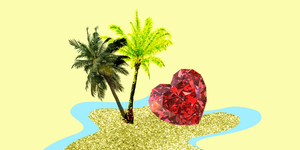 It's basically a cult.
Picture your office or group chat the morning after an episode of The Bachelorette. It's all anyone can talk about, right? Okay, now imagine if everyone cared about it, like, ten times as much. That's what Love Island UK is like.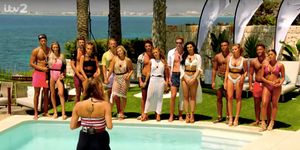 "If you don't watch it, you genuinely can't engage in everyday life," says Aishling E., a 25-year-old from Dublin. She finally started watching this year because during past seasons, she felt too left out at work. "People take it very seriously. Today in the office, one of the lads was like, 'Oh, I'll start back real life in two weeks when Love Island is over.'"
Did you hear that? Your first order of business is to just blow off your entire regular life. Noted.
Once you're hooked, you won't mind moving your schedule around it.
It's practically become a cultural norm to ditch on plans to catch Love Island. "You kind of revolve your whole post-work life around it," says Aishling. "Like, out with friends? Gotta be home in time for Love Island."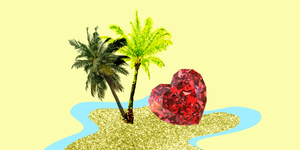 But if you do have to miss an episode, spoilers are your best friend.
"I personally don't watch everyday because I'm busy," says Ellen D., a 25-year-old working in London. "But I have been able to keep up as my Twitter and Instagram are full of memes, so I always know what's happened anyway. If you don't keep up, I feel like, how do you have a convo with someone?"
So…you don't necessarily have to stream episodes after they've aired if you don't have the time to catch up. You can just lurk that #LoveIslandUSA hashtag on your preferred social media platform. (The @LoveIslandUSA Instagram account posts helpful little "ICYMI" stories that are super helpful.) P.S., make sure to include "USA" in your searches because the UK version is currently running and oy, do they love to live tweet over there.
https://www.instagram.com/p/Bz9PMs4nTwi/
Cheers to all that's about to unfold… #LoveIslandUSA
A post shared by Love Island (@loveislandusa) on
Monday nights are the best to watch.
The UK Love Island is on six nights a week: Sunday through Friday. According to Ellen, this means that Sunday night's episode is the one you should prioritize seeing.
"It's not on Saturday, so Sunday is usually the best day. The producers always make things crazy and stir it up, leaving you on major cliffhangers. I think Sundays are really juicy," she says.
Following that logic, if you're unable to watch Love Island every single night, you should make sure that you always catch Monday and Friday, so you can see the cliffhanger and the big reveal.
It might take the US a little while to catch on.
Because it's on literally every weeknight and requires you to learn tons of rules, it can be kind of difficult to get really into Love Island at first. But, the UK version wasn't necessarily a crazy cultural phenomenon right off the bat, so maybe you'll start to feel the pressure to watch once more people begin to pick it up.
"I've watched every season, but most people I know really got properly hooked last year," says Ellen. "It kind of started to take off in 2017, but this year and last year have been huge."
Welp, now that we have all the secrets to keeping track of our favorite Islanders, we should be all set.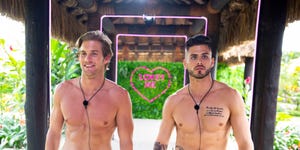 Source: Read Full Article