"Happy Days" was a popular ABC sitcom set in the 1950s in a suburb of Milwaukee, Wisconsin. The long-running comedy series followed the Cunningham family and their extended circle and starred Tom Bosley, Marion Ross, Ron Howard, Henry Winkler, Eric Moran, Scott Baio, and many more. "Happy Days" boasted an 11-season run on ABC, from 1974 to 1984, per IMDB.
The stars on the show became pop culture icons. A long list of celebrity guest stars also turned up, including Tom Hanks, Lorne Greene, Danny Thomas, baseball legend Hank Aaron, "Charlie's Angels" star Cheryl Ladd, and "Brady Bunch" kids Christopher Knight and Maureen McCormick, per MeTV. The core cast members of the series were friends both on and off-screen. Decades after the show ended, Winkler told Fox News his time on "Happy Days" was very special. "We are very much like a family," Winkler said in 2017. "I love them, I talk to them, I email them, and I see them."
Sadly, with such a large cast, several stars from the show have died in the years since "Happy Days" ended. Here's a look at the sitcom stars we've lost.
Tom Bosley played the family patriarch Howard Cunningham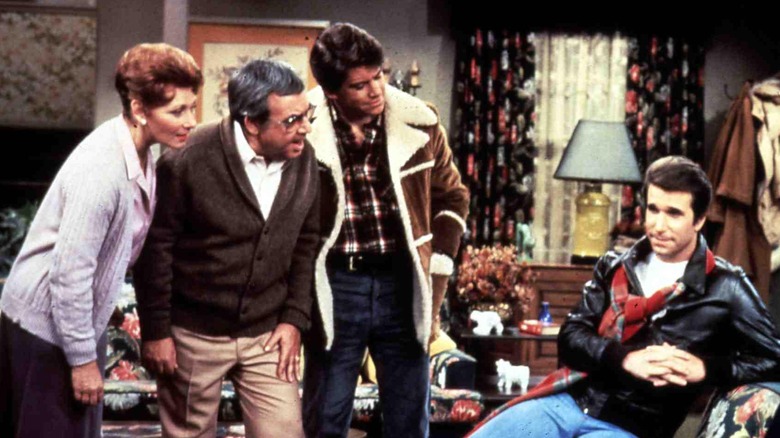 Tom Bosley will forever be remembered as hardware store owner and doting dad Howard Cunningham on "Happy Days." The actor played the Cunningham patriarch, father to Richie and Joanie (and "missing" eldest son Chuck), and giver of fatherly advice to Arthur "Fonzie" Fonzarelli for the entire 11-season run of the series. Bosley never minded being associated with the sitcom character despite boasting a long stage and screen career that scored him an Emmy nod and a Tony Award.
Bosley died in Palm Springs, California, on October 19, 2010 at age 83 of lung cancer. His co-star Marion Ross said her TV husband was "so smart, he could make up or fix a joke for a better end scene at the drop of a hat," according to a Los Angeles Times obituary for the actor. Bosley once said he did not mind being known to the public as Mr. C, noting that it was a "compliment" that people remembered the character so fondly.
Erin Moran played Richie's little sister Joanie Cunningham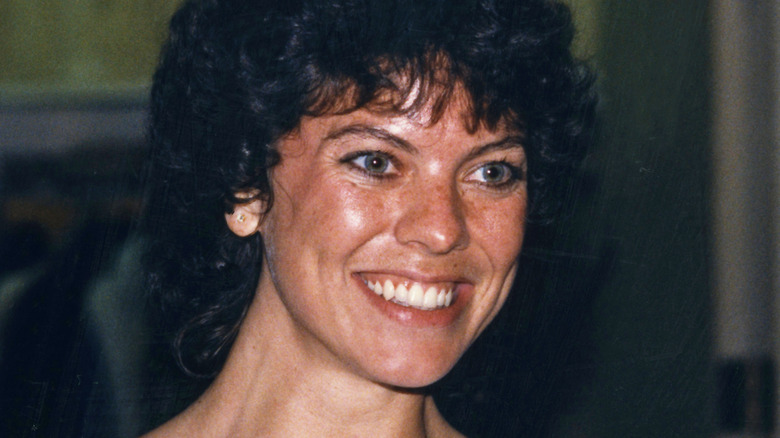 Erin Moran enjoyed fame as a child actor in the 1960s and '70s. Before scoring her life-changing role as the Cunningham daughter Joanie on "Happy Days," Moran logged roles on "Gunsmoke," "The F.B.I.," "The Courtship of Eddie's Father," "My Three Sons," "Family Affair," and "The Don Rickles Show," per IMDB. After joining "Happy Days" in 1974, Moran teamed up with co-star Scott Baio to headline the short-lived spinoff "Joanie Loves Chachi." She continued to act sporadically through the 1980s and '90s, but nothing trumped her fame as Joanie "Shortcake" Cunningham on "Happy Days."
Sadly, Moran was found dead on April 26, 2017 in Harrison County, Indiana after a 911 call about "an unresponsive female" was placed, per ABC News. She was 56 years old. While there was some initial speculation about Moran's cause of death due to past issues with substance abuse, "no illegal narcotics were involved in her death," according to an autopsy report obtained by TMZ. Moran's husband Steve Fleischmann later recalled that she died from cancer, per The Chicago Tribune. Four months before her death, the actor learned she had squamous cell carcinoma of the throat and she underwent chemotherapy and radiation, but the illness quickly progressed and spread to her spleen. Near the end of her life, Moran could no longer eat or speak and was using a feeding tube. She died in her sleep at home.
Pat Morita played restaurant owner Arnold Takahashi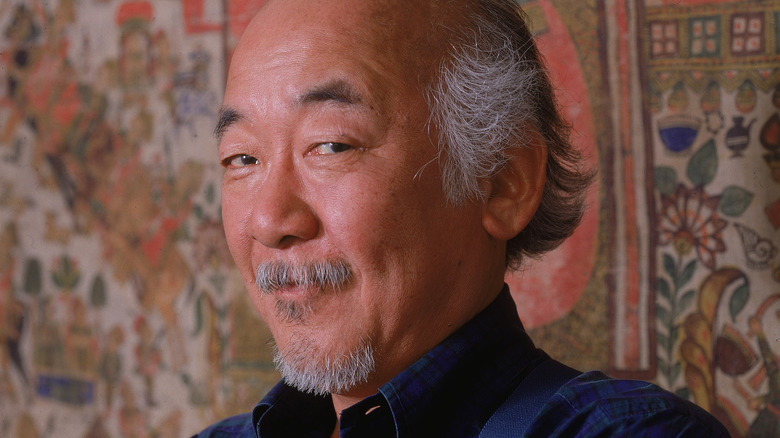 Pat Morita enjoyed a successful TV and film career. After a recurring role on "Sanford and Son," he played malt shop owner Matsuo "Arnold" Takahashi on "Happy Days" from 1975 to 1983, per IMDb. Morita left "Happy Days" to star in his own TV series, the ABC comedy "Mr. T and Tina." The show was short-lived, but Morita made history as the first Japanese American actor to lead a TV series, per Entertainment Weekly. Morita later followed his "Happy Days" heyday with a lead role in the 1984 movie "The Karate Kid" and its two sequels, playing Mr. Miyagi, the wise mentor to Ralph Macchio's Daniel LaRusso.
Morita worked steadily as an actor until his death. He died on November 24, 2005 in a Las Vegas hospital of kidney failure, per Variety. Morita's wife Evelyn released a statement to reveal that her late husband had "dedicated his entire life to acting and comedy." His "Happy Days" co-star Ron Howard told EW that "there was just this positive spirit" about Morita, "this sense of humanity about him that was rich."
Al Molinaro played 'Arnold's' owner Al DelVecchio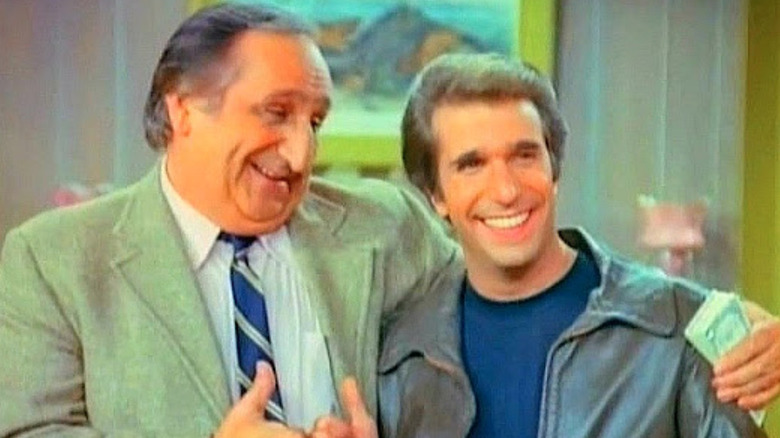 Al Molinaro was a television legend known for playing Officer Murray Greshler on the 1970s comedy "The Odd Couple." He was also a TV commercial regular who pitched everything from On-Cor frozen dinners to the skin cream Cortaid.
In what would be his longest-running role, he played Al DelVecchio, the second Arnold's Drive-In owner, on "Happy Days." Molinaro started on "Happy Days" as a regular in 1976 and played the role until the series' end, and then appeared on the "Joanie Loves Chachi" spinoff starring Erin Moran and Scott Baio as the same character, per IMDb. He also donned his "Happy Days" apron to play Al DelVecchio in the intro to the 1994 Weezer music video, "Buddy Holly.
Molinaro died in a California hospital on October 30, 2015, according to TMZ. He was 96 at the time of his death. The late actor's son told the outlet that Molinaro suffered from "very bad gall stones," but elected not to have surgery due to his age.
Penny Marshall played Fonzie's friend Laverne DeFazio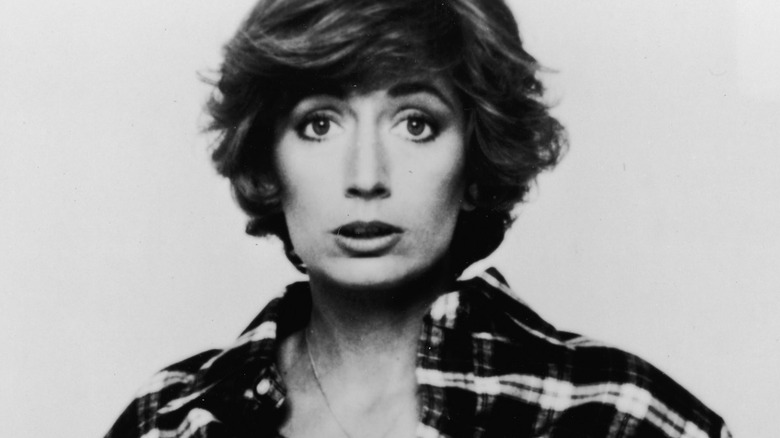 Before she was a star on "Laverne & Shirley," Penny Marshall made her debut as her wise-cracking character, Laverne DeFazio, on "Happy Days." The actor appeared in five episodes of the ABC sitcom, playing the sassy Shotz brewery worker, from 1975 to 1979, per IMDb. The character was popular enough to spawn the long-running "Laverne & Shirley" spinoff with co-star Cindy Williams, but it's hard to forget Marshall's start on her brother Garry's sitcom in the 1976 "Happy Days" episode, "A Date With Fonzie". Marshall also played Laverne in the "Happy Days" spinoffs "Mork & Mindy" and "Blansky's Beauties," and later voiced the character in the ABC Saturday morning cartoon series "Laverne & Shirley in the Army."
Marshall passed away in her Hollywood Hills home on December 17, 2018 due to complications from diabetes, her publicist told The Hollywood Reporter. Marshall, who was 75 when she died, had been diagnosed with brain and lung cancer nearly a decade before her passing.
Robin Williams played Orkan alien Mork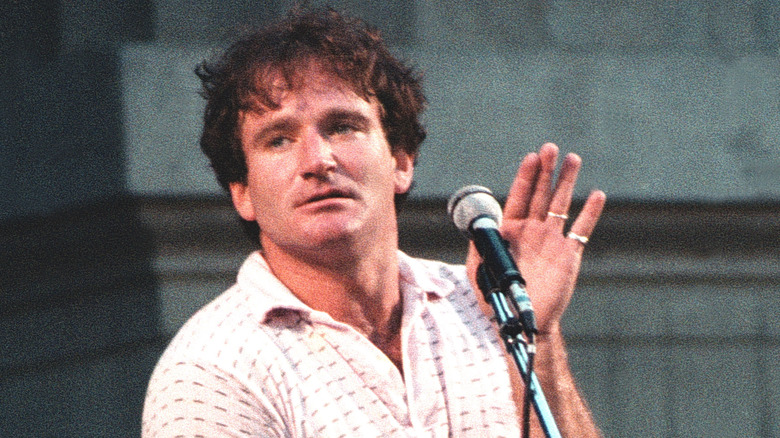 Before he landed his own sitcom, comedian Robin Williams once landed in Milwaukee — in a spaceship. The actor's "alien" character Work was first introduced on the 1978 "Happy Days" episode "My Favorite Orkan," per IMDb. The character returned for a second episode in 1979 and was popular enough for Williams to score a spinoff with Pam Dawber.
The "Mork & Mindy" pilot episode featured Williams and Dawber's characters meeting, and later falling in love, after the Orkan alien was sent to Earth by his superior, Orson. A son, Mearth (Jonathan Winters) was later born. Williams played Mork on the "Mork & Mindy" spinoff from 1978 to 1982, then went on to a successful movie career in films such as "Good Morning, Vietnam" and "Dead Poet's Society." His final TV series was the short-lived comedy "The Crazy Ones" in 2014.
Fans were heartbroken when Williams took his own life on August 11, 2014.  The beloved actor, who was 63 at the time of his death, suffered from severe depression and had been diagnosed with Parkinson's disease shortly before his tragic death, according to The Hollywood Reporter.
Heather O'Rourke played Heather Pfister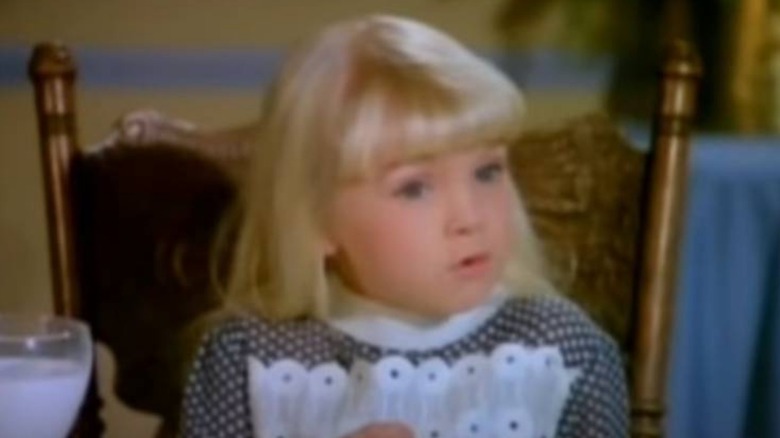 In one of the final seasons of "Happy Days," Henry Winkler's Fonzie dated single mom Ashley Pfister (played by Linda Purl). Child actor Heather O'Rourke played Ashley's daughter Heather for 12 episodes on the show from 1982 to 1983, per IMDb. Fans would later recognize the blonde child star for her role as Carol Anne Freeling in the "Poltergeist" horror movie franchise.
O'Rourke died suddenly at age 12, on February 1, 1988, at the Children's Hospital and Health Center in San Diego. The young actor's cause of death was an acute bowel obstruction, complicated by septic shock, according to an obituary in The New York Times. Doctors later told The Associated Press that O'Rourke's sudden death was ″distinctly unusual″ because she lacked prior symptoms of the bowel defect that caused her death. "Happy Days" stars Winkler and Purl attended O'Rourke's private funeral on February 5, 1988, the AP noted.
Source: Read Full Article