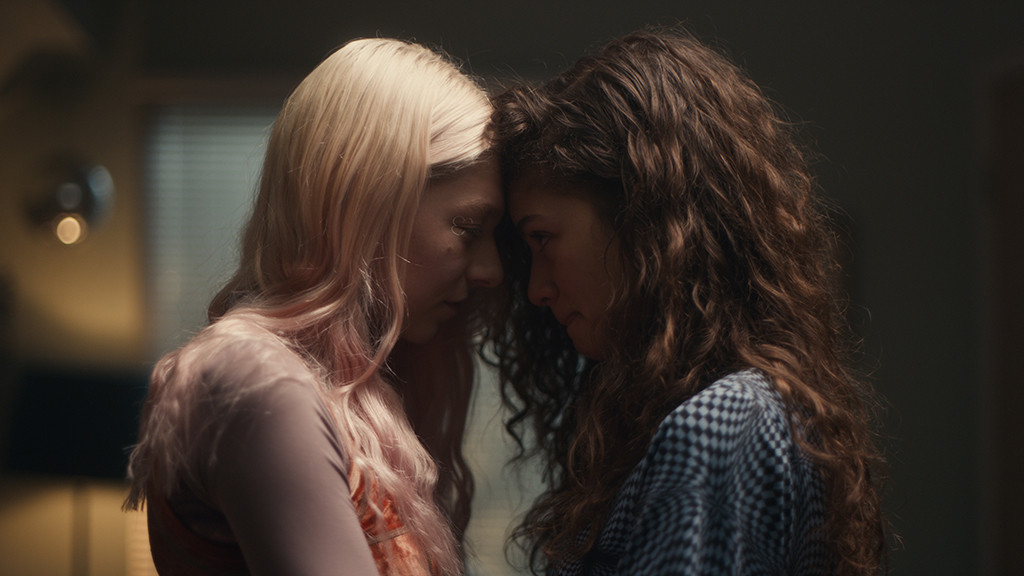 HBO
People sure love to be scandalized, and HBO's Euphoria is doing its best to provide.
The show, which stars Zendaya as a teen drug addict, has only aired three episodes so far, but already landed in many headlines for scenes that some viewers found offensive or at the very least a little shocking. Billed as a "slice of life" series, Euphoria portrays teen lives that are filled with drugs, sex, nudity, small crimes, emotional breakdowns, and most recently and controversially, some animated One Direction fan fiction that angered fans and even seemed to anger Louis Tomlinson.
Of course, some sensitive groups have found reason to complain, but even if you're not complaining, your jaw has probably still dropped at a few of the show's more intense moments. The pilot itself had several, and Zendaya described that episode to EW as "the most mild," so we can't even imagine what the rest of the season has in store.
While some viewers have been struggling with the content of the show, its cast have been defending it as an accurate portrayal of teen life.
"At first I just wanted people to watch it and enjoy the show, but after reading everything, I hope it wakes some people up," Jacob Elordi, who plays complicated jock Nate, told THR. "I've read a lot of things. I literally read a tweet that was like, 'Why can't we make a show about a bunch of kids who read the Bible, abstain from sex and are good to their parents?' But it wasn't a joke, they were literally saying that's what the show should be about. I hope for the kids it lets them know that we know—to the 14-, 15-, 16-year-olds in high school—I know how it is, and I'm there with you. I've seen a lot of parents' tweets that are like, 'Not my kid, not at my high school,' and I think it's cool to not to tell them what to do or how to do it, but let them know that we believe them and we know."
Zendaya also put up a warning for her followers, making sure they knew that they didn't have to watch just to support her if they weren't comfortable, and that Euphoria is for "mature audiences."
"It's a raw and honest portrayal of addiction, anxiety, and the difficulties of navigating life today," she wrote. "There are scenes that are graphic, hard to watch and can be triggering. Please only watch if you feel you can handle it. Do what's best for you. I will still love you and feel your support," she wrote.
Let's talk about the moments everyone's been talking about so far, shall we?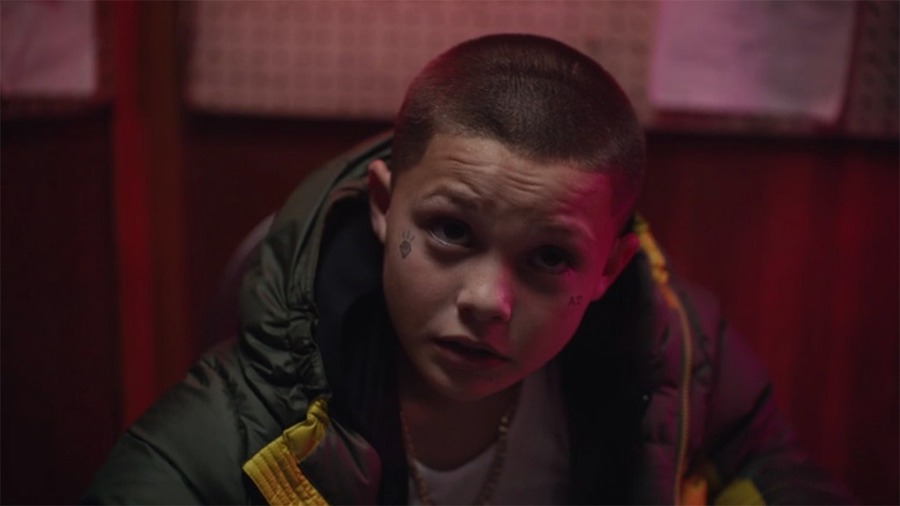 HBO
The 11 Year-Old Drug Dealer
In the first episode, we saw Rue arrive home from rehab and immediately go in search of more drugs. One of her drug dealers is an actual child, an 11 year-old named Ashtray, who keeps drugs in a microwave. He's played by Javon "Wanna" Walton, a champion boxer.
HBO
Eric Dane's Prosthetic
17 year-old trans girl Jules (Hunter Schafer) ditched a party in favor of meeting a Grindr hookup, who turned out to be played by Eric Dane. They proceeded to have some rough sex after Dane went full-frontal, complete with a prosthetic penis. We then followed Jules to the party she had ditched, where she was bullied by troubled football player Nate, who was then revealed to be the son of the Grindr hookup. It's a complicated web!
"To a degree this is a cautionary tale," Dane told EW. "It's certainly not a love letter to drugs or drug addiction, but as a cautionary tale, these are some pretty realistic circumstances and how these kids are navigating them is probably how a lot of kids today are going to navigate them."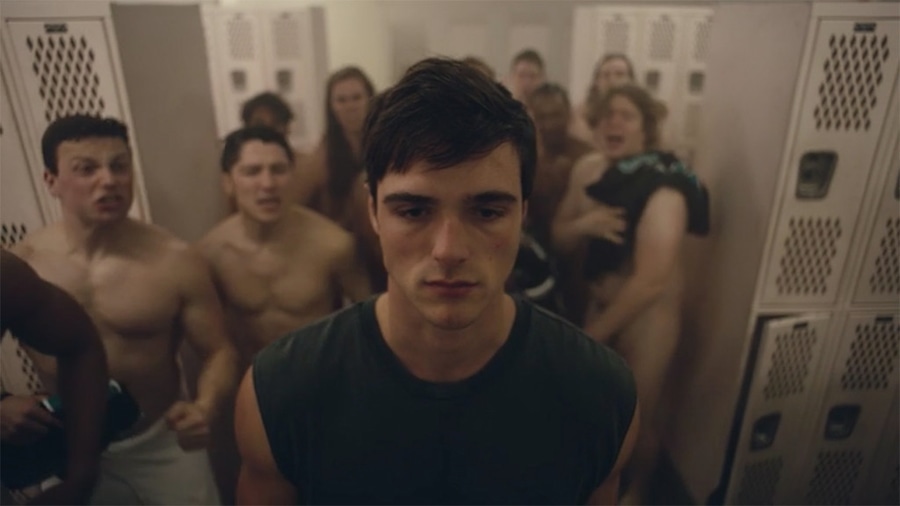 HBO
So Many Penises
During the opening scenes of episode two, "Stuntin' Like My Daddy," we learn just how Nate (Jacob Elordi) came to be so horribly angry and toxically masculine. Apparently he's so afraid of seeing anyone else's penis in a locker room that he taught himself to stare straight ahead, so cue shots of Jacob Elordi standing completely still, fully clothed, while a hundred naked boys cheer and shout around him. Apparently the scene originally had a whole lot more penises, but HBO asked for some of them to be removed.
"For me, it was interesting because that scene was actually very real, and the look on my face and the way that I was feeling was very real," Elordi told THR. "The energy in the room of that many big men jumping and yelling and slapping you—nudity aside—I'm nothing like Nate, and it was so intense. I didn't realize locker rooms could be so intense, but it was actually quite hilarious. I don't care about that kind of stuff, and it's funny reading all of the reviews now—everyone's like, 'There's this many penises.' But when you're there, it was just hilarious. I think it's a funny scene, and I'll definitely never forget it."
Article continues below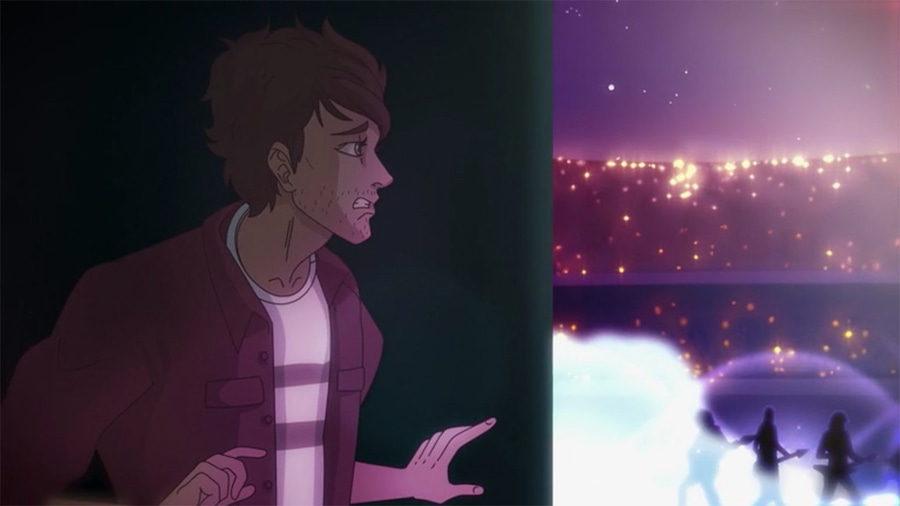 HBO
The One Direction Scene
Louis Tomlinson responded to a fan on Twitter who asked if he approved of this scene, which revealed that Kat (Barbie Ferreira) was a famous fanfiction writer who created the conspiracy theory that two members of One Direction were secretly in love. It was an Anime-style animated depiction of a story Kat had written, and it was hilarious in the moment, though Tomlinson says it was not approved.
"When I first read the script, that was the first thing that popped out to me, because I can relate to that as a 22-year-old woman who lived through the One Direction age," Ferreira told THR. "It's such a reality for so many people, and so many children and teens that are fans just have this escapist world. You completely give yourself to this persona of a person you don't even know, or five guys, and imaging the way they interact the escaping from your own reality. It's really interesting to me because I was definitely a part of that, where I wanted to escape my own life and focus on others because it was easier and felt more meaningful."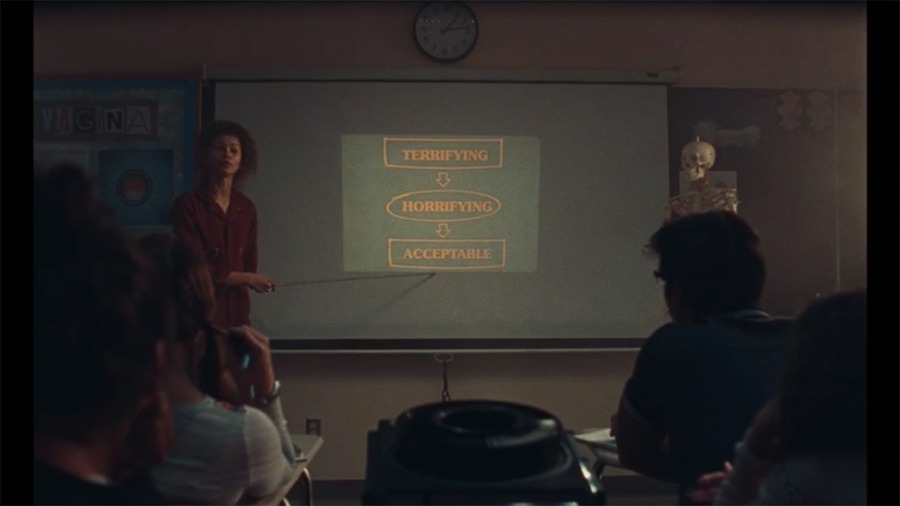 HBO
Dick Pic Class
In episode 3, when Jules shows Rue a picture sent to her by her secret Grindr lover (who is secretly Nate), Rue breaks out into a full analysis of what makes a horrifying, terrifying, or acceptable picture of a penis, and it's hilarious, and also filled with pictures of penises. This show is funny sometimes! It's not entirely upsetting!
Later we discovered that Nate had a whole collection of dick pics stored on his phone. In an interview with the LA Times, intimacy coordinator Amanda Blumenthal revealed that her team reached out to "friends and friends of friends" to see if they would provide the pictures. They then took the pictures themselves, and had to sign a consent form. Around 34 pictures are shown in the episode.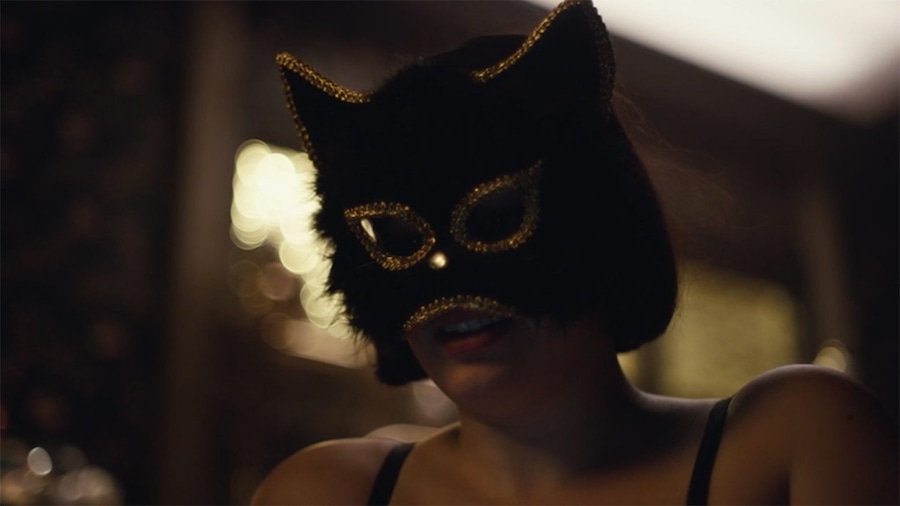 HBO
That Webcam Scene
After having a sex tape leaked and discovering the money she could make from becoming a cam girl, Kat Skypes with a man who then reveals his micropenis and begins to masturbate while asking her to humiliate him.
The micropenis was a prosthetic, and the scene was filmed with the actor actually on a Skype call from another room.
"I was really excited to do that scene, it's so funny and so up my alley of this dark humor but also this very vulnerable, real interaction that I know many people have gone through," Ferreira told THR. "The added layer that it's a micropenis, it was honestly such a fun scene to shoot because my reactions were so genuine. He was actually there and had an earpiece in and I could hear him and see the Skype video. The reaction is there, the literal scene is my actual reaction to seeing that. I couldn't contain myself sometimes."
Article continues below
Euphoria airs Sundays on HBO.
Source: Read Full Article