"A Cinderella Story" remains a fan favorite to this day, more than 15 years after it premiered in theaters. The rom-com was a modern take on the classic "Cinderella," and fans loved the chemistry between its stars Hilary Duff and Chad Michael Murray. Murray told InStyle, "The story just struck a chord with so many people, and it's really cool that I got to be a part of it."
It appears some of the chemistry between the "Lizzie McGuire" star and Murray wasn't just acting, as Duff later confessed that she was smitten with the "One Tree Hill" star during filming. She revealed to Cosmopolitan in 2016, "I definitely had a crush on him. We had a few kissing scenes in the movie, and I remember feeling pretty nervous about that." She added, "but then we became friends and I wasn't so nervous anymore."
Duff seemed to enjoy those kissing scenes (who could blame her?), telling People in 2004, "It was much better than my real first kiss." She did add that it was "probably way more awkward because there were 270 people watching, crew and stuff like that, and we also shot it on the third day of filming." Luckily for Duff, she and Murray didn't waste any time when it came to their smooch. She continued, "Out of those three days, I'd only worked with Chad one day… and we actually practiced a little bit." Yet, Duff and Murray didn't just practice kissing; the two hung out off the set, too.
Chad Michael Murray was involved in Hilary Duff's love triangle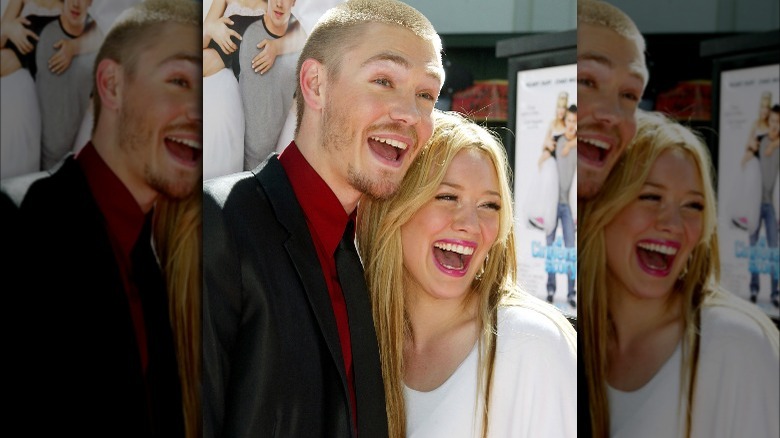 Hilary Duff and Chad Michael Murray appeared to hit it off when the two starred in "A Cinderella Story." Murray revealed that they started hanging out before filming, telling Black Film, "I just took her out to coffee prior to the movie just to get to know her and work with her so we could create some sort of relationship between each other so it would be easier on set." Dating rumors soon followed. Murray explained to YM in 2004 (via Pop Dirt), "I took her to the WB Image Campaign. I didn't realize people would assume we were dating." Murray added, "Hopefully this is the last time I have to answer this question…But no, we weren't dating."
Murray may have been annoyed by the romance rumors because Duff was only 15 when they filmed "A Cinderella Story," while he was 22. But that doesn't mean he wasn't involved in some of the teen's drama, particularly her reported feud with fellow teen queen Lindsay Lohan over Aaron Carter. Duff dished to Blender (via E!), "She…got pissed off because I worked with Chad Michael Murray [on Cinderella] after she had worked with him." Duff added, "She called him up and said all these awful things about me."
So while Murray was (sort of) involved in a love triangle with Duff, it appears the two never dated in real life. But fans will always have "A Cinderella Story" and that perfect kiss in the rain! 
Source: Read Full Article