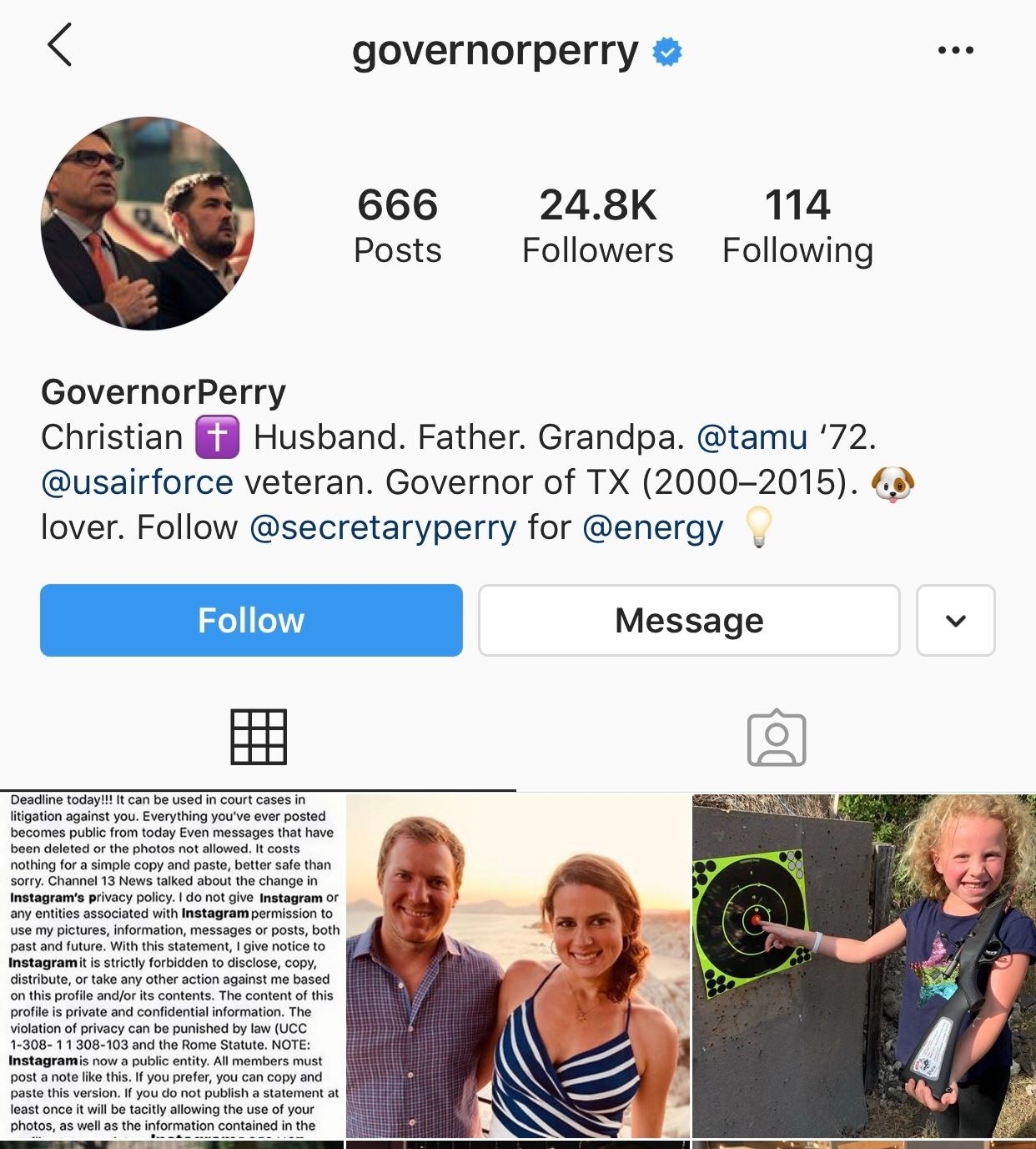 Sec. Rick Perry, the man tasked with overseeing America's vast nuclear arsenal in his capacity as head of the Energy Department, fell victim to a hoax on Instagram Tuesday.
In what is essentially the Instagram version of forwarding a chain email, the former Texas governor, 69, reposted a screenshot of a message falsely claiming the social media company was changing its privacy policy and would make public all users' posts, including deleted messages. It also suggested the company could somehow "use your photos."
The message also falsely claimed that any Instagram user who objected to the change could repost the message in order to stop the company.
"With this statement, I give notice to Instagram it is strictly forbidden to disclose, copy, distribute, or take any other action against me based on this profile and/or its contents," the message read.
"Instagram DOES NOT HAVE MY PERMISSION TO SHARE PHOTOS OR MESSAGES," it ended.
[Related: What To Do If The Older People In Your Life Are Sharing False Or Extreme Content]
The message was posted to his personal account, @governorperry, as well as his Twitter account. He also has a separate account, @secretaryperry, to showcase his official government work with the Energy Department.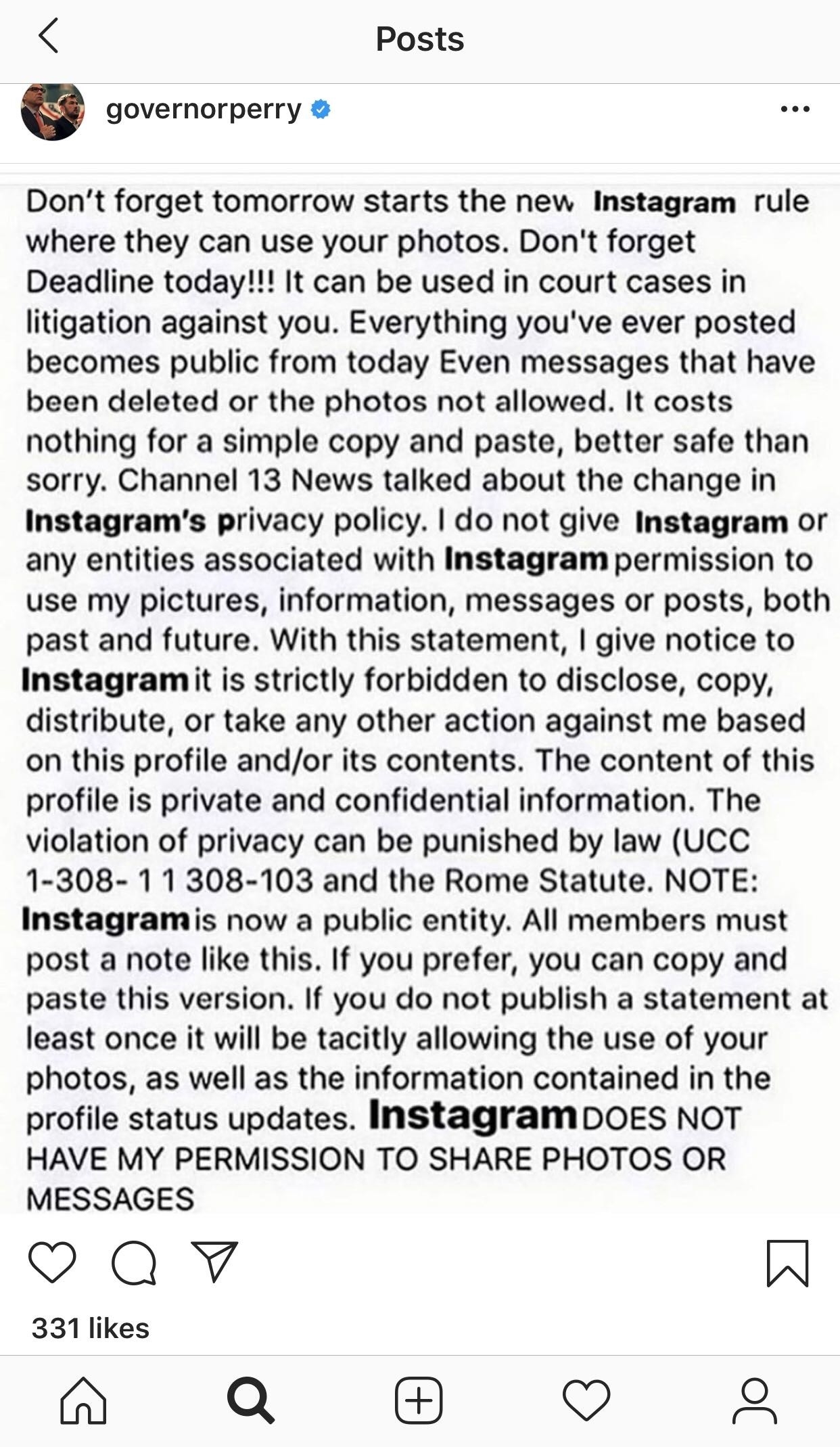 https://www.instagram.com/p/B1aIQskJfBp/
Variations of this hoax have gone viral over the years in connection with different social platforms. As far back as 2012, an almost identical message — complete with a reference to a non-existent "Channel 13" news report — went viral about Instagram parent company Facebook, prompting the company to publicly debunk the "copyright meme":
There is a rumor circulating that Facebook is making a change related to ownership of users' information or the content they post to the site. This is false. Anyone who uses Facebook owns and controls the content and information they post, as stated in our terms. They control how that content and information is shared. That is our policy, and it always has been.
Perry was not alone in falling for the hoax this week; a number of celebrities also reposted the hoax to their millions of followers, helping to spread the misinformation even further.
Julia Roberts, Debra Messing, Usher, and Julianne Moore were among the celebs who fell for it.
After he posted the fake meme, Perry was roundly ridiculed as gullible across social media.
"I'd like to introduce you to a Nigerian prince," read one Instagram comment.
"How the hell are you in charge of the department of energy when you fall for the social media version of chain email," read another.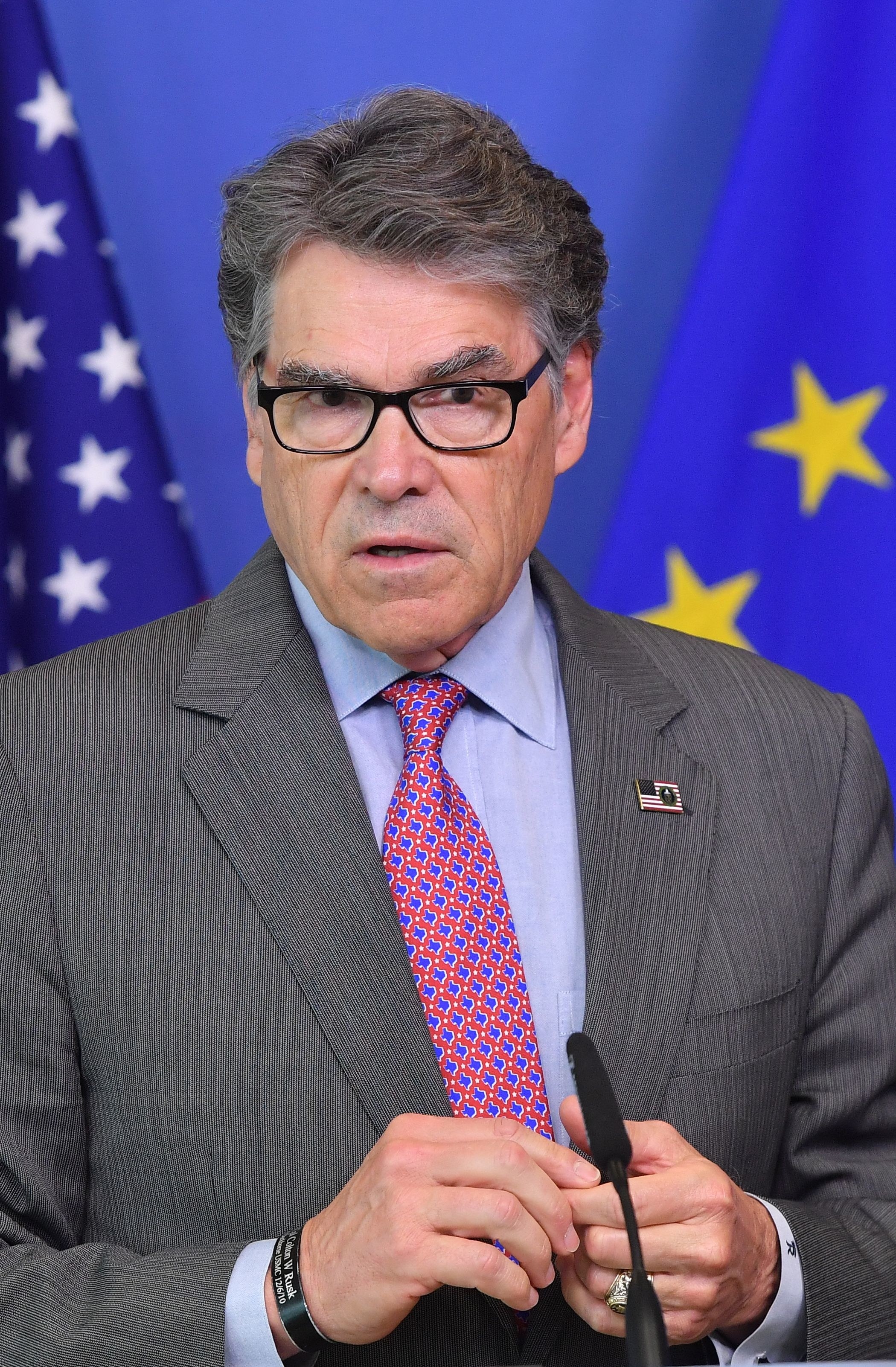 =
When Perry accepted the offer to join Donald Trump's cabinet as Energy Secretary, he was said to have misunderstood the duties of the role, wrongly assuming he would oversee oil and gas regulation. In fact, the department is primarily concerned with maintaining US nuclear weapons.
When he made an unsuccessful run for president in 2011, he famously could not recall during a primary debate the name of the Energy Department, which he had pledged to eliminate along with two others. "Sorry," he said. Oops."
The secretary evidently realized his error following his post on Tuesday night, soon commenting, "OMG….seriously, you mean this is fake!! 🙄"
"I'll be darned!!" he added. "First time I've seen anything fake on the internet!! 🤓😱."
Representatives from Instagram and the Department of Energy did not immediately respond to requests for comment.
More on this
Scientists Are Freaking Out About Rick Perry Heading The Energy Department

Nidhi Subbaraman · Dec. 14, 2016

Rick Perry In Saudi Arabia Is Exactly What You Never Knew You Needed

Hayes Brown · Dec. 5, 2017
David Mack is a deputy director of breaking news for BuzzFeed News and is based in New York.

Contact David Mack at [email protected]

Got a confidential tip? Submit it here.
Source: Read Full Article