The biggest trend of the 2020s? The early aughts and the late '90s. As the saying goes, all trends come back around, and right now, the trend we can't seem to get enough of is, without a doubt, millennium style. Shiny lip gloss, butterfly clips, and middle parts are all back and bigger than ever. A quick TikTok search will show you just how divided millennials and Gen Z are about low-rise jeans. The one thing everyone can agree on though is how bangin' the music used to be.
Case in point, the Spice Girls were recently in the news for hitting the 25th anniversary of their hit single "Wannabe." Mel B took to Instagram to mark the occasion. "Ahhh finally peeps!!!!" she wrote. "It's been a very VERY emotional day,but we WILL be back, and that's my' scary' promise to you all."
So, looks like there might be a reunion in the works? It might be a while until the ladies hit the stage again, but they're already back in the news. Emma Bunton (aka Baby Spice) surprised and delighted fans with the news on July 13 that she got married.
Read on for all the sweet deets.
The wedding was a long time coming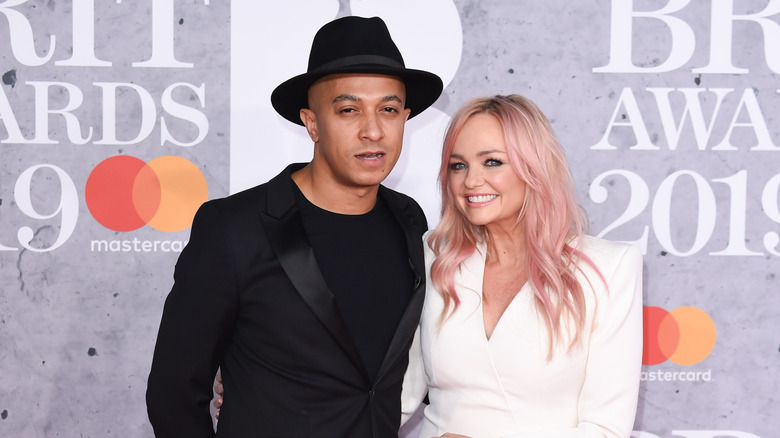 It was a long road for Emma Bunton and her new hubby, Jade Jones. Unlike a lot of celebrity romances, this one was anything but a whirlwind. By the time Jones and Bunton decided to take the plunge in 2021, they'd been together for two decades. Though it was sprung on fans, the wedding wasn't entirely a surprise. Bunton and Jones have been engaged since 2011 and share two sons Beau and Tate, per the Daily Mail.
Eloping in secret was always the plan for the happy couple. In a 2018 BBC interview, per Daily Mail, Bunton explained, "We want it to be private, every time we try it's out there. We want to do it privately on our own." Bunton further added that the wedding kept getting put off because life just kept getting in the way. "We should elope," she said. "But we can't organise anything, Jade and me; we've been together 21 years in this business."
Bunton recently opened up to You Mag about her desire to have more kids and her struggle with endometriosis. "It wasn't easy falling pregnant," she said during the interview, per the Daily Mail. "So we'll just see how it goes."
Through it all though, Jones was by her side. "He was so wonderful," she said of devotion during her difficult pregnancies, "because he looked after me, he took care of me and then was just there every second of every minute, and he's brilliant."
Source: Read Full Article