Producers Internet Money have reunited with Don Toliver and Gunna for another summer banger, this time featuring Lil Uzi Vert. Titled "His & Hers," the new song was released on May 13, followed by a music video directed by Cole Bennett the next day.
"label making me push His & Hers back a week and some change for s**t out of my hands," Internet Money told fans via Twitter in late April. "annoyed but it is what it is, song of the summer otw." Once the song dropped, fans agreed that "His & Hers" is indeed the song of summer 2021. "this the song is gonna be blasting all summer long," one fan wrote under the video's YouTube comments. "Yeah, 'His & Hers' is lookin' like a valid song of the summer contender," XXL Mag tweeted. "His & Hers by Internet Money is already stuck in my head damn. Smash summer hit!" someone else wrote.
Considering that Internet Money's new track debuted at No. 67 on Billboard's Hot 100 Chart (as well as counting over 12 million YouTube views in just one month), it looks like we'll be hearing "His & Hers" all summer long. What's the song really about, though? Let's find out below.
Don Toliver, Gunna, and Lil Uzi Vert are having a great summer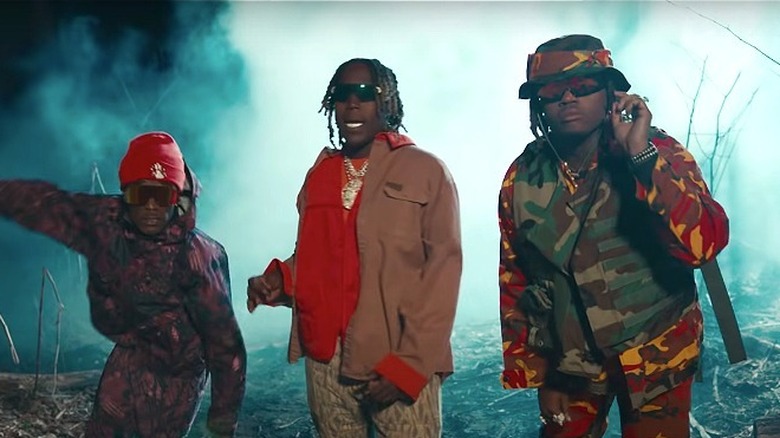 On "His & Hers," Don Toliver, Gunna, and Lil Uzi Vert can be heard rapping over Internet Money's melodic beats. On the hook, in particular, Don Toliver brags about his girlfriend, who lets him keep his firearm in her Hermés Birkin bag: "You got his and hers / Toolie in that Birkin." Per Genius, "Toolie" is slang for a gun.
Gunna seems to share the same sentiments as Toliver. In his verse, the rapper lets it be known that he and his girlfriend have each other's back: "Toolie in that Birkin (Birkin) / You and me, I got you, that's for certain." Later in his verse, Gunna shares his summer plans, including overseas trips with his lady — in a private jet, of course. "We split a G6, it feel like surfin' … Left from Croatia and landed in Greece."
Lil Uzi, meanwhile, brings his fun energy per usual. His verse sees him boasting about his "swag from the '80s" (though he was born in the '90s) as well as his drugs of choice. "So much smoke coming out my blunt, it looked like I was vaping / I can't share none of my drugs, know that I'm gon' face it," Lil Uzi raps. "Any problem that I have, you know I'm gon' face it / Pop a Perky, Perc' in lean, and I barely taste it." 
Well, it seems like "His & Hers" is going to be a summer hit!
Source: Read Full Article