After news of her masters and publishing catalog deal hits the web, some fans show concern that the raptress will end up like Taylor Swift, but the 'Fancy' hitmaker stresses that her case is different.
AceShowbiz –Iggy Azalea is pretty much satisfied after selling her entire masters and publishing catalog in an eight-figure deal to Domain Capital. The deal reportedly includes 100% of the Australian femcee's share of hits including "Fancy" and "Problem" and allows the star to earn future revenue on master recordings.
According to Billboard, the deal was brokered by her manager Reece Pearson and her attorney Peter Paterno. It was also revealed that the mom of one is scheduled to release new music in early 2023 under her own independent label, Bad Dreams, as she has an administration deal with Sony Music Publishing.
After news of her masters and publishing catalog deal broke, some fans showed concern as the raptress would end up like Taylor Swift, who is in dispute with her former record label Big Machine Records, its founder Scott Borchetta and new owner Scooter Braun over the ownership of the master recordings of her first six studio albums.
"i just hope she doesn't end up like taylor (no shade at all, just using it as an example)," one fan wrote on Twitter. Iggy caught wind of the post and quickly set the record straight.
"Taylor did not profit from that sale. I sold a portion of my catalog to who I wanted, for an amount that means I don't have to work another day in my life," she explained. "I love y'all down but the masters conversation is a little beyond most of your understanding of business."
When asked about the reason for her decision to sell it now, the "Black Widow" rapper simply shared, "I have a larger business I want to invest in."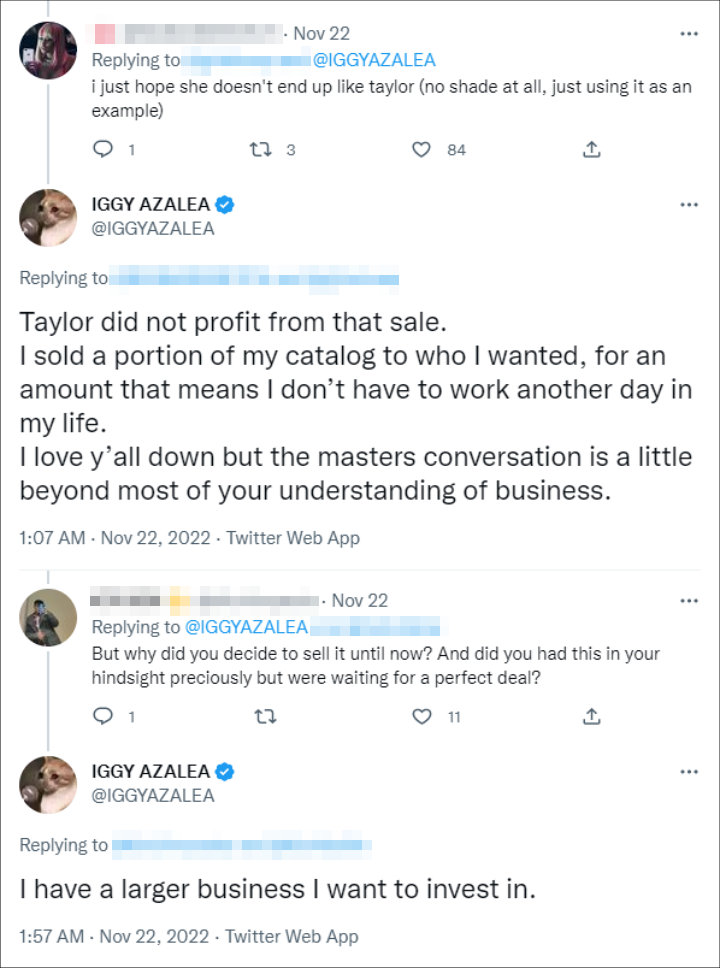 Iggy Azalea defended her decision to sell her masters and publishing catalog.
Iggy's deal arrived just weeks after Domain Capital announced that it closed more than $700 million in commitments for a commingle entertainment fund. In their press release about the fund on November 1, Domain Capital claimed that it had already deployed more than $170 million in film, television and music investments to date.
"We are excited to launch our first diversified private entertainment royalty fund," Anthony Tittanegro, executive managing director of Domain Capital Group, revealed in the release. "At a time of sustained entertainment industry growth supported by an ever-evolving landscape of distribution channels, we are focused on building a diversified asset-base to generate cash yield and help maintain our investors' capital."
Source: Read Full Article