Uber Eats, Deliveroo and MenuLog drivers are keeping the nation supplied with burritos, pizzas and bubble tea.
They also delivered a major surprise in the nation's jobs market and may be hiding real issues facing the million or so people looking for work.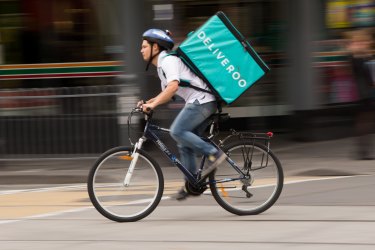 Sole traders, particularly delivery workers, helped drive down the nation's jobless rate in August. But it may not last.Credit:Jason South
There was collective shock in the ministerial wing of the Federal Parliament, Treasury and financial trading rooms around the country on Thursday when the Australian Bureau of Statistics reported the jobless rate had fallen to 6.8 per cent in August.
Analysts had been tipping unemployment to rise to around 7.7 per cent from its 7.5 per cent level in July.
But after the sticker shock of the headline figure passed, it became clear the nation's businesses had not suddenly got their mojo back and started re-hiring teams of workers.
In original terms, total employment grew by 44,500 between July and August. The ABS found there had been a 50,200 jump in the number of people working as sole-traders without any staff on their books.
Ahead of the coronavirus outbreak there were about 1 million people in this role. Within three months of the pandemic, their numbers had fallen by more than 8 per cent.
In August, a large chunk of these people came back to work. Not that they did a lot of work.
The bureau reported that while the total number of people in employment lifted by almost a full percentage point, hours worked increased by just 0.1 per cent.
So even though there was a big lift in jobs, those with work were left twiddling their thumbs outside the local burger place waiting for an order.
Deutsche Bank economist Phil Odonaghoe said it appeared online drivers and riders – who almost all are sole traders without any workers – had driven the result.
"[There's] a surge in employment, but not via employees in a typical business structure, and it is fair to infer that most of those new workers hardly worked for many hours," he said.
As much as we all appreciate the chance of having a jalapeno-filled burrito bowl delivered to our door, it's unlikely to spice up the economy enough to be the basis of our recession recovery.
Worryingly, the total number of sole-traders is almost back to where it was pre-coronavirus. But among traditional employees – who number more than 10 million Australians – there is still a substantial shortfall.
That shortfall did not close in August.
Perhaps a wave of entrepreneurial spirit will sweep across the country in coming months, and more people will put a virtual shingle on a web page and open a new business.
Or more likely, the hard grind out of the worst recession since the 1930s still has a long way to go.
Get our Morning & Evening Edition newsletters
The most important news, analysis and insights delivered to your inbox at the start and end of each day. Sign up to The Sydney Morning Herald's newsletter here and The Age's newsletter here.
Most Viewed in Politics
Source: Read Full Article