If you were to spin a wheel of every couple in The Bachelor and The Bachelorette's storied franchise history, odds are you would land on a couple that is no longer together. Sure, there are a few Sean Lowe and Catherine Giudicis mixed in there (hi, Tayshia Adams and Zac Clark), but it's safe to say a lot of relationships in Bachelor Nation don't really work when the cameras aren't rolling. And that, my friends, has led to some of the messiest breakups in reality TV history.
Now, for some, it seems like the goal was media attention (yes, I'm looking at you, Peter Weber), and others were incredibly intense (Josh Murray, what were you thinking?). Some were filmed for the whole world to see on After The Final Rose (seriously, it was so hard to sit through Arie Luyendyk Jr. and Becca Kufrin's shocking, shaky-cam split), others were handled privately (I still want details of what went down between Clare Crawley and Dale Moss before they reunited!), and a few aired out all their dirty laundry on social media (Jenna Cooper and Jordan Kimball had the receipts, or so we thought).
Through all of the seasons ofThe Bachelor, The Bachelorette, Bachelor In Paradise, and Winter Games, these are hands-down the—get ready for it—most dramatic breakups in Bachelor Nation history. I'm just hoping some of the new Bachelor Nation couples—namely Pieper and Brendan—don't go through what these people endured.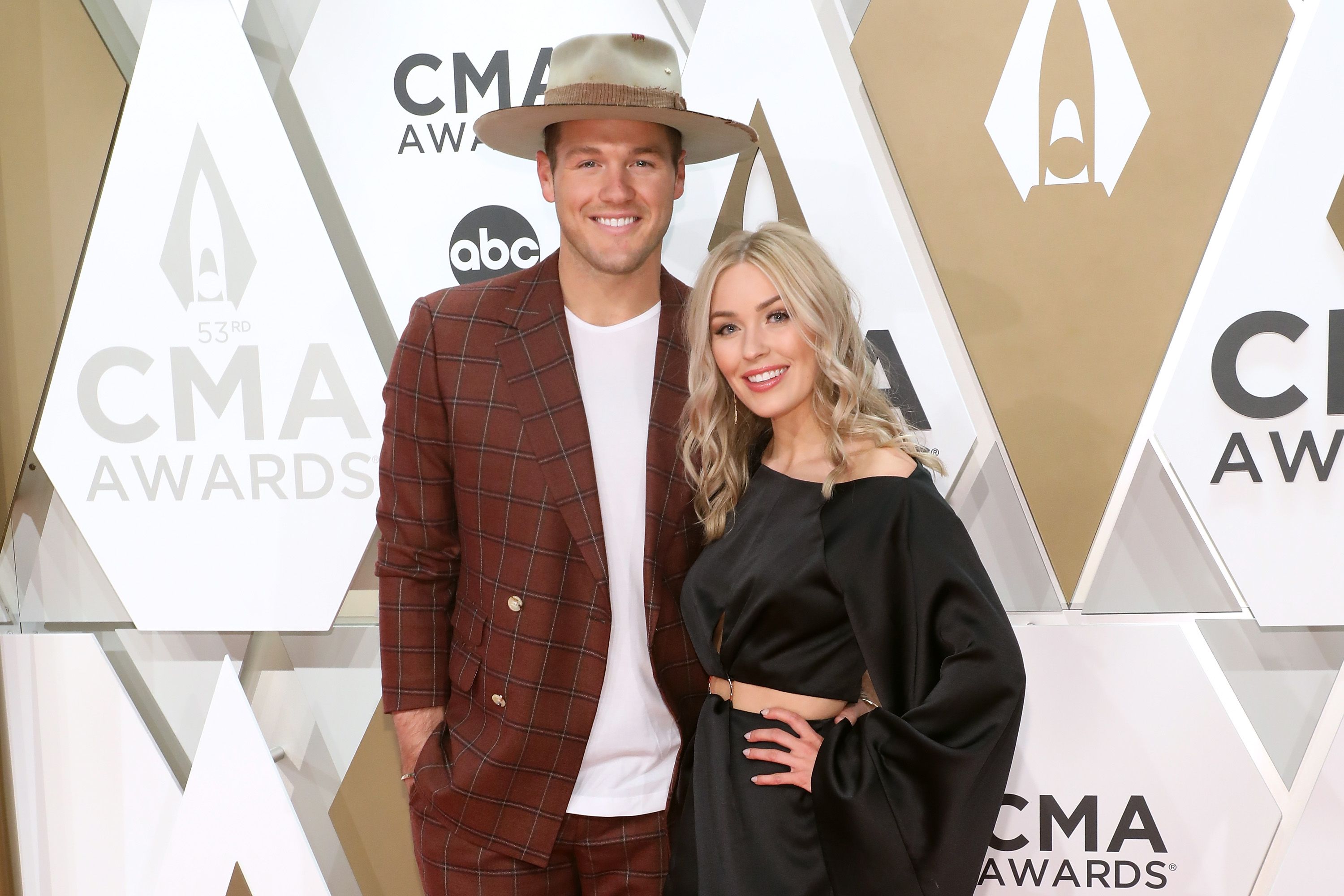 Colton and Cassie's relationship started with the fence jump heard around the world. When Cassie broke his heart on TV, Colton ended the show, jumped a fence and won her back. The couple dated for a year and a half—even surviving COVID19 together—before splitting in May 2020.
Things turned messy a couple months later when Cassie went on The Bachelor: Greatest of All Time and briefly spoke about her split from Colton. After shading her on Instagram for not keeping the breakup private, Cassie penned her own response: "You informed me you intend to monetize our breakup by writing a new chapter [in your book] to discuss your experience with COVID (where you stayed in my family's house during your recovery and about our breakup)," she wrote on her Insta story. "You have also refused to give me any sort of approval on the chapter you will be writing, which will heavily feature me … This seems a bit unfair to me. Colton, you can do what you want, but please do not have a double standard."
But it didn't end there. Cassie filed a restraining order against Colton for allegedly harassing her, showing up to her apartment uninvited and planting a tracking device in her car. The pair was able to settle out of court. And then, in an emotional Good Morning America interview, Colton came out as gay and apologized for treating Cassie the way he did.
"I'm sorry for any pain and emotional stress I caused," he said. "I wish that it wouldn't have happened the way that it did. I wish that I had been courageous enough to fix myself before I broke anybody else."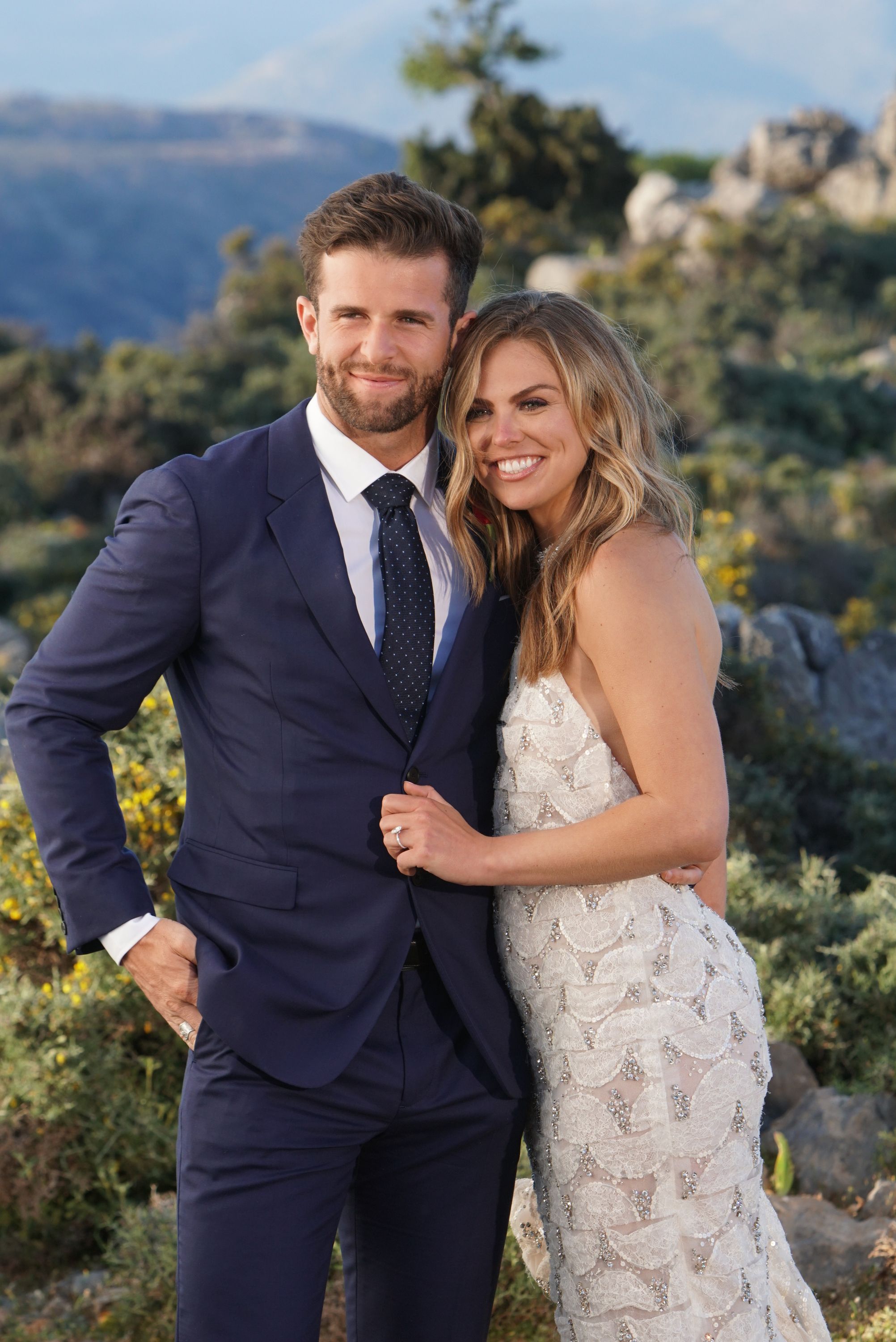 The whole world watched as Hannah B. got played by Jed during her season of The Bachelorette—and even their breakup was filmed.
Long after Hannah picked Jed and he proposed, news broke that he already had a girlfriend when he went on the show. (Didn't he read the rules? Sheesh.) He even admitted on camera early in the season that he was there to promote his music career. HELLO?! Red flag!!! Nonetheless, Hannah still fell for the wannabe music star.
In the finale, Hannah broke off the engagement, citing other problems with their relationship. She told PEOPLE, "It was really embarrassing to have to send an article to my fiancé and circle parts and ask if they were true. It was rough."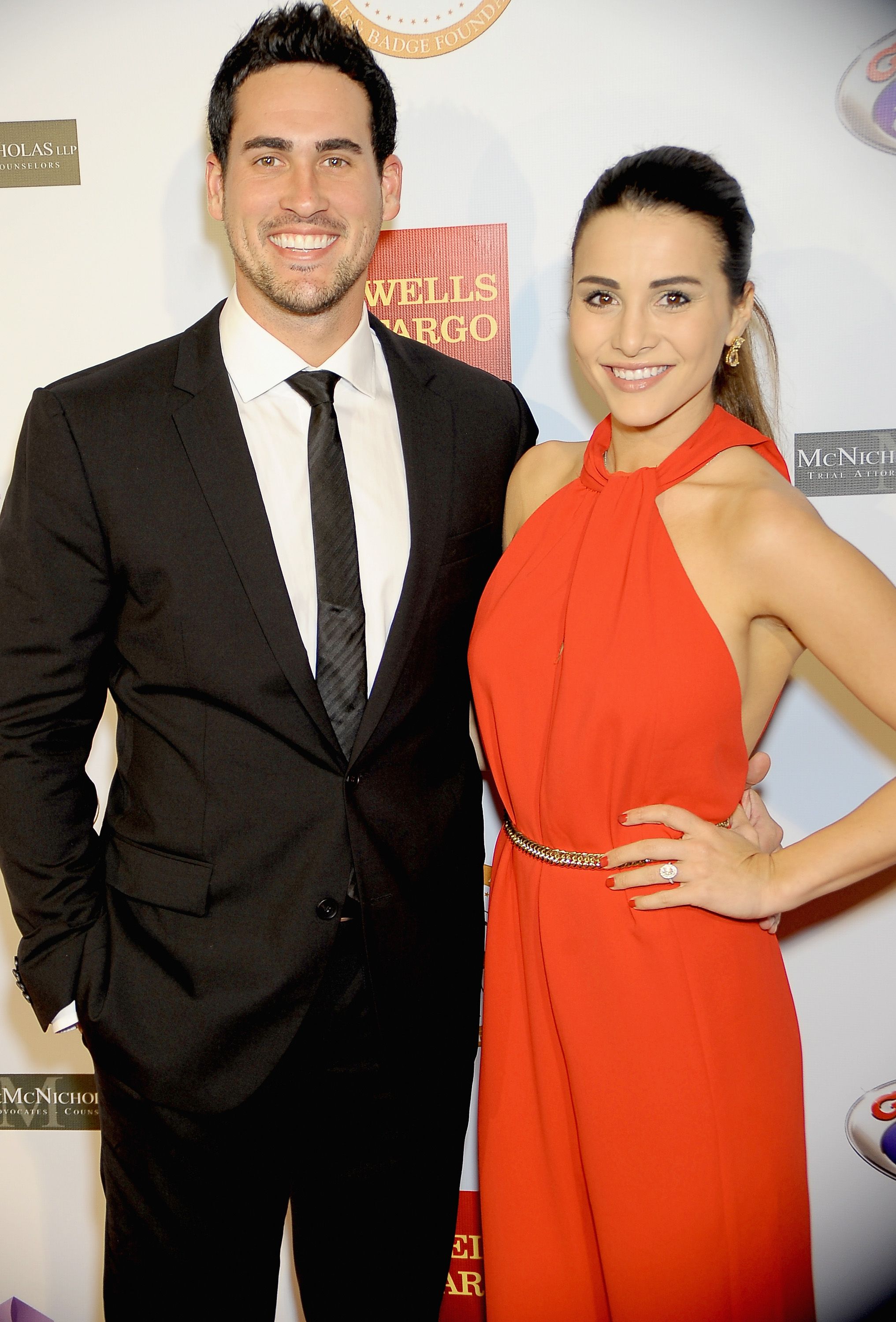 As if dealing with Juan Pablo Galavis on The Bachelor wasn't enough, Andi and her ex-fiancé, Josh, went through one of the worst Bachelor Nation breakups. Andi and Josh called it quits nine months after getting engaged in 2014 on TV, but Andi didn't tell all until her book, It's Not Okay, was released in January 2017.
In her memoir, Andi said her off-camera relationship with Josh was "the most volatile and f–ked-up relationship of my life. What people didn't know was after two shows, I had become a 27-year-old woman who walked on eggshells in her own home," Andi wrote. "What they didn't know is I was trapped with someone who, in my opinion, often behaved like an emotional abuser. Yes, I said it, and I'm not taking it back."
Josh denied being emotionally abusive and ended up on Bachelor In Paradise season three with his "rival" Nick Viall.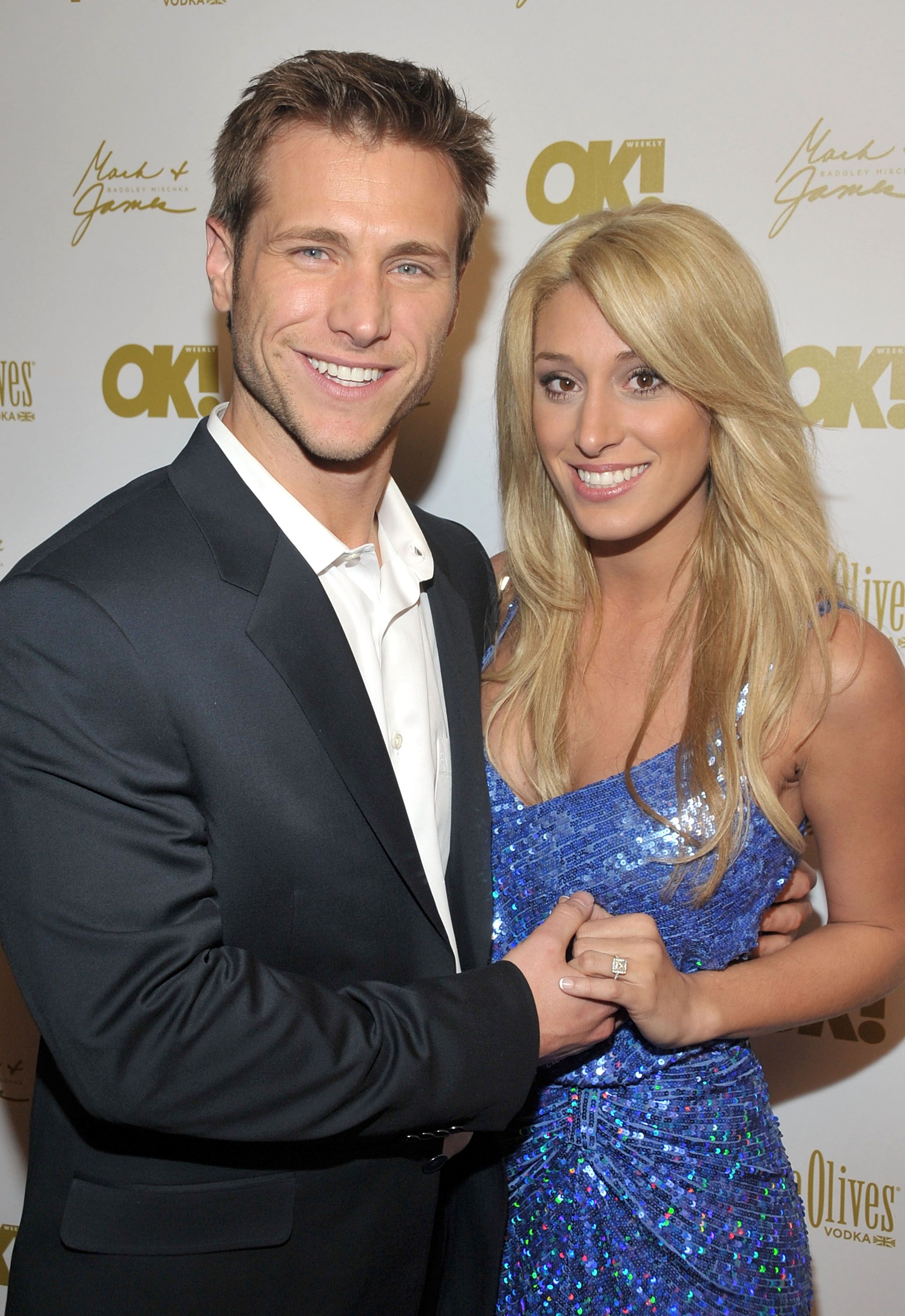 It's one thing for the leads to break up on their season. It's another to be brought back on a different season to hash out their relationship. Jake and Vienna's televised interview goes down as one of the craziest moments in Bachelor history as the pilot completely downplayed his fiancé's feelings on TV.
Vienna accused Jake of emotional abuse and for withdrawing from her a month into their relationship in a written interview, which she supposedly got paid to do. "I know Jake and I knew as soon as we broke up, he was going to run to a media outlet and tell his side of the story, so I wanted to make sure… I had a voice also," she said. "You know I… haven't had a voice this entire time. And I've let everybody say what they wanted to say about me… and I wasn't going to let it happen again."
She famously called him a "fame whore" and said he would only show affection when cameras were rolling or they were out in public, among many other accusations. The hard-to-watch segment ends with Vienna walking away from Jake, who also accused Vienna of cheating. Let's just say The Bachelor franchise likely has no intention to do breakups quite like this ever again.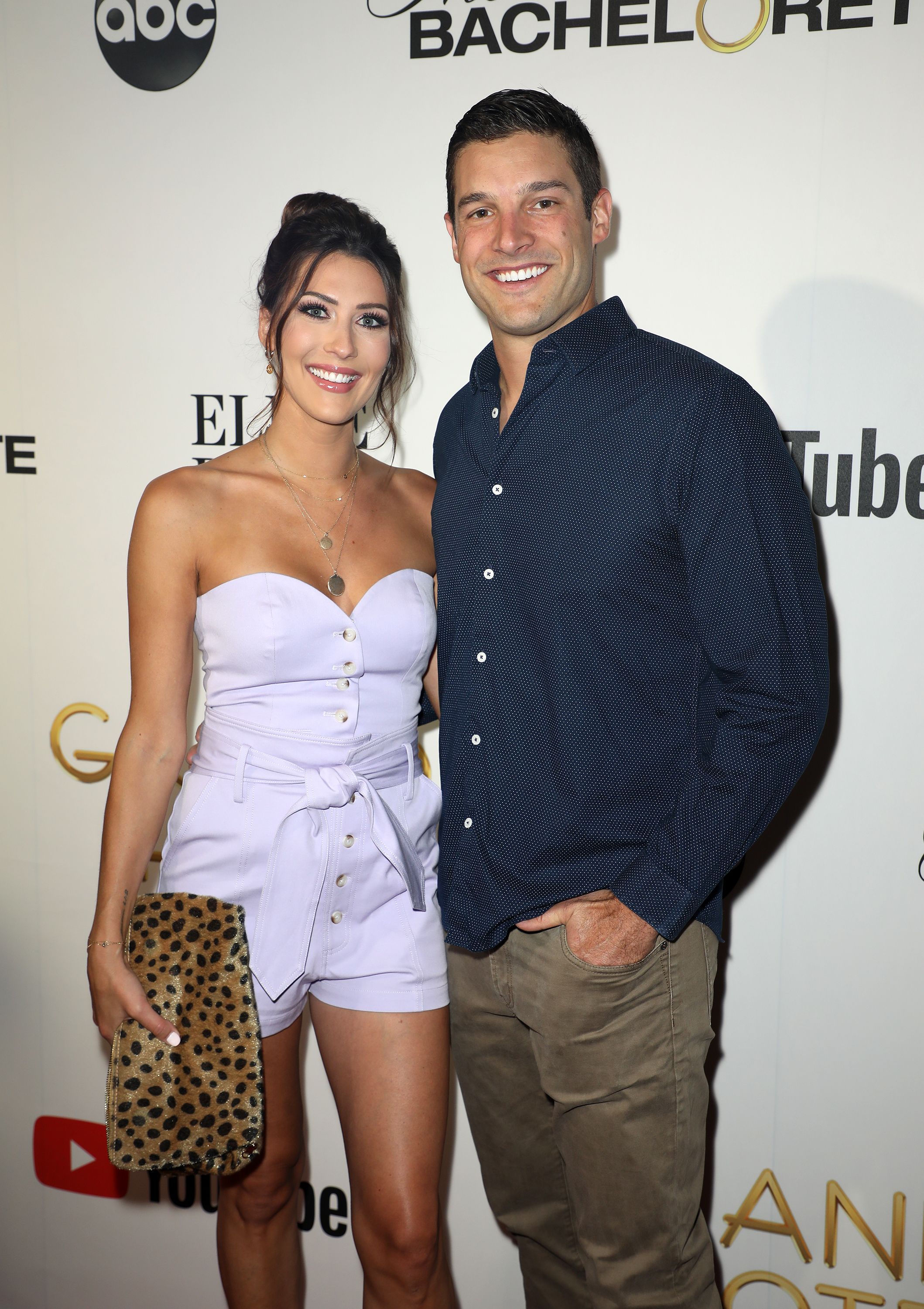 During her season of The Bachelorette, it came out that Becca's fiancée, Garrett, had liked racist, homophobic and xenophobic posts on Instagram. Even though he apologized as the show aired in 2018, that behavior seemingly led to his split from Becca in 2021.
After the death of George Floyd, Garrett crafted a pro-police post on IG. Days later, rumors circulated that Becca and Garrett had split. Becca stated on the Bachelor Happy Hour podcast days later that their views "don't align." Becca didn't confirm the split till months later, and now Garrett has moved on with Alex Farrar.
"I ended it in my heart and mind," Garrett wrote in a Q&A on Insta. "Once I weighed every outcome, solution, what ifs, talked it out, practicality, etc. It's completely done for me and no going back. Life is too short to dwindle. There's amazing people out there and if you pour everything into one and it doesn't work, then it wasn't meant to be."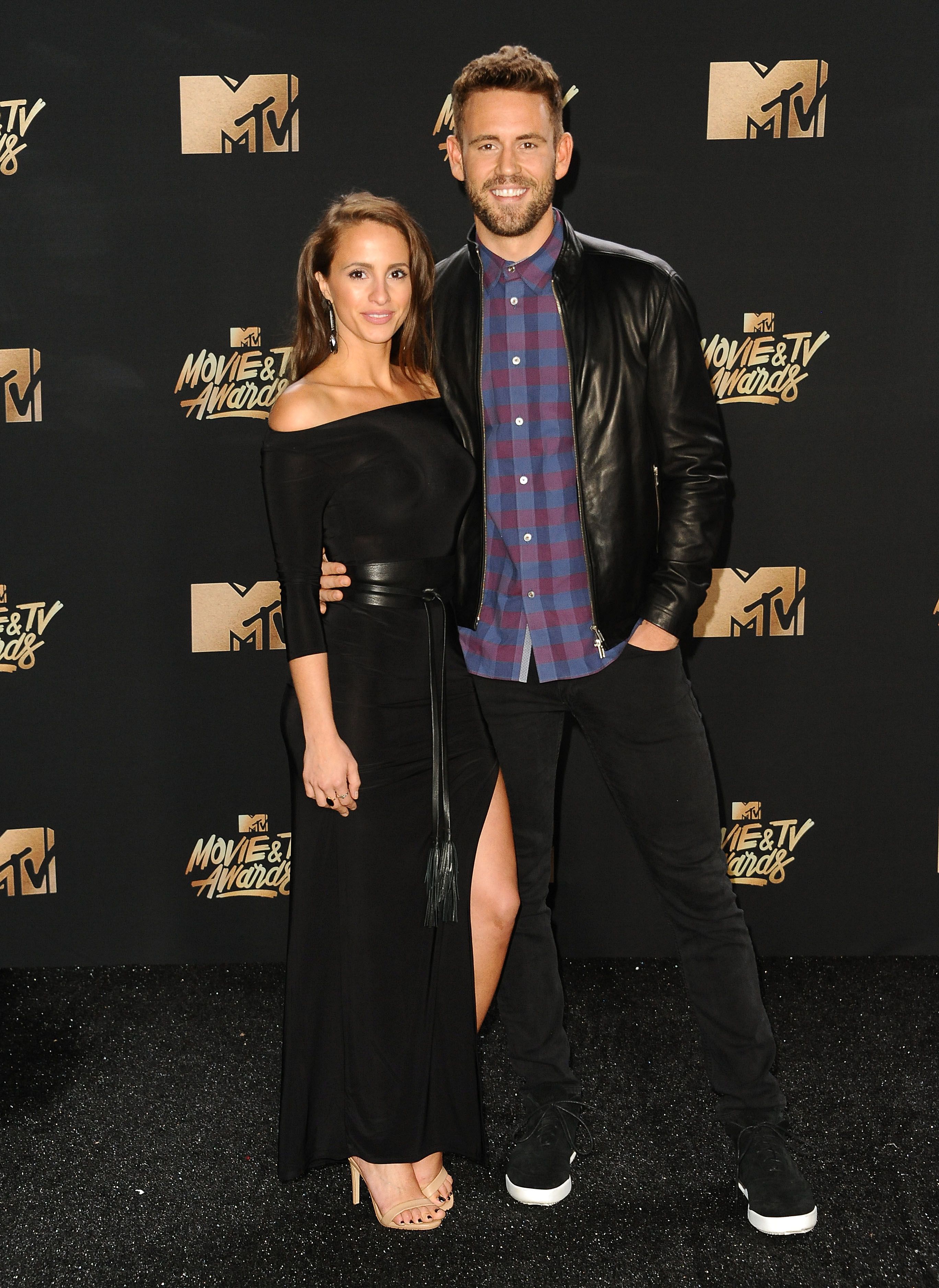 It was pretty obvious from the start that Nick was going to choose Vanessa at the end of his season in 2017. He even told the producers. But, just eight months after their engagement, the couple broke up to many fans' surprise.
Vanessa had relocated to Los Angeles while Nick was on Dancing With The Stars (because of course he was). She wasn't happy there, and they were fighting often.
Fans didn't get the full details of their breakup until three years later on Nick's Patreon podcast series. "I think the one thing Vanessa and I really agreed about is how much we cared and how much we tried," Nick said. "And we just went about it so unproductively… If the speed of how you're driving is equal to the effort you're putting in, we were both going 100 miles per hour, but we were both going at opposite directions at one another and it eventually just crashed and exploded."
Nick said the discussion gave him closure. Now, he has a new boo in his life, and Vanessa is engaged to hers.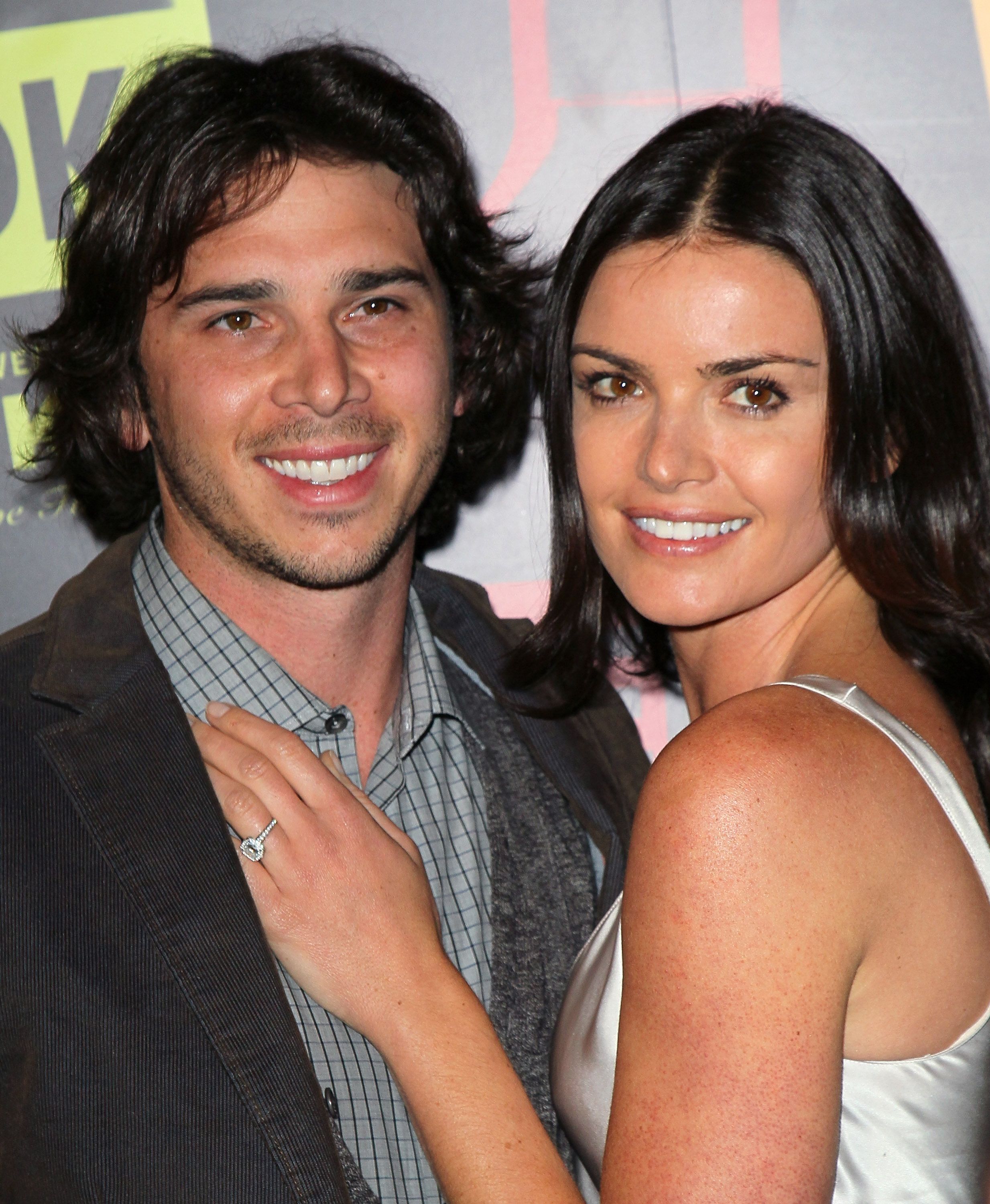 Well, when you pick the villain of the season, you shouldn't be surprised it doesn't work out. And that's exactly what led to Ben and Courtney's first breakup.
On his After The Final Rose in 2012, Ben revealed he broke up with Courtney after seeing her less-than-stellar behavior: "The woman that I saw on TV isn't the Courtney that I know. Those are the moments and the instances that led to Courtney and I not talking for a time while the show aired. We were essentially broken up."
But the breakup was short-lived. That is until they called it quits again nine months later when photos of Ben kissing another woman surfaced. The couple was also reportedly "taking it slow" while maintaining a long-distance relationship. Those are never great signs.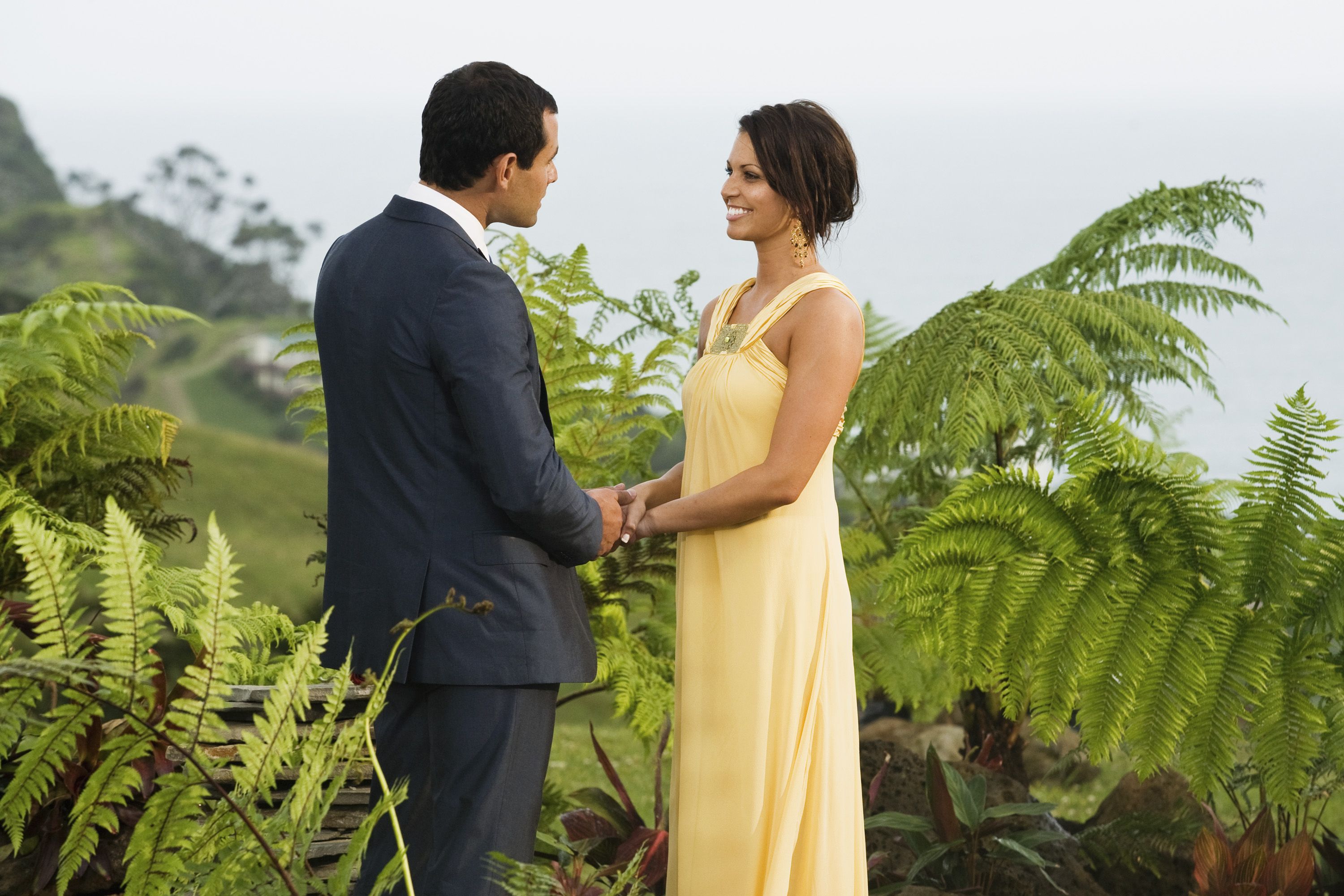 The Bachelor didn't start doing consistent After The Final Rose episodes till after Jason's season in 2009—and that's for a good reason. After proposing to Melissa in the finale, Jason revealed to former host Chris Harrison that he made the wrong choice.
Melissa was blindsided and dumped on After The Final Rose, only to watch her ex-fiancé get with his runner-up, Molly, to whom he is now married. Ouch.
"You go back home and the weirdest part in particular for me is that I went on this huge journey. I went and I met Jason and I fell in love and got engaged, and then things started going not well with Jason and I," she said on the Greatest of All Time episode. "When we didn't see each other and our relationship was strictly long distance and by phone, he was different. It was weird."
That season of The Bachelor is so famous that going back to the runner-up is considered "pulling a Jason."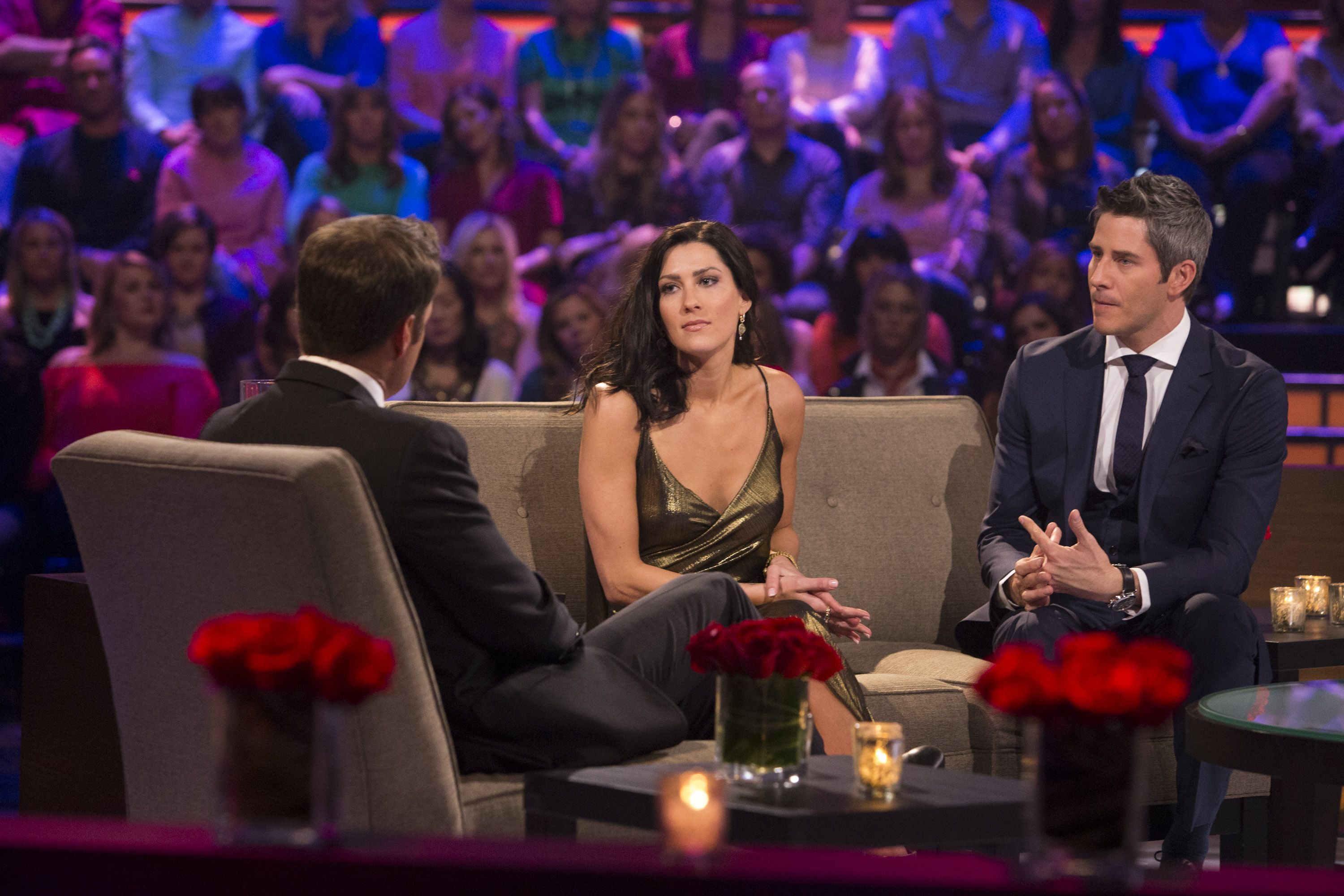 Speaking of "pulling a Jason," Arie notoriously did that when he proposed to Becca in his finale. Then he decided to bring the Bachelor camera crew with him to dump Becca on one of their secret couple's getaways.
The unedited footage was possibly the most dramatic (yes, I said it) 40 minutes of TV. It ultimately led Arie to propose to Lauren Burnham, and they now have three children together. But Arie told GQ it was edited and didn't like the way he was portrayed: "It was completely edited. I was told to stay on that couch. I tried to leave, and then production was like, 'You need to go back inside. She's finally calming down. I feel like you owe it to her to have this conversation.' So then I went back in the house."
Becca, on the other hand, got her own season of The Bachelorette, and you already know how that turned out.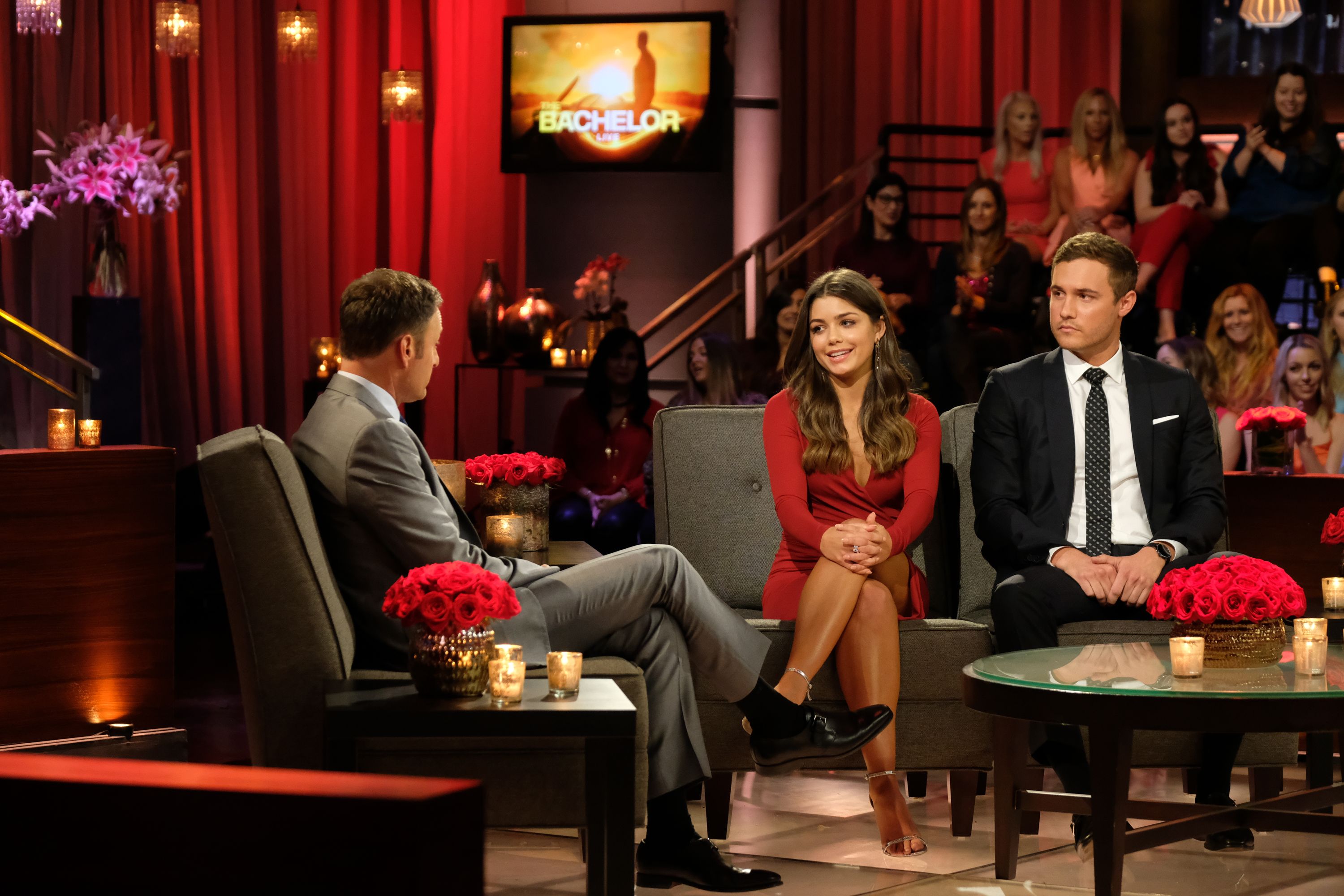 And then Peter did it too. If you want to see a mess, just watch Peter's season. Didn't production learn not to cast pilots?!
At the end of his season in 2020, Peter proposed to Hannah Ann after Madison Prewett left the show. Months after their engagement, Peter asked Hannah Ann if he could speak to his ex Hannah Brown. Then, a week later, Peter dumped Hannah Ann after explicitly telling her they weren't going to break up.
He then went running back to runner-up Madison Prewett, but that didn't last more than two days.
"I'm able to see how he is consistently indecisive and confused, and who wants to be with that? That doesn't make me secure in being with him," Hannah Ann said on Bachelor Happy Hour. "It's really helped me move forward, because I know I deserve more than someone just half loving me. I deserve someone who's going to give me 100 percent."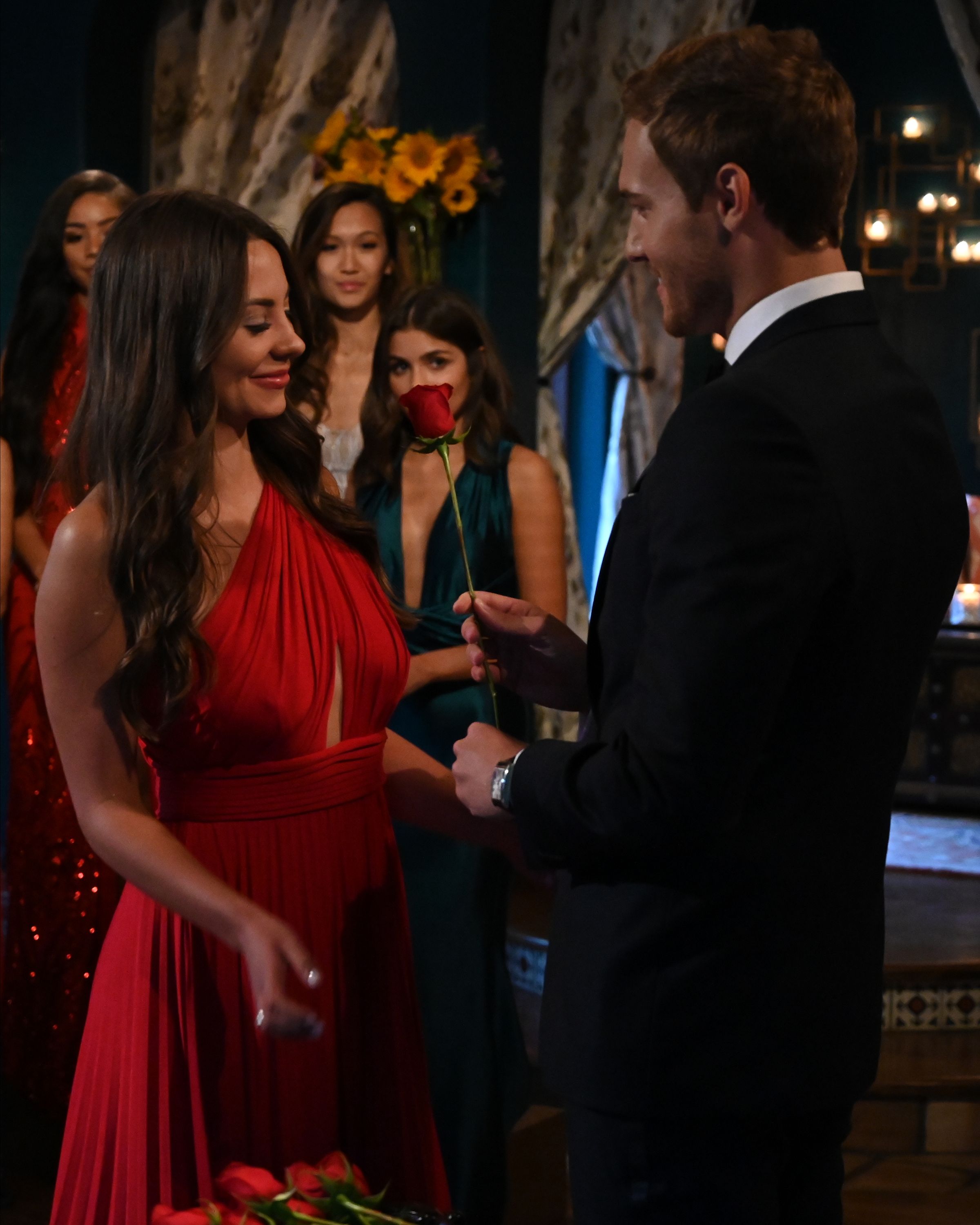 By the time his After The Final Rose aired, rumors were already swirling that Peter and Kelley, who was eliminated before hometowns, were dating. Both of them denied it several times—even though they were quarantining together during the COVID-19 pandemic—only to make it official in April.
That's when the relationship timeline gets messy. The couple was going strong for months and were even planning to move to NYC together when Peter broke up with Kelley seemingly out of the blue. He announced it in a New Year's Eve post.
Of course the gossip started. There were rumors that Kelley said Peter's mom, Barb, was too much and always wanted his attention. (I think all of Bachelor Nation could tell you that.) Then the pair unfollowed each other on IG and Peter even blocked her.
But then they were spotted at the Super Bowl together and again in NYC. Yeah, I'm confused too.
It wasn't a good trip to NYC, though, according to Kelley: "We had a great Valentine's Day together. And then, again, there were just like little things. … It ended really badly," she said three months later. "I essentially went off on him. I ended up leaving New York and going to one of my girlfriend's houses and hanging out with her. He texted me, I didn't respond and then found some news out that I wasn't happy about. We still had each other on Find My Friends. … I went off and essentially said, like, 'Get the hell out of my life.' It ended really badly."
Now Peter is hanging out with Kelley's "good family friend", actress Renata Sanfilippo, and Victoria Justice. Nothing makes sense anymore. Okay, I need an ibuprofen.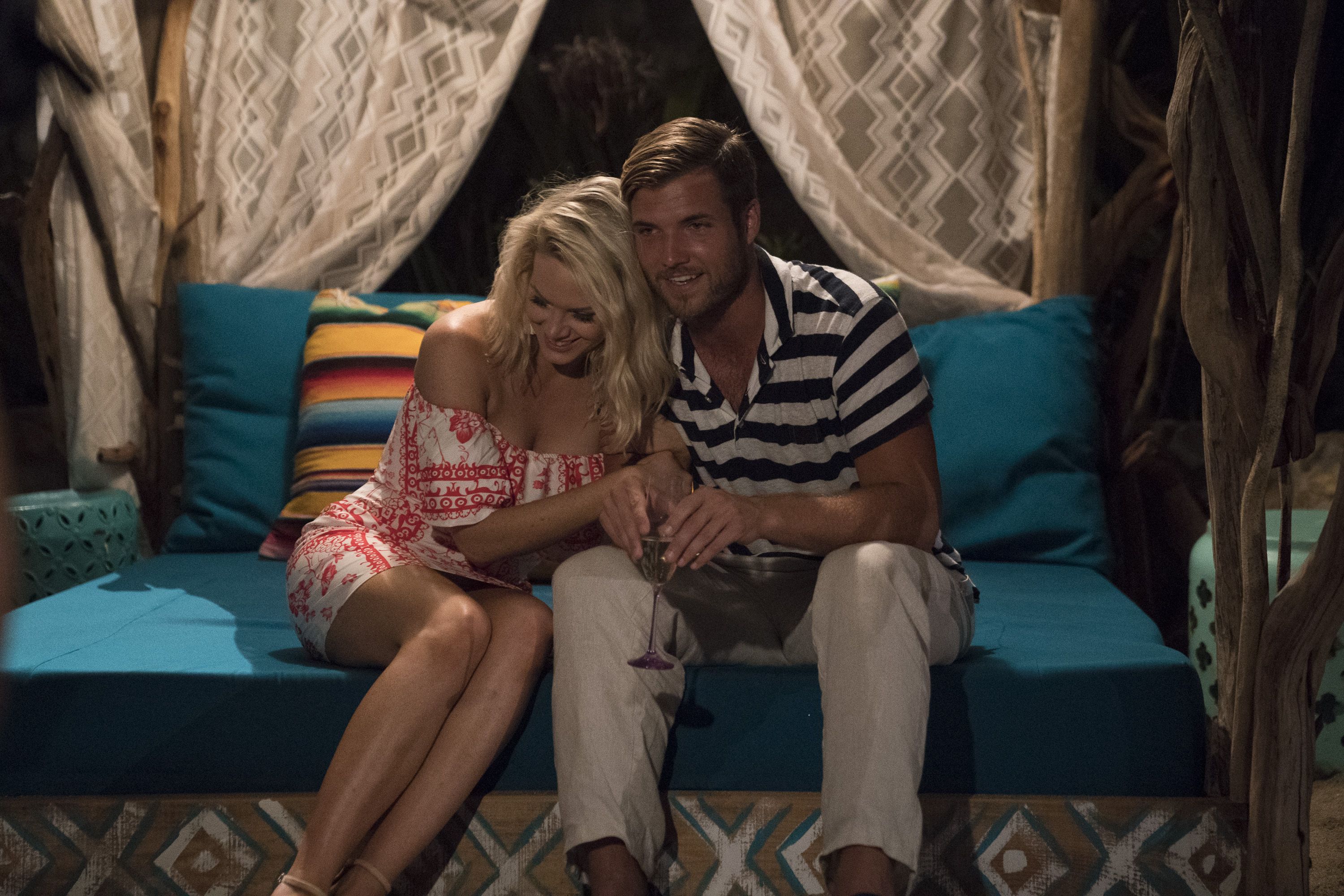 Jordan and Jenna seemed like the perfect couple on Bachelor In Paradise season five. But shortly after their engagement, screenshots of text messages popped up from someone claiming to be Jenna's ex.
The texts showed that Jenna was just using Jordan for fame and business—something she quickly denied. Jenna had expected Jordan to stand by her. Instead, he broke up with her and went on Reality Steve's podcast.
Jenna then hired a forensic analyzer to track her phone, iPad and computer. It turned out that the screenshots had indeed been fabricated.
Jenna told Us Weekly that she doesn't rule out Jordan having some involvement in the scandal: "It's hard to know because he told me, 'Publicly, I can't be on your side, but privately I can defend you some,' basically. And so I don't know if that was me being manipulated. The problem is he didn't share information with me. Our communication wasn't open. There wasn't a lot of trust there. So I have no idea."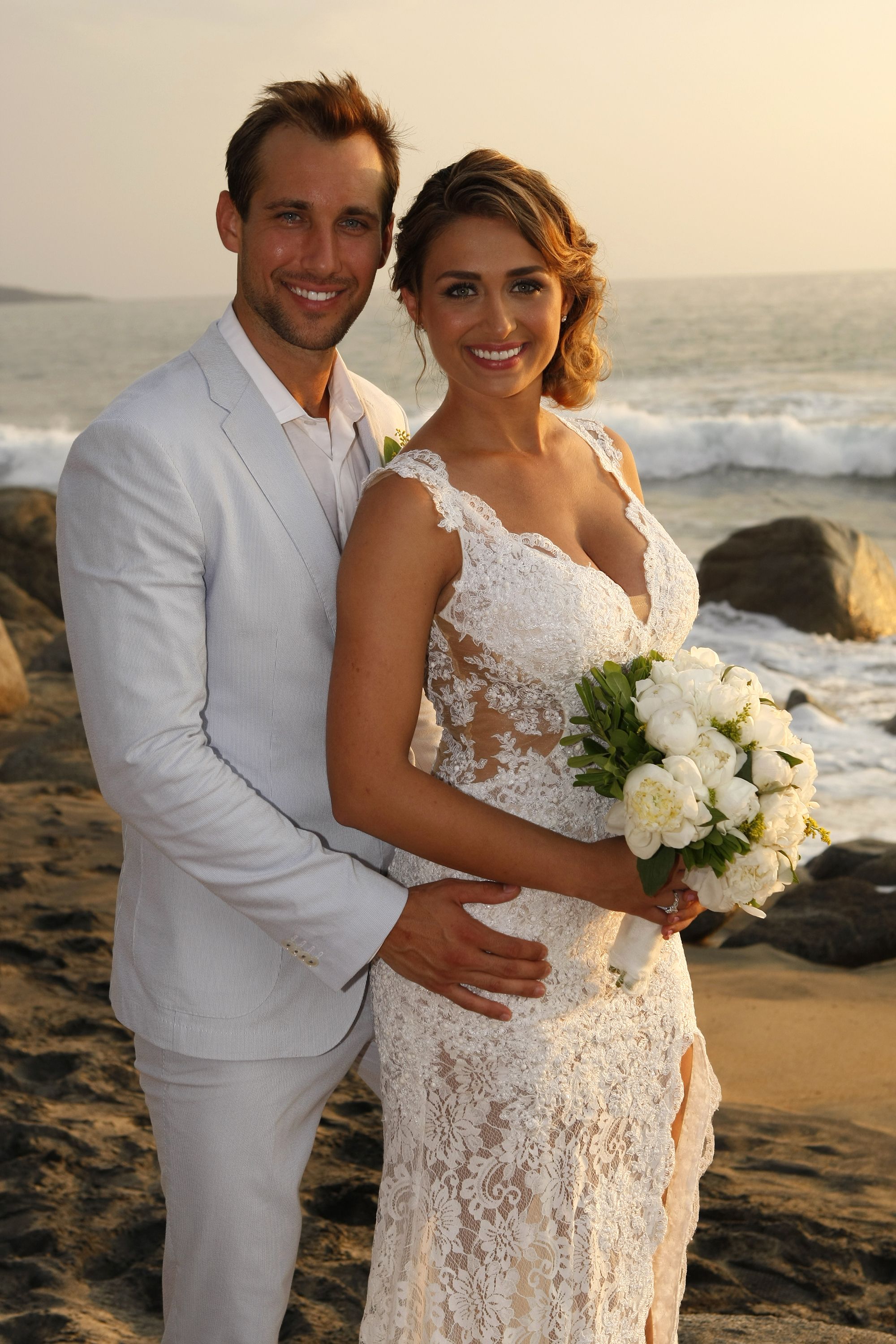 Well, it looked like Bachelor In Paradise was going to have a good track record when its first season ended with an engagement between Marcus and Lacy. The couple even traveled back to Mexico to get married on the season two premiere. But Marcus told Us Weekly that Lacy refused to get their marriage recognized in the U.S.
The couple did long-distance for a while and there would be weeks when they wouldn't see each other. Meanwhile, Lacy was posting photos on Insta in her wedding dress calling herself a "runaway bride."
"I definitely feel played," he said. "I don't know if that's accurate … but the emotions that I'm feeling are yeah, I feel played, especially how she's acting now to everything. But that's me thinking as being hurt from her, [and] seeing what she's posted and said in the past to me."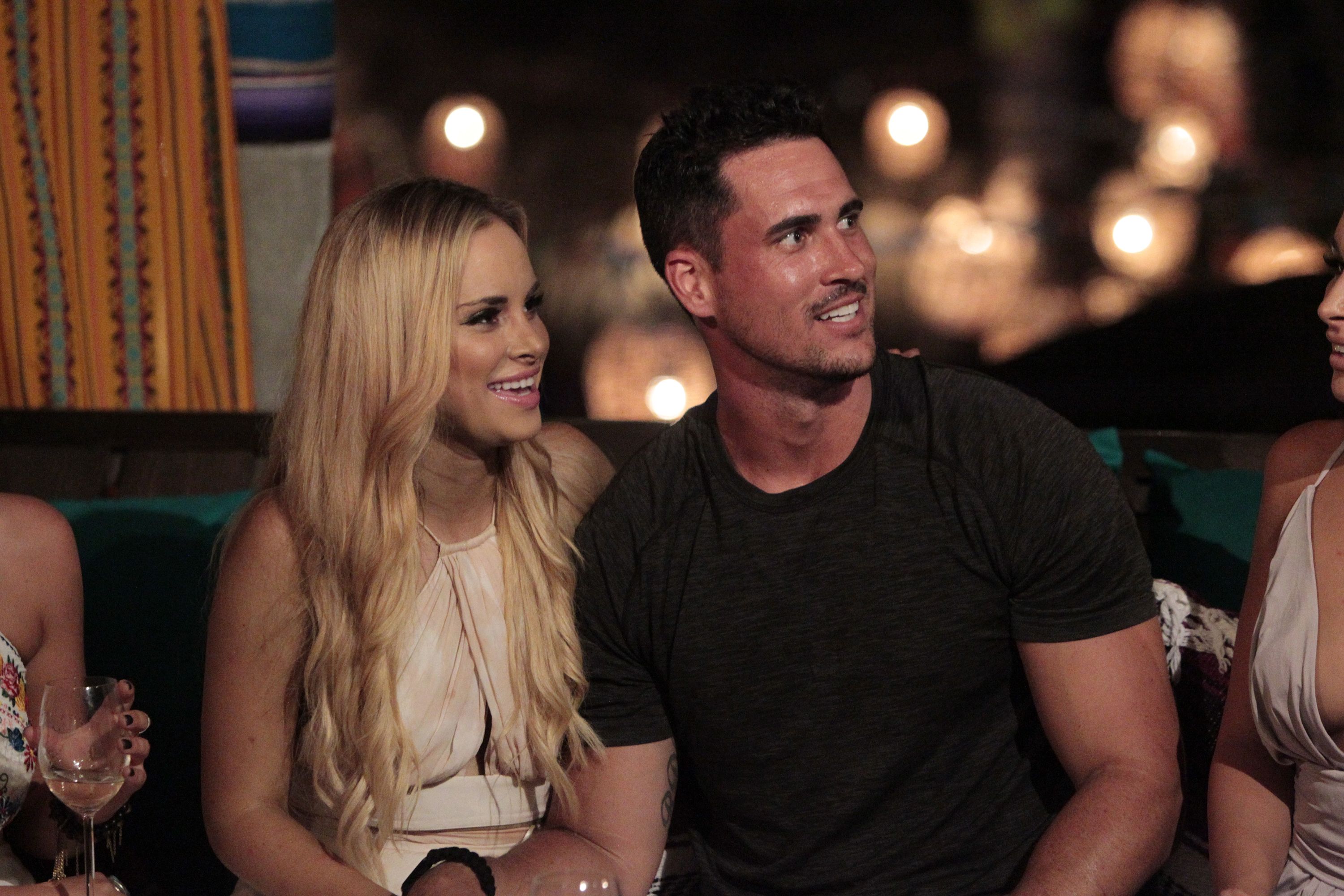 When Amanda caught Josh's eye on Bachelor In Paradise season three, people thought she could be the one to change his behavior. That definitely wasn't the case.
Amanda said he exhibited "controlling behavior" on the show, but it wasn't until they got home that he went "full throttle," she wrote in her book, Now Accepting Roses.
"He didn't approve of my childhood friends or neighbors. He used to pressure me to unfollow certain people on social media. Sorry, Nick Viall. Told me what I could and couldn't wear," she wrote. "When I caught him peeking beneath the bathroom door to make sure I wasn't texting anyone, I finally had enough from this experience. I'm learning that from the beginning, it if ribbits, hops and jumps, it's a freaking frog and I should stop kissing him immediately."
Amanda told Entertainment Tonight that she was completely in love with Josh, which is why the breakup was so hard on her—even harder than her divorce. It probably wasn't made easier when Josh called the cops on Amanda for keeping the car he gave her, which she had every intention of giving back.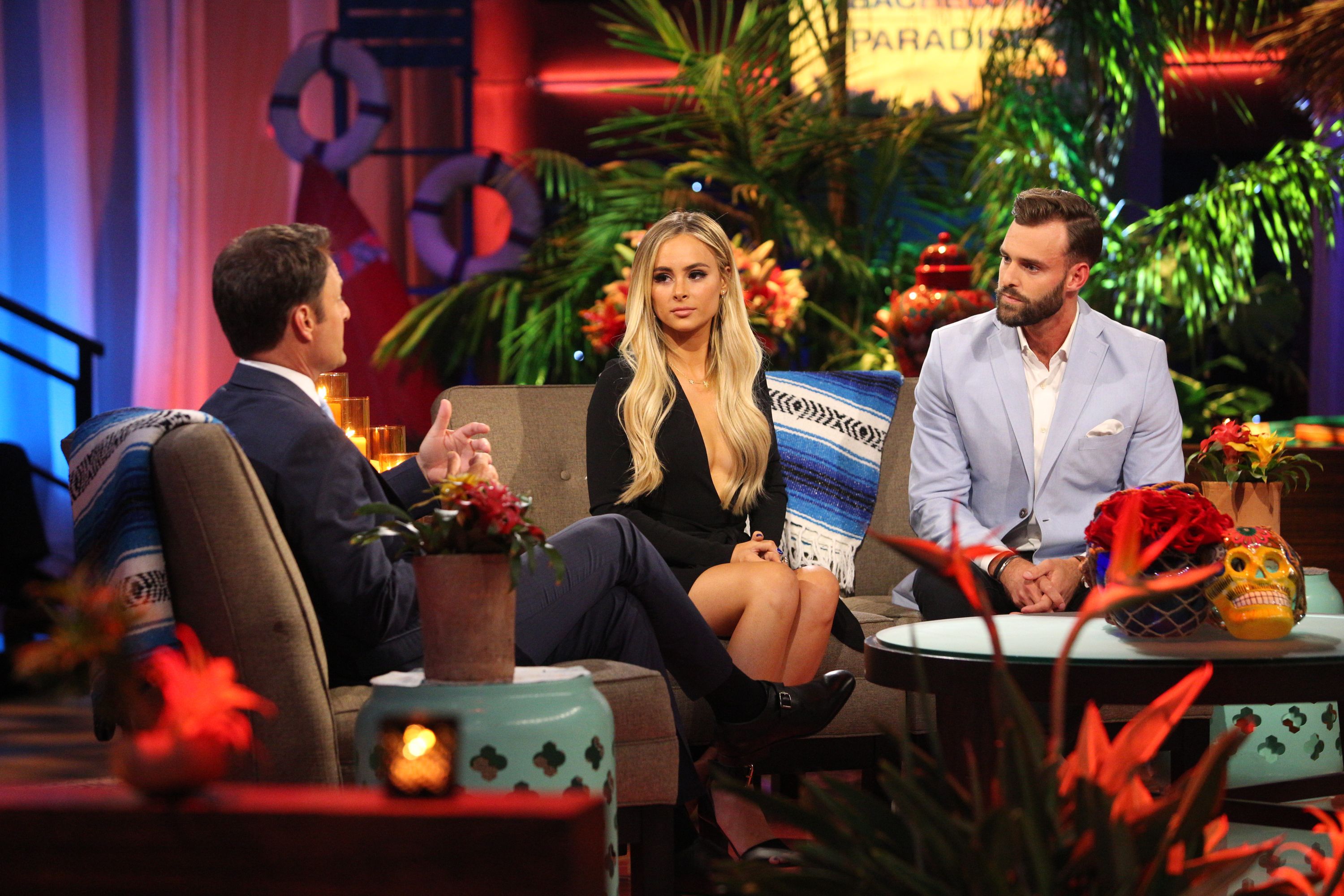 Amanda and Robby didn't even really date, per se, and Amanda doesn't even really consider him an ex. But that didn't stop a full-on social media war between the two Bachelor In Paradise season four alums.
After they went "official," Stanton had women DMing her and sending her photos of Robby cheating on her. "I'm the kind of person, when I'm into someone, I put all my effort into that," she added.
"So we tried it out, and I think we just have different ideas of what a relationship is like. Like, certain things that just come naturally in a relationship, like checking in with that person, answering when I call. There were photos of him with another girl. It became too much for me."
He denied them and added fuel to the fire by starting a Twitter altercation with his ex. Amanda posted the photos and people called her a liar. Her ex, Josh, even got in on it. Amanda was accused and shamed for introducing her children to multiple men, even though Robby never met them.
The breakup lasted longer than the relationship with this one.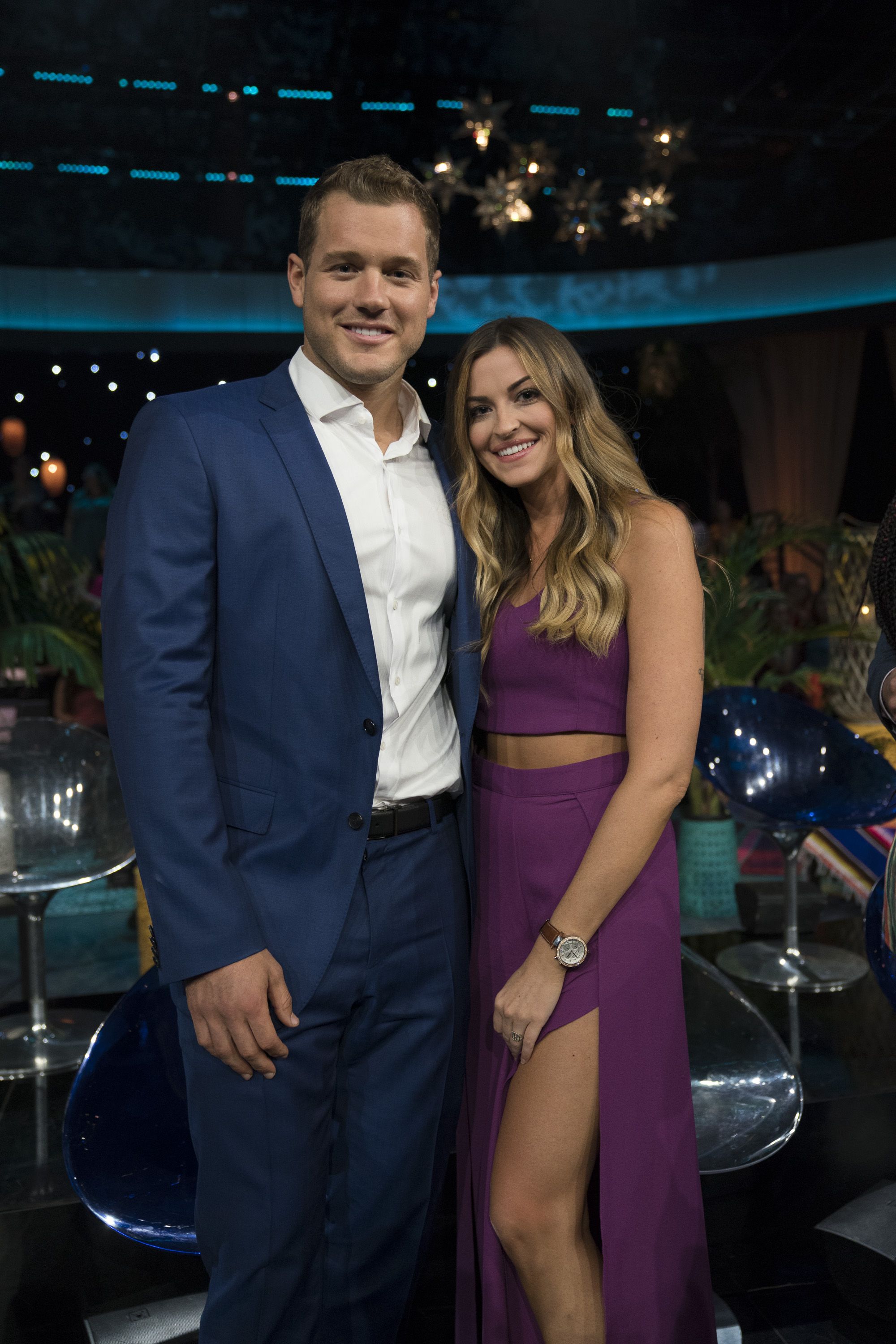 The breakup between Colton and Tia wasn't the most dramatic on its own, but in the grand scheme of things, it did cause a lot of drama.
After Tia's stint on Arie's season, she was a frontrunner to be The Bachelorette and Colton was in the process of being cast as a contestant. At that same time, Colton and Tia met up and had a nice, romantic weekend together. Then, Becca was named Bachelorette and Colton was officially cast on her season.
When Tia showed up at a spa date on Becca's season, she told Becca that she had a romantic past with Colton but that she was over it. Colton made it to Becca's top four before Tia came back to tell her she still had feelings for him. That set up the perfect scenario for them to reunite in Paradise. Unfortunately, Colton blindsided Tia and broke up with her, only to be cast as The Bachelor.
"Yeah, that breakup was very difficult," she told Glamour. "One, because I didn't see it coming and, two, because we both tried so hard to make it work. We wanted it to work so badly, but you can't force something that's not there."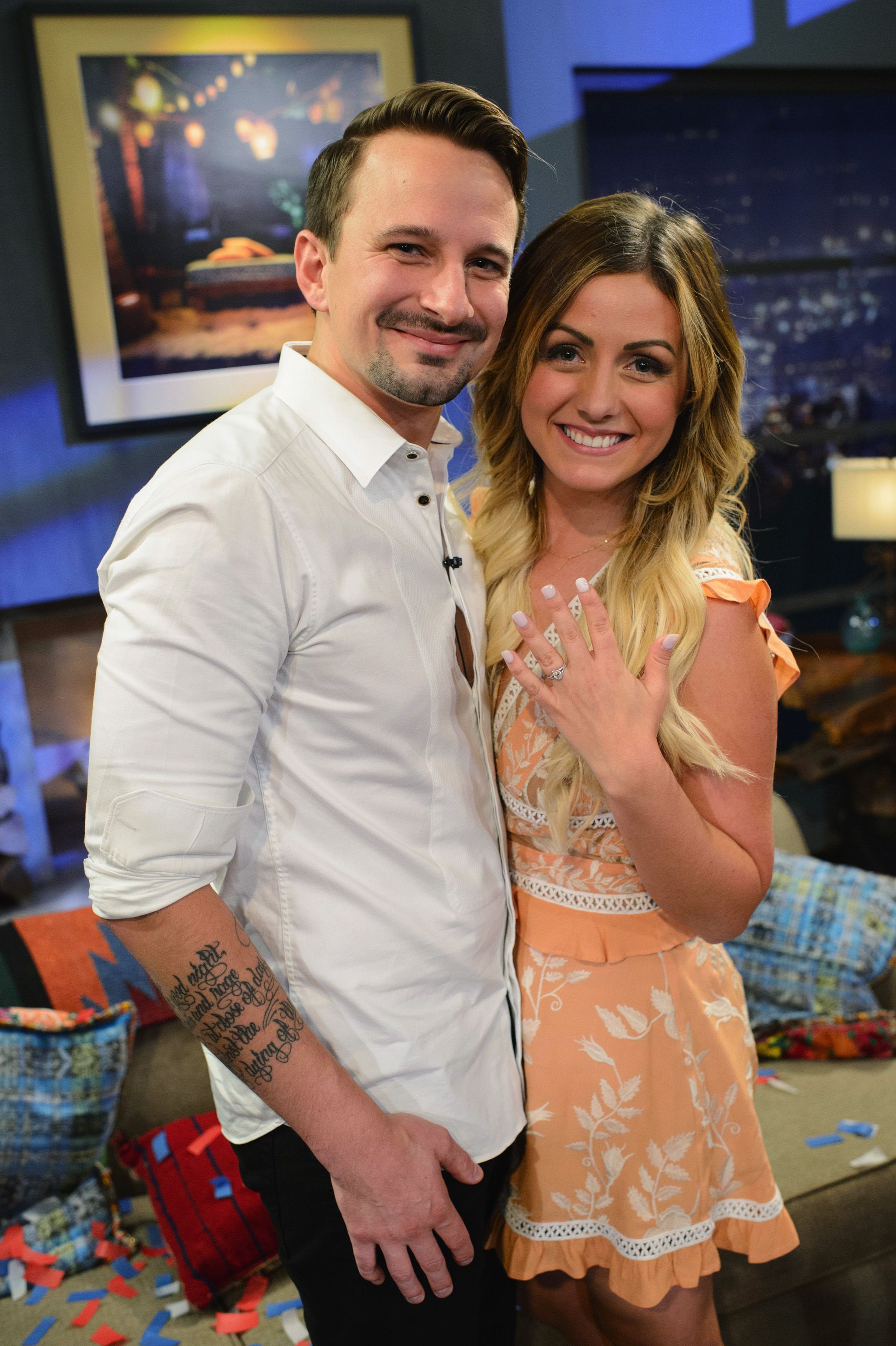 Carly and Evan's Bachelor In Paradise relationship was hot and cold, but once they got engaged on the show in 2016, everyone thought for sure they would be together for a long time. That didn't happen, though, when they announced their separation at the end of 2020 after three years of marriage.
The couple got married on season four of Bachelor In Paradise, but Carly said in a post-divorce YouTube video that they had been going to couple's therapy for year.
"The last two years have just been really hard," Carly said. "I always told him that if he wanted out then it was his call because I'm just a person that would never be out. So, what are you gonna do? If somebody doesn't want to be with you, they don't want to be with you."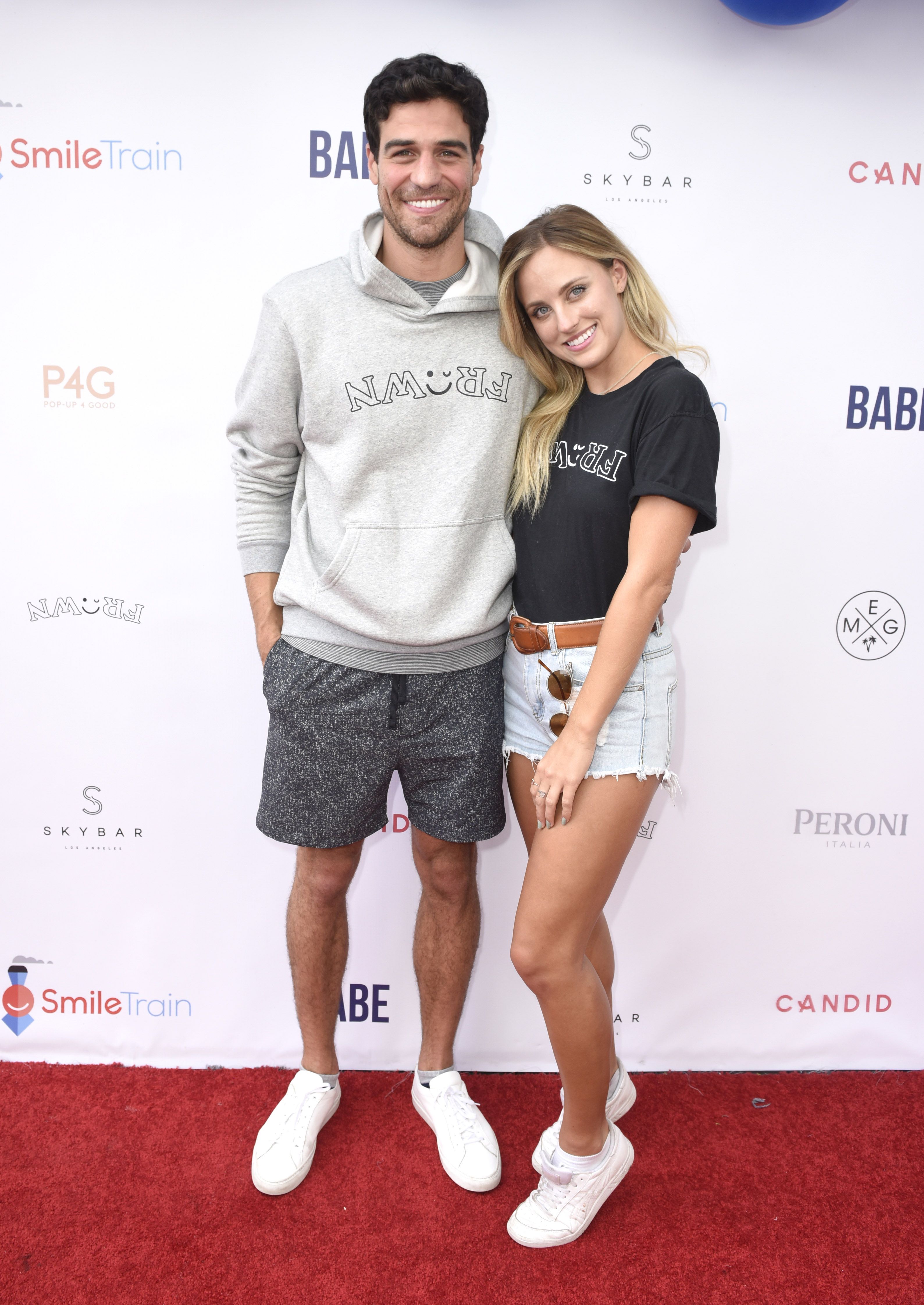 Pretty much everyone in Bachelor Nation wanted Kendall and Grocery Store Joe to last, but that just wasn't in the cards.
The couple broke up in January 2020, months after Joe moved to L.A. to be with Kendall. Joe said Kendall always made it clear that she wanted to stay in L.A., but he assumed she would change her mind at some point.
When that didn't happen, Joe moved back to Chicago, leaving Kendall blindsided: "I did not see it coming," she explained on her podcast, Down To Date. "Every relationship has issues, but I feel like—with Joe and I—we were best friends. Everything was fun, we were getting a dog together. We had just moved in."
Now there is talk that Joe is set to hit the beaches once again for the upcoming season of Bachelor In Paradise, which Kendall is less than thrilled about. Yeah, no one wants to see their ex fall in love on TV—especially if you're on it too.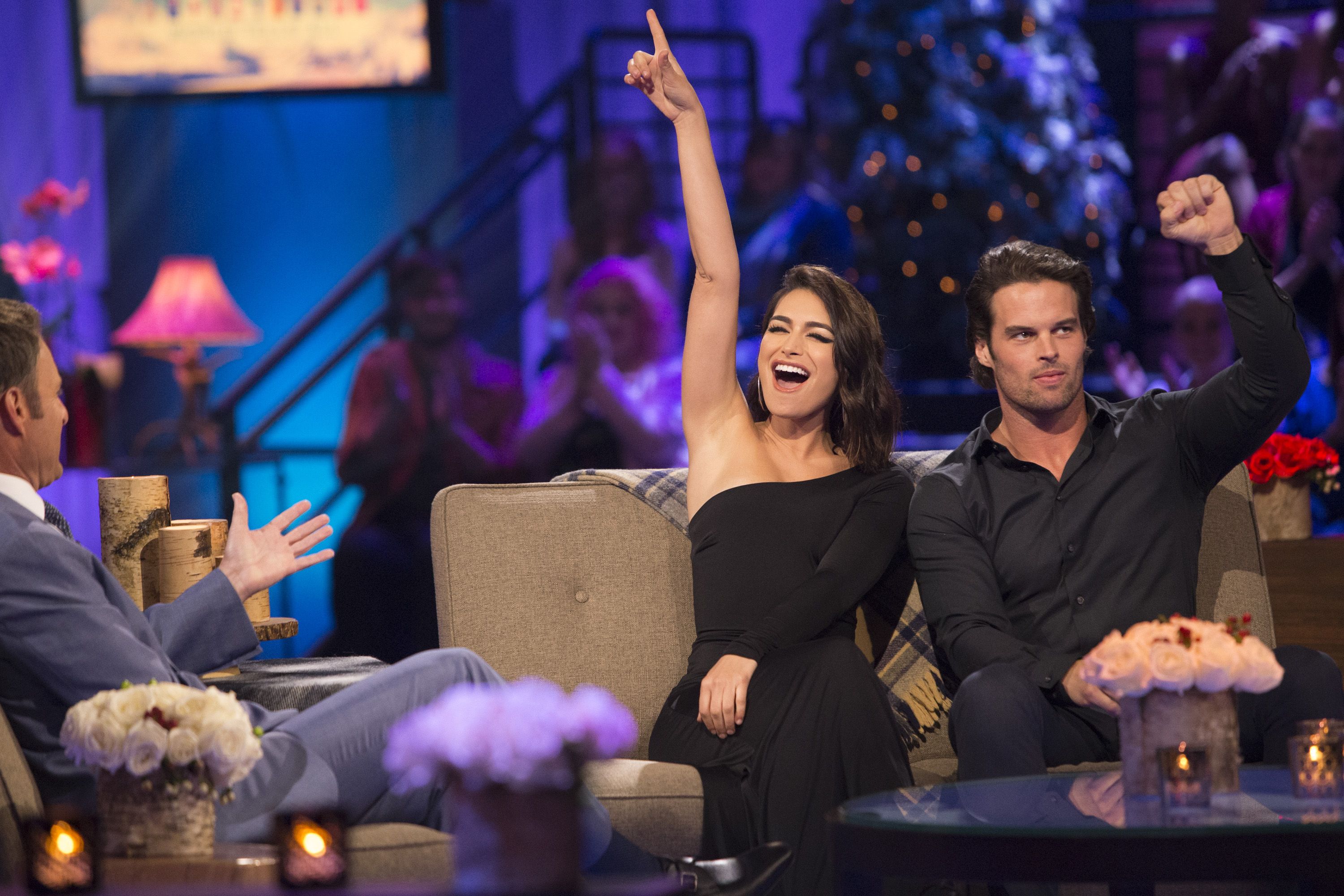 Even Bachelor Winter Games had its fair share of drama. Kevin and Ashley not only won the competition, but they also found love. But that sparked some feelings in Jared Haibon, who decided he couldn't live without Ashley.
"When Ashley and I left Winter Games, I knew I wanted to marry her one day. And then all of the sudden, Jared flips the switch, and now he wants to be with her," Kevin said when he got to Paradise. "I did try to make it work, but if you kiss another guy while you're dating someone else, it's cheating in my book."
Ashley admitted to cheating on Kevin, saying it wasn't right to do that to him. In the end, though, Jared and Ashley are married and Kevin found the love of his life, Astrid, in Paradise.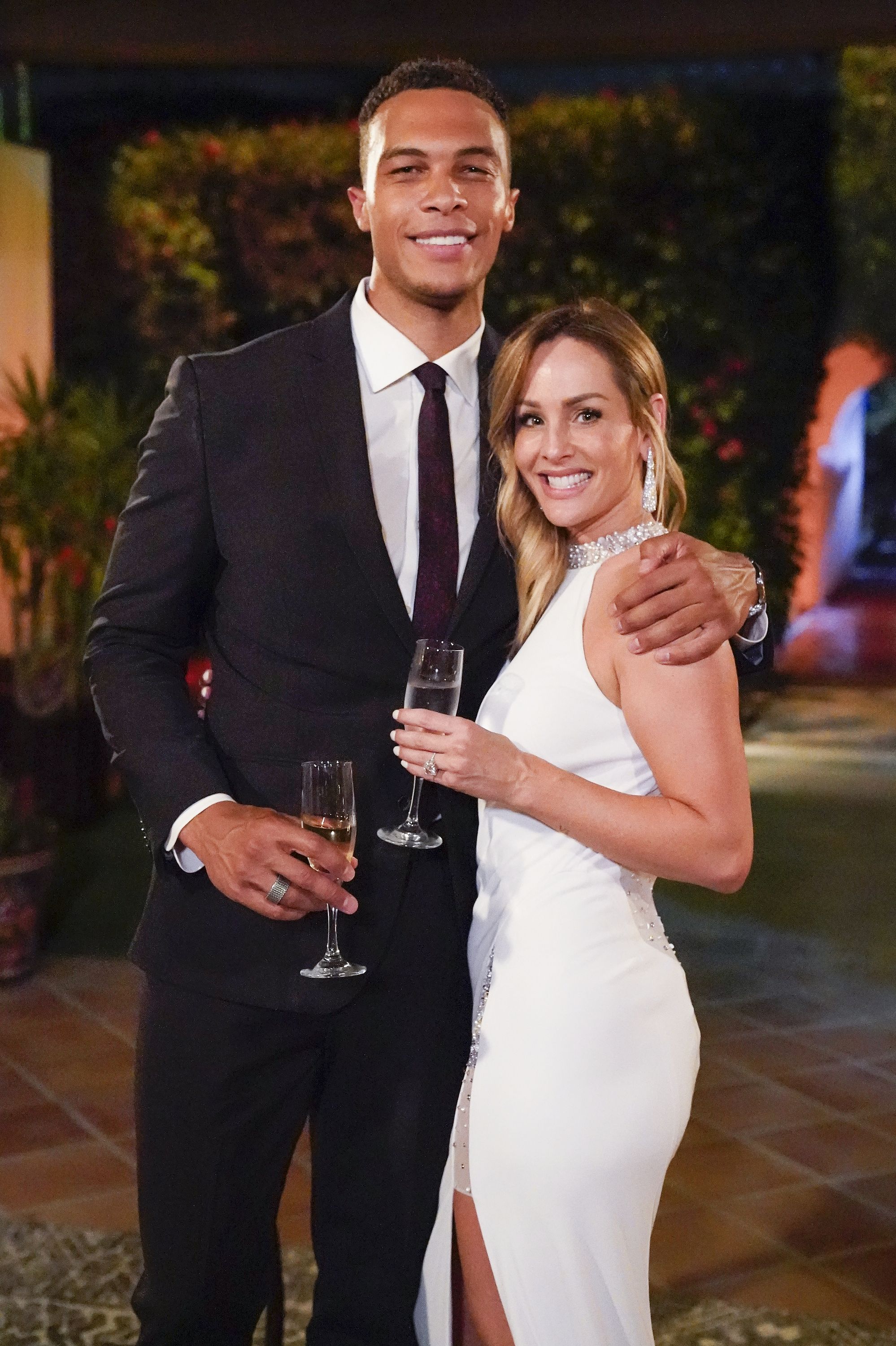 Clare knew Dale was the one the second she laid eyes on him. She was so set on leaving with Dale that she ended her season two weeks in with Dale getting on one knee and Tayshia Adams becoming the new Bachelorette.
As one can imagine, a two-week relationship-turned-engagement has its rough patches. Amid cheating allegations against Dale and adjusting to the real world, Dale posted a statement to his IG story that he and Clare had split. Evidently, Clare wasn't expecting that post.
"I was made aware of a 'mutual' statement at the same time you all were, so I've needed some time to really digest this," she wrote on Thursday, January 21. "Speaking for myself, my intentions with this relationship have always been very clear, so the truth is I am crushed. This was not what I expected or hoped for and am still trying to process this."
The breakup was short-lived—they got back together in February and confirmed their reconciliation in March.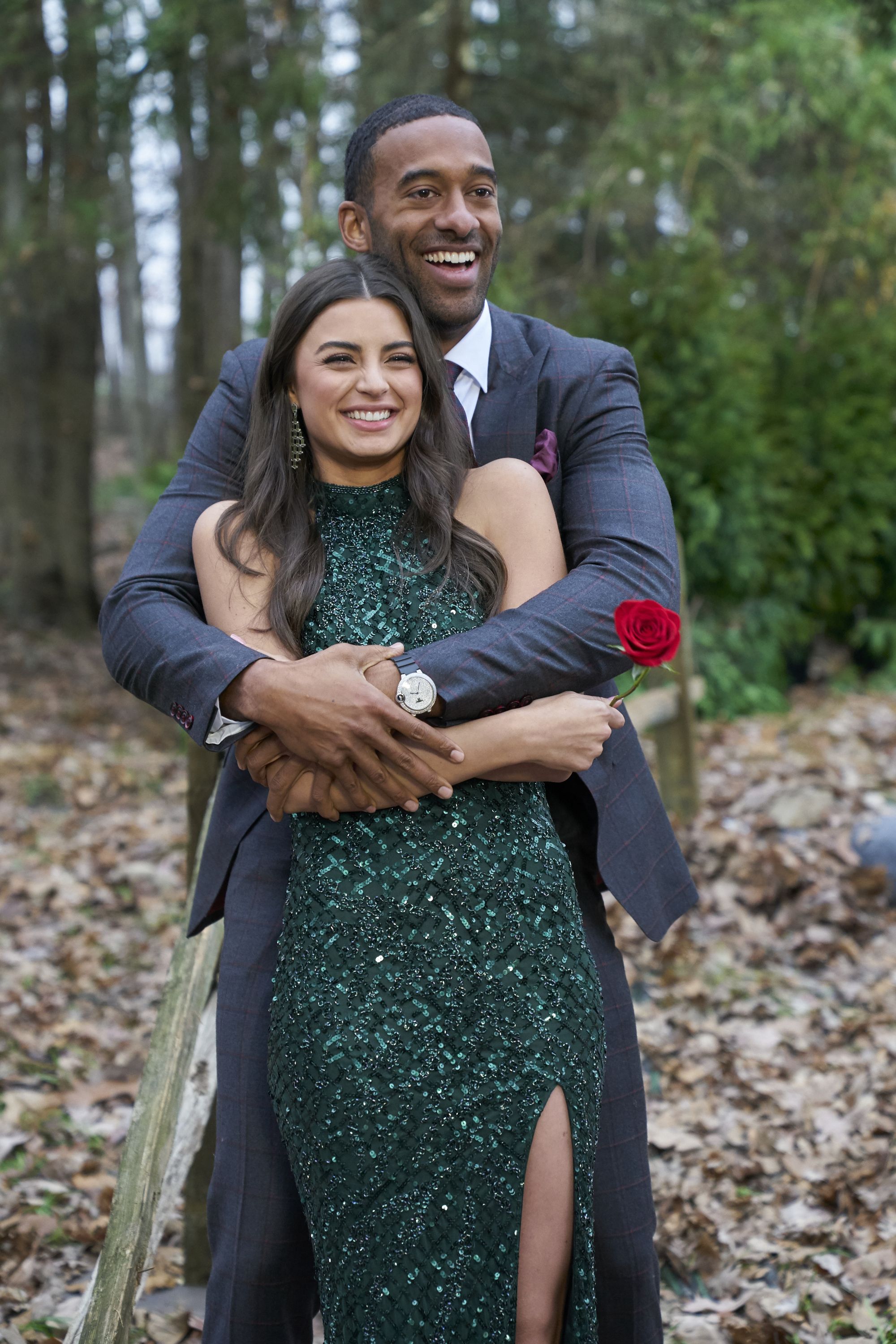 Matt James' season of The Bachelor was one of the most dramatic seasons for many reasons outside of what was filmed. Early on in the airing of the season, it came out that Rachael had appeared in and liked racist photos. Of course, Matt picked her in the end.
Along with that, Chris Harrison defended Rachael to former Bachelorette Rachel Lindsay in a televised interview, which led to author Emmanuel Acho being called in to host After The Final Rose. On the episode, Matt revealed the couple was spending time apart.
The couple reportedly got back together when she visited him in NYC and she gave him an ultimatum. "She was like, 'If you're going to make this work, let's do it. But, if you're not going to make it work, I'm going to let you do your own thing,'" Matt said.
According to their Instagrams, the couple has been spending a lot of time together lately.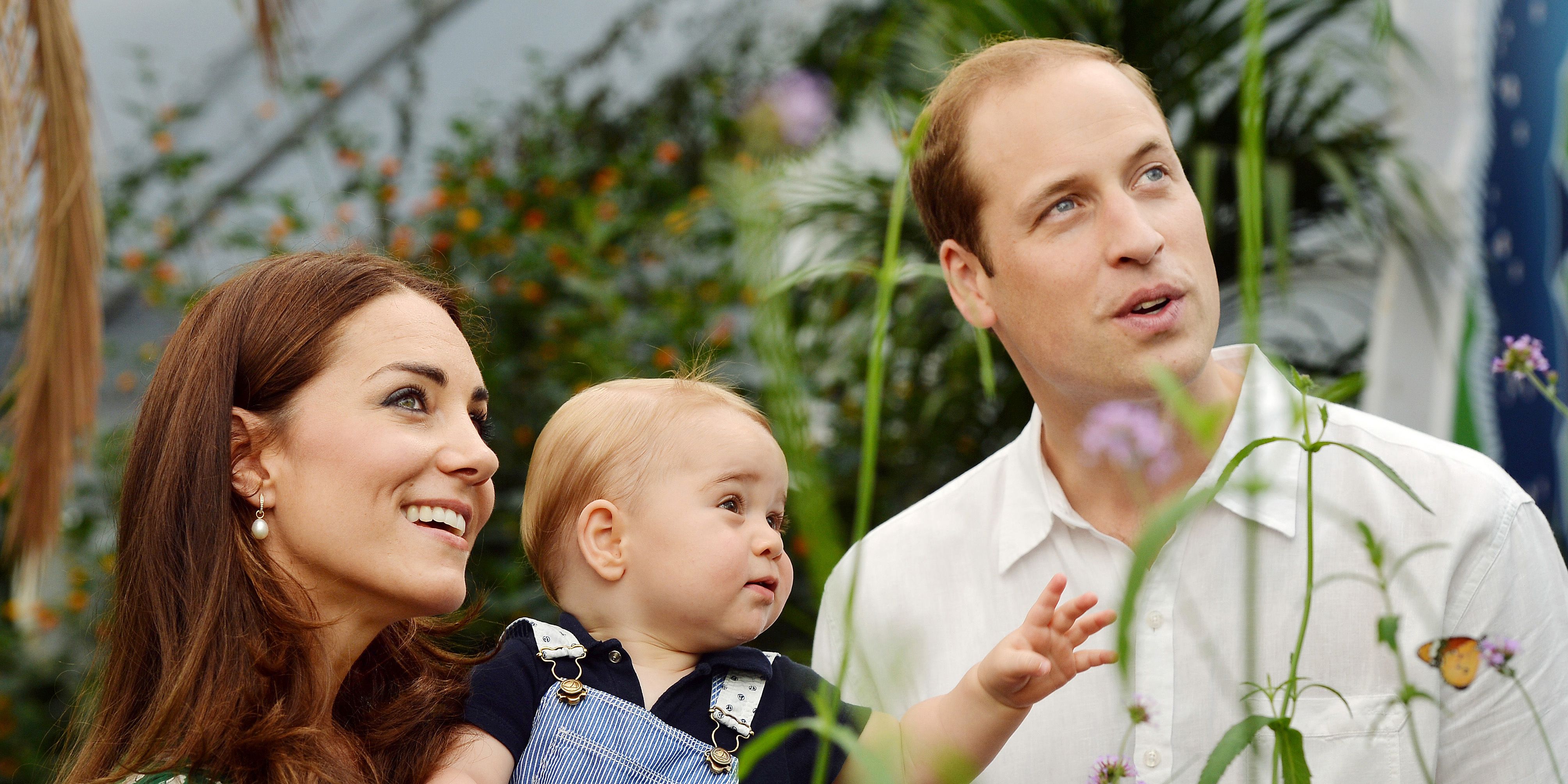 Source: Read Full Article