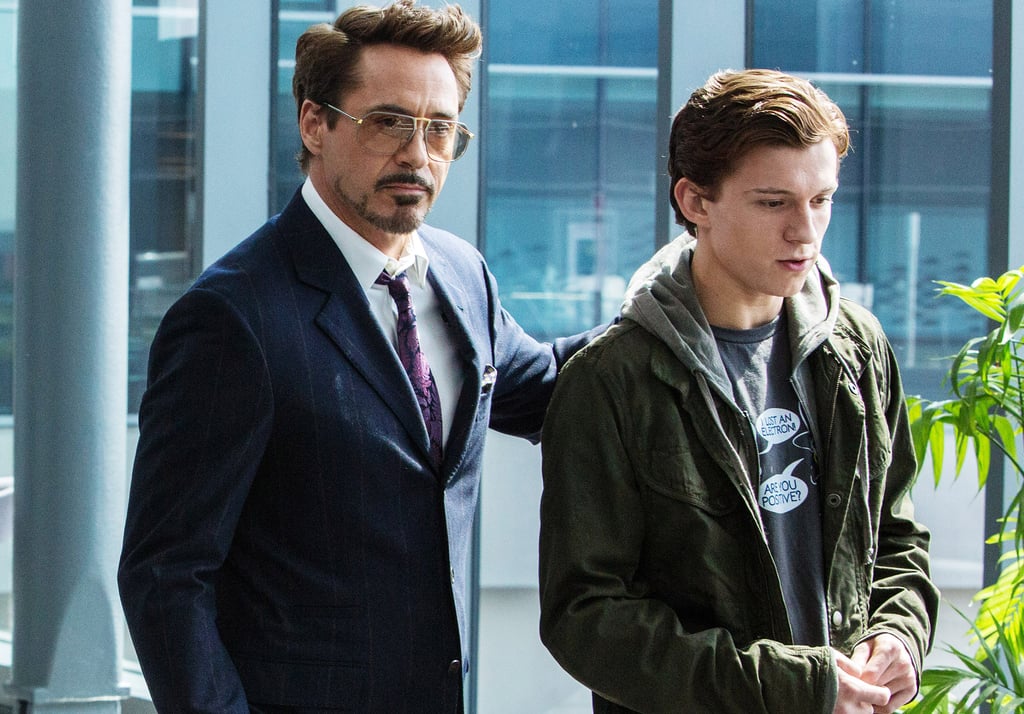 The 11 Biggest Ways Spider-Man: Far From Home Pays Tribute to Tony Stark

It goes without saying that Spider-Man: Far From Home is mainly about Peter Parker (Tom Holland). His name is basically in the title! But the sequel to 2017's Homecoming is just as much about his mentor, Tony Stark (Robert Downey Jr.).
Much of the film is devoted to how Peter has been dealing with the loss of his friend and father figure, who sacrifices himself to save the world in the jaw-dropping conclusion to Avengers: Endgame. In a lot of ways, Peter is struggling to move forward — he is still grieving and doesn't think he's even close to being ready to fill the shoes that Tony left behind. And on top of that, he's trying to figure out how to woo MJ on his upcoming trip to Europe, his Aunt May (Marisa Tomei) might have a new man in her life (*cough* Happy *cough*), and there may or may not be a top-secret mission that Nick Fury needs help with. So Peter is dealing with a lot.
Fortunately, the specter of Tony Stark throughout Far From Home is more of a comforting presence, one that continues to spur Peter to do the right thing. How exactly does the dearly departed Iron Man fit into Peter's new world, though? We're breaking it all down, but just be warned: spoilers on spoilers for Spider-Man: Far From Home ahead!
Source: Read Full Article