Look back at the long and storied life of Supreme Court Justice Ruth Bader Ginsburg, who died on Friday, Sept. 18 from complications caused by cancer.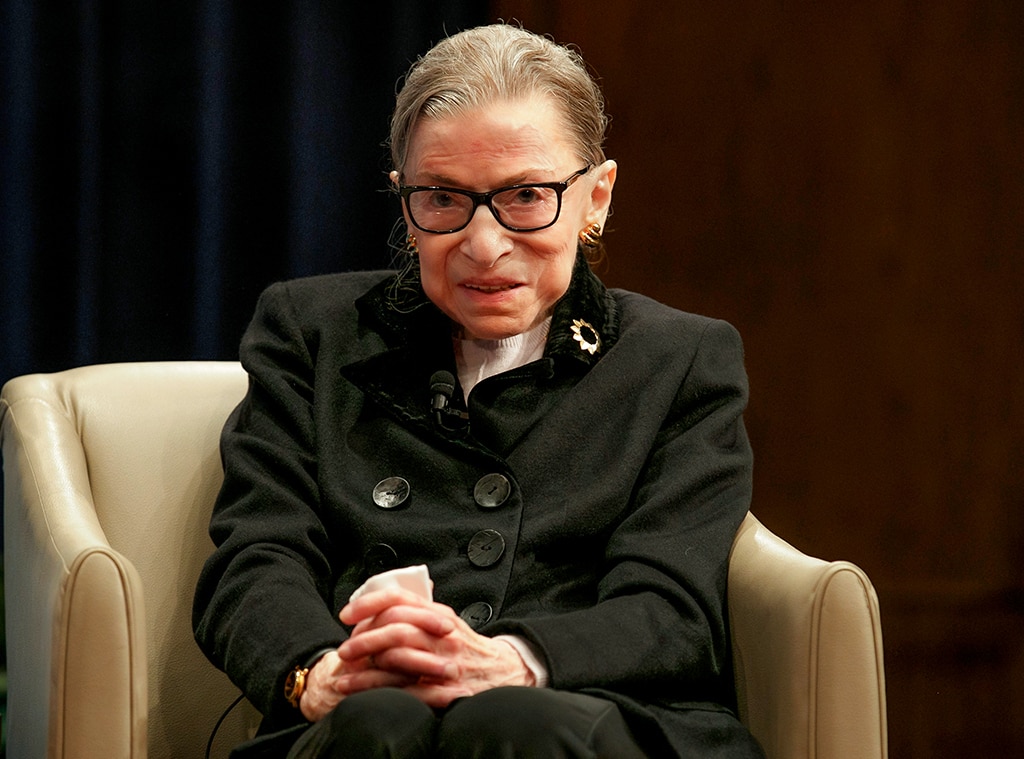 The country is in mourning following the death of Supreme Court Justice Ruth Bader Ginsburg.
On Friday, Sept. 18, the 87-year-old died following complications from cancer. The Supreme Court said in a statement that she was surrounded by her loved ones at the time of her death. 
Flags are flying at half-staff in the country's capitol in honor of the justice, who served on the court for nearly 30 years. 
Her contributions to this country began when she and husband Martin Ginsburg pursued law degrees at Harvard Law School, and later Columbia Law. At the time, she was one of the few women to pursue a career in the male-dominated field, which fueled her desire to fight for gender equality. 
It was this dedication to the betterment of society that motivated Ginsburg to stay on the court until her death, even as her cancer returned in July 2020. At the time, she explained in a statement, "I have often said I would remain a member of the court as long as I can do the job full steam. I remain fully able to do that."
To reflect on the life and legacy that Ginsburg created, scroll below. 
Trending Stories
Christina Anstead and Husband Ant Break Up After 2 Years of Marriage
Brad Pitt, Jennifer Aniston Virtually Reunite for Celebrity Table Read
Lili Reinhart Shares 'Unpopular Opinion' About Jen Aniston & Brad Pitt
As a prominent political figure, Ruth never expected to be nicknamed after rapper Notorious B.I.G., but she later said that it made sense since they were both born and raised in Brooklyn, New York. She said in an appearance at The University at Buffalo, "It was beyond my wildest imagination that I would one day be named the Notorious R.B.G. I am now 86 years old, yet people of all ages want to take their picture with me. Amazing!"
Prior to being named a Supreme Court Justice, Ginsburg served in many roles, including law clerk, professor and a dedicated member of the American Civil Liberties Union. It was also during this time that she co-founded the Women's Rights Project for the ACLU, where she made substantial contributions to gender equality. 
It was then-President Bill Clinton who nominated Justice Ginsburg to the court in 1993. According to NPR, the president "fell for her—hook, line and sinker" during his initial meetings with the judicial candidates.
After her swearing in, she became the second female and first Jewish female to be named associate justice. Despite these accolades, she famously told MSNBC in 2015 that she would most like to be remembered as "someone who used whatever talent she had to do her work to the very best of her ability."
It was during her 1993 confirmation hearing that Justice Ginsburg affirmed her dedication to reproductive rights. She told the Senators, "The decision whether or not to bear a child is central to a woman's life, to her well-being and dignity. It is a decision she must make for herself. When the government controls that decision for her, she is being treated as less than a full adult human responsible for her own choices."
Again, the judge may have been a political figure, but she has a special place in pop culture. Her life has been the subject of documentaries and movies, including On the Basis of Sex starring Felicity Jones and Armie Hammer. Additionally, she has paintings, merch, comics and more items made in her likeness. 
While there is no formal dress code for the Supreme Court, the judge was one of the few members of the court to consistently change up her jabot, a.k.a. her collar. She has previously told reporters that her choice of jabot reflects her mood or opinion on a subject.  She told the Washington Post that when she initially joined the court she wore a traditional French jabot as a way of embracing her femininity in a room filled with men. She remarked, "So Sandra Day O'Connor and I thought it would be appropriate if we included as part of our robe something typical of a woman. So I have many, many collars."
As only the second woman to serve on the Supreme Court, the justice believed that there is still a lot of work to be done in the area of gender equality. In a conversation at Georgetown University, she told the audience, "People ask me sometimes, when—when do you think it will it be enough? When will there be enough women on the court? And my answer is when there are nine."
In a 2015 interview, Ginsburg admitted that she and her late-husband, Martin Ginsburg, were on the younger side when they wed at the ages of 21 and 22 respectively, but said she wouldn't change a thing. She recalled, "Marty was an extraordinary person. Of all the boys I had dated, he was the only one who really cared that I had a brain. And he was always—well, making me feel that I was better than I thought I was. So we went to law school. And he told everybody, all of his friends—and he was one year ahead of me—his wife was gonna be on the Law Review."
Throughout her long and storied life, the renowned lawyer and her husband welcomed her children, Jane and James Ginsburg. In a statement from the Supreme Court, it was confirmed her kids and grandchildren were by her side at the time of her death.
Justice Ginsburg will be laid to rest at Arlington National Cemetery in the coming days. 
Source: Read Full Article