Some royal watchers and fans aren't exactly pleased with Meghan Markle these days. After the decision to have a private christening for her son, Archie, drew criticism another move the duchess made when she demanded no pictures be taken of her at a public event really rubbed people the wrong way.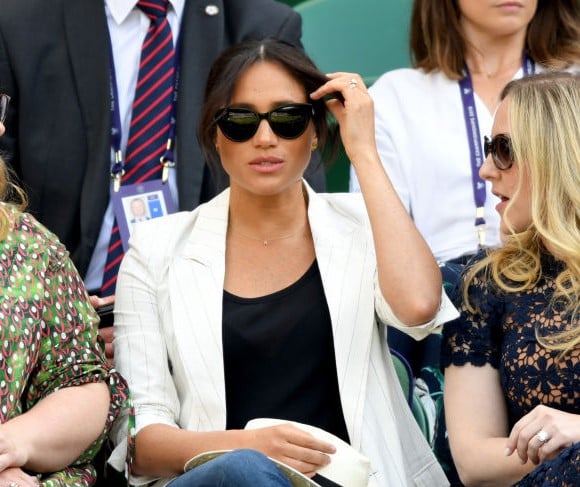 Here's what happened when spectators were ordered not to take photos of Markle and what royal watchers are saying about the Duchess of Sussex now.
Markle would not allow fans to take photos of her
The duchess came under fire again when the Daily Mail published a report about how she behaved when she was watching her friend, Serena Williams, play at Wimbledon.
The former actress made a surprise visit to Court 1 last week and her security detail ordered fans in attendance not to take any pictures in the direction of the royal.
British journalist Sally Jones was warned by Markle's protection officer not to take photos of the duchess, but Jones said she had her camera pointed towards the court at Williams and didn't even know Markle was there.
Jones said Prince Harry's wife was "clearly looking around looking to see who was looking at her" and that "Harry and Meghan see themselves more as A-list celebrities rather than royals carrying out their duties. It's control-freakery. There were around 200 photographers snapping away at her but security were sent to warn an old biddy like me. It makes them look silly. It's childish and takes us for fools."  
The publication also noted that another spectator was trying to take a snap of himself with the tennis court in the background but was approached by the royal's security with the same warning Jones had gotten.
Upon hearing the news, talk show host Piers Morgan blasted the duchess saying, "This is so ridiculous. It's rankly hypocritical and they're not private people, they're the Duke and Duchess of Sussex. If you want to be private, go back to America and live privately."
Morgan later added, "It's absurd for Ms. Markle to demand privacy as she sits in the royal box on a publicly-funded jolly with her mates."
Television presenter Kirstie Allsopp also expressed her feelings about Markle's behavior.
"If you earn money by entertaining, in sport or media, or by being a member of the royal family, photos are part of the deal … because you're lucky to have the privileges that come with the jobs & the wages," she tweeted.
Markle and Harry also drew ire over private christening
Prior to baby Archie's christening on July 6, 2019, the palace announced that the affair would be private and completely closed off to the public. Not only that but the identity of the godparents would not be released.
https://www.instagram.com/p/BzlHhZylvwT/
Royal experts, fans, and even members of Parliament weighed in and opined that Markle and the prince's decision seemed "hypocritical."
"They are happy to take money from the public purse but don't want public to have any part of their private lives and duties? They can't have it both ways. They are either Royals with everything that entails, or private citizens with no public funding at all. Hypocrites," one royal fan tweeted.
"Meghan can't demand privacy for baby Archie while asking the public to fund her family's lifestyle," the Daily Telegraph wrote. 
Royal biographer Penny Junor agreed, adding, "They can't have it both ways. Either they are totally private, pay for their own house and disappear out of view, or play the game the way it is played."
And Labour Member of Parliament Luke Pollard told CNN, "When you're still taking millions of pounds worth of public money … to upgrade and refurbish what is, you know, luxury palaces, you've got to ask yourself: what are the public getting in return? I don't think the overall family will be overthrown here. I think this is a chance to look at: Is the behavior of the royal family the right way forward?"
The palace has not responded to the controversy.
Read more: Prince Harry Scolds Hotel Staff To Stop Bringing Him These Items
Source: Read Full Article