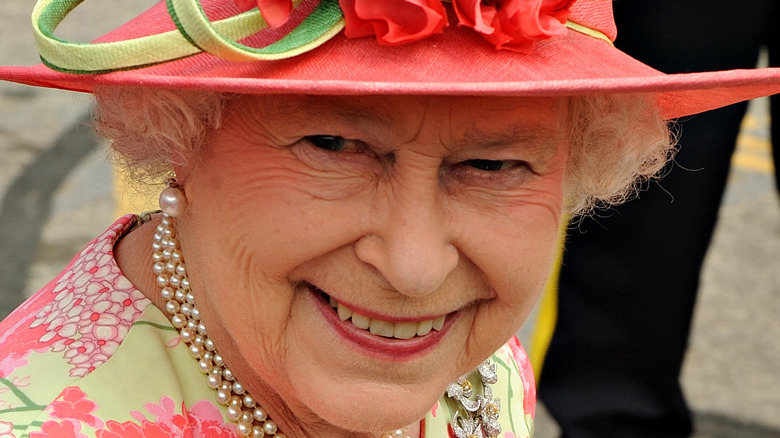 Queen Elizabeth II does not wear bright monochromatic get-ups because she's secretly nursing a desire to live in the 80s. When she puts on greens and pinks that are as neon as lightboxes in 24-hour pizza locales, she does so for pragmatic reasons. Dressed in bright colors, the queen's dresser Angela Kelly once divulged in a tell-all book, Her Majesty will stand out in a crowd; her security guards will be able to identify her faster (via Forbes). Take it from a public figure who's survived her share of assassination attempts: for Elizabeth II, wardrobe changes serve an infinity of purposes. High fashion is hardly a trump card.
For a woman who, per Forbes, may change outfits five times a day, the relative lack of controversy surrounding her fashion choices is dumbfounding. But as journalist Sali Hughs posited in "Our Rainbow Queen: A Tribute To Queen Elizabeth II and Her Colorful Wardrobe," Elizabeth was careful to differentiate herself from her fashion-forward sister (via New York Post). "Elizabeth could not, as … [Princess Margaret] did, be seen to take a private plane to Paris purely in order to try on Christian Dior's New Look," Hughs wrote. As queen, Elizabeth's documented fashion faux pas have been few and far between. That time in 1998 when she put on a hat backward, to close the 1998 Commonwealth Games in Kuala Lumpur? That was intentional. Her stylist thought it looked better that way (via Hello!). As a princess, however, Elizabeth's outfits caused a stir on more than one occasion.
Pinup or royal?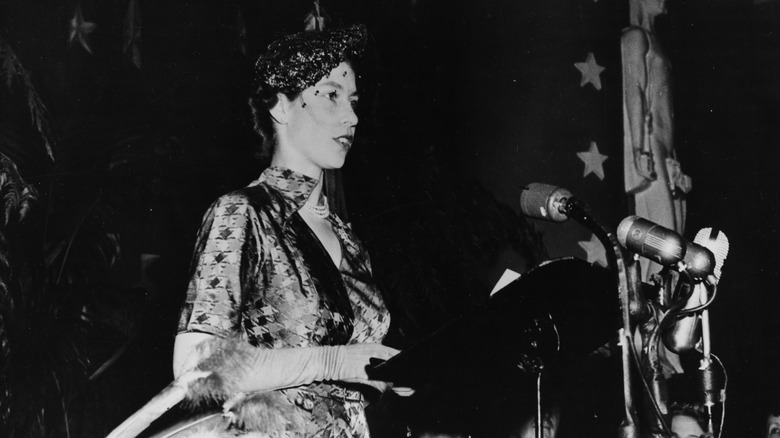 As a newlywed in the 1950s cinched waists and wide skirts were Elizabeth's go-to fashion choices (via Express). That was around the time that the young royal developed a taste for expensive furs. In 1954, she wowed the public when she stepped out on tour in Australia with a snow-white stole fit for a Hollywood bombshell (via The Mirror). Elizabeth II, The Guardian reported in 2001, owns at least 1 million pounds worth of furs, which are refrigerated for preservation in Buckingham.
In the 50s, furs were a part of the young royal's fashion-forward looks, which were often hip-hugging, formfitting, and gossip-inducing. Time Magazine went so far as to compare the twenty-something to a big-bosomed, narrow-shoulder, small-waisted glamour model, noting how nice her legs were (via Vanity Fair). At one 1954 garden party in Australia, Elizabeth, newly crowned, opted for a white, form-fitting lace dress meant to dazzle onlookers into embracing their new monarch. It worked according to royal style expert Elizabeth Holmes. "People compared her to a pinup," Holmes told New York Post. "You can see people in the back, craning their necks to get a look at her." Racy!
Princess Auto Mechanic
Peruse through the queen's 3 to 5 billion pound collection of crown jewels (via Express), and you'd be forgiven for thinking that Elizabeth II is most comfortable when strutting around in diamonds. Not so. As a young princess, Elizabeth fought hard to earn the right to dress in military uniform. Pictures of the 18-year-old princess which circulated the globe after Elizabeth became the first member of the royal family to serve in the military, had newspapers around the world trumpeting the birth of a "Princess Auto Mechanic" (via The New York Times).
Elizabeth donned her uniform despite pushback from her father, the king, who had originally decreed that his daughter wouldn't serve in the women's auxiliaries or work in a factory during World War II (via Time). Despite her father's original disapproval, the princess was happy in her mechanic's clothes. In 1947, Collier's Magazine wrote, "One of [Elizabeth's] major joys was to get dirt under her nails and grease stains in her hands, and display these signs of labor to her friends" (via Evening Standard).
Elizabeth's extravagant wedding dress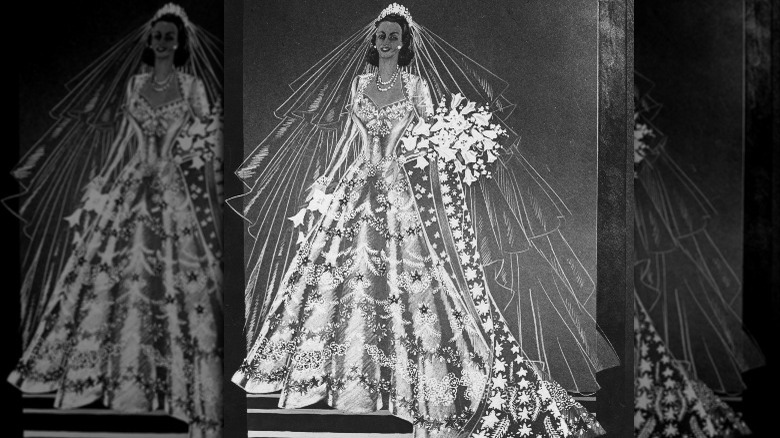 No garment that photographers have caught Queen Elizabeth II wearing has hypnotized the world as much as her wedding dress. The extravagant gown, per Tatler, took seven weeks and 350 women to put together. When British designer, Sir Norman Hartnell, designed the crystal-laced dress in ivory silk, he aimed to create "the most beautiful dress I had so far made" (via Royal Collection Trust). Hartnell's designs called for 10,000 seed pearls to be woven into Elizabeth's dress. As for the inspiration behind the dress's 15 foot-long train? Hartnell was inspired by a Botticelli painting and meant for its star patterns to stand for rebirth after World War II.
If the dress was breathtaking, it was also, according to some, ostentatious: an almost mind-numbingly insensitive show of wealth in a country still surviving off of wartime rations (via Marie Claire). And although Elizabeth paid for part of the dress with ration cards she's saved up herself, the princess was 'granted' 200 extra rations to complete payment on the 30,000-pound gown (via Hello!). At least the soon-to-be-queen put her foot down when some of her subjects began mailing in their own ration cards to chip in. "The queen didn't feel comfortable accepting the coupons," journalist Sali Hughes wrote in her book (via New York Post). "So she sent them all back with a handwritten note to every one."
Source: Read Full Article