Look, if we all agree that Mercury Retrograde isn't real, then it doesn't have to be, right? Why don't we all collectively decide it's irrelevant? But of course, that's not how it really works. Unfortunately, we have to accept the reality that an optical illusion is going to give us the perfect excuse to slide into our exes' DMs and try to restart relationships that should be left in the trash.
If you're unfamiliar with this astrological event (lucky), Mercury is the planet that rules over communication, thinking, learning, and travel. And when it's retrograde—aka when it *appears* to move backwards in its orbit from our POV here on Earth—those areas of life get a little bit, uh, chaotic. All this means that if you have any trips booked between September 27 at 1:11 AM EST until October 18 at 11:17 AM EST, I'd advise you to tread carefully. During Mercury Retrograde, you can definitely expect complications—sorry, it's not my fault, it's the planets'!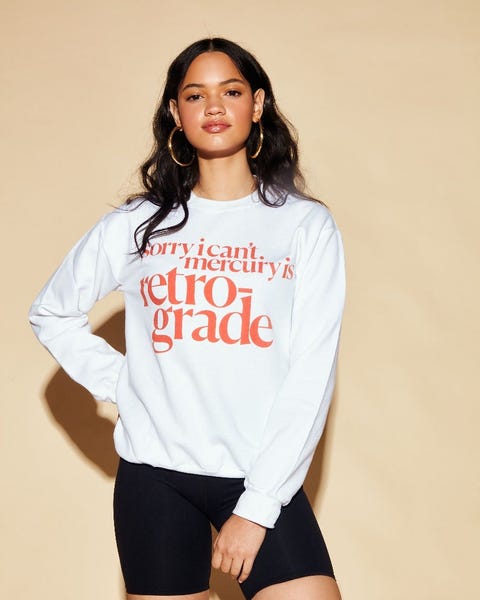 If you're a cheapskate and booked a low-budget, non-refundable trip, make sure that you arrive at your travel port ahead of schedule. It's best to be safe and comfortable because Mercury Retrograde is known to provide technical difficulties, miscommunications, and delayed flights. Oh, and it also tends to bring your exes back—or at least the urge to text them.
Thankfully, *this* Mercury Retrograde will be in the cardinal air sign of Libra, which means the difficulties that occur won't be because the world is against you. On the contrary, most people just want to keep peace and harmony during this time. Many of the problems that arise will be due to people jumping to conclusions, trying too hard to keep the peace, or because sometimes life just isn't fair.
Jupiter, the planet that rules over higher knowledge, will be retrograde in Aquarius and trine Mercury for the beginning of the retrograde, so we can expect to see a resurgence of social justice issues over the next few weeks. During this transit, we will be provided with plenty of history lessons that will help us better understand the narratives of people from marginalized communities. Mercury will also be square Pluto, the planet of death and transformation, within the sign of Capricorn, which means there will be some resistance from social institutions. Towards the end of Mercury Retrograde, Mercury will conjunct Mars, the planet of drive, and then oppose Chiron, the wounded healer.
As Mercury Retrograde comes to an end, it is important to keep in mind that toxic individualism is how inequality is sustained. Be mindful of others and keep the peace, but try to understand why others speak up when they feel like something bad is going down.
Read your Mercury Retrograde horoscope
Aries
It's time to replay the track and see how you've conducted yourself within your close relationships. Are you as innocent as you may like to think you are, or should you give time for careful examination of your behaviors? It's important that you don't fall into a pattern of prioritizing yourself at the expense of others, or vice versa. Make sure you're giving space for communication and self-reflection.
Taurus
This is the perfect time to make sure you dot your i's and cross your t's, Taurus. Ensuring that you were and are on your p's and q's is going to guarantee that you win all your alpha (wait for it) bets. People will be looking to you as a leader of peace, someone who can maintain integrity. Mistakes are normal because we are all human, but Mercury Retrograde is when you should be remedying the slip-ups.
Gemini
Are you having academic regrets? During this time, you may find yourself wishing that you could have studied something else or done more with your education. Jupiter is also retrograde right now, and it's giving you plenty to think about regarding academica, while Mercury Retrograde is giving you a gentle reminder that your potential is limitless and so are you. If you want to attain new heights, then you have to reach for them.
Cancer
Mercury Retrograde is the time to reflect at home. Think back on your early childhood memories and write them down in as much detail as possible—the earlier the memory, the better. As Mercury Retrograde progresses, you will be visited by the ghosts of relationships past. Take note of the synchronicities between your former lovers and what you learned about love as a child.
Leo
Very rarely do people articulate exactly what they're feeling the moment that they are feeling it, including you. Take time to reflect on how you express yourself. What do your friends say about who you are and how your job impacts the person you've become? Mercury Retrograde is a time to check in with yourself, but there's no need to make changes just yet. Instead, allow for the next two weeks to help you develop ideas and plans.
Virgo
After your birthday season has passed, it's time to make sure that you have all of your ducks in a row. Money burns fast when you're having fun, and as a mutable sign, you're no stranger to having money, then watching it fade away. Get your head in the game and focus on work. There's nothing wrong with spending cash, as long as you're able to sustain yourself.
Libra
Mercury Retrograde during Libra season, what a fun combination (lol). Beautiful airheads (what? you're an air sign!), your superpower is being able to move on from situations with ease. However, if you plan on leveling up for your birthday, it's important that you examine your life. Grab your journal, your birth chart, and a pen, and start reflecting. I promise, the key is in your ability to recognize your strengths and weaknesses.
Scorpio
Be careful that you're not getting emotionally caught up right now—seriously, your subconscious has a way of sabotaging you when it's left to run wild. Watch your words and pay close attention to what others have to say. It's possible that you may have to pause and replay conversations, because jumping to conclusions without close examination will set you up for failure. You're a fixed water sign, so just see what happens when you try to act like something that you're not.
Sagittarius
Sit back and shut up, because saying less is saying more. You're typically the life of the party and because of that, people love to have you around. Being a multi-talented fire sign means that you have a lot to offer. Make sure that you're recognizing the value you bring to the room, and don't undersell your ability to light up every space you're in. If you recognize that something doesn't sound right, reflect on how you are articulating yourself around the company you keep.
Capricorn
In order to keep the peace at your workplace, it's best to stop, collaborate, and listen. You can fall into the trap of focusing on getting the job done and don't always voice your concerns. You are a vessel with plenty of knowledge, so allow yourself the opportunity to shine. Taking risks is exactly how you allow yourself room to succeed. Your level up is around the corner.
Aquarius
This Mercury Retrograde is bringing you some strong check yourself before you wreck yourself energy. You've accumulated a lot of random knowledge, so make sure you double-check your facts and communicate with your sources before you share what you know. What you think you know might actually be misinterpreted information.
Pisces
In the spirit of transformation, you're having the opportunity to catch your breath and admire how far you've come. It takes a lot of effort to glow up, and it's important to keep track of your progress. Appreciate how your friends have grown—they're your allies. And if you recognize that something or someone isn't quite in alignment with your growth, take time to figure out why and have a conversation with them.
Source: Read Full Article