Bravo's "Teresa Gets Married" special showed just how upset Giudice's daughters were about their aunt and uncle skipping the event … as well as Louie's hot mic moment threatening to "bury" Joe and Melissa over their online behavior the day of the wedding.
Melissa and Joe Gorga may not have been at Teresa Giudice and Louie Ruelas' wedding, but they still caused some drama by simply not showing up.
After the Gorgas made it pretty clear they wouldn't be attending the nuptials in last week's season finale of "The Real Housewives of New Jersey" — which included a blowout fight between the two pairs over allegations Melissa cheated on Joe — Bravo's "Teresa Gets Married" special on Tuesday night highlighted the reality star's big day.
Right off the bat, the Gorgas' decision to skip the wedding was addressed, with Teresa saying "it was really disappointing to have to tell my daughters tio Joe and tia Melissa" would not be attending. She claimed that Joe didn't even text or call her to say they wouldn't be there, saying she instead found out from Dolores Catania.
"It's definitely painful," she added. "My parents aren't here no more and I would have loved for my brother to be there. Never in a million years would I have thought he would not be here."
That being said, she was also ecstatic to be surrounded by people who were "rooting" for her and Louie and "actually happy for us."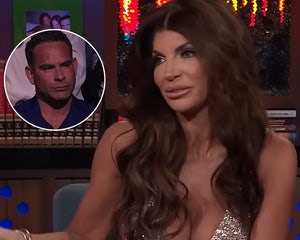 Teresa Giudice Grilled on Louie's RHONJ Behavior, Private Investigator Claim on WWHL
Gia Giudice, who already had a contentious relationship with her uncle before the wedding drama, said Joe and his behavior were the only things stressing out her mom leading up to the big day. She reacted with a "Wow" when she learned he and his wife wouldn't attend the ceremony, a move which left her feeling, "At this point, it's like you really did just completely burn the bridge." Gia added, "It's over for everybody, including me and my sisters."
On the morning of the wedding, as Teresa and the girls all got their hair and makeup done, Joe's name came up again — and Gabriella, 19, was not having it. After overhearing Teresa's makeup artist bring up his absence, she was clearly upset.
"I hear my uncle's name mentioned and I think for a day that he's not present, he definitely shouldn't be present in conversation," she explained in a confessional. "This is the biggest day of her life, my mom should celebrate her wedding in peace."
Jennifer Aydin also pulled Teresa aside and apologized for her role in how the Melissa cheating rumor became such a big wedge between Giudice, her brother and sister-in-law. Though Jen believed she "played a part in them not wanting to come," Teresa assured Aydin that wasn't the case, saying the two made their own decision after 10 years of drama between them. "I'm done too, this is the way it was supposed to be," said Teresa.
Again, Giudice's daughters were frustrated to hear someone else bring up Joe on Teresa's wedding day.
"It's really unfair to my mom that people keep bringing up my uncle's name. I am worried that Jennifer is going to make my mom upset," said Gabriella. Added Milania, 17: "People should just know not to talk about him because it is a sensitive topic and he honestly just makes us all really upset."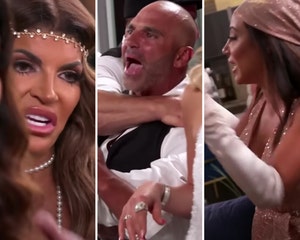 Cheating Rumors Spark Massive Teresa and Melissa Blowout Days Before Wedding on RHONJ Finale
Gabriella then began to break down in the makeup chair as they all got ready, exclaiming, "I don't want to hear his name!" Milania then started to shout, wondering what was making her sister so upset. "I just don't want his name to be brought up," Gabriella reiterated, with everyone agreeing to cut it out going forward.
"My daughters are really overprotective of me since [ex-husband Joe Giudice] left, we've only had each other. We've been through a lot," said Teresa in a confessional through tears. "They just want me to be happy. They didn't want my brother to be mentioned at all, because they've seen what he's caused."
It was relatively smooth sailing from there, at least from Teresa's POV. Viewers saw the bride and groom read their vows to one another, before heading to their reception, sharing their first dance and enjoying a toast from all four of the Giudice girls. Gia said she appreciated how Louie treated them like his own kids — especially at a time "when our own father can't physically be there for us," — while Gabriella, Audriana and Milania all remarked on how "seamlessly" he and his sons fit into the family.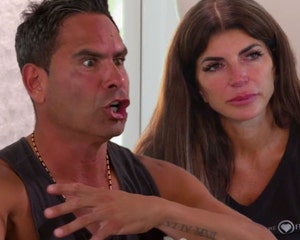 Luis Surprises Teresa with Explosive Rant Against 'Devilishly Calculated' Joe Gorga
As all this was happening, however, Teresa's costars all started to see headlines pop up about her brother's social media behavior the day of the wedding — as he called her "disrespectful," commented that "blood doesn't make you family" and posted a video of him partying with a group of people, captioning it "way better than a wedding." Though they all decided to shield her from the posts, Louie saw him on his phone … and he was livid.
In an off-camera hot mic moment, he tore into both Gorgas while speaking with another wedding guest.
"Oh my god. If these f—ing people put out one more message on Instagram, I swear to God, I'm going to f—ing bury them so bad. It's so f—ing maddening," he exclaimed. "He puts out one more message, I swear I'm gonna … not coming to this wedding is really f—ed up. Him, to be doing what he's doing, it's like f—ing crazy man. What's wrong with him?"
"Her parents would go crazy if they saw his behavior," he added, before calling it "disgusting" in a confessional. Though he was clearly upset, he decided he would not loop in Teresa, believing she "deserves to feel important" and "deserves to have her day."
The episode ended with both Louie and Teresa thanking their "chosen family" for celebrating their big day with them.
"Real Housewives of New Jersey" reunion kicks off next week on Bravo.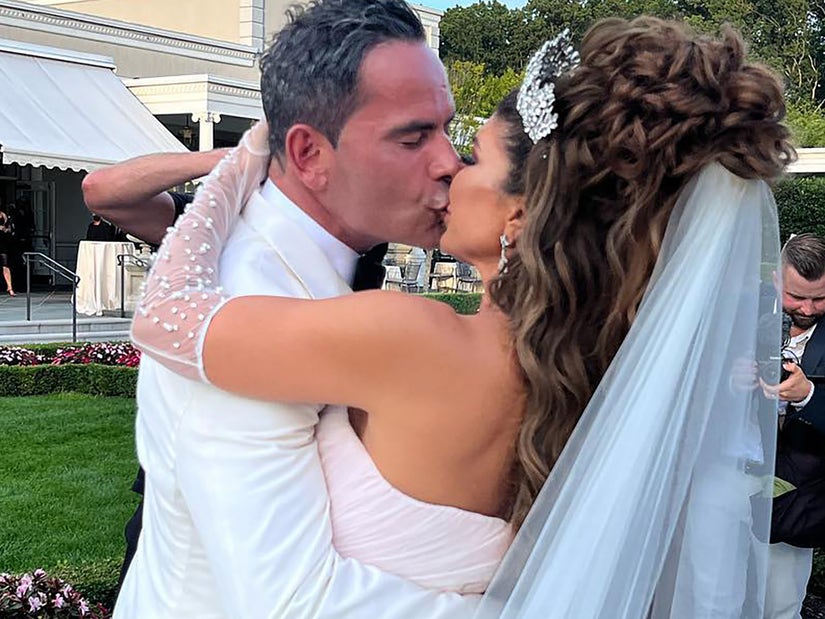 Source: Read Full Article