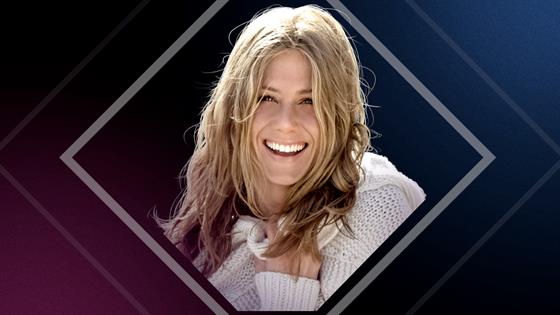 They'll be there for her!
In October, E! announced that Jennifer Aniston will be honored at the 2019 E! People's Choice Awards with the People's Icon award.
It's no surprise that she is receiving the award, given that the star has portrayed some of the biggest roles in entertainment, like everyone's favorite girl-next-door Rachel Green from Friends or one of the many compelling leads in films like We're the Millers and Cake.
However, Aniston's influence doesn't just stay on screen. The Golden Globe-winning actress is just as lovable in her role as a real-life friend to many of Hollywood's biggest celebrities!
Whether it is her longtime friendship with her Friends co-stars or the many fellow actors that adore her from working in film together, Aniston has some of the coolest BFFs around.
To celebrate the performer's PCAs win, we've rounded up some of the many famous faces who adore the star.
Be sure to tune into the live show this Sunday, Nov. 10 to see Aniston accept her trophy.
There will also be plenty of additional winners going home with awards from movie, TV, music and pop culture categories. You won't want to miss a moment!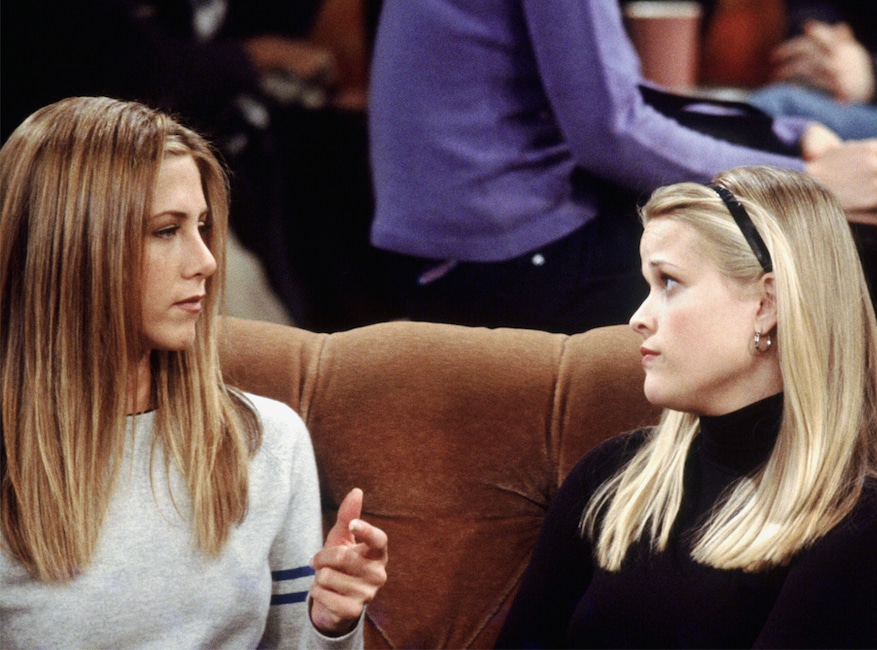 NBC/NBCU Photo Bank via Getty Images
Reese Witherspoon
We can't get enough of Reese Witherspoon and Aniston on The Morning Show together, but it's not the first time the duo has been on-screen together! Witherspoon co-starred on an episode of Friends as the sister to Aniston's character Rachel Green.
Witherspoon gushed about Aniston and the experience, saying to Harper's Bazaar that, "She was so sweet to me. I was really nervous, and she was like, 'Oh, my gosh—don't worry about it!' I marveled at her ability to perform in front of a live audience like that with no nerves. They would change all the lines and she was just so effortlessly affable, bubbly, and sunny. We've been friends ever since!"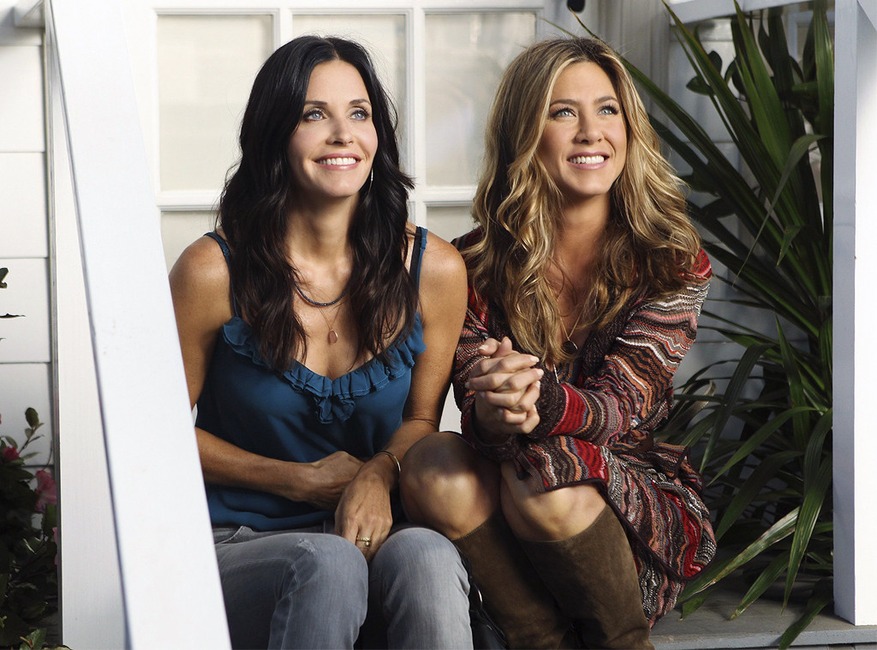 ABC
Courteney Cox
Of course we know Courteney Cox and Aniston as besties on Friends, but the pair are also close in real life! Aniston is the godmother to Cox's daughter, Coco, proving the two have a lifelong bond.
In an interview with Access Online, Cox said that when she and Aniston hang out, "We just have fun, we laugh, we're inseparable and it's great. Jennifer has been amazing for sure.""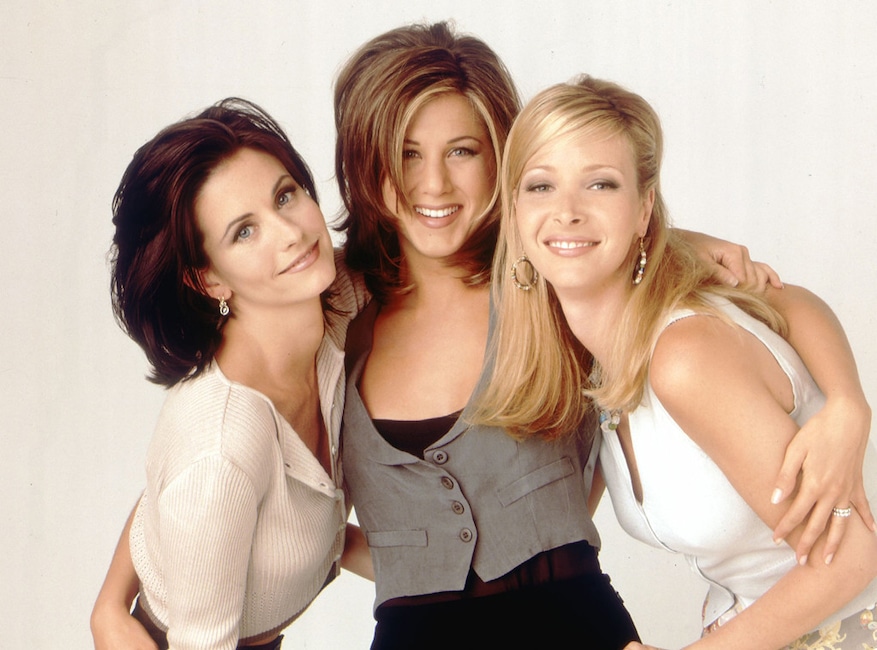 Warner Bros.
Lisa Kudrow
While Cox and Aniston are besties post-Friends, their friend group frequently includes Lisa Kudrow, just like the show!
Aniston invited both Kudrow and Cox to her wedding with Justin Theroux. The trio also snapped a photo together earlier in June together, with Kudrow captioning it, "Halfway there… #girlsnight #?" We do wish the whole gang had been together, but with Aniston hinting that the whole cast is working on a project, we're sure we'll see Central Perk's finest reunited soon!
Article continues below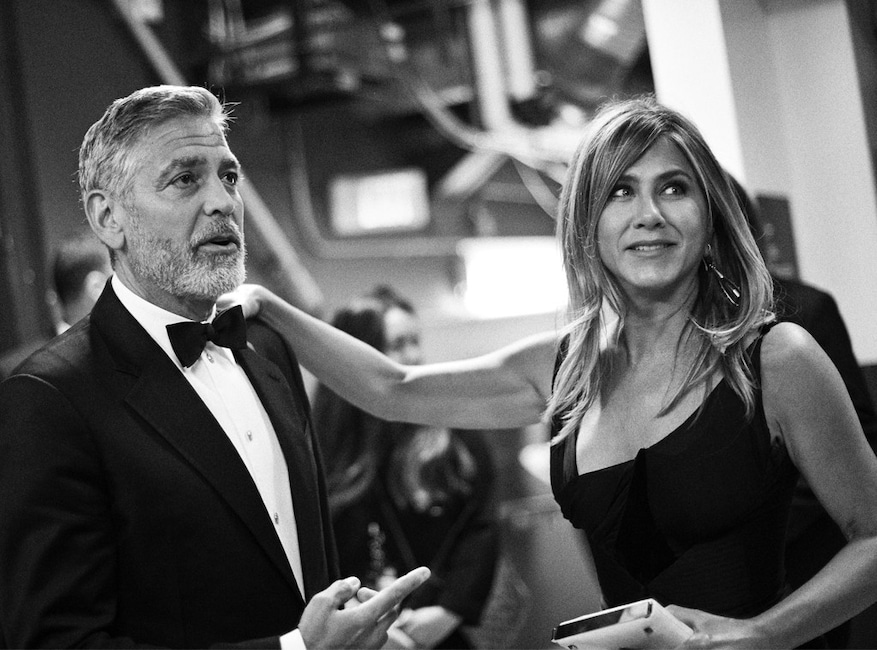 Charley Gallay/Getty Images for Turner
George Clooney
After meeting when NBC staged a Friends-E.R. crossover, Aniston has remained friends with George Clooney for decades. She even visited him and his family, including wife Amal Clooney and their twins, in Italy in 2018.
She gushed about the experience to DeGeneres on Ellen, saying, "It's amazing to see him with children. That's what we talked about, that anything can happen."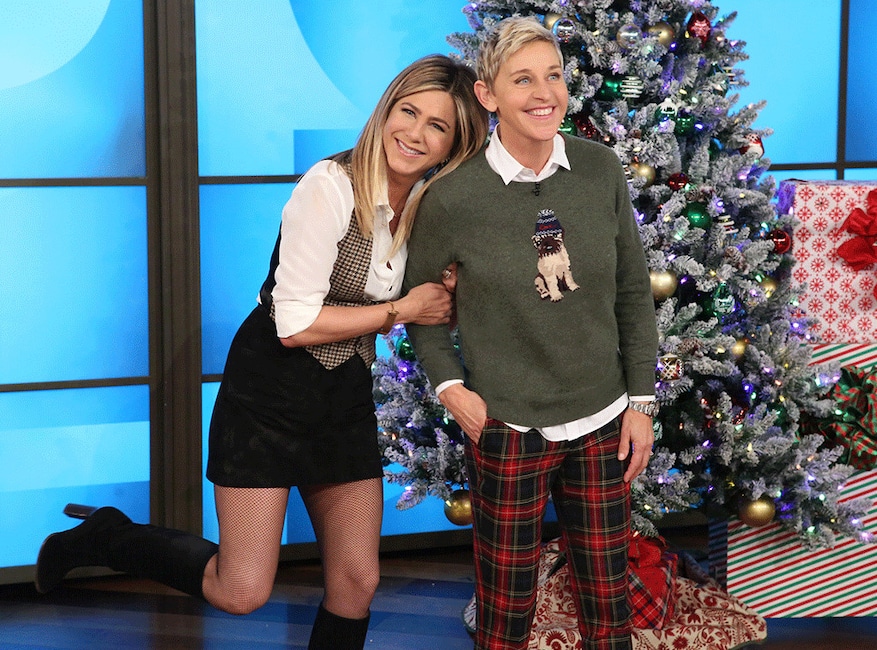 Michael Rozman/Warner Bros.
Ellen DeGeneres
Aniston is a frequent guest on Ellen DeGeneres' show, and the two even locked lips recently on the daytime program!
In an October appearance on Ellen, Aniston and DeGeneres gave each other a quick peck before DeGeneres congratulated Aniston on breaking the Guinness Book of Records for getting to one million Instagram followers the fastest.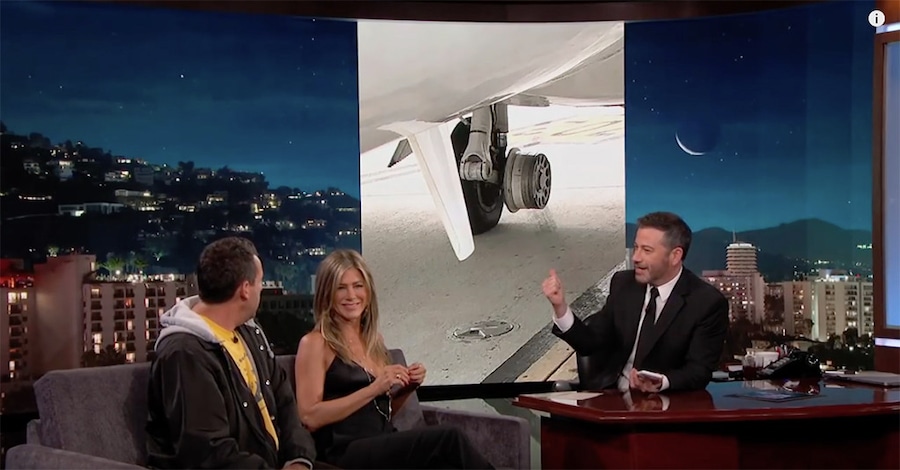 YouTube
Jimmy Kimmel
As a frequent guest on Jimmy Kimmel's program Jimmy Kimmel Live!, it's no surprise Aniston is close friends with the comedic host. In fact, Aniston is close friends with Molly McNearney, Kimmel's wife, and attended her 40th birthday party!
Aniston is always game on Kimmel's show to make us laugh, including a time that she was joined by Cox and Kudrow for a mini-reunion to act out some of Kimmel's Friends fan-fiction.
Article continues below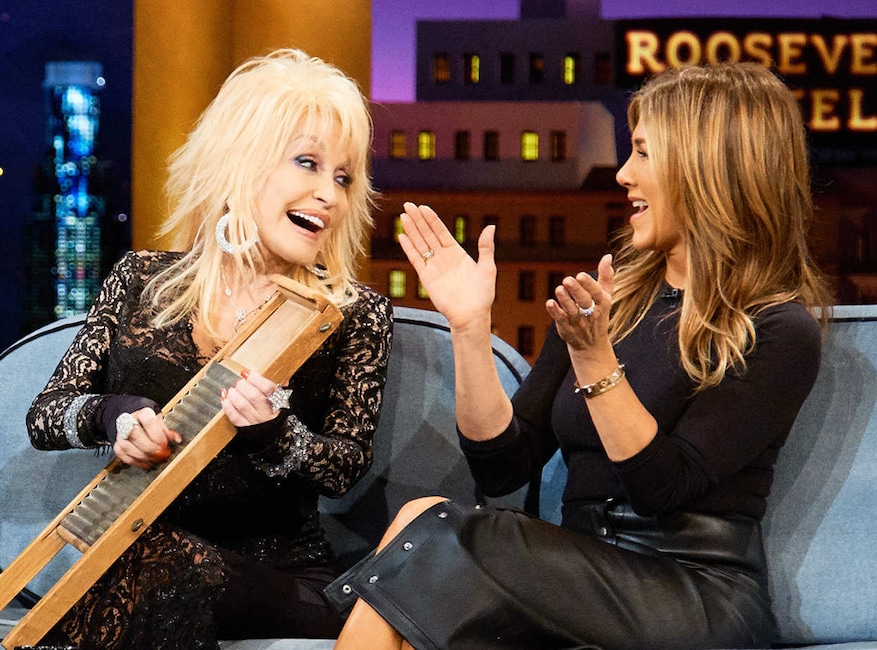 Terence Patrick/CBS
Dolly Parton
Aniston is Dolly Parton's ultimate fangirl, but Parton is also a fangirl of Aniston, too!
The two worked together on Aniston's film Dumplin', with Aniston producing the film and Parton writing original music for the soundtrack. While promoting the movie, Parton went on The Tonight Show Starring Jimmy Fallon and said, "I love her to death. My husband is crazy about her, and he was more excited that I was going to do a movie with her than he was that I got the chance to write all this music."
She then jokingly added, "I think he fantasizes, like, a threesome!" We love their fun friendship, and also think it was the cutest thing when Aniston named one of her dogs Dolly after the "9 to 5" singer!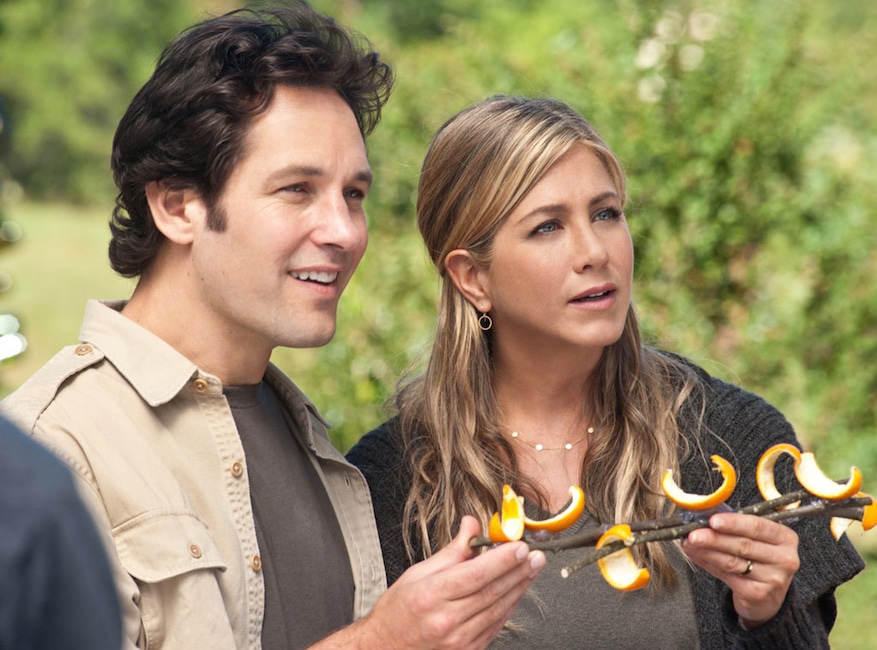 Universal Pictures
Paul Rudd
Despite a few awkward moments with Aniston when the two were on Friends together (such as accidentally running over her foot), Paul Rudd and Aniston's friendship lasted past the show, including starring in Wanderlust together.
While promoting the film, Aniston told The Hollywood Reporter that there was "a lot of laughter" on set with Rudd and that, ""I love him. He is a dear friend. We just have a true affection for each other and I just feel honored any time I get to work with him."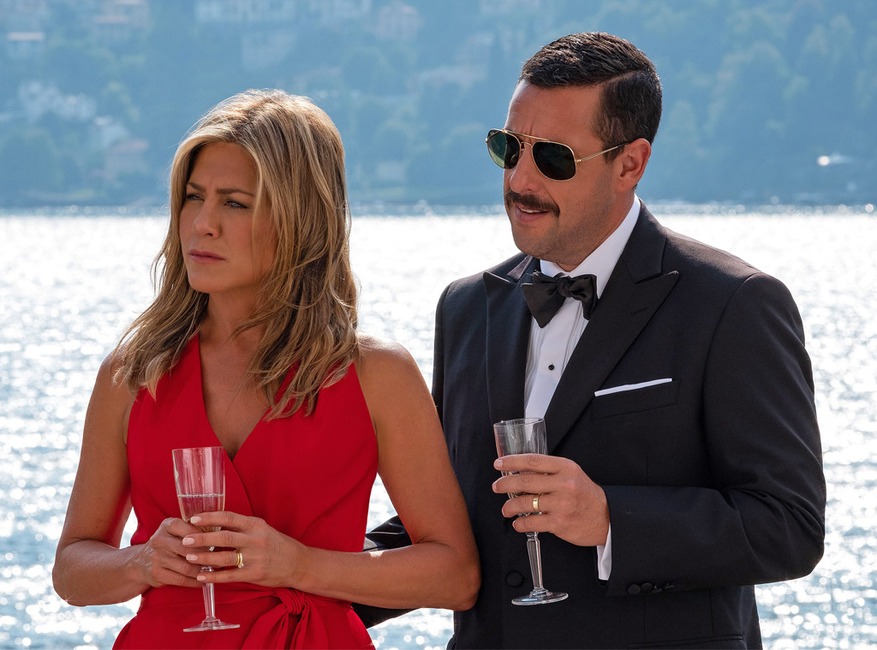 Netflix
Adam Sandler
Adam Sandler may be known as Aniston's co-star in both the PCAs-nominated Murder Mystery and comedy Just Go With It, but the two have actually been friends for decades!
Sandler told Entertainment Tonight that he and Aniston, "Met at Jerry's Deli through a bunch of mutual friends. We shared meals together. I watched Aniston eat!"
Aniston also revealed on The Howard Stern Show that she ran into both Sandler and David Spade when she went in for an audition for Saturday Night Live. While the actress turned down the role, it still makes us wonder if she would have joined Sandler for a duet on his infamous "Thanksgiving Song."
Article continues below
Warner Bros. Pictures
Jason Sudeikis
Jason Sudeikis and Aniston have been in so many films together that they once joked to ABC News that they are, "Work wives."
"We have fun together," Aniston gushed. "He makes me laugh." The duo have starred in five films together, including the hilarious comedy We're The Millers and the rom-com Mother's Day.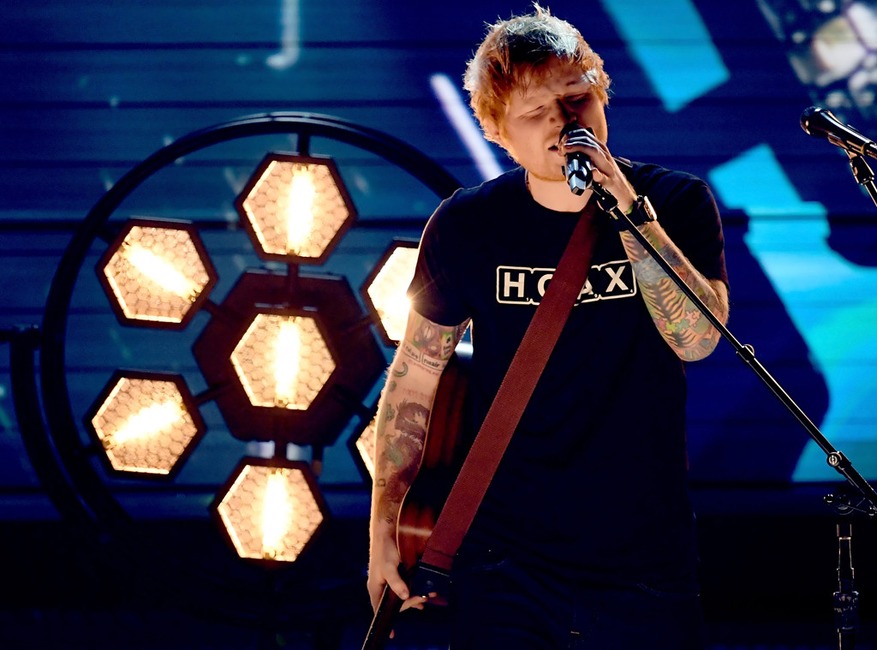 Kevin Winter/Getty Images for NARAS
Ed Sheeran
Ed Sheeran may not typically celebrate Thanksgiving as a Brit, but that didn't stop him from joining the fun at Aniston's house!
In 2013, the singer revealed that he went to Aniston's for the holiday and that he showed up a bit under-dressed. He admitted to E! News that, "I turned up…and they're having a proper Thanksgiving meal and I'm there and I think I was wearing my board shorts or something. It was fun."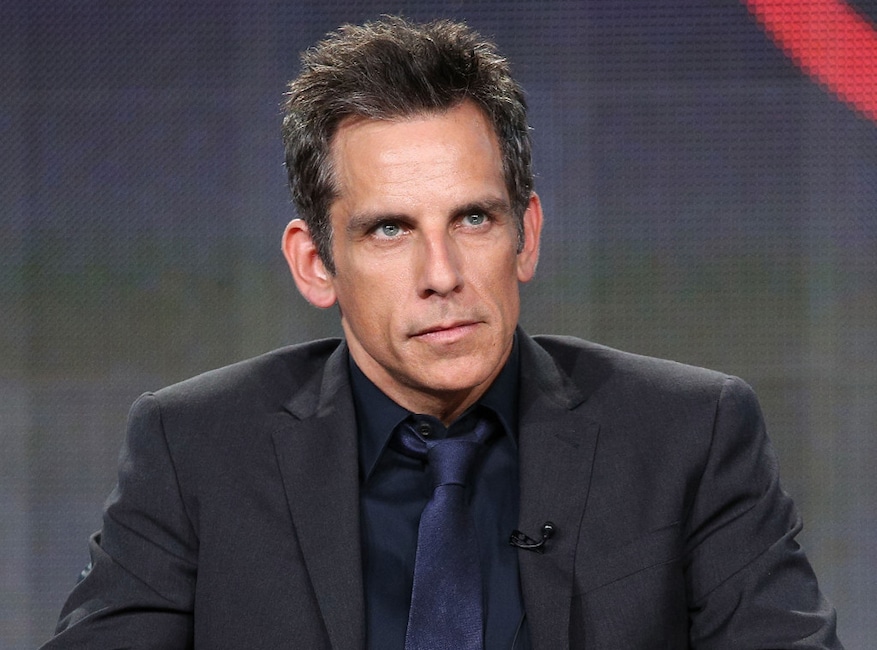 Imeh Akpanudosen/Getty Images
Ben Stiller
Aniston has been friends with Stiller for years, which made it fitting that she helped present the actor with the American Cinematheque award at the organization's ceremony.
Taking the stage, Aniston stated that, "He is adorable. He's sensitive. He's shockingly ripped. And if you don't believe me, I'd suggest pulling out your iPhone and Google-ing 'Stiller Hawaii beach.' Trust me, it's intense."
Article continues below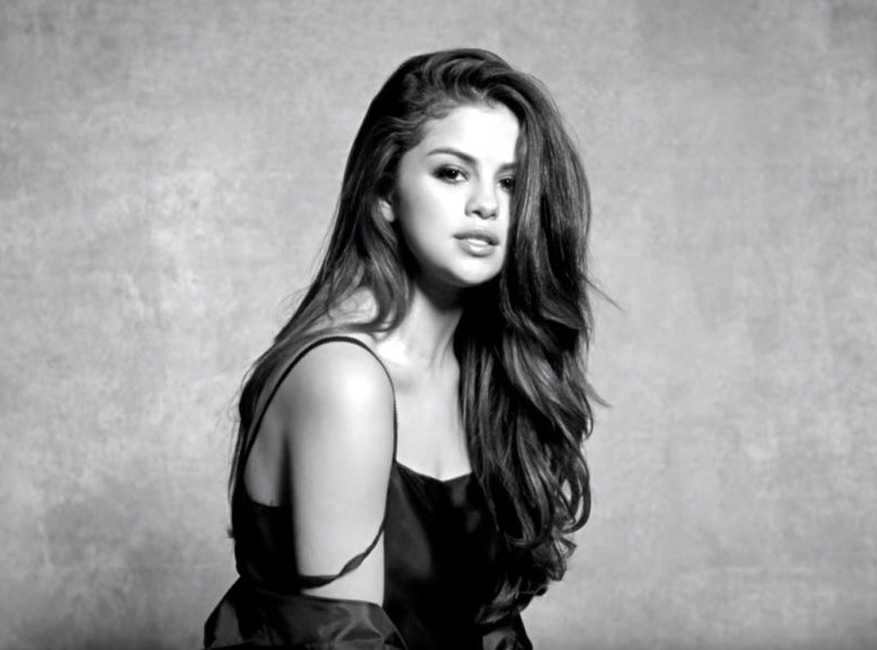 YouTube
Selena Gomez
Selena Gomez admitted she was always a huge fan of Aniston's, but in the last few years she also has been able to call her a friend, too!
The two met in 2014 when Gomez attended a party for Aniston's film Cake. Gomez took a black-and-white photo of the two and shared to Instagram that, "I have not only been following her career as a fan since I was 8 and now get to watch her completely transform in her new movie CAKE, I have gotten to have real conversations with such a real heart, made my entire year."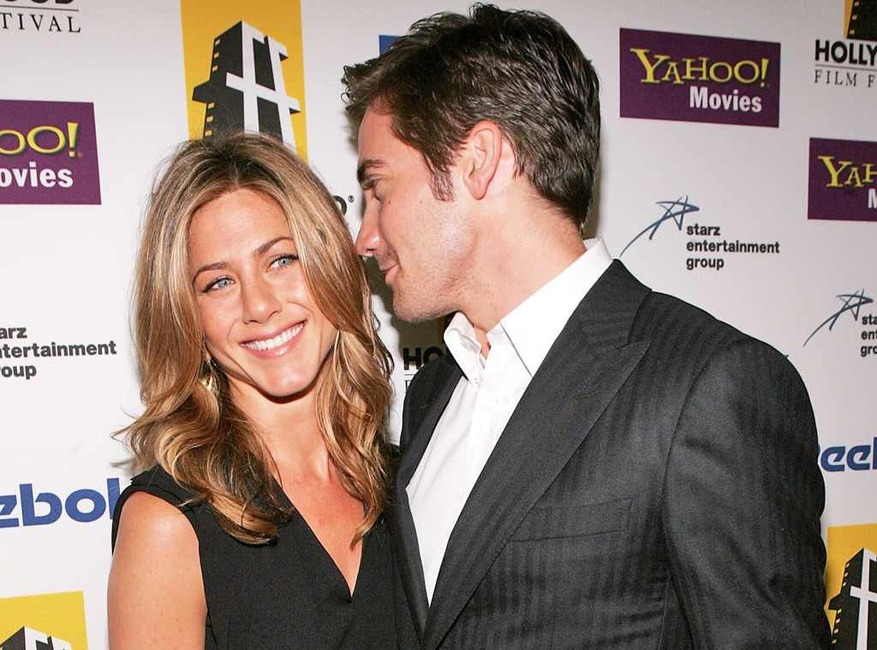 Mark Mainz/Getty Images
Jake Gyllenhaal
After starring together in 2002's The Good Girl, Jake Gyllenhaal admitted in an interview with People that he was smitten by his co-star!
"I will say, I had a crush on her for years. And working with her was not easy," he revealed. "I was – um, yeah. That's all I'm going to say. It was lovely. It wasn't hard, that's what I would say."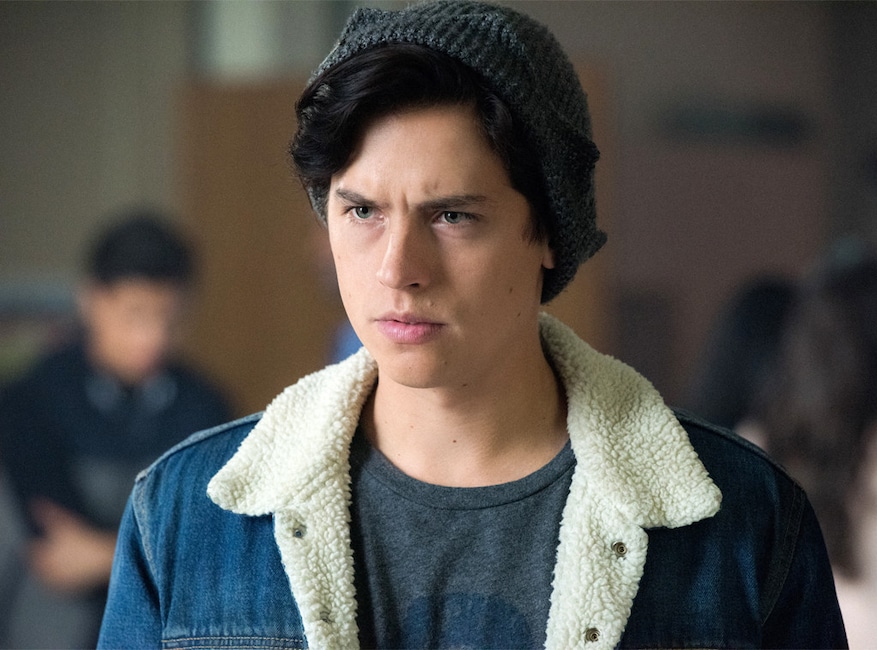 Dean Buscher/The CW
Cole Sprouse
On an appearance at The Late Show With Stephen Colbert, Cole Sprouse reminisced to comedian Stephen Colbert about back when he starred in Friends as Ben Geller opposite of Aniston.
"I remember feeling so, so intimidated by my crush on her that I completely blanked and forgot every single one of my lines," he joked. "And she just stared at me." The actor isn't the only member of Riverdale to have held a crush on America's favorite girl-next-door, either. Sprouse's co-star, KJ Apa, admitted in a profile with Cosmopolitan that despite having never seen an episode of friends, he also crushed on the Golden Globe-winning star.
Article continues below
Watch Live From the Red Carpet: The 2019 People's Choice Awards special this Sunday at 7 p.m. followed by the People's Choice Awards at 9 p.m., only on E!
Source: Read Full Article