On Sunday, Taylor Swift shared a lengthy post on Tumblr after it was announced that Scooter Braun's company, Ithaca Holdings, had acquired her former record label, Big Machine Records, for $300 million.
Taylor left Big Machine Records in late 2018 when her 10-year contract ended. She went on to sign a new deal with Republic Records.
In the post she revealed that while her new deal means she'll own the master recordings of her work going forward, Big Machine — and by extension, Scooter Braun — will retain the rights to all six of her albums "in perpetuity".
https://instagram.com/p/BwsfIhoDLoj/
Taylor went on to say that Big Machine boss Scott Borchetta gave her the option to "earn" back the rights to the masters by signing another 10-year contract. However, Scott also told her that he was planning to sell the company after she'd committed to the new contract, and so Taylor decided to sign elsewhere.
Taylor revealed in her Tumblr post that Scooter Braun owning the rights to her "life's work" was her "worst nightmare".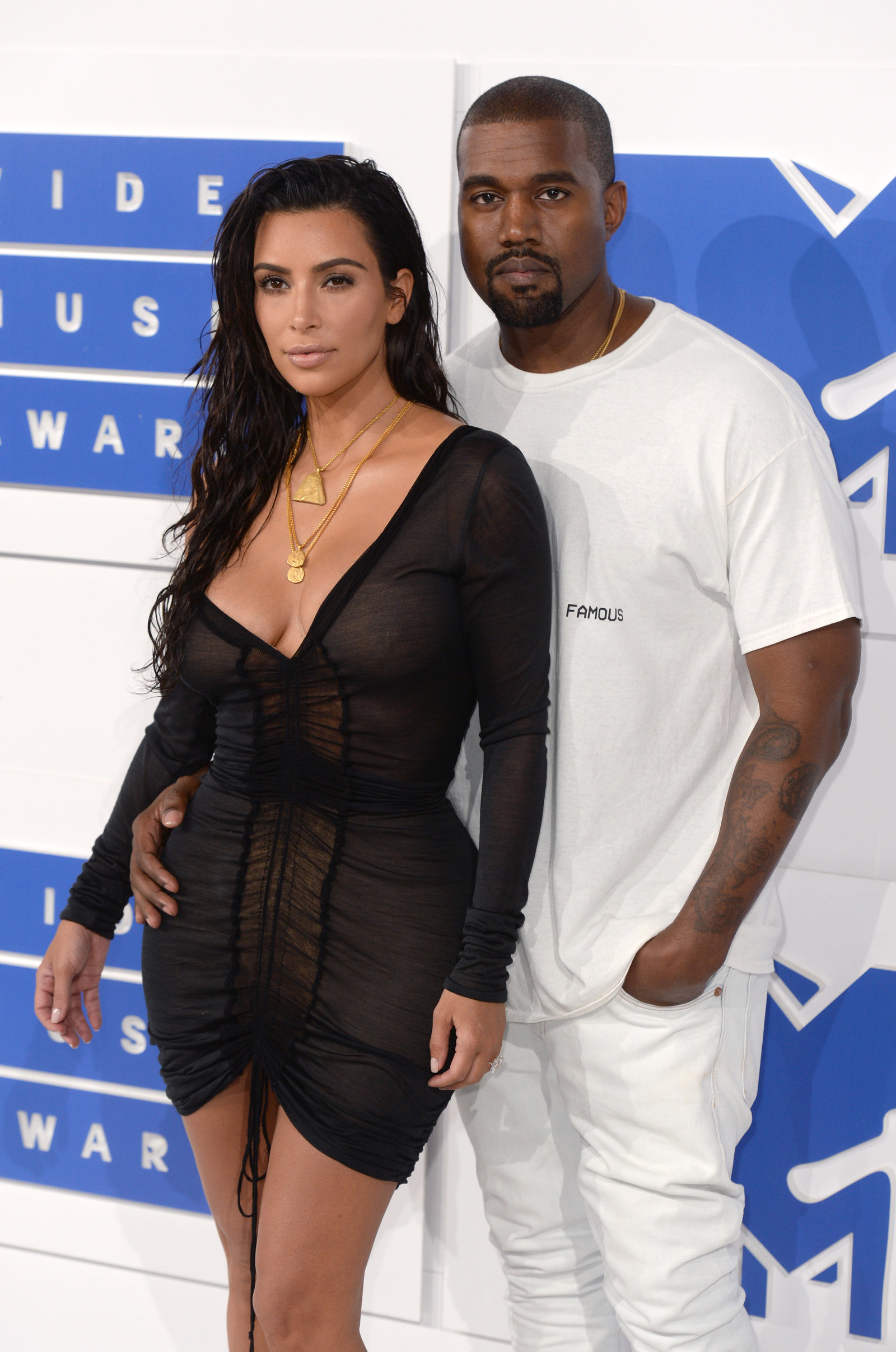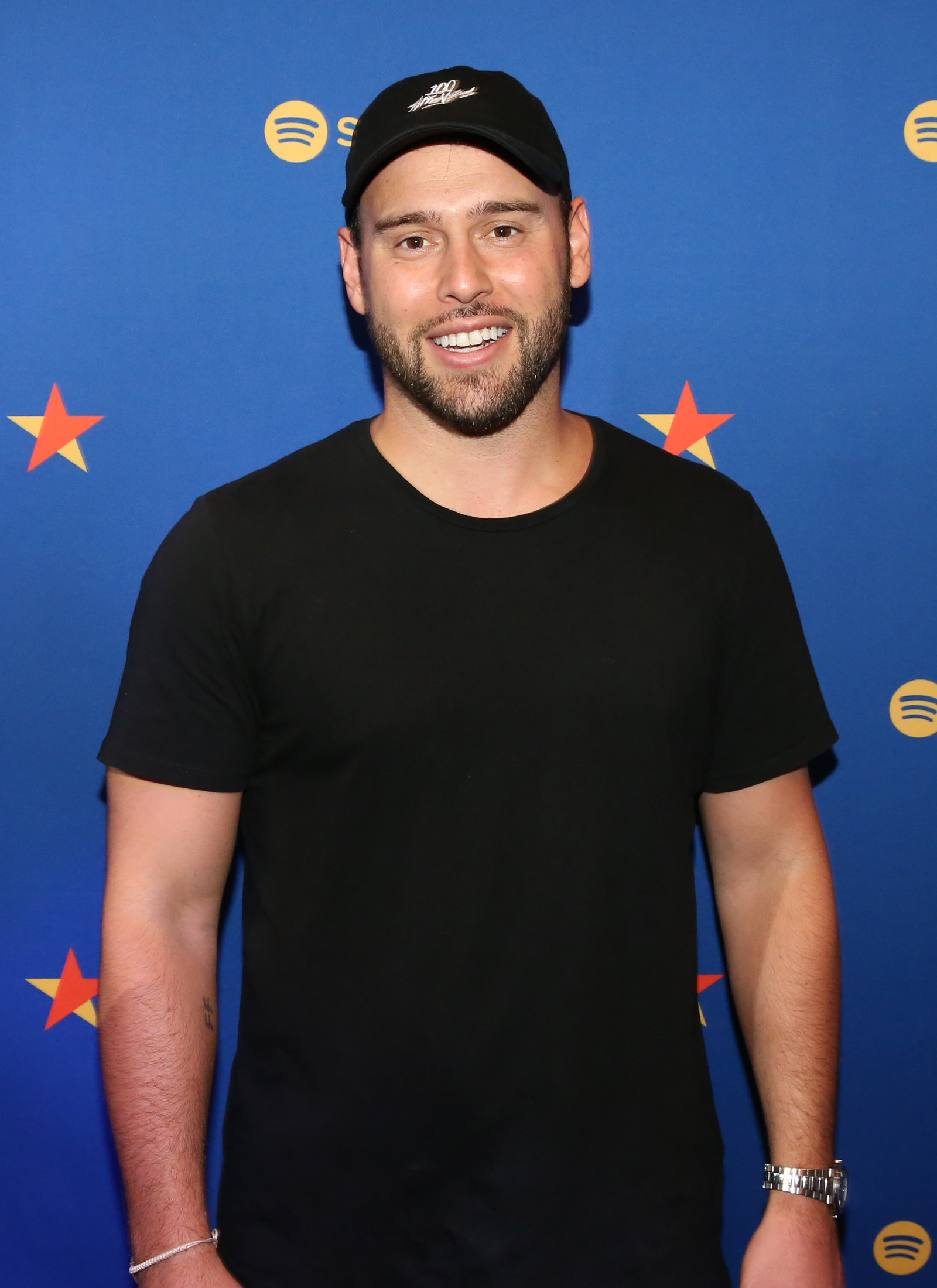 In her note, Taylor claimed that Scooter had "bullied" her for years, pointing to the fact that he was Kanye West's manager at the time of their 2016 feud which led to her taking an extended break from the public eye. She also referenced a selfie posted to social media in the wake of the feud showing Justin Bieber — another of Scooter's clients — with him and Kanye West appearing to mock her, as well as Kanye's video for "Famous" which featured him lying in bed with a naked waxwork depicting her.
"Any time Scott Borchetta has heard the words 'Scooter Braun' escape my lips, it was when I was either crying or trying not to," Taylor went on. "He knew what he was doing; they both did. Controlling a woman who didn't want to be associated with them. In perpetuity. That means forever."
https://instagram.com/p/BzQjirhjjeq/
She continued: "Scooter has stripped me of my life's work, that I wasn't given an opportunity to buy. Essentially, my musical legacy is about to lie in the hands of someone who tried to dismantle it." You can read a detailed explainer of the full situation here.
Within hours of Taylor sharing the post, countless fans and celebrities — including Cara Delevingne, Halsey and Brendon Urie — shared messages of support for her.
Others, including Justin Bieber and Demi Lovato, sided with Scooter.
However, one thing that has sparked anger among Taylor Swift fans was a post that Scooter Braun shared to social media in the hours after the news of him acquiring Big Machine broke, but before Taylor posted her Tumblr note.
https://instagram.com/p/BwnT2J4DJCt/
The post was a screenshot of an image that one of Scooter's friends shared on social media, which displayed the news of his acquisition alongside the caption: "When your friend buys Taylor Swift!"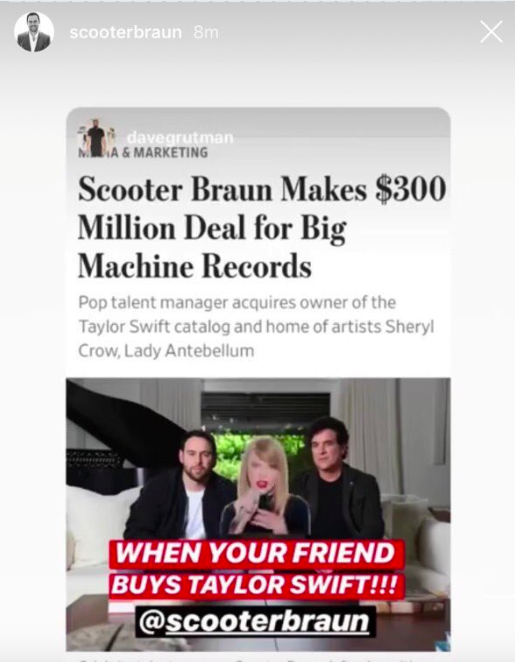 Scooter went on to reshare the image along with a series of other congratulatory messages on his own Instagram story. However, it appears the post was deleted after Taylor published her note.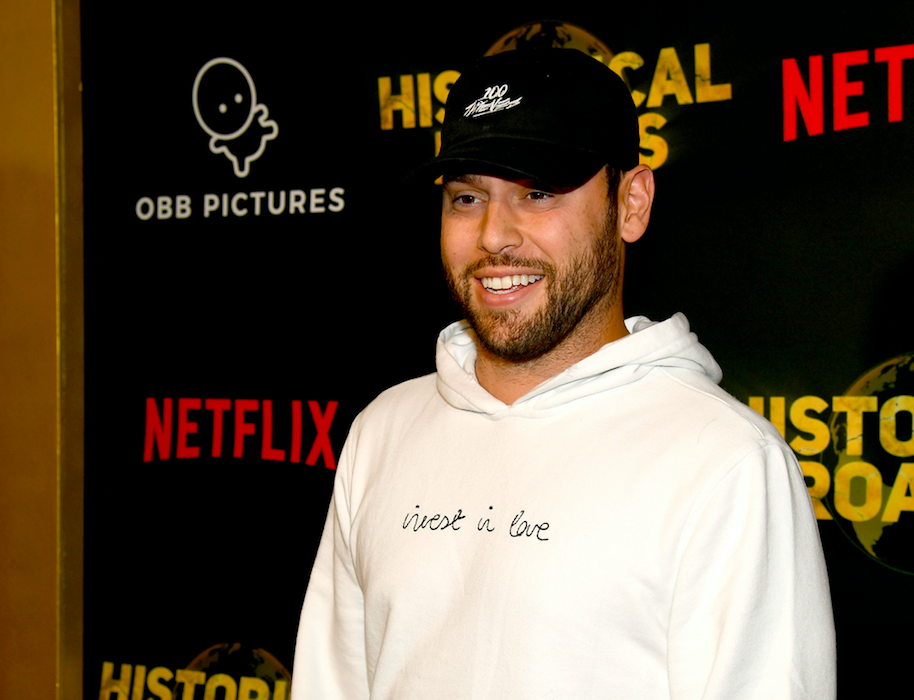 But as everyone knows, screenshots exist forever online, and so Swifties were quick to share it across Twitter and Tumblr, suggesting it "proved" Scooter's intentions.
"So Scooter Braun didn't celebrate buying the label, he celebrated buying Taylor Swift," wrote one fan.

"Scooter is deadass OK with joking about buying women, JFC," wrote another.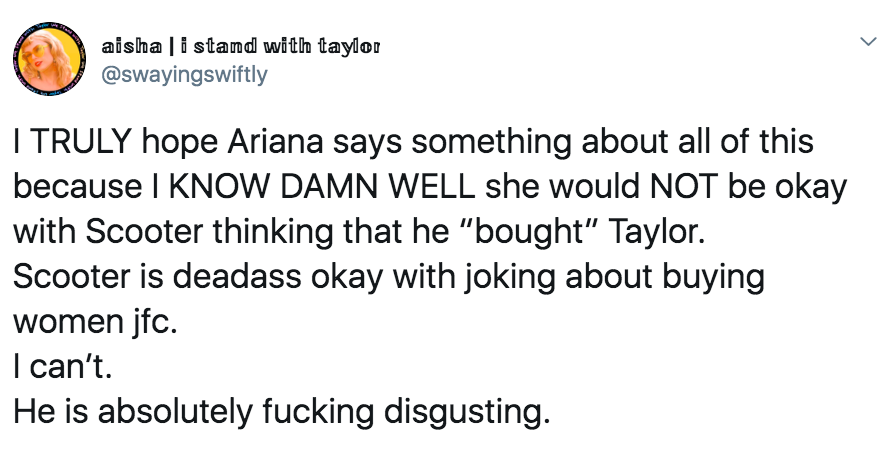 One fan called the post "misogynistic to say the least."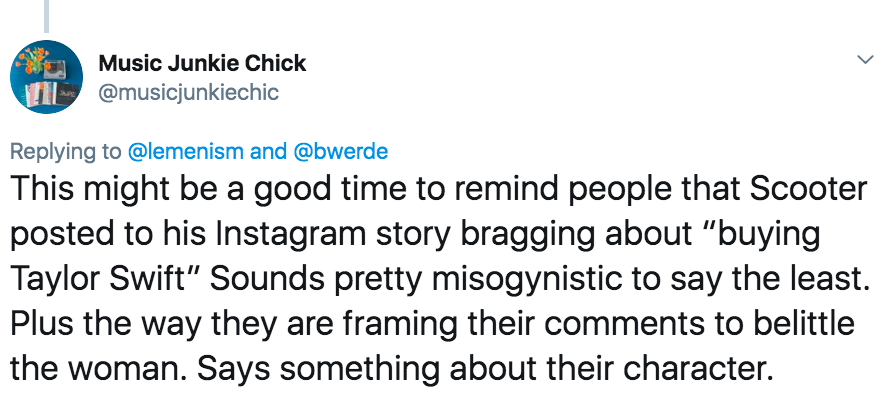 And another criticised Scooter for "bragging" about "buying" Taylor.

Then, over on Tumblr, Taylor herself liked these posts from fans expressing their disdain and disbelief over the comment.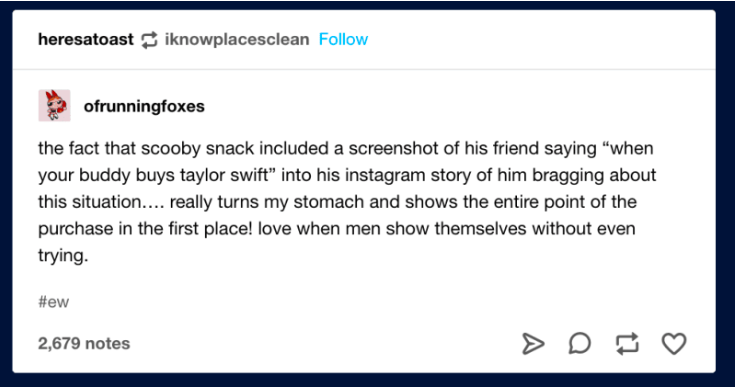 Spokespersons for Taylor Swift and Scooter Braun have been contacted for comment.
Ellie Woodward is acting celebrity editor for BuzzFeed and is based in London.
Contact Ellie Woodward at [email protected].
Got a confidential tip? Submit it here.
Source: Read Full Article