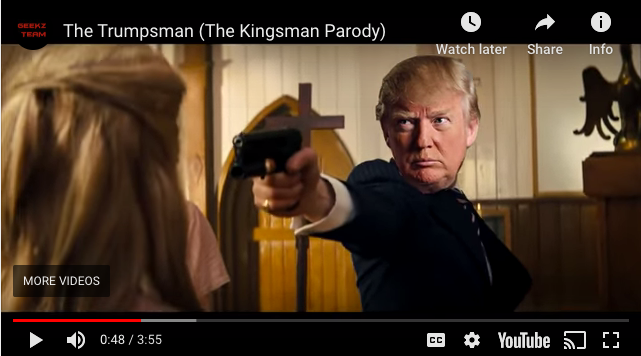 Logan Cook, known as "Carpe Donktum" online, was suspended from Twitter on Monday amid controversy about a meme created by a contributor for his website, Memeworld.com. It's unclear what caused Cook's suspension from the platform.
Twitter has not yet responded to a request for comment.
Cook has gained notoriety in the last year for his GIFs and videos which have become a staple of the pro-Trump subreddit r/The_Donald and have even been tweeted by the president, himself. Cook was invited to the White House in July for a "social media summit," joining fellow far-right activists and influencers including QAnon-supporting radio host Bill Mitchell, fringe social media huckster Ali Alexander, Project Veritas founder James O'Keefe, founder of Turning Point USA Charlie Kirk, and former BuzzFeed News reporter and current chief creative officer for Turning Point USA Benny Johnson.
Capitalizing on his right-wing popularity, Cook recently launched Meme World, a website and basic social network for sharing right-wing and far-right memes.
Cook and the Meme World community became the center of a New York Times story Monday, when a video from a Meme World contributor was played during the American Priority Festival and Conference at Trump National Doral Miami Resort over the weekend.
The video, created by an obscure YouTube channel called TheGeekzTeam, was included in a "meme exhibit," showcasing pro-Trump memes. The video, titled "The Trumpsmen: The Maga Service," uses edited footage from the movie Kingsman: The Secret Service, to portray President Trump violently gunning down avatars of mainstream media outlets. It was originally uploaded to YouTube last year and shared to r/The_Donald.
TheGeekzTeam's Twitter account remains active.
Both AMP Fest organizers and the White House condemned the video following the New York Times report.
"It has come to our attention that an unauthorized video was show in a side room at #AMPFest19," an official statement released by AMP Fest organizes Monday. "We find it shocking that the New York Times would not report on any of the sanctioned events in the article."
The White House on Monday said President Trump "strongly condemns" the video. "The @POTUS @realDonaldTrump has not yet seen the video, he will see it shortly, but based upon everything he has heard, he strongly condemns this video," White House spokeswoman, Stephanie Grisham, tweeted Monday.
Cook, however, defended the video. In an official statement posted to Twitter and Meme World, Cook called the controversy an "outrage campaign."
"The Kingsman video is CLEARLY satirical and the violence depicted is metaphoric," Cook wrote. "No reasonable person would believe that this video was a call to action, or an endorsement of violence towards the media. The only person that could potentially be "incited" by this video is Donald Trump himself, as the main character of the video is him. THERE IS NO CALL TO ACTION."
So far, Twitter is the only platform that has taken any action against Cook. Facebook, Patreon, Reddit, and YouTube are all still hosting his content.
Twitter
YouTube
Ryan Broderick is a senior reporter for BuzzFeed News and is based in New York City.

Contact Ryan Broderick at [email protected]

Got a confidential tip? Submit it here.
Source: Read Full Article