The last time the British designer Christopher Shannon featured on HYPEBEAST, in 2018, he had shared his plans to withdraw from the cycle of fashion weeks and seasonal collections — a system that he described at the time as "fundamentally corrupt."
Shannon had been an integral part of the mid-noughties menswear boom in London, after a breakout as part of a fashion designer incubation programme in 2008. Like many of his contemporaries, his collections drew influence from British subcultures, particularly those connected to the working class: the ravers, casuals, and charvas.
Unlike several of his peers, though, Shannon avoided fetishising or fantasizing them. He became an early vanguard in the then-novel merging of fashion and sportswear, at a time when most luxury brands didn't sell a single sneaker, hoodie or sweatpant.
"I didn't go to art college just so that I could over-pollute the world with product."
Though he won multiple awards, and attracted the attention of mega-brands including Maison Margiela, Shannon had become exhausted and embittered by the demands of the show schedule, and the gruelling demands placed upon London's young designers by retailers, sponsors, and its governing bodies.
"You have to ask who you're doing it for," he says now. "So many people I knew in London were burning out." After scrapping seasonal collections, Shannon chose to leave the capital to return to his home city of Liverpool, where he has remained. Since then, he has kept the fashion 'scene' at an arm's length.
"I think, for years, I'd seen the pushed narrative that fashion brands only exist to make more and more," he says. "I really hated it. I didn't go to art college just so that I could over-pollute the world with product."
To that end, the designer pivoted to smaller runs, released when he feels he has something worth making — "working to my own rhythm", as he puts it. It has allowed him the freedom to create only the pieces that he believes in, and that he believes he has a customer for, without the pressure to produce fully merchandised collections, padded out with pieces for store buyers.
"The whole project really is an ongoing conversation with the makers I'm working with," he says. "We see what's doable and try it out. It's refreshing, and spontaneous in a way the drawn out seasonal schedule can't be."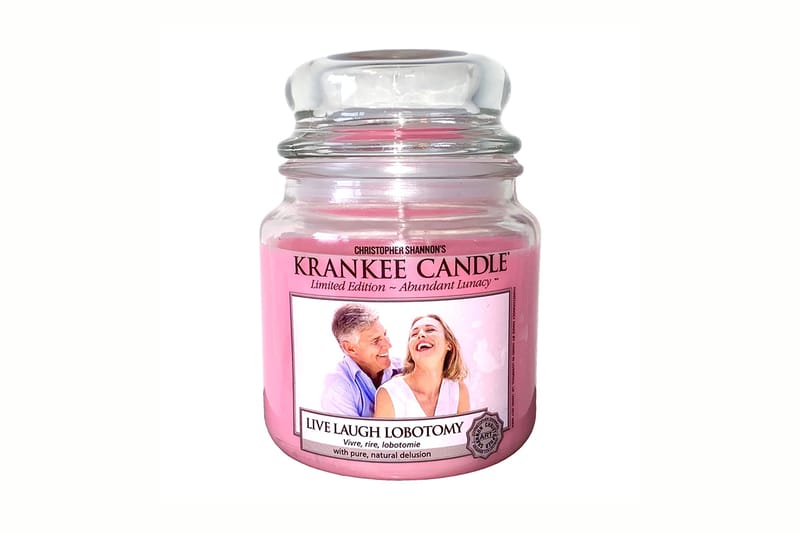 Christopher Shannon's "Krankee Candle".Christopher Shannon
His newest drop, which has just become available at his webstore, is a neat summation of the aesthetics and visuals that have defined his brand since its first appearance. Rave culture, specifically, is a primary source of inspiration: unsurprisingly, fleeces, bucket hats, and sweatpants feature heavily.
The brand has introduced some lifestyle elements, too: a decorative ceramic plate comes emblazoned with images of ravers, while candles are available in a selection of lurid tones. And the designer's morbid sense of humor is evident in a set of "Krankee Candles", emblazoned with phrases like "Live Laugh Lobotomy."
Towards the end of Shannon's time living in London, it had become evident to onlookers that his heart wasn't in it anymore — it was writ large in the collections and collaborations that he was being pressured to produce. He believes, strongly, that his new approach is a better fit.
"I've not had freedom like this in a long time," he says. "If i want to close the store for two months and go off grid, I can. And I don't think being creative is about constantly churning out mindless branded product."
As for fashion week? Is there any chance he'd return to London for a show? "I didn't realise it was still a thing, until a friend mentioned they were working on it," he says. "It just feels very in the past to me, and slightly stuck as a format. I'd present on a catwalk again if I thought it was interesting."
"I'd never return to massive seasonal collections though," he says. "Who needs the hassle?"
Christopher Shannon's latest drop is online now, with prices starting from £38 (approx $50 USD).
Source: Read Full Article