Rethinking how our consumer electronics should look and feel is Kano Computing, a London-based startup led by Alex Klein who cofounded the company in 2013 with the initial goal of providing kids with buildable computer kits that teach basic hardware and programming skills. Fast forward to 2021, Kano was thrust into the limelight when Ye announced that he would be working with the company to release his 10th studio album DONDA on the revolutionary Stem Player device which allows users to control individual stems of each song, such as its vocals, drums, bass, and samples, through touch-sensitive haptic sliders.
Less than a year later, Kano was given no choice but to join the likes of GAP and adidas in cutting ties with the Ye, citing his "racial conspiracy theories" as the reason for the termination. However, having built a solid backbone prior to the partnership, Kano was prepared to carry on — continuing to grow its portfolio of intuitive consumer products which include buildable mice, webcams, PCs, and most recently, an all-new Stem Projector. The company also partnered with new artists such as Wu-Tang Clan member Ghostface Killah for exclusive releases.
From personally buying computer parts on Alibaba and hand-folding cardboard boxes in a small flat in London ten years ago, Klein has now seen Kano sell over 1.1 million units of its products to teachers, students, and artists around the world, finding success in the hyper-competitive consumer electronics category.  As part of the journey, Klein has also experienced first-hand the highs of working with Ye — an artist whose work he says has touched his soul — as well as the lows which ultimately tore them apart.
In an exclusive interview with Hypebeast, Klein shares the story behind the origins of Kano Computing, digs deep into the revolutionary design of the Stem Player, and offers personal anecdotes of his entrepreneurial journey thus far — from working with Ye and Rick Rubin to his meeting with Elon Musk at SpaceX. The journey begins with Klein's fascination with the inner workings of technology and develops into an ambitious quest for knowledge and progress.1 of 4
Stem2 of 4
Stem3 of 4
Stem4 of 4
Stem
When did your passion with tech begin and how did the idea for Kano come about?
I was one of those kids who like many of us, didn't know what I wanted to do when I grew up. I was on my computer torrenting Neon Genesis Evangelion and building Lego, making beats, and coding my own website. I was just sort of flitting between different things because these machines that our generation has gotten access to have blended old fields and disciplines. Now, it's not so much about having a JD degree or MBA, but about what a human being can do with these new tools.
I was moving around a lot as a kid. It was a bit ruthless, so technology and my laptop were sort of a common factor. When I was young, someone near and dear to me smashed my laptop in front of me on the floor in a fight, and for the first time, I saw inside the laptop with all its pieces and components. That experience made me realize for the first time that inside this thing that I love was a whole hidden world of technology. We live in this post-Apple age, where everything is sealed up and everything looks the same. There's the same form factor, same user experience, same UI, so that's the sort of thing we're now trying to get away from.
That experience made me realize for the first time that inside this thing that I love was a whole hidden world of technology.
I ended up becoming a journalist after college. I was writing for New York Magazine and looking at Mitt Romney and Occupy Wall Street. I even wrote some pieces about Kanye funnily enough before meeting him, but then the journalism industry started to collapse for at least what I was in. New publications were replacing the old publications.
I wanted to deepen my understanding, and at that time I discovered this little circuit board called the Raspberry Pi, they took this board and they were like, "Hey wait a second, this thing can run Linux, it can control the robotics and take photos." I met the founder in Cambridge when I was going to interview him for a story, much like the way you're interviewing me now, and I just started to ask him questions about his life and his challenges. He was like, one thing that challenges us is we can't get beginners into it.
So I took the board and started playing with it myself and showed it to my little cousin who was six years old at the time, Mika. I was trying to get him excited about all the things we could do with it. We wanted to make it as easy as building LEGO. I looked online and nothing existed like that, so we put together the first product.
We wanted to make it as easy as building LEGO.
We sourced different components and hand-folded cardboard boxes in a little flat. Got tons of paper cuts just putting boxes together and the first thing was just this kid's transparent computer that we assembled from components we bought on Alibaba and Amazon. People liked it so we decided to crowdfund it and it just took off. We wanted to raise a hundred thousand dollars in 30 days and ended up raising it in 12 hours. 30 days later, we raised 1.5 million dollars.
We just celebrated our 10th anniversary and now we've sold over 1.1 million products with a hundred million dollars in revenue. We did a magic wand with Harry Potter. We did Star Wars and Frozen coding kits. We did a whole software ecosystem where kids could learn how to make music and art and games and then three years ago we started to apply everything we learned about customization and product to music devices.
Around that same time, Kanye discovered us and we developed a relationship and started working with some other artists like Rick Rubin which was incredible. Rick Rubin had a huge influence on the design and we eventually got to a point where we could release the Stem Player. The AI technology allows for the separation of any content into stems, taking that idea of soft healing natural tech to more media.
What was the idea behind the design?
The Stem Player is shaped like a sphere or an orb, and it's a very natural thing for the hand to want to touch and pick up. Since the beginning, what Kano has been doing, is humanizing technology. One way to humanize it is to know what goes on inside it but we wanted to go even further and create an object that could be used by any human on earth regardless of age that would be very instinctive, meaning, it's about the body as well as the mind.
There's so much going on in ourselves that influences our lives that aren't necessarily rational or verbal. It's more about factors like color, texture, tone, and physical space like how much room I have or what my posture is. We felt that modern tech and sterile glass screens, metal bezels, and the super Dieter Rams aesthetic had to go.
If you're going with your friends and just enjoying being outside in nature, when someone takes out their phone, it feels like it's not in place there. So we asked what object would fit in there yet have all the intelligence of modern technology with more of the feeling of the natural world imbued inside.
One thing Bruno, whom I've worked with for seven years on industrial design with said which I think captures it really well is: a great design is something where somebody can see it once and can draw it from memory. So I remember when we sketched it for the first time it was a circle, the purest shape, with a cross in it. If you're trying to roll a triangle down a hill it's going to be hard to roll it down, but if you add one corner, it gets easier. Eventually, the easiest shape is a circle which effectively has an infinite number of corners so I think not having any sharp edges endows them with a natural motion that fits with the way humans like to think and be. Always in motion and always in search of something new.
A great design is something where somebody can see it once and can draw it from memory.
People have said it looks like a loaf of bread or it looks like a bread bun or a mochi. I'm really glad people responded well to it. To be fair, Rick Rubin had a big influence on the design as well. He was like, "Hey, what if the device felt like stone? That was something that came up so we studied a lot of different stones.
We took plastic bags and filled them with cornstarch, shampoo, and water, and it becomes this nice stress ball. We were trying to get that right texture, and ultimately we had to take that external skin and treat it with different wavelengths of light and different sprays for it to resist getting sticky and dusty and for it to have the perfect bounciness to it. James Hicks and I worked together on a minimal dot-based light interface that communicates in almost like morse code rather than words.1 of 5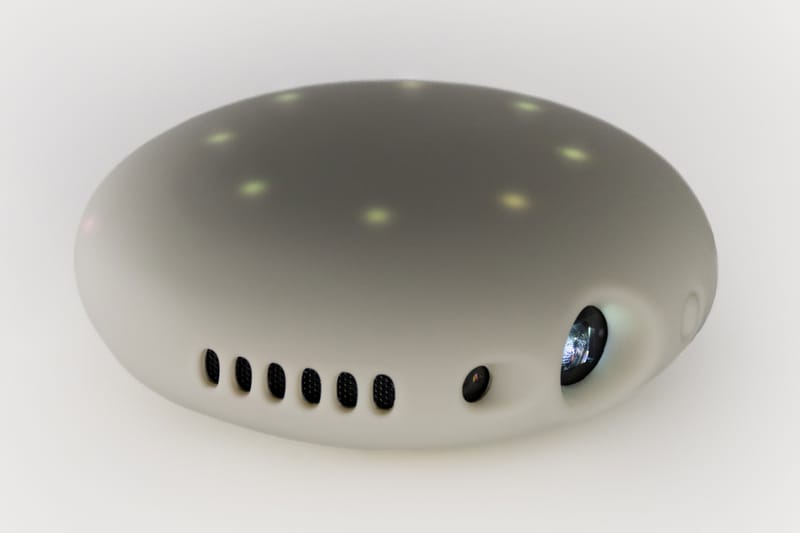 Stem2 of 5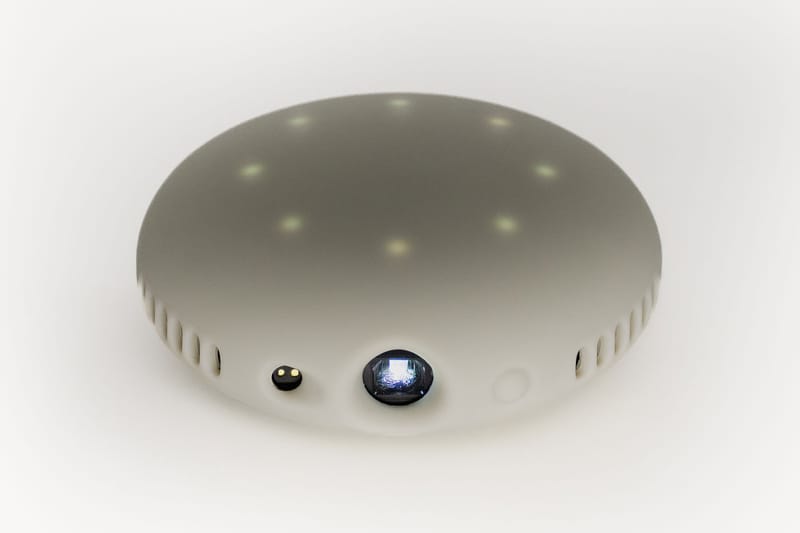 Stem3 of 5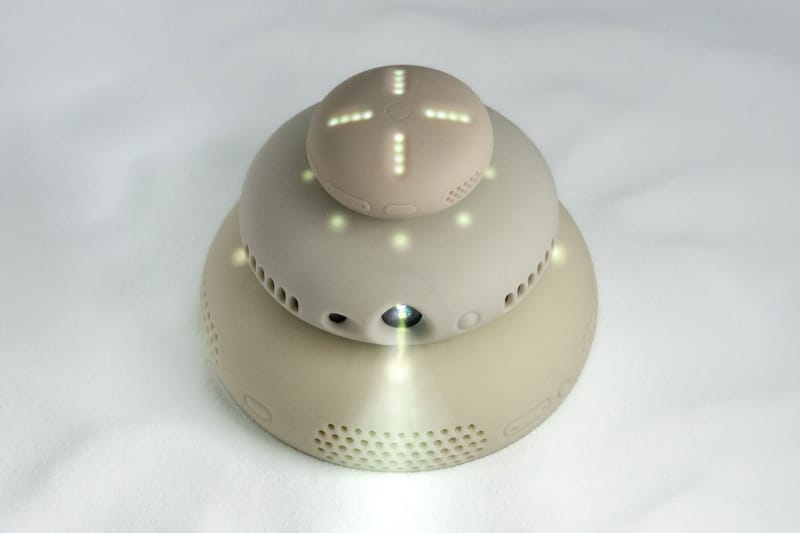 Stem4 of 5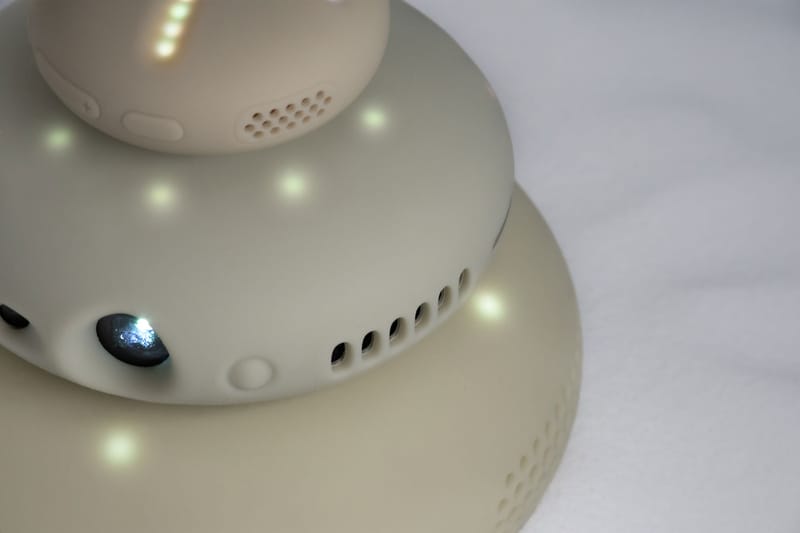 Stem5 of 5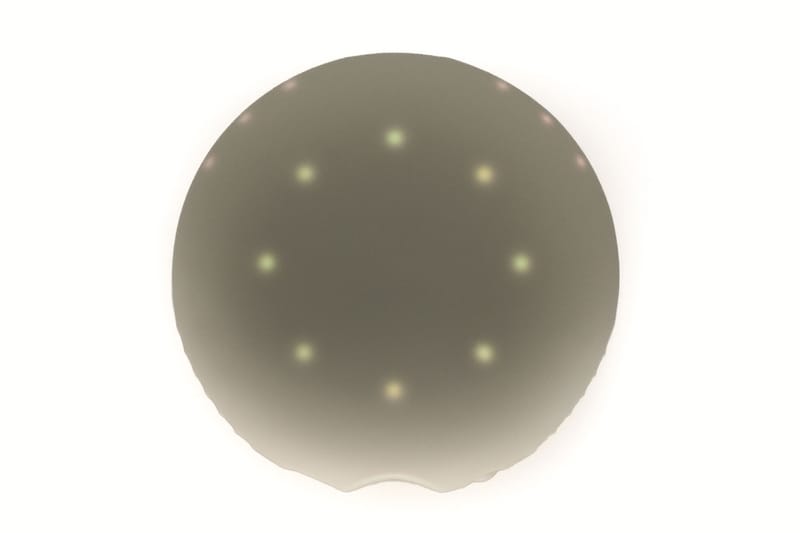 Stem
How did you get connected with Rick Rubin, Ye, and all these other artists? Was it a cascading effect?
Yeah definitely. The first artists to get involved were actually the Wu-Tang Clan. I did a talk in 2014 and GZA came because we had this viral crowdfunding campaign, but we didn't get deep into music until a few years later. Kanye was at CES, the consumer electronics show in Las Vegas, and we were showing our tablet there and our Harry Potter wand.
He came to our booth and picked up our tablet and was like this is fresh, get me this clear tablet. I was in my hotel room, not at the showroom on the floor, so Kanye and I got on the phone while he was there and he was like this stuff is fresh can you come out to Calabasas and we can work on stuff together? So I was super humbled and I've always been inspired by Kanye's work.  We got together, exchanged ideas, introduced a couple of people to each other, and started building some stuff together.
It snowballed and I met an amazing engineer on Kanye's side at the time called Josh Burr who was really into the project. We did a session at Shangri-La with Rick Rubin where I got to meet the Brockhampton guys and I really liked them too. Quavo and the Migos got to experience our products later on as well as Jack Harlow during Rolling Loud. When Kanye put his album on Stem Player, it brought a lot of attention to it and a lot of people wanted to get involved.
We saw you paid a visit to Elon Musk's SpaceX Starbase with Ye. How was that experience for you?
It was amazing. It was incredibly surreal because I grew up wanting to be an astronaut. I was always really entranced with the idea of space and those machines are stunning pieces of engineering. As an engineer and someone who leads engineering projects, it's remarkable as a craftsman to witness the process. It was a super inspiring day. I met a couple of members of Elon's team as well and we remain friends. With Elon himself, we got to spend an hour talking to him. Very interesting guy and in terms of entrepreneurship — building companies and running companies — he does it in a very unique way and regardless of what you think of it, should be understood.
As a former journalist, I often enter into these situations with these individuals of prominence and I'm looking to learn. Half the time they might say something I disagree with and I might say that's not really for me but at least I understand a bit more about the world in which we live. Starbase was really, really fascinating. Kanye was there with me and Elon and we got to talk through a couple of things together these guys are super brilliant. I felt really privileged in a lot of ways to be in the conversation, but also aware everyone was just trying to figure it out. The vibe was very much like a startup, you know. People are like, "dude, it's happening now. Quick send the thing!" We're all just humans trying to figure it out and we just have to do the best with what we got.
View this post on Instagram

A post shared by DJ Akademiks (@akademiks)
What do you see is the role of media and what interested you in becoming a journalist in the first place?
The world has grown very complex in comparison to how it was for even our grandparents. There's just so many different stimuli and so many different layers of every organization and every service. The products that we use are comprised of thousands of components and our schedules are so interdependent. The political system is incredibly complicated and I was inspired by the idea that if you can break down these complex topics in simple ways with a sense of humor and a great personality to them, people can understand them better, make better decisions, and live better lives.
I was also into Christopher Hitchens and P.G. Wodehouse as a child and I like to talk through things and write things so there was an element to that I think as well. It's kind of like with the computer. I'm fascinated by what's beneath the surface.
Could you speak on the fallout with Ye?
I think there comes a point where it's doing more damage to indulge that curiosity of why someone thinks something and how a situation can be improved for something that is truly in someone else's control. There are many excuses that could be made and people that could be blamed and there are always factors, causes, and conditions for every decision and every statement all of us make in our lives, but at a certain point we have to say to ourselves what do we stand for and what do we really believe.
Not what's entertaining or what interests us, but what do we value and for us as a company and for me as a person, both the public statements and also the versions of them that I heard privately and pushed on, argued with, fought, and screamed at Ye about were like oil and water of my sense of who I am.
It was hard because when someone's work has touched your soul and when somebody's personality and companionship has been a part of your life, it's like any breakup. I think at the end of the day we were running a business. It was a working relationship and it wasn't working. That's the long and short of it. Kanye would always describe himself as a leader and leaders use words to heal the pain, leaders use words to bring people together. My hope is that God willing, he can use his incredible talent to do that.
View this post on Instagram

A post shared by Kano Computing (@teamkano)
Walk us through the Kano office.
Deb Khan from our team founded it in the midst of the pandemic and it's beautiful. It's a former architect's studio where the architect used to live upstairs and so those are the two floors. It's funny how it was an architect's because Virgil Abloh was an architect and Kanye would often compare me to Virgil. He was a lot greater than what we were doing in a lot of ways culturally but in tech, I think we're getting to that point.
The studio is on the ground floor and that's where we do most of the industrial design. We put up sketches and papers all over the walls. It's a little messy, our space. Our studio has sculptures, there are cables, sketches, books, and projections of references such as jellyfish, runic burial objects, old and new works, and paintings. The engineering lab has soldering stations, work benches, microscopes, 3D printers, and an archive where all the work is stored. Upstairs is software engineering for front-end and back-end services where people can put their music and sell it at their own price.
The space is quite long so it's almost a hallway. As you go through, you have interactions with people that are sort of organic. If you're going to the bathroom or getting a cup of tea you're going to pass a lot of people on your way there and your way back which creates this spontaneous atmosphere.
There's a saying where they say advanced technology is indistinguishable from magic. Is that what your team is trying to convey and accomplish? From the imagery we've seen from STEM, the products are often presented with a sort of mystical element to them.
When the Stem Player came out, someone very special to me named Tayler drew a picture of me with a wizard magic card holding the Stem Player. I've always said that there's something about technology that is magical. It's magical that it works. That's the interesting thing. I think it was Albert Einstein who said that, the big mystery is not that the universe exists in all of its complexity, it's that we're able to understand it and apply the knowledge. In that sense, I do feel like we're a gang of wizards and witches and I'm so honored to work with these people everyday. It's a big quest. There are a lot of companies with huge budgets and we're combining so many magical skill sets, so on my best days, I do feel like a wizard.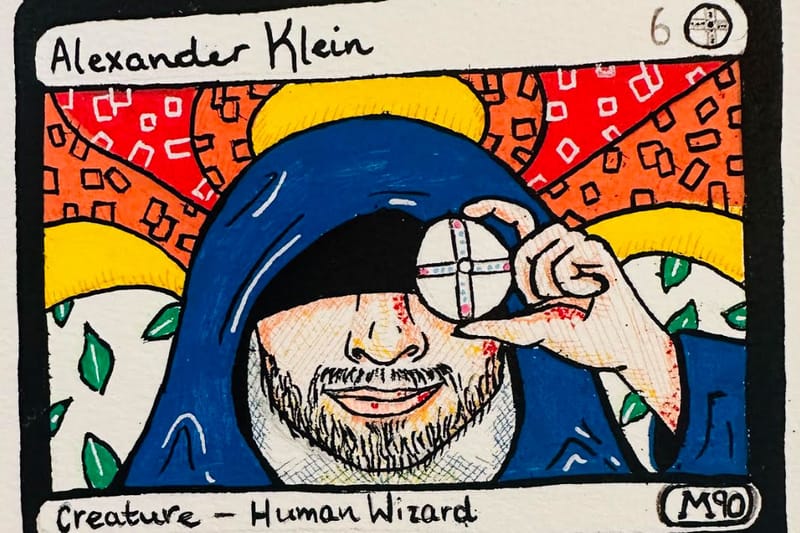 Taylor Revert
What is your vision for the future of STEM and KANO?
My belief since we started the company is that the tools that we use to communicate with each other and to observe the world around us affect our minds, our societies, and our governments in a big way. There's a connection between the tech we use and the world we have, and we see in STEM, which is related to the core KANO mission, an opportunity to take the next natural step to the next computing platform and format which is even more minimal and demands even less stress, brain power, and decision making.
When we're on these phones even as we've been talking here, I've been getting these notifications. I've got lights blinking all around me and it feels like in the Wizard of Oz when the tornado picks up Dorothy and takes her whole house to Oz. She's in the house, it's all spinning and she sees out the window and things are just flying past the field of view. Like that scene, it all feels really out of control. Really overstimulating. The idea with STEM is it's more ambient. More minimal.
There's a connection between the tech we use and the world we have.
Your TV becomes a projector that can display and change shapes all around, your music player becomes 100 percent focused on music and your speaker becomes something that can take music and enrich it. Humans are smart. You can't just take away features and assume that people will want them. You have to add something, add a new level of experience, and that new level of experience is this STEM-based customization. We've seen on TikTok more than 650 million views of the #stemplayer because people are just taking songs and using the Stem Player's song separation to listen to just the vocal or just the drum.
Just inside one song is so much beauty and craftsmanship. We want to build a tool where there's only one thing you really treasure. You build a relationship with that thing, that song, that video, that work of art, and inside our device, you can customize it and change it. Through that direct relationship we have an opportunity to free artists from the oppressive system of just constantly churning out work for pennies.
Through that direct relationship we have an opportunity to free artists from the oppressive system of just constantly churning out work for pennies
Artists get presented with the money the music industry makes and STEM then lets you monetize your music in four ways, not just one. We're partnering with artists similar to how we partnered with Kanye, but with more openness to allow them to distribute their music directly to consumers through the devices, through the software, and let their audiences participate in the music in a new way. So it's about more healing technology combined with a more participatory business model. Those two elements together – healing and bringing together – make our computing approach slightly different than the current personal computing paradigm.
Source: Read Full Article