1.
This wholesome tweet made me believe in true love again!!!!!!!!!!!
2.
THIS ITTY BITTY CALF WORE EARMUFFS!!!!!!!!!!!!!
3.
This girl had a Nun-themed birthday party!!!
4.
These three went for a lil' joyride:
5.
THIS TIKTOK CLEARED MY SKIN, ENDED WORLD HUNGER, AND OVERTHREW THE PATRIARCHY!!!!!!!!!!!!!!!!!!
6.
THIS FATHER AND SON WERE REUNITED FOR THE FIRST TIME IN YEARS, AND I'M—:
7.
SHE FLOAT:
8.
The most amazing grocery delivery footage was captured:
9.
This lil' guy got dressed all by himself and simply had to share the news with his dad: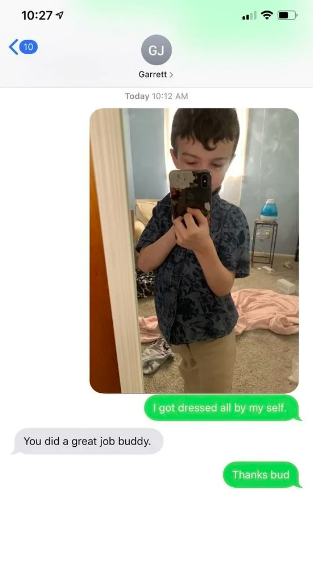 10.
This smol babiño *quite literally* dapped her big brother:
11.
This LGBTQ+ KING sported the ultimate Pride turban!!!!!!!!!!!!!
12.
This precious lil' dogini didn't let being paralyzed stop him from FETCHIN' ? DAT ? BALL ?!!!!!!!!!!!!
13.
This kid put on a very large and absorbent Band-Aid:
14.
These sisters reunited for the first time since 1990, and I'm SOBBING!!!!!!!!
15.
This lil' girl became this lil' deer bb's adoptive mom:
16.
This adorable dad made an adorable community library in his fence!!!!!!!!!!
17.
This stepdad got the *MOST* heartwarming gift from his daughters:
18.
This video compilation just really resonated with anyone who's ever tried to win over a cat:
19.
This dad finding out he's gonna be a grandpa on Father's Day provided us with all the happy tears we could EVER hope for!!!!!!!!!!!!!!!!!!
20.
This daughter WENT ? OFF ? in some subject lines:
21.
THEY SNUGGED!!!!!!!!!!
22.
This mom visited her son at work and I LOVE IT!!!!!!!
23.
All guinea pigs were officially renamed "genuine pigs" and frankly, I don't care what anyone else says:
24.
THESE ? HAPPY ? FOLKS ? DID ? NOT ? REHEARSE!!!!!!!!!! ?
25.
This grandpa proved he still had the music in him:
26.
And lastly — to no one's surprise — "Unwritten" by Natasha Bedingfield still proved to be THAT song:
Source: Read Full Article