When you think of HGTV, you probably envision the Property Brothers. Drew and Jonathan Scott have created an empire, as the duo not only have a multitude of shows, but have home decor and furniture lines, and even video games (yes, they have their own home design game available on the app store). Drew and Jonathan started out on the home network with their show "The Property Brothers," but quickly evolved with time. As of publication, the duo have spearheaded shows including "​​Buying and Selling," "Brother vs. Brother," "Property Brothers: At Home," "Brothers Take New Orleans," "Property Brothers: Forever Home," and more. In short, they are the Kardashians of the HGTV world, and it doesn't look like they'll be slowing down any time soon.
Of course, viewers only really see the highlights when it comes to their show "Brother vs. Brother." The premise of the series pits the two against one another in a race to renovate and sell a home each — whoever gets the bigger profit wins. It's highly entertaining, boasts a number of challenges and guest judges, and is easily one of Jonathan and Drew's best programs. But what goes on behind the scenes? Here's what most HGTV fans don't know about "Brother vs. Brother."
Budget is best, but things do happen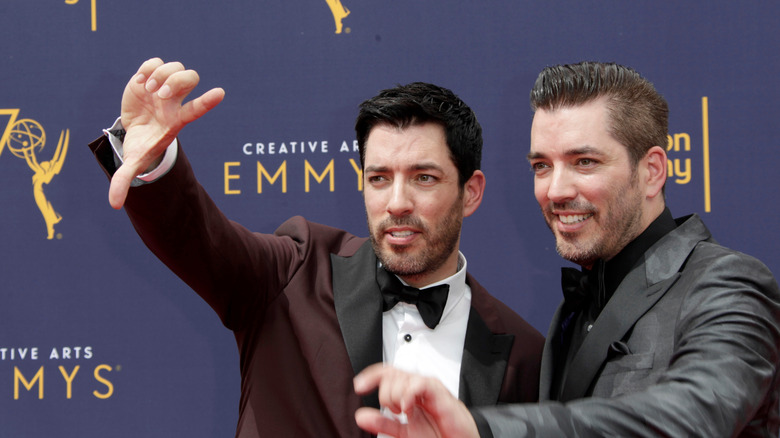 When it comes to HGTV shows like "Brother vs. Brother," viewers typically see the highlights and the dramatic "things have gone wrong" sequences. Every project has that one thing — the pipe that bursts during construction, that one sought-after material that is no longer available — that holds up the schedule. Of course, at least something is bound to go wrong during a renovation, and that's what happens typically during "Brother vs. Brother." 
Drew and Jonathan Scott revealed to Country Living that while they pay for their renovations themselves while on the show, the "initial cost of the house, the renovations, and any unexpected expenses" can quickly turn a well-managed project into an improvised construction. "People don't realize we actually spend our own money on that show," Drew said of the common misconception that HGTV covers the tab of the projects. So, what kind of costs do the brothers face? During the latest season of the show, as of publication, both offered up $2 million for their renovations, but both exceeded their planned-out finances. Jonathan went about $40,000 over budget, and Drew capped off his brother at $50,000 over budget, according to CNN.
A furry friend joins them on set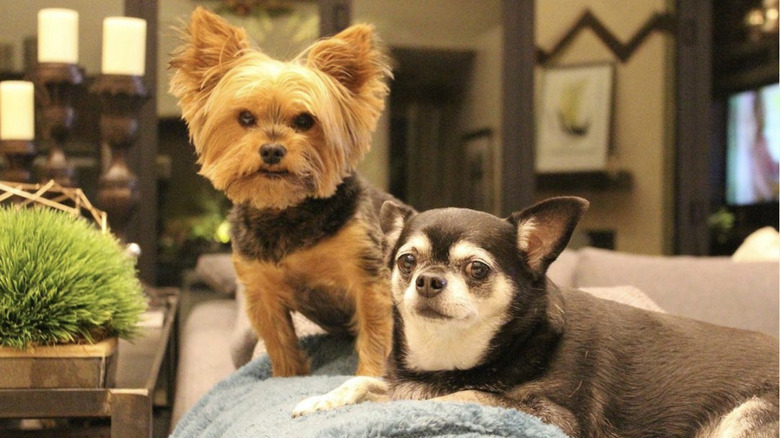 There's nothing better than working in an office that is pet friendly. But when you're in charge of a construction site and set, it seems like you can write the pet-friendly rules yourself, and that's the case for Jonathan and Drew Scott. As noted by HGTV, Jonathan's chihuahua, Gracie, often finds herself on the set of "Brother vs. Brother," and she can be seen just hanging out in the background while her dad and uncle work. 
In one photo featured by the network, Gracie was seen hanging out on the back of the Scott brothers' sofa while a scene was in preparation. And, in another sweet snap, the favorite dog was sitting calmly and taking in the "hectic production." (Honestly, what did we do in a former life to be subjected to credit scores and rent when dogs can just hang out and eat food?) Jonathan is clearly a fan of his pup, and he has often taken to social media to give both of his dogs a shout-out. Telling his social media followers that his dogs, Stewie and Gracie, "need no introduction," Jonathan hailed them as his "fur babies" on National Dog Day. Love to see it.
There's nothing wrong with a little competetition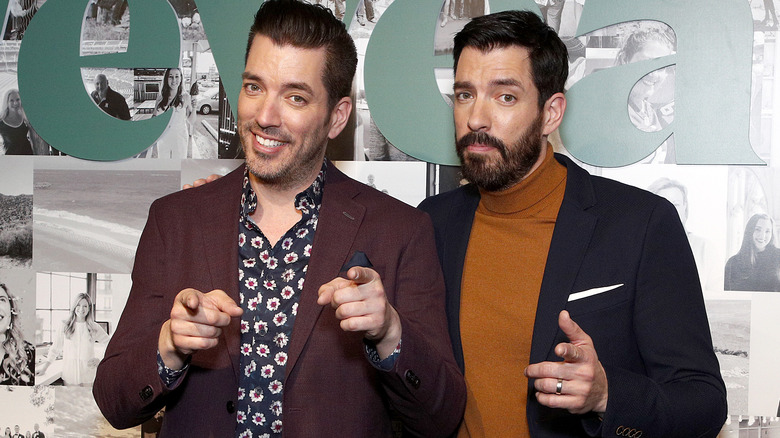 When you think about your sibling — younger, older, or just about the same age (for the twins among us) — the word "competition" probably comes to mind. Even if the contests between you growing up consisted of who could make the biggest splash in the pool when summer rolled around, being able to outdo your biggest rival could result in some major bragging rights. While brothers Jonathan and Drew Scott make their friendly rivalry known on their hit show, "Brother vs. Brother," which pits them against each other during a renovation and selling competition, the rivalry between them really is intense. 
They spoke about just how competitive they are with each other, even when the cameras aren't rolling, to USA Today. Speaking about Season 7, Drew said, "I wanted to win so bad because two years of (Jonathan) gloating is not a fun thing for anybody. No matter what it is we're talking about, I could be like, 'Oh, it's such a beautiful day,' (and) he'd be like, 'A beautiful day to smell success over beating you last year in 'Brother vs. Brother.' Everything turns into a comparison to him beating me."
The brothers tackle the real estate market in Season 7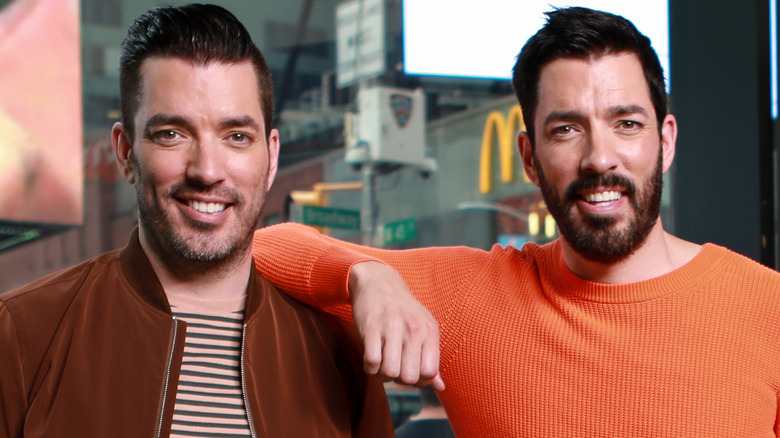 It's fair to say that Jonathan and Drew Scott know how to push themselves with each passing season. The renovations are bolder, the markets are harder, and the competition becomes that much more intense. Speaking about the latest season as of publication, Season 7, Jonathan told People that, even off-camera, the stakes couldn't have been higher for him and Drew, as they took on one of the biggest real estate markets. 
"Not only are these the biggest residential renovations we've ever done, but there's a lot more on the line," Jonathan said of the season. Drew echoed the sentiment, highlighting the increase in financial investment that both had to stomach during the show. "You know, in L.A., renovation costs are quite a bit higher," Drew said. "Every dollar counts and, at the end of the day, we have to sell these houses. That's how we determine who the winner is. It's not even just a matter of making sure you sell for the most money — it's making sure that you save as much as you possibly can and find that balance." But, that's Los Angeles for you — everything is more expensive.
Season 7 saw the biggest budgets in the show's history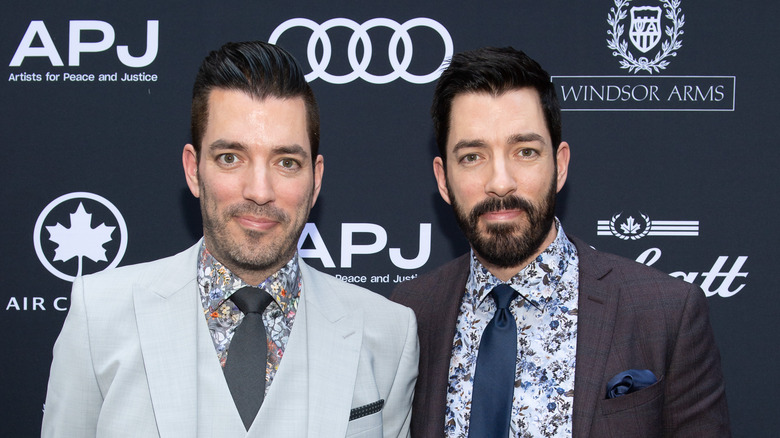 When it comes to HGTV shows, the projects always look beautiful. The renovated properties definitely fall under the category of dream homes and, when it comes to "Brother vs. Brother," Jonathan and Drew Scott definitely don't seem to skimp out on budget. In the latest season of the hit HGTV show, as of publication, Jonathan and Drew met their biggest home offers yet, and subsequently made big bucks because of it. 
As noted by CNN, Jonathan bought his reno house for $2.4 million, and then sold it for $5.64 million. Drew, on the other hand, bought his reno project for $2.35 million, and managed to sell it for $5.8 million — talk about an unfathomable amount of money, and the fact that houses worth more than $2 million are considered "fixer uppers" in Los Angeles, California is beyond ridiculous (our condolences to anyone in the City of Angels who dreams of one day owning a house). The big budgets meant big improvements, and bedrooms, kitchens, living spaces, and bathrooms all got flipped the right way up. Jonathan even installed a pool at his property, which is a must-have for those hot Los Angeles summers.
The buyers decide which brother wins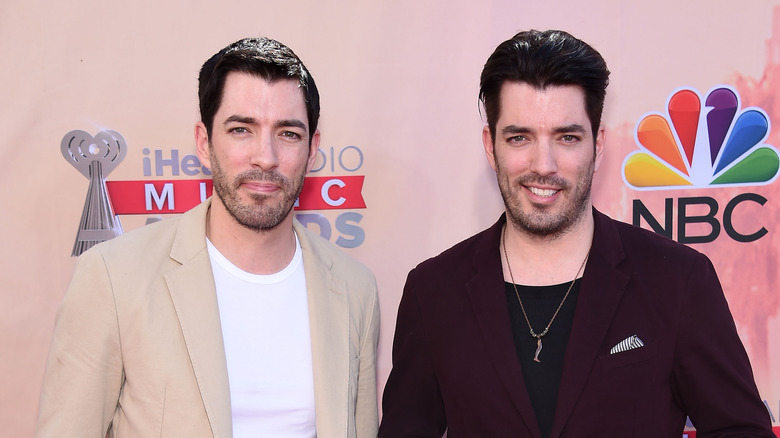 It's difficult to believe that the producers don't have a say in which Scott brother wins "Brother vs. Brother" each season. But, in a sit-down with People, Jonathan and Drew Scott were emphatic that it's up to buyers to decide which brother pulls a bigger pay off — neither they, themselves, nor production, have any say in the matter. "We have no control over who wins … the buyers decide," Jonathan said. "No one goes bigger than Hollywood, so some of the rewards and punishments this season are next level — it's stuff that people would only dream about being able to do." 
After deciding which brother gets the bigger profit, are they buyers happy? Not necessarily. As noted by Haute Residence, Cineflex — the production company behind the brothers' work — was sued by a couple who lived in one of the flipped homes in Las Vegas, Nevada. The couple claimed that there were "wires left exposed, uneven baseboards, improperly attached doors, and a number of renovations not executed according to code." While Jonathan and Drew were not specifically named in the lawsuit, it definitely was not the best look.
The profits made go to important causes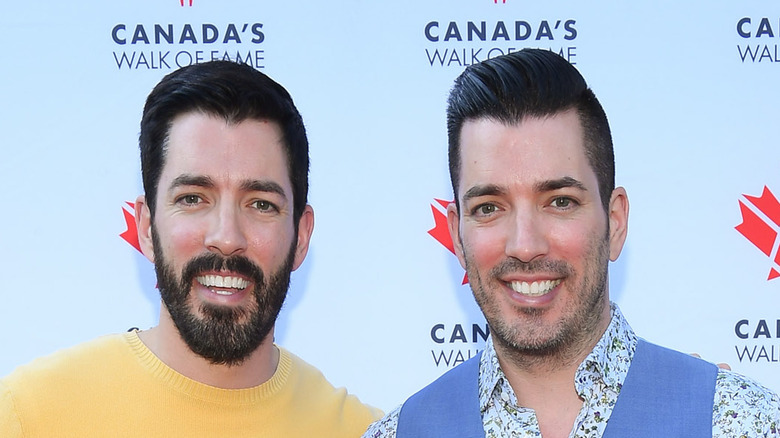 What makes a television show that much better is knowing that the proceeds go to a good cause. For Jonathan and Drew Scott, "Brother vs. Brother" gives them an opportunity to give back. For starters, the Scott twins are worth a combined $200 million, according to Celebrity Net Worth, so it's noteworthy that they use the show as a way to give back. 
Let's start with Season 7. As noted by USA Today, the profits made by the homes sold by both Jonathan and Drew went to Turn Up! Fight Hunger, an initiative born by No Kid Hungry and Discovery. The profits made from the season resulted in "as many as 100,000 meals," which is a great achievement if we've ever heard of one. Season 6 of "Brother vs. Brother" saw a different charity benefit — Rebuilding Together, as reported by Parade. The season took place in San Francisco, and the profits made went to the organization designed to help "preserve affordable homeownership and help to revitalize neighborhoods" by offering services like free home repairs. If one thing is for sure, this behind-the-scenes tidbit makes "Brother vs. Brother" that much better.
Despite rumors, Brother vs. Brother isn't staged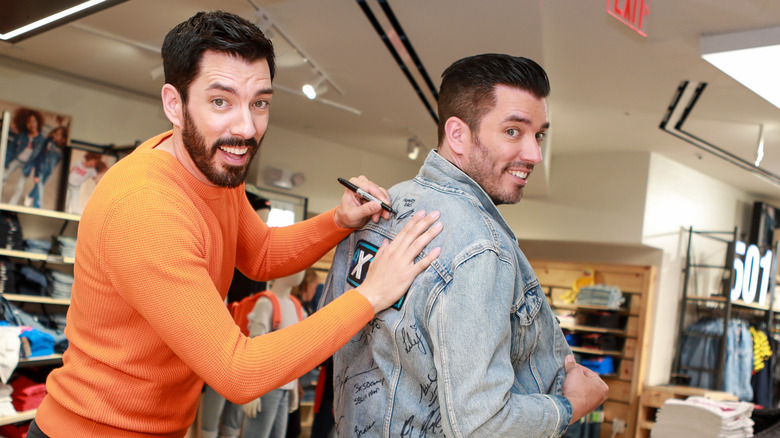 Those home reveals that serve as the pinnacle of an HGTV show always look stunning. How do Drew and Jonathan Scott do it all? And do they (or production) decide who wins "Brother vs. Brother" before the season even starts? Jonathan and Drew sat down with Country Living to dispel some rumors about "Brother vs. Brother," and explained that while some viewers might think that the winner is chosen to serve the production's wishes, the show really is authentic. They have no say in the matter, and emphatically explained that the show isn't staged. 
"'Brother vs. Brother,' people think it's staged as far as who might be the one to win, but it's not," Drew said. "We legit bring in our friends to judge, and they might decide that today they like blue and I have more blue in my design than Jonathan and they pick me, or whatever it is. That's what makes it more fun." Also, where's the fun in having the show staged? As aforementioned, the brothers are extremely competitive both on and off the screen. Establishing who takes home the coveted title before the season even starts would take out half the enjoyment.
Brother vs. Brother boasts phenomenal ratings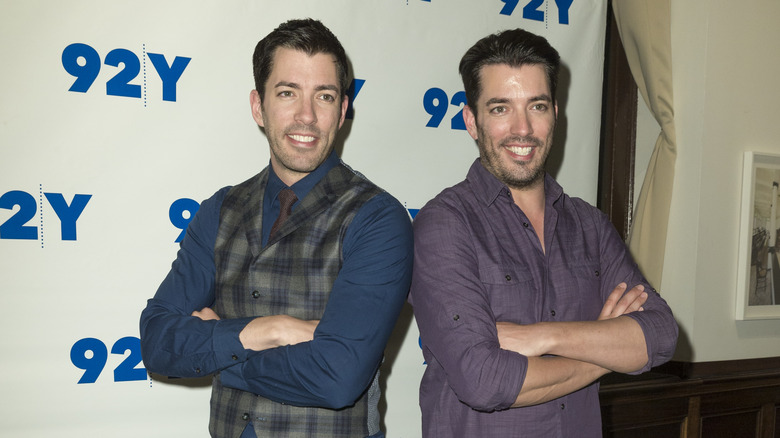 One of the aspects of "Brother vs. Brother" that viewers might not know is just how popular the show is. As noted by Discovery, the show experienced a 50% increase in ratings in just six weeks, and experienced a 20% increase in ratings over the course of a year. Among women ages 25 to 54, the numbers are even more impressive. The show experienced a 48% increase in viewership within just six weeks, and a 25% increase in the course of a year. The fact that both Jonathan and Drew Scott are pretty dishy definitely didn't hurt the ratings. 
In total, "Brother vs. Brother" boasts a whopping 18.7 million total viewers, and it's thanks to the Scott twins' dynamic and charisma that their show took off. "Drew and Jonathan's friendly, yet fiercely competitive nature makes them fun to watch," said Jane Latman, the president of HGTV. "'Brother vs. Brother' remains hugely popular with HGTV fans because it spotlights the siblings' playful personalities." And, of course, as Latman further pointed out, who doesn't love to see money going towards a good cause? "Brother vs. Brother" is a win, win, win in our book.
The twins definitely mess around on set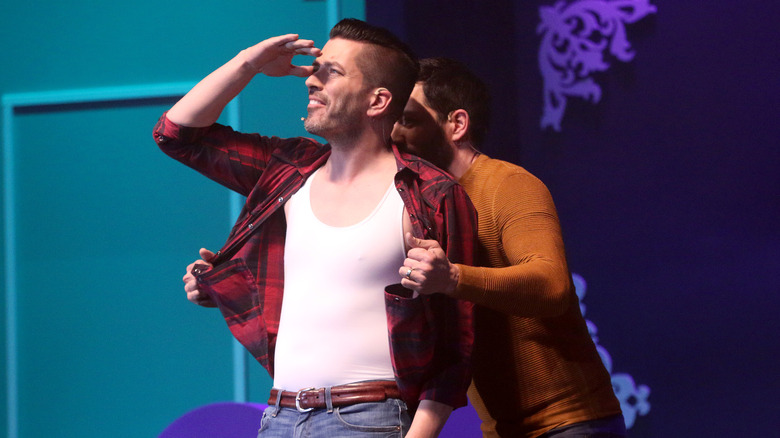 The goal of "Brother vs. Brother" might be gorgeous homes, but Jonathan and Drew Scott don't let their professionalism get in the way of having fun. What some viewers might not know about "Brother vs. Brother" is that not only are Jonathan and Drew playful on-screen, but they get up to some shenanigans off-screen. For instance, Jonathan decided it would be great to cover Drew's house (where he lives, we should add) in toilet paper as a way to throw him off his game. 
"Thanks a lot," Drew said as the twins spoke about the prank with USA Today. "It was very mature." "Never claimed to be mature," Jonathan said in a rebuttal. Of course, Drew's wife had plenty to say about the claim, and the culprit twin admitted that he felt like a "teenager" because he ran away from the scene of the crime in a frenzy. As payback, Drew had an ice cream truck park next to the house that Jonathan's reno project in the hopes that it would beckon his construction crew over (and thus off the job). What the Scott twins make very clear is that there's always room for fun.
Each season shoots in a different location
When you think of home improvement shows, you realize a lot of them take place in the same location. Think of former HGTV stars Chip and Joanna Gaines, who have their reno careers in Waco, Texas. But, Jonathan and Drew Scott take a different approach when it comes to "Brother vs. Brother." As reported by The Cinemaholic, each season takes place in a different location, many of which are hot real estate areas. 
The first two seasons of "Brother vs. Brother" took place in Los Angeles which, according to the Los Angeles Times, the city's market and home prices have reached an all-time high as of 2021. The third season of "Brother vs. Brother" was filmed in Las Vegas, a market that has increased by more than 20% since May 2020 (via KNPR), and the fourth season took place in the same city. For Season 5, Jonathan and Drew moved their efforts to Galveston, Texas, and then joined the "Fixer Upper" stars' city with Season 6, as they renovated homes in Waco, Texas. For Season 6, the brothers moved their renovations back to California — this time, San Francisco — before taking on Los Angeles again for Season 7.
Season 7 brought some unique challenges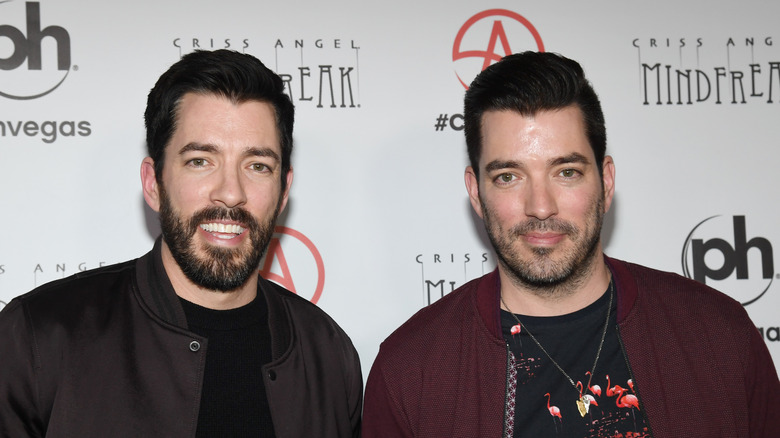 COVID-19 messed up a lot of things — like, a lot. We know that the sentiment probably falls on deaf ears, given that everyone's lives were disrupted by the pandemic but, with that said, everyone dealt with the spreading virus differently. When it came to "Brother vs. Brother," Jonathan and Drew Scott's seventh season looked a lot different from the series' past, but they learned to work with the limitations to still create a dynamic season. 
As noted by The Cinemaholic, the production crew of "Brother vs. Brother" utilized illustrations and graphics to map out houses on-screen, rather than touring and filming the homes in-person. When it came to the in-person shoots, the entire production schedule "slowed down," thanks to social distancing protocols. As such, the whole shoot took place with a "much-relaxed pace." In addition, the crew was shaved down to those who were very necessary, and the sets remained closed off to any outsiders. Once inside the filming bubble, handwashing stations, temperature gauging, and safety briefings became the norm. Those on set also had to sign affidavits, committing themselves to limited social interaction. Where they could, production worked remotely, but all the efforts culminated into a productive and engaging Season 7.
Renovations take a lot longer than people think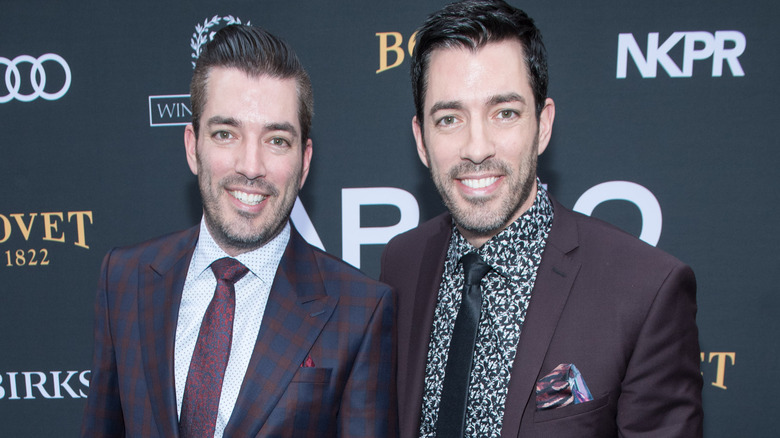 One of the common misconceptions about "Brother vs. Brother" that viewers assume is that the renovations are "unrealistically fast." But, what most fans of the show don't realize is that each project takes a lot longer than what's shown on-screen because an entire renovation project is condensed into a 45-minute long episode. In their sit-down with Country Living, Drew and Jonathan Scott broke down some of the theories surrounding the show and said that, while they try to get projects done with as much time efficiency as possible, they don't skip out on the details. 
"People always say 'You finish the renos so fast,'" Drew said. "Well, obviously, that's TV. Even though we do finish fast — we finish in eight weeks outside of the show because we get expedited timelines from being the first in line for permits and everything else — that same project might take 13 weeks." Drew went on to share that a lot of factors go into each project — from sit-downs with the homeowners to design meetings, there are a lot of "non-sexy" elements of the show that are very important, but don't make it onto the screen.
Clients aren't always shown in the most authentic light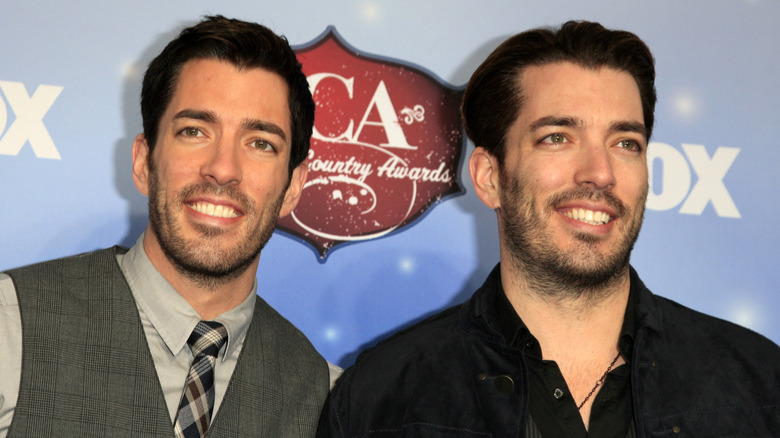 When it comes to the homeowners featured on "Brother vs. Brother," what a lot of HGTV fans might not know is that the show doesn't always display the clients in the most authentic light. There is a common misconception that the homeowners are "crazy," but Jonathan and Drew Scott told Country Living that those featured are often displayed at their most stressed-out state. 
"The homeowners are never as bad as how they look on the show," Drew said. "Because we're taking two or three months of renovation and cramming them into 40 minutes. You see the highs and the lows, so it's not quite as stressful." That's not to say that some clients really are that bad. Country Living also noted that one client on the show was so bad the filming had to be canceled. Drew shared that, although he tried his best to put himself in the shoes of the client and be understanding, he had a "throbbing vein" reaction to a handful of homeowners. Anyone who's worked in customer service knows just how tricky people can be.
Source: Read Full Article