Hi all, I have very important information for To All the Boy I've Loved Before stans: It looks like Noah Centineo has a GF! And no, it's sadly not Lana Condor—the woman in question is model and Dancing with the Stars alum Alexis Ren, who, bless her, still wants to date Noah even with his bleached beard (which I think about multiple times a day and am still upset about, FYI).
Us Weekly reports that the two are dating, and apparently, they've been seeing each other for a while! A source shared that when Noah picked Alexis up at an airport back in May, they weren't hiding their feelings. The source said, "He picked her up as she was on my flight. He was waiting for her at baggage claim. He kissed her on the head, [and] they were holding hands and hugging…[it was] very clear that they were together."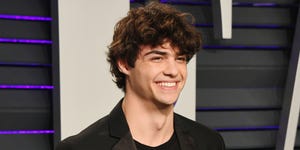 Plus, another eyewitness shared that the two were being affectionate as they were seen leaving a restaurant in Los Angeles earlier this week: "He wrapped his arm around [Ren] and kissed the side of her forehead and kept her in a tight side-hug as they walked to the valet."
And if you're like, 'wait, who is this person?' She's an influencer/model with over 13 million Insta followers—here's a pic:
https://www.instagram.com/p/B2xHavUFrRz/
Neither Alexis nor Noah has commented on their ~lurve~, so until they do I'll just be here, patiently waiting for Alexis to convince Noah to dye his beard, because SOMEONE has to (and he hasn't been responding to any of my DMs about it).
Source: Read Full Article