Ree Drummond has an easy twist on classic meatloaf that takes less time to cook than the traditional method. The Pioneer Woman star shared the steps for making her sheet pan meatloaf recipe, including a delicious sweet topping.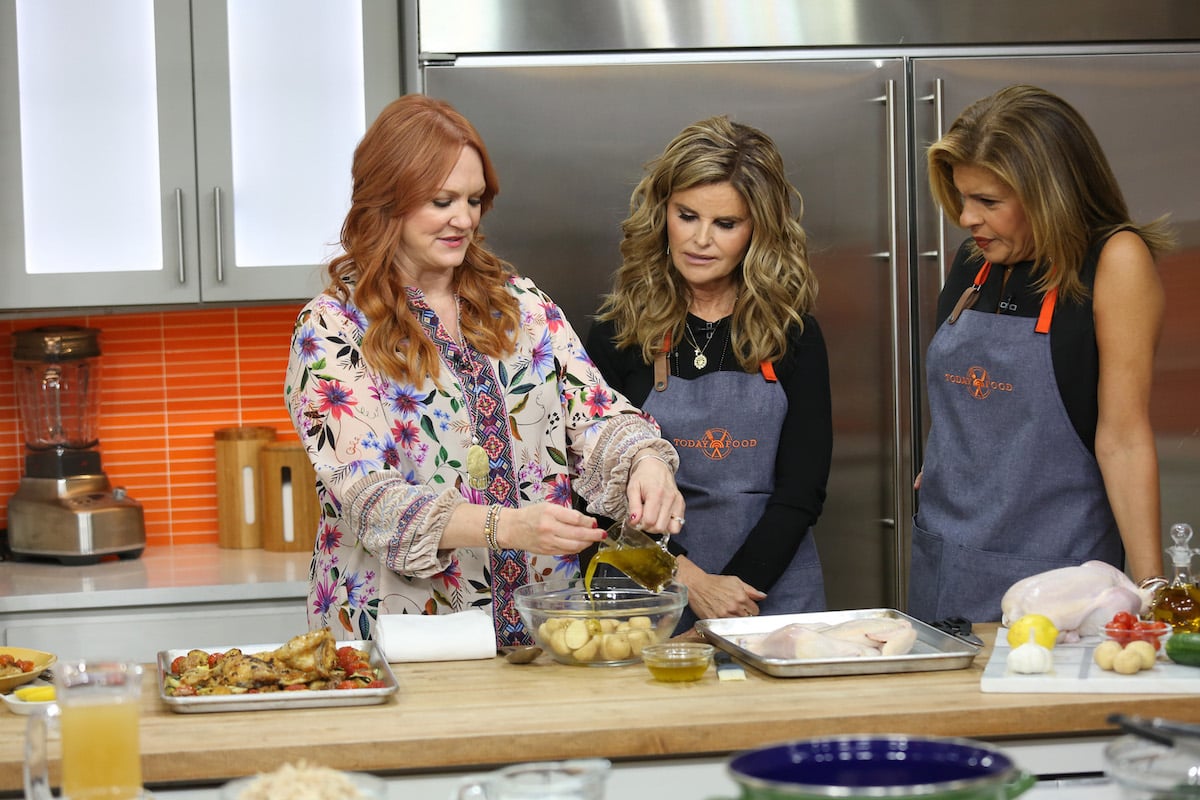 Ree Drummond's sheet pan meatloaf recipe is so easy to make
Drummond demonstrated how to make her sheet pan meatloaf recipe on an episode of The Pioneer Woman. "And it's not what you think," she said. "I have grown to love it in my adult life. I think the name kind of throws people off — you know, meatloaf — it just doesn't roll off the tongue very well but it is so delicious when made right."
Drummond first soaked six slices of white sandwich bread in milk, explaining, "That's one of the secrets to meatloaf is having some kind of a bread component."
"And I'm going to let you in on a little something," she noted. "Meatloaf is like an enormous meatball — that's all it is. It's the same stuff. It's basically the same mixture you would use to make meatballs."
She put ground beef in a bowl, then added the milk-soaked bread, eggs, parmesan cheese, seasoned salt, pepper, and minced parsley and combined all of the ingredients.
Then Drummond made the easy sauce to top her meatloaf, combining ketchup, brown sugar, Worcestershire sauce, and balsamic vinegar. "It's a real sticky, just classic ketchup-y bright red glaze," she noted. "I love it."
Drummond said her meatloaf trick is 'magic'
As she prepared the recipe, Drummond shared her trick for cooking it in record time. "So this is where it kind of departs from regular meatloaf," The Pioneer Woman star explained. "Usually what you do is you plop it onto the pan and form it into a loaf but I'm going to completely fill the pan with it."
Drummond sprayed a sheet pan with cooking spray and then sprinkled bread crumbs over it, then she spread the meat mixture over the whole pan and poured the glaze over the top.
"Now the magic of this sheet pan meatloaf is that it cooks quickly," she explained. "So when I make my regular meatloaf it can take an hour and a half, sometimes more, for it to get completely cooked in the middle. And sometimes you pull it out thinking it's cooked and you cut into it, and it's not."
Drummond continued, "In this case, it's all really thin so you get a lot of surface area with all this yummy sauce and not such a big like, hunk of meat."
She sprinkled cut-up cooked bacon over the top and baked it in a 400 degree Fahrenheit oven for 25 minutes. When it finished cooking, she explained, "Since this is so flat, I'm cutting it into squares, just like I would a chocolate sheet cake."
The full recipe is available on the Food Network website.
'The Pioneer Woman' star's meatloaf recipe earns rave reviews
Many fans weighed in with reviews on the Food Network website's recipe and Drummond has a runaway comfort food hit on her hands.
"Best meatloaf recipe I've tried so far," one commenter noted. "Super easy to make as well. The entire family loved it — and they are not meatloaf fans."
Another fan wrote, "This is a keeper. Quicker and more tasty than a traditional meatloaf. An easy weekday meal that will even give you leftovers. You will love it. Thank you Ree!"
"This meatloaf was so good!" another commenter shared. "Definitely replacing my meatloaf recipe!"
Source: Read Full Article