Joe Jonas and Sophie Turner's second wedding is finally happening. The couple already got married on May 1 for legal purposes, but they've got a bigger ceremony coming this weekend to celebrate with friends and family—in the south of France, no less.
Almost two years after getting engaged, Jonas and Turner are ready to say "I do" one more time. Here's everything we know about the couple's nuptials, and the second celebrations.
The second wedding is taking place the weekend of June 29.
Jonas previously teased his and Turner's wedding date during an appearance on The Late Late Show in early March. "We're going to get married this year," he told James Corden on the show. "We're going to have a summer wedding, which I'm looking forward to. It's going to be a lot of fun."
https://youtube.com/watch?v=mBQjpppRn_k
But after months of speculation, it was actually Dr. Phil who gave away the wedding date. He commented on an Instagram Sophie posted with Joe on June 22, saying there was "1 week to go" until the wedding, hinting that the ceremony would be on June 29.
The bride and groom haven't publicly confirmed the date, but they and their family were seen celebrating and settling into a chateau in the south of France ahead of Saturday's anticipated wedding.
It appears their venue is a gorgeous French chateau.
Back in November, a Turner-Jonas wedding guest (and Turner's life coach) Mike Bayer posted a video to his Instagram Story of what looked like the official invitation to Jonas and Turner's nuptials. "Sophie and Joe 2019 France" was scrawled on a wooden box in elegant gold calligraphy. Although Bayer deleted the post, eagle-eyed fans saved and circulated the footage on social media. A source also confirmed to Us Weekly that the couple will tie the knot in France, and that their engagement party was even European-themed.
Over the past week, Turner and Jonas have been making romantic appearances around France, from Paris to Provence. Days before thier expected ceremony, they were seen arriving to a Le Chateau de Tourreau in Sarrians, fueling speculation that the luxe 20-acre property would be their wedding venue.
https://www.instagram.com/p/BqklQmWHV3y/
It'll likely be an intimate affair.
"We're trying to keep it as low-key as possible so it's more of an intimate thing," Turner said of the wedding to Harper's BAZAAR UK.
Jonas also joked on The Late Late Show that he would "stick to one wedding," unlike his brother and sister-in-law Nick Jonas and Priyanka Chopra, who had multiple ceremonies and receptions. Joe quipped that he learned "what not to do" from his brothers' nuptials (Nick's in 2018 and Kevin's in 2009).
"They were both absolutely beautiful. All 18 of Nick's were amazing," Joe said. "Kevin had a snowstorm during his wedding, three-and-a-half feet of snow, so maybe don't get married in December. And for Nick, there was quite a few, but I would say, stick to one wedding. One and done."
So far, we've seen the Jonas brothers and their wives with the bride and groom, along with GoT star Maisie Williams and a few of Turner's friends gathered for the celebrations.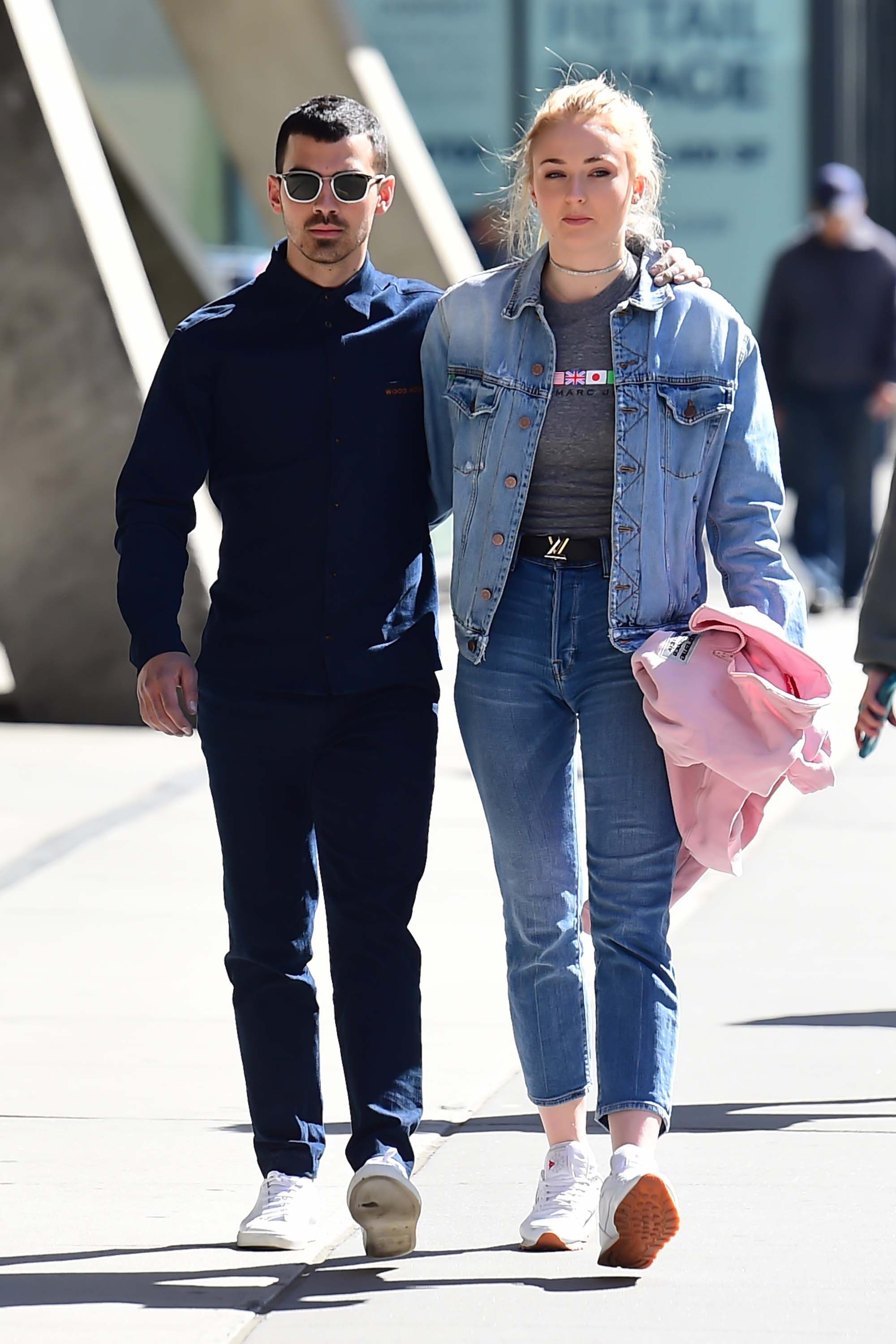 This ceremony will be more traditional.
A source told Entertainment Tonight ahead of the nuptials, "The wedding will be much more traditional than their Vegas ceremony, but will still have their fun flair built in." So expect event to be equal parts classy and fun (which, honestly, sums up the bride pretty well).
Could the bride wear a Louis Vuitton wedding dress?
Turner has kept details about her wedding day wardrobe closely guarded, but it's possible she'll sport a Louis Vuitton gown for the forthcoming ceremony. (For her Vegas nuptials, she opted for a Bevza jumpsuit and Loeffler Randall mules.) The actress is a brand ambassador for the French fashion house and has become friends with Nicolas Ghesquière, the brand's artistic director.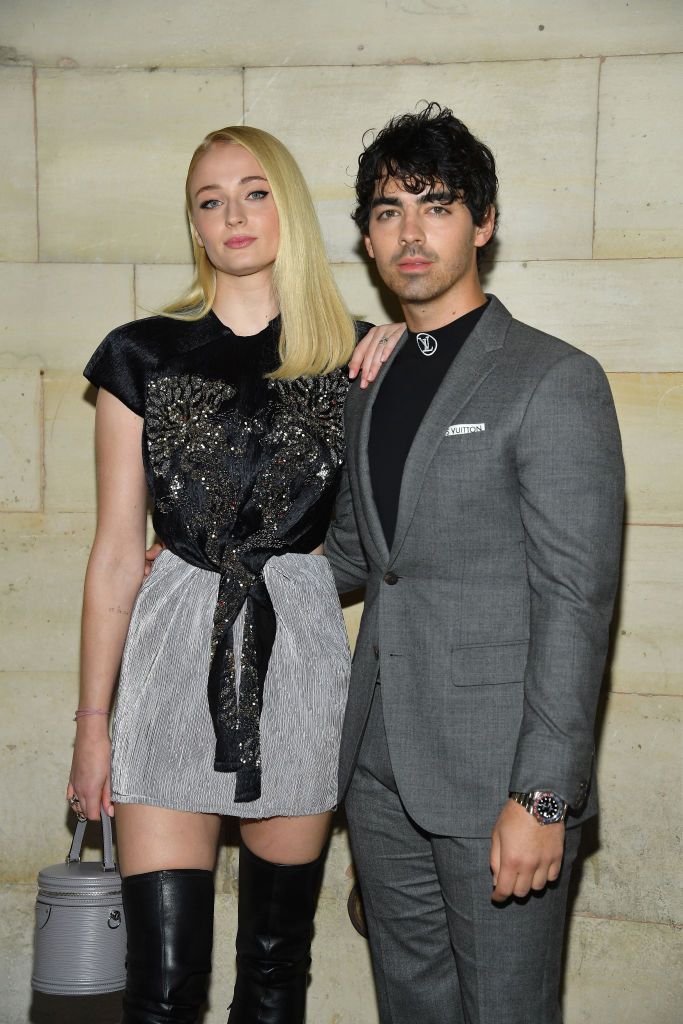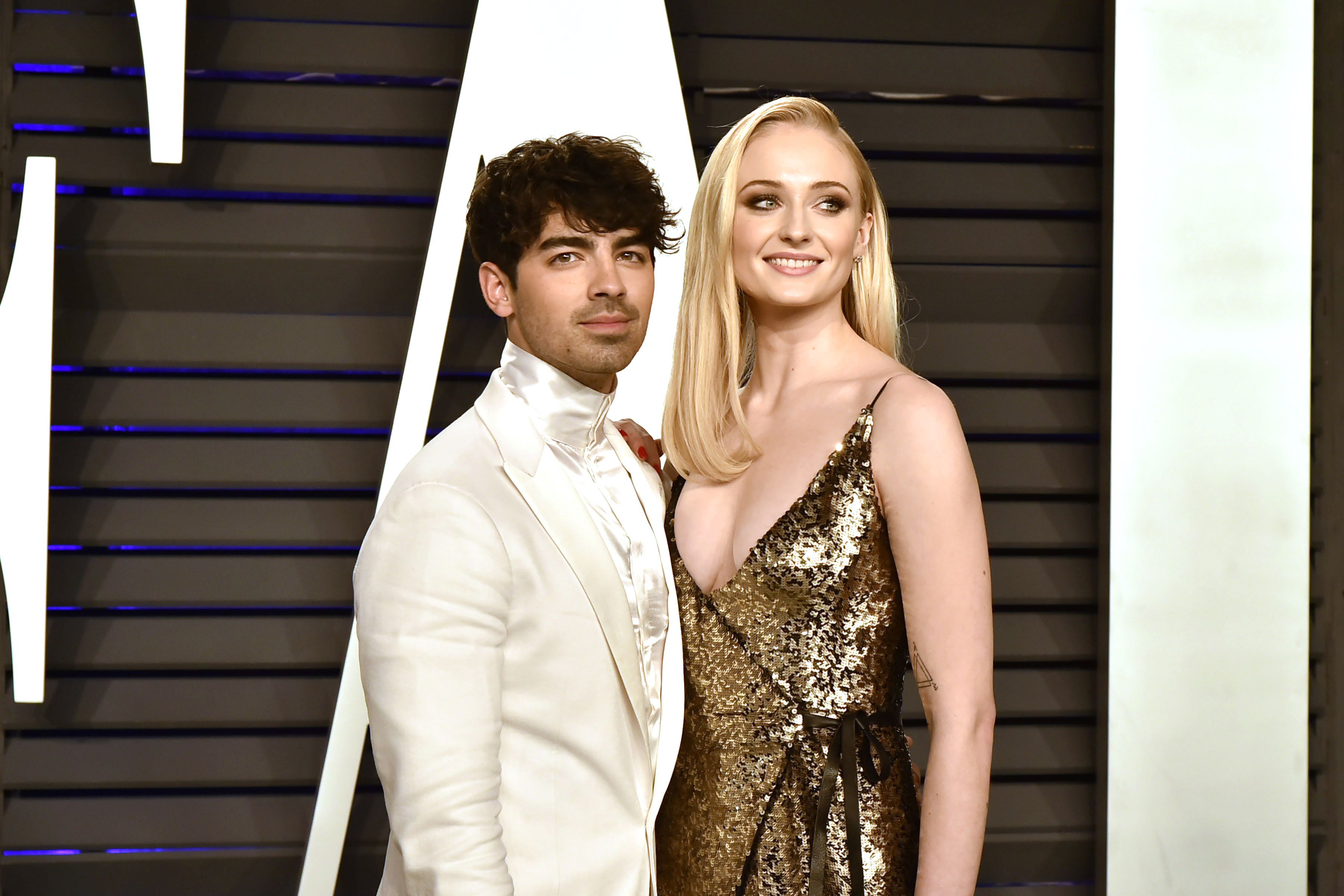 "I love the way he sees women. His clothes are like the characters I gravitate towards: warrior women. They are strong and empowering but also beautifully feminine," Turner said of Ghesquière to BAZAAR UK. She noted that "it's very exciting to be part of that crew" of women who also serve as LV brand ambassadors including Alicia Vikander, Catherine Deneuve, and Michelle Williams.
"I like that he doesn't choose people with that aesthetic that's so popular on social media–the Instagram–model look of huge lips and skinny, long legs," she continued. "He likes women to be a bit different, not your typical perfect Kardashian. I love to go on a red carpet and wear something that makes me feel like someone else. I want to be able to play dress-up."
At her pre-wedding party, Turner was seen wearing a simply elegant white sheath dress by Cushnie with a soft-square neckline.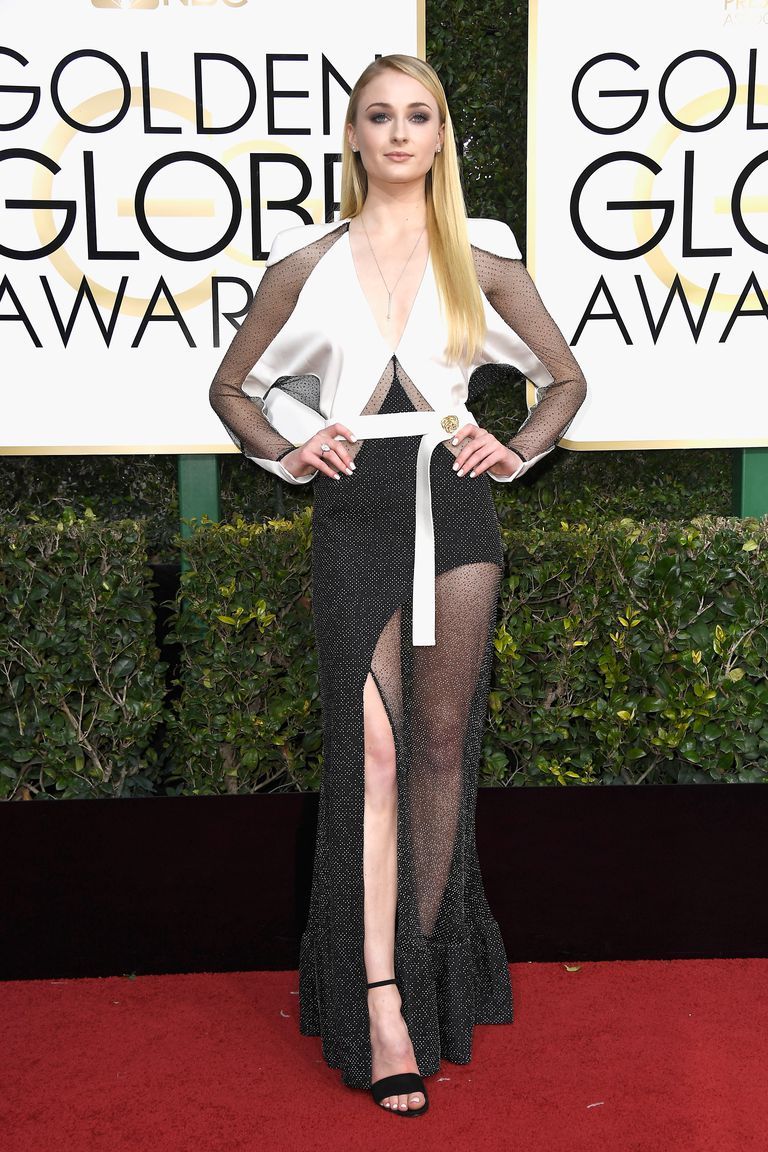 Joe wanted to have a rugby game and a soccer game at the wedding.

Jonas revealed the Turner clan's love for sports during his sit-down at The Late Late Show.
"I thought for the first time, I'd be marrying into a family where I would become a soccer fan, a football fan, find my allegiance for a team," he explained. "Her whole family doesn't like football, they like rugby. Now I have to figure that out, and we're going to have a flag rugby game at the wedding, and a flag football game. So if all the groomsmen show up with black eyes and broken arms, I'll be very proud."
They already tied the knot in a Vegas chapel in May.
After the Billboard Music Awards on May 1 in Las Vegas—the Jonas Brothers's first awards show performance in a decade—the couple said "I do" at the Chapel L'Amour inside A Little White Wedding Chapel, People reports.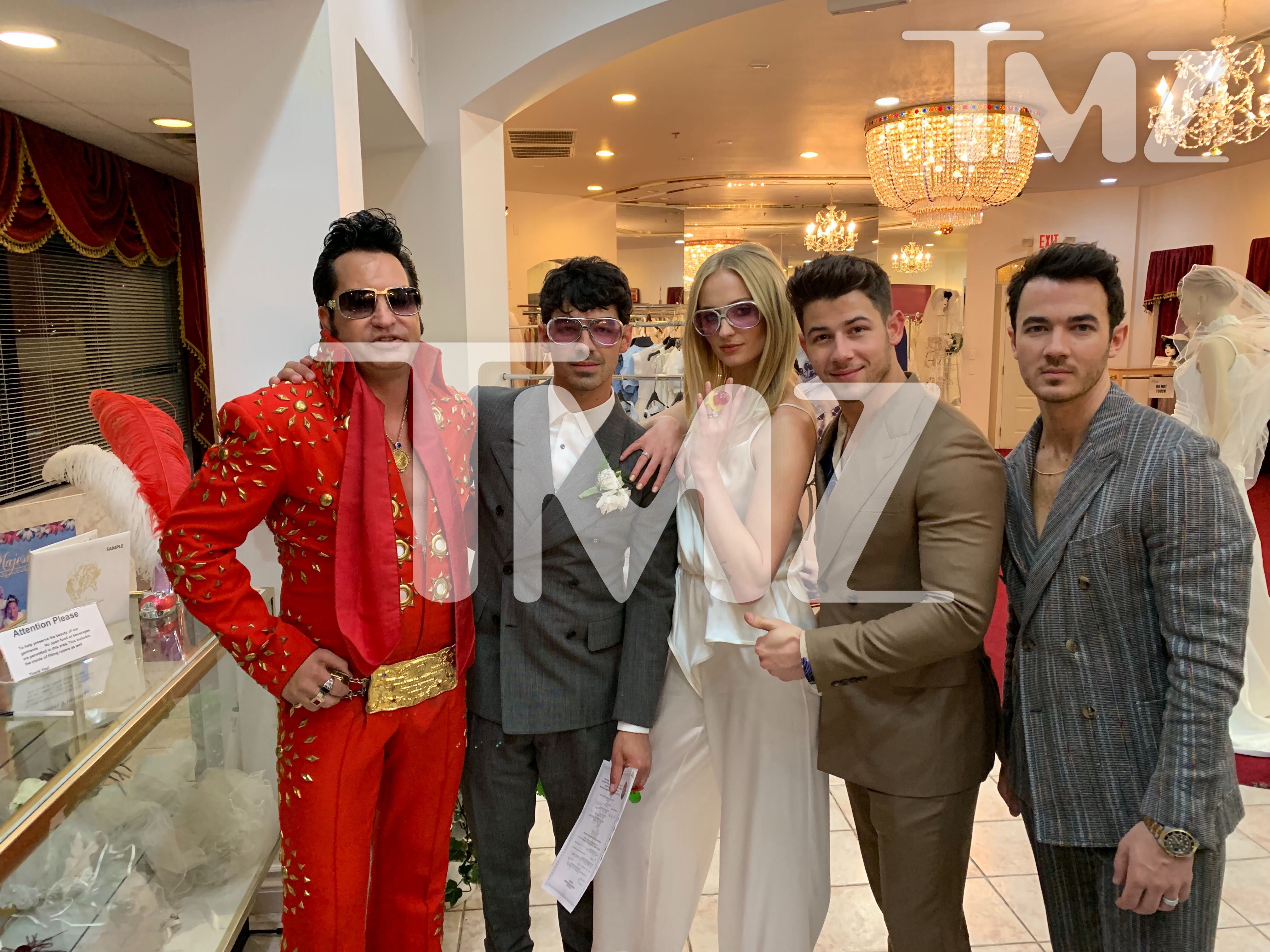 Snippets of the secret ceremony were seen on social media, mostly from Diplo's Instagram. Sophie wore a white Bevza jumpsuit and veil, while Joe wore a gray double-breasted suit. Country stars Dan + Shay sang their song "Speechless" as the bride walked down the aisle. An Elvis impersonator officiated the wedding, and the couple exchanged ring pops as wedding bands.
People reports that they even applied for a marriage license earlier in the day in Clark County, Nevada. A source also confirmed to the outlet that the wedding was legitimate.
https://www.instagram.com/p/Bw85xSAhFHb/
Afterwards, the couple posed on a pink vintage convertible in their matching wedding ring pops and funky sunglasses.
https://www.instagram.com/p/Bw8xAKjFtiJ/
A handful of celebs were present.
According to videos from the ceremony, Joe had his brothers Nick and Kevin by his side. It's unclear whether their wives, Priyanka Chopra and Danielle Jonas, were also present, but they could've been sitting behind them. The Jonas spouses have grown incredibly close and have even called themselves the "J sisters". It's also unknown if the bride and groom's extended families were there to witness the surprising ceremony.
In addition to Diplo and Dan + Shay, E! News also reports that singer Khalid was in attendance.
It's unclear if Turner's best friend and Game of Thrones co-star Maisie Williams was at the wedding. However, she previously teased that she'd be a bridesmaid. When asked if she was bidding for a role, she told Radio Times, "Oh, I've already got it."
https://www.instagram.com/p/Bw85DK_FP3p/
They got married in Vegas for legal purposes.
"We had to do a legal marriage before we did a real big one," Joe told BAZAAR.com. "It was either the courthouse, or our version, and I preferred our version. Friends, Elvis, and Ring Pops."
A source had previously told People that Joe and Sophie "had to get married in the States to make it legal, but the wedding is still in Europe." The outlet pointed out that, according to the U.S. Embassy & Consulates in France, a "religious ceremony does not constitute a legal marriage" for couples who aren't residents of the country, so it's customary for visiting pairs to have legal marriages before tying the knot in France.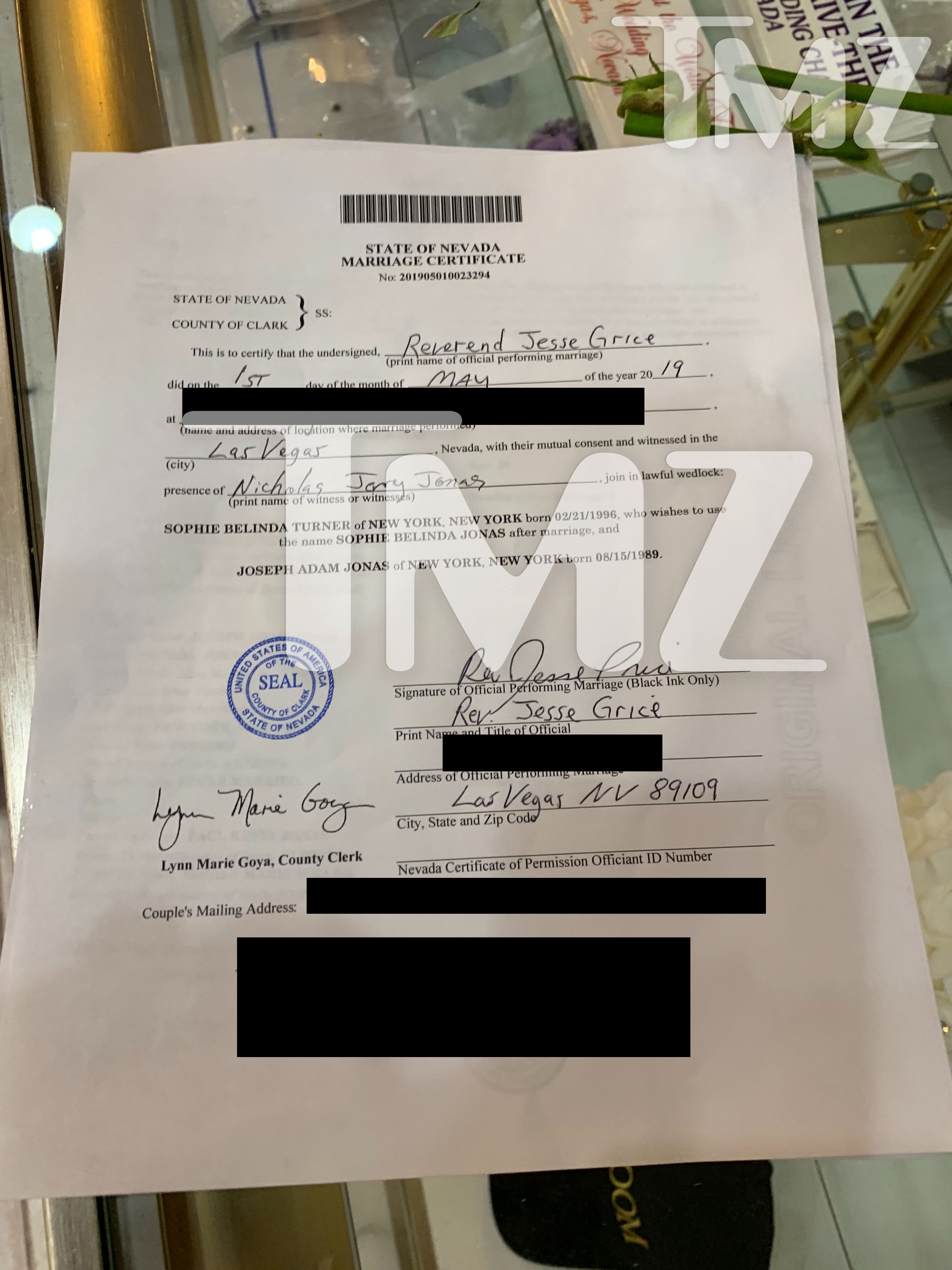 The Vegas ceremony cost less than $700.
E! News reports that the Jonases opted for the Elvis Tribute #2 package at the chapel, which cost $675. The set includes "limo service before 10 P.M., 36 digital photos, a bouquet and boutonniere, a DVD of the ceremony and, of course, an Elvis impersonator to serenade the newlyweds," according to the outlet.
E! adds that the bride's outfit cost more than the ceremony, with her Bevza jumpsuit totaling at $650 and her Loeffler Randall mules costing $395.
Their post-Vegas honeymoon was at a private L.A. venue.
The day after their wedding, Joe and Sophie went to West Hollywood's San Vicente Bungalows, according to Page Six. The members-only club has a no-photos policy, so the newlyweds can enjoy the trip in privacy. The luxe getaway also boasts gardens, terraces, and a pool. Page Six reports that nick Jonas and Priyanka Chopra were also expected to visit Joe and Sophie.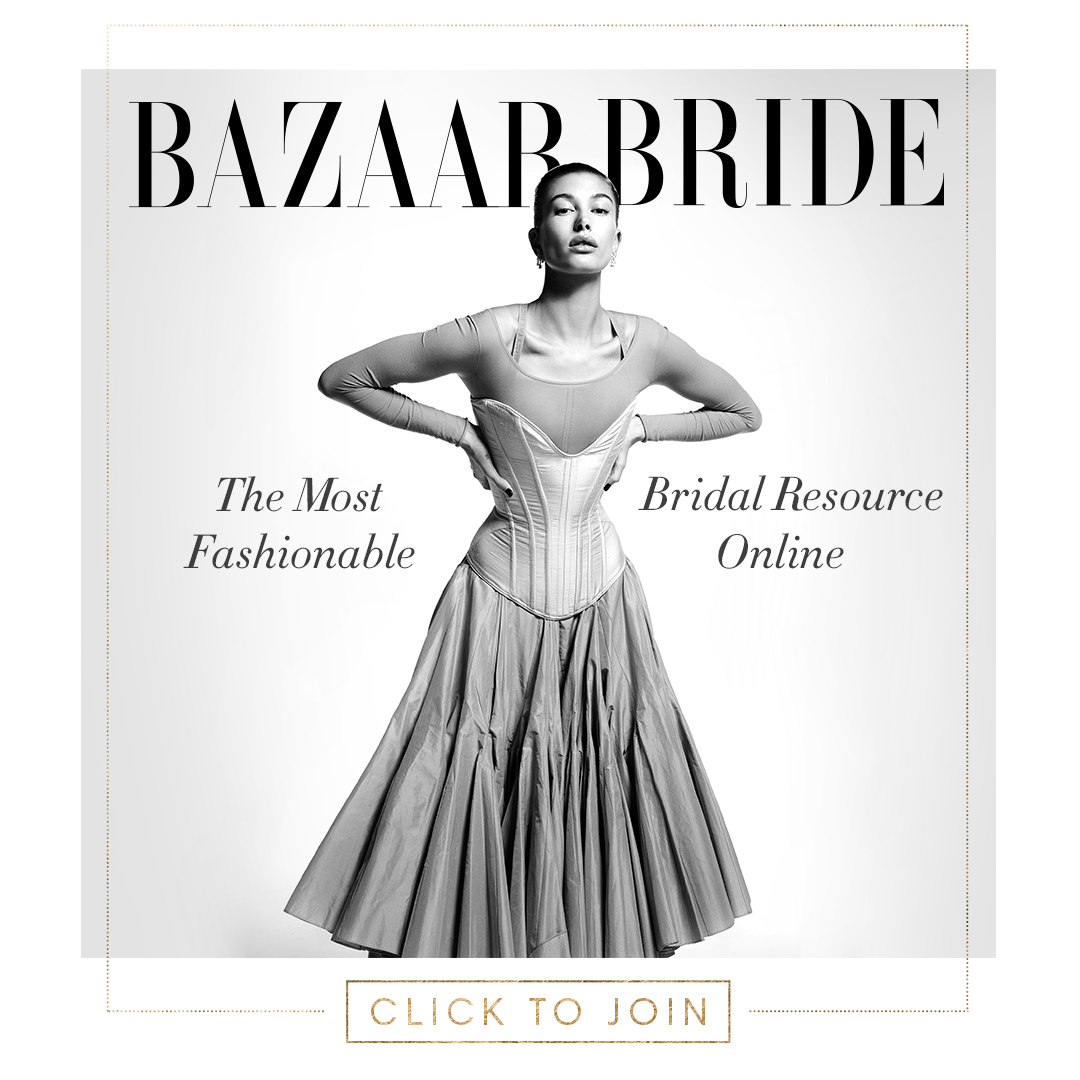 Source: Read Full Article