Raven-Symoné is living in marital bliss since saying "I do" to Miranda Maday in 2020. Despite such, The Cosby Show star says her journey to accepting love from her wife wasn't easy. Per Symoné, she took a break from their relationship before becoming one due to conflicting feelings brought up by falling in love with someone of the opposite race.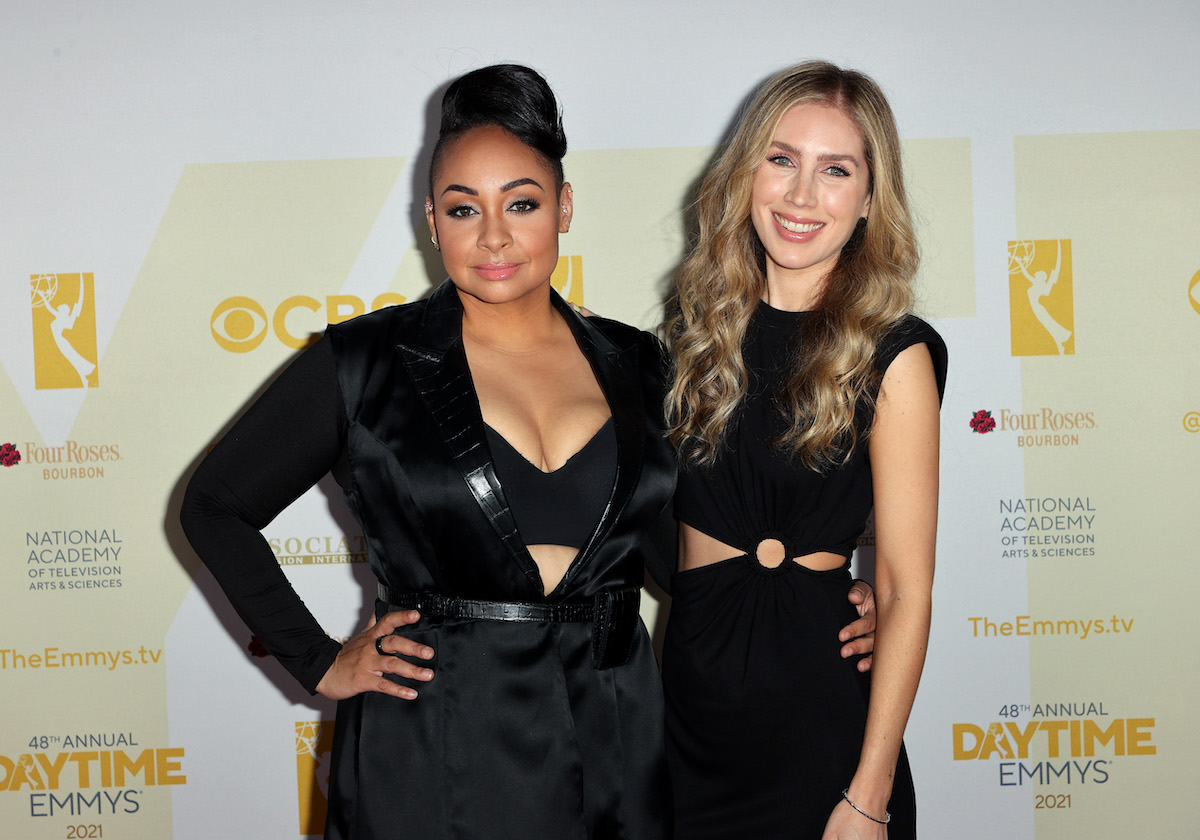 Raven-Symoné admits struggling to commit to her now white wife
The That's So Raven star is happily married to Maday now but she admits she dealt with interpersonal issues in their relationship that she struggled to come to terms with. 
In a joint interview with Noir Online, Symoné says she became fearful of how the Black community would react to her interracial relationship, as reported by The Jasmine Brand.
"It was kind of a self-inflicted, old way of thinking that the black community would be mad that I was dating a white person," sharing she and Maday split because of it. Unfortunately, Maday wasn't aware of what Symoné was battling at the time, sharing she had "no idea" of Symoné's internal fight.
Related: Raven-Symoné Reveals What Helped Her Confront Her Sexuality
"I just caught people staring at me all the time," Symoné continued. "It felt weird but then again, it wasn't really happening."
She credits Mayday with helping her "break the code" and accept the love she's being given. She's since learned to block out the noise, even if it's the noise she's subconsciously creating herself.
"So here I am, married," Symoné says. "I used to really take the bait in the earlier stages of social media when I was first starting. But in regards to my family and how I choose to move forward with my private life, it's nobody's damn business, so I don't really care about your opinion."
The former 'Cosby Show' star previously didn't want to identify as LGBTQ
Symoné is out and proud now but the journey to self-acceptance was long. Though she previously dated model and Empire star AzMarie Livingston, Symone preferred not to be labeled.
She told Oprah Winfrey during a 2014 interview on her Where Are They Now special:
"I don't need language, I don't need a categorizing statement for it, I don't want to be labeled gay. I want to be labeled a human who loves humans. I'm tired of being labeled."
Related: Raven Symoné Said Being a Child Star Gave Her 'Mental Issues'
She admitted to her romance with Livingston at the time, explaining, "I'm in an amazing, happy relationship with my partner, a woman. On the other side, my mother and people in my family, they've taught me to keep my personal life to myself as much as possible, but I am proud to be who I am and what I am," she said. The two split in 2015.
How the Disney star came to terms with her sexuality
Symoné has been acting since she was a child. In fact, she hints at her career being a distraction of sorts from facing her sexuality. Growing up in the spotlight can be tough. She says taking a step away from the industry aided in her growth.
"What it [the hiatus] did was help me with my sexuality, I actually had time to think for myself and no one to tell me differently," she said, as reported by The Jasmine Brand. "It helped me realize that I'm kind of addicted to the industry because of the fact I had been in it for so long. I had to transform that addiction into something that is positive for me because I was getting very toxic to myself and others."
Source: Read Full Article