The former 'Good Morning Britain' presenter says that the 'Keeping Up with the Kardashians' alum's decision to wear the blonde bombshell's iconic gown 'is so creepy and wrong.'
AceShowbiz –Piers Morgan has weighed in on Kim Kardashian's Met Gala look. The TV presenter blasted the "talentless" "Keeping Up with the Kardashians" alum for wearing Marilyn Monroe's iconic dress.
Taking to Twitter on Wednesday, May 4, the 57-year-old broadcaster wrote that the SKIMS founder's decision to channel Marilyn was "so creepy and wrong." He added, "Marilyn will be turning in her grave at this talentless wastrel hijacking & tarnishing her brand."
In a following post, Piers added, "Being lectured by the @guardian about popularity is like being called talentless by Kim Kardashian." He went on saying, "Worry about your own crumbling sales, dwindling finances & increasing irrelevance, you ludicrous bunch of kale-munching, sandal-clad, woke whiny wastrels."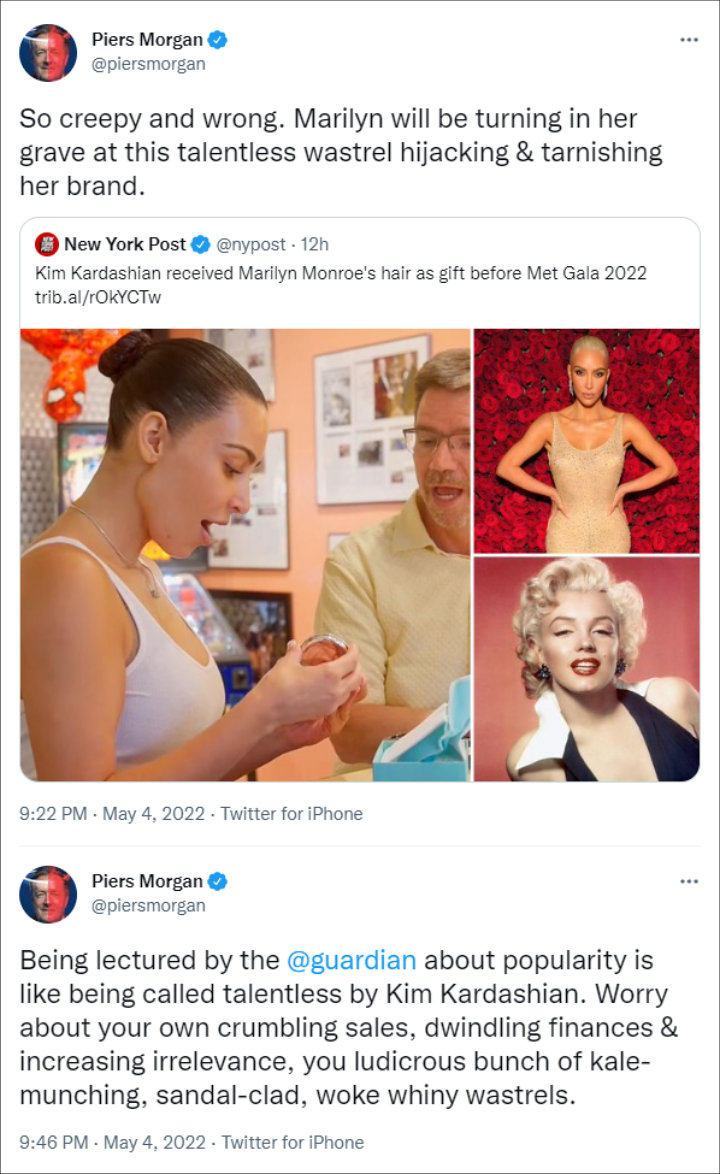 Piers Morgan slammed Kim Kardashian for her 'creepy and wrong' decision to wear Marilyn Monroe's iconic dress at Met Gala.
Piers has had a long-running feud with Kim, which started in 2016 when the television host called out the reality star for her sex tape. In 2019, he called out Kim again, dubbing her a "talentless half-wit" after she was laughed at onstage at the Grammys.
Then in 2020, when Kim was declared a billionaire, Piers brought up the "talentless" jibe again. At the time, he tweeted, "Says the woman who built her whole career off a sex tape," adding a face with rolling eyes emoji.
In March, Piers blasted the "entitled imbeciles" Pete Davidson and Kim, during the ongoing Russia-Ukraine war. The 56-year-old former "Good Morning Britain" presenter criticized "The Kardashians" star, her ex-husband Kanye West and boyfriend Pete for grabbing headlines amid the war. "At the same time as these three supremely rich, famous, entitled imbeciles are trading stupid insults, Ukraine is exploding with horrifying scenes of murder and mayhem," he wrote
Piers wasn't the only person to criticize Kim for her sartorial decision for the annual event. Lili Reinhart also subtly called out Kim after the latter admitted to drastically cutting her diet to fit into her Met Gala dress.
Turning to Instagram Story, the "Riverdale" actress urged people to "stop supporting these stupid, harmful celebrities whose entire image revolves around their bodies." She wrote, "To walk on a red carpet and do an interview where you say how starving you are … because you haven't eaten carbs in the last month… all to fit in a f**king dress? So wrong. So f**ked on 100s of levels."
"To openly admit to starving yourself for the sake of the Met Gala. When you know very well that millions of young men and women are looking up to you and listening to your every word," Lili added. "The ignorance is other-worldly disgusting."
"I am not generally an angry person but I swear to God, the toxicity of this industry sometimes really gets to me," Lili elaborated further. She then concluded her post, "And I have to do my little Instagram-story rants to release my rage."
Source: Read Full Article