Michelle Obama's Becoming book tour continues and she shows no signs slowing down on her fashion/beauty game. For the annual Essence Festival in New Orleans, the former First Lady rocked a sparkly belted jumpsuit that I need Fashion Nova to duplicate ASAP and her natural curls, which she lightened just in time for the summer. As the youths on Twitter would say, can she and her defined curls just run me over with a Secret Service SUV already??
At the event, Michelle spoke with the Gayle King about why the "immediate clapback" is "just for your own selfish purpose right there in the moment and rarely does it solve anything" and her "when they go low, we go high" motto. After her Q&A, Michelle shared some photos of the event on her Instagram and, needless to say, her followers were just as obsessed with what she said as her new ombré hairdo. One admirer wrote, "The hair!!!!!! I love everything you stand for and I also love your hair!!!," which amassed over 1,400 Likes. Others wrote, "We stan a flotus with natural curls" and "These natural kinks and coils blessing my feed are all I need to get by!!!!!!!!" Mmhmm, same!
Please, consider this as all the hair inspo you need for summer 2k19: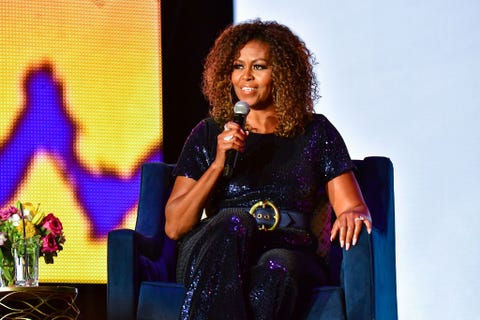 This isn't the first time Michelle's stunned everyone with her gorgeous curls. Back in November, she and her bouncy spirals graced the cover of Essence, although they were a darker shade of brown back then.
[email protected] is a gift that keeps on giving! In the Dec/Jan issue of ESSENCE, she's talking about her career and motherhood… She's even giving us tips on finding a "Barack", "Take seriously the things you see while you're dating." #EssenceEST1970 https://t.co/fETNCvMwJs pic.twitter.com/3CEXTfl7y1
Her new shoulder-length style was achieved with the help of stylist Yene Damtew, and fingers crossed, she works it all summer long and drops a "Get Ready With Me" sometime soon. I need to know what leave-in she uses!
Source: Read Full Article