Kim Kardashian and Meghan Markle are two of the most famous women in the world at the moment, and if you've ever wondered what they think of each other, well, I have half of an answer for you!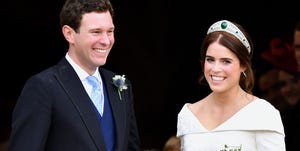 Kim was recently in Armenia, and in addition to wearing a bodycon dress while getting baptized with her children on the trip, she also spoke at the Armenia Technology Convention. Super random, I know. Anyways, according to Daily Mail, while she was there a local reporter asked Kim what she thought of Prince Harry and Meghan Markle, and it looks like Kim is a fan of the royal couple. She said:
Obviously, Kim knows what it's like being in the spotlight, so she can probably relate to some of what Meghan is going through and all of the negative press that she gets. That said, we still have no idea what Meg and Harry think of Kim and her family. I highly doubt that they watch Keeping Up With the Kardashians (that would be wild), but I would be ~very~ interested to hear what the British royal fam thinks of the closest thing that America currently has to a royal family!
Source: Read Full Article