Sunday's Keeping Up With the Kardashians was, and I can't stress this enough, a complete and utter sh*tshow full of insane drama. Like, at one point, Khloé Kardashian casually told everyone she was throwing up blood and was blind in one eye. Girl had to have an MRI. And that was before dealing with Tristan's cheating scandal. Can someone please give Kris Jenner a lifetime achievement award for Most Drama in a Single Hour of Television?
Anyway, one of the most major things that part one of KUWTK's two-part finale revealed was that Khloé had a pregnancy scare just weeks before finding out that Tristan Thompson cheated on her with Jordyn Woods. She didn't end up being pregnant, but…!!!!!!!
"I'm happy that I'm not pregnant because I didn't want to be, but with that being said, now I'm like, 'Why the f*ck am I nauseous all the time?'" she said in the episode. "I almost wish I was, so I could say that's why I'm nauseous."
https://www.instagram.com/p/BzEcch7Balv/
The fam takes some pregnancy tests
A post shared by Khloe Kardashian Fanpage (@khloekvideo) on
To make this super clear, this implies that things were, um, going well between Tristan and Khloé before he cheated. Like…clearly the spark was alive! And while Khloé's nausea ended up being migraine/blood-vomit-related and not baby-related, it's pretty shocking that she thought she might be having Tristan's child just weeks (or maybe even days…KUWTK didn't use date stamps in this episode!) before he was unfaithful.
It's like, Just when you think nothing can shock you, Kris pulls new drama out of thin air.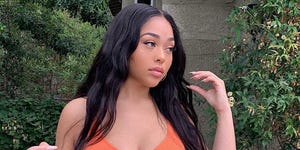 Source: Read Full Article