Jeffree Star is coming for Kylie Jenner… AGAIN!
As we reported, on Friday on Instagram, the Life of Kylie star posted a sexy clip where she got NAKED to promote the second drop of her Kylie Skin line — comprised of lotions and scrubs.
However, when IG beauty account @trendmood1 published a sneak peek of the 21-year-old's new products, the controversial YouTuber could not help but be shady.
In response to the post, the Jeffree Star Cosmetics founder wrote:
"Hahahahahha."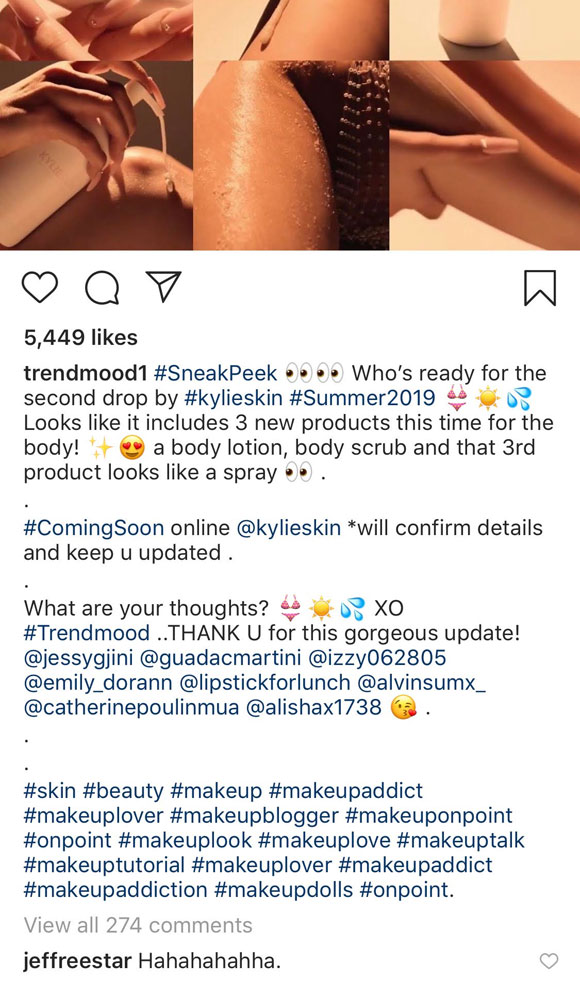 After the internet personality's dig went viral, one social media user thought he was "tired of drama" writing:
"Mhh.. Wasn't you tired of drama? Are you the same who said you will not involve in any scandal coming? You can't keep with your own words… Be consistent and practice what you speak"
(Amid James Charles' public feud with Tati Westbrook and Star, Jeffree uploaded a video in May saying he was completely done with the "tea, and the drama.")
However, the 33-year-old responded to the critic saying it is his "job" to warn beauty fans of Kylie's "money grab" products, explaining:
"You should probably have a seat, because as a human being on this planet I'm allowed to comment on anyone's releases, it's also my job… Her first skin care drop was a complete joke and was basically a money grab so relax before trying to come for me. I'd rather save millions of people money then letting them be ripped off by a celebrity."
In June, Jeffree and Shane Dawson completely RIPPED Kylie's first skincare drop as "basic." Specifically, Star said her foaming face wash was "okay," the makeup remover wipes were "dry," and the eye cream did not make his under eye area "feel great."
Star also threw shade at Miz Jenner in the description box of his video review:
"Today Shane Dawson and I are trying Kylie Jenner's new skincare line, Kylie Skin! This has been such a highly requested review, but it has been sold out and we all know little ole Jeffree ain't on the PR list! But Shane ordered it… And it's HERE! Watch our unfiltered and honest thoughts and find out the REAL truth about Kylie Skin."
To add insult to injury, back in December 2017, Jeffree SLAMMED Kylie's $360 16-piece makeup brush set.
Yikes!!!
Source: Read Full Article