Millions of fans and thousands of athletes from around the globe had to wait an extra year for the Tokyo 2020 Olympics to take place. Now, all eyes are on the Summer Games and the representatives of numerous countries competing for medals. One of those athletes who was set to compete on the world stage is gymnast Simone Biles. Ever since winning her first Olympic medals in Rio, Biles has dominated her sport but withdrew from several Tokyo events to focus on her mental well-being. She did, however, return for the balance beam final and won the Bronze medal, further cementing her legacy as the GOAT.
Now, everyone wants to learn more about the gymnast as well as her boyfriend, Jonathan Owens, who has been supporting her from the states. Here's more on the pair including who's older and if their zodiac signs show that they're compatible.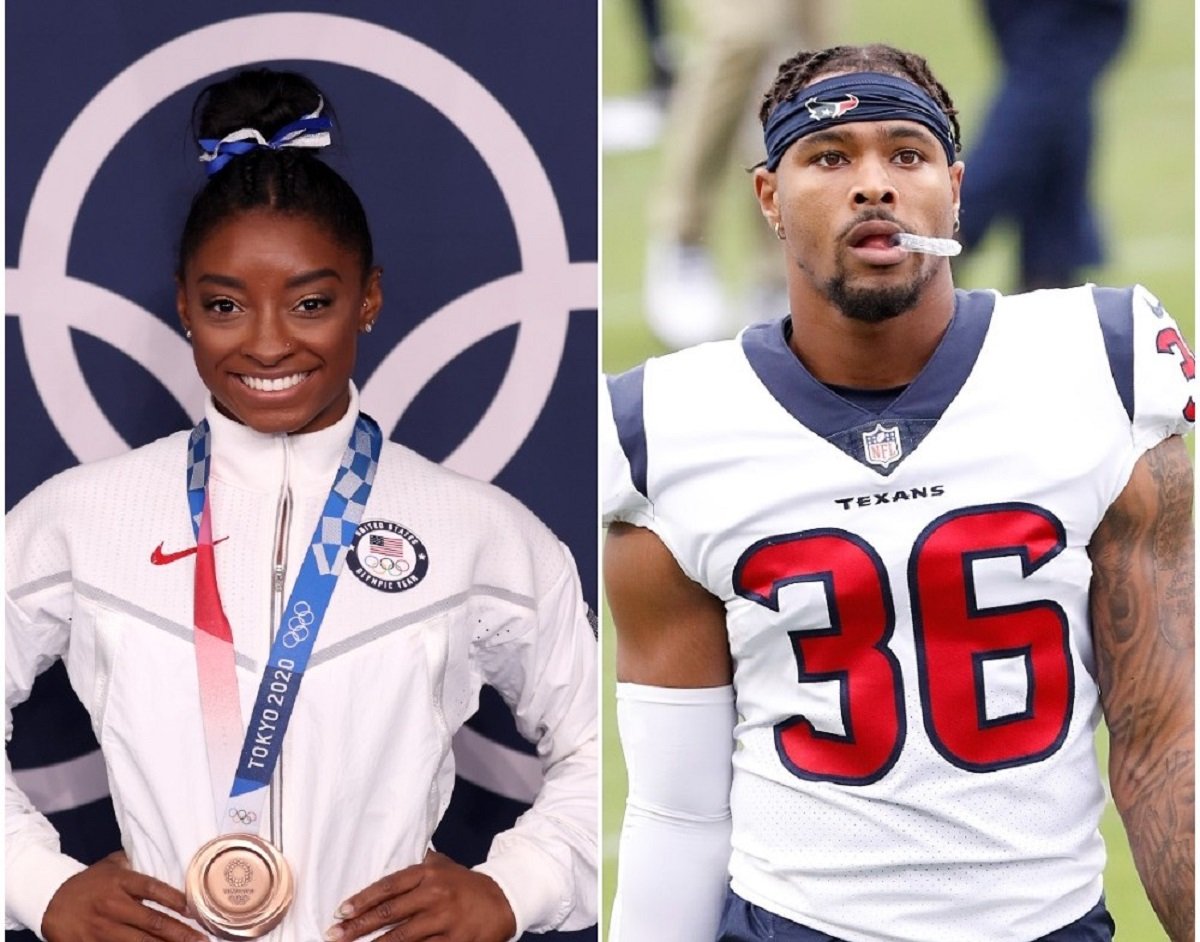 How long Biles and Owens have been dating
Biles and the Houston Texans safety first connected on the dating app Raya. The athletes met up and got together in March 2020, which was the same time lockdowns were taking place all over the U.S. due to the coronavirus (COVID-19) pandemic. Owens spoke about that during an interview with Texas Monthly.
"We ended up hanging out right before the pandemic," he recalled. "It was one of the few times in her life where everything was just shut off and she couldn't do anything. So we used it to get to know each other—really get to know each other. It created our bond and made it stronger. Now I'm so thankful."
The pair became Instagram official in August 2020 and these days appear on each other's social media posts frequently.
Who's older and what are their zodiac signs?
Owens was born in St. Louis Missouri, on July 22, 1995, making him a Cancer. His girlfriend is one year and seven months younger as Biles was born on March 14, 1997. Her zodiac sign is Pisces.
So are these two signs compatible? Many astrology publications say that Cancer and Pisces are a great match with soulmate potential. As Love to Know notes "a Pisces man and a Cancer woman are emotionally, psychically, spiritually, and intimately attuned to one another."
Owens reacts to Biles winning the bronze medal in Tokyo
After Biles withdrew from a number of the events, Owens tweeted out his love and support for her.
"Imma ride with you through whatever baby," the Houston Texans safety wrote on Instagram. "Your strength and courage is unmatched and you inspire me more and more every day SB. You always gone be my champ baby and don't you ever forget that. I love you so much and I can't wait till you come home and I get to see that beautiful smile again. You know I'm always here for you baby."
And after watching her compete and win the bronze, he again took to social media with his praise.
"Words can't explain how proud I am of you right now!!" Owens wrote alongside a photo of a smiling Biles at the 2020 Olympics on his Instagram Story. He added heart and clapping-hands emojis.
Source: Read Full Article