During his appearance on 'The Bootleg Kev' podcast, the former Cleveland Cavaliers player claims his ex-teammate 'ruined basketball' by joining the Miami Heat.
AceShowbiz –Iman Shumpert has come under fire for trash-talking LeBron James. After saying his ex-teammate "ruined basketball" by joining the Miami Heat, the winner of "Dancing with the Stars" season 30 was dragged by LeBron's fans on social media.
The former Cleveland Cavaliers player made the comment during his appearance on "The Bootleg Kev" podcast. When asked if Kevin Durant ruined basketball for moving to the Golden State Warriors, he said, "It wasn't KD. It was LeBron first going to Miami. LeBron knows he ruined basketball."
"He thought he was making it better. I get it. Me personally, I love the NBA for the loyalty that I thought was there," the husband of Teyana Taylor added. "He basically knocked the fourth wall down."
Many have since slammed Iman for his remark. "@imanshumpert Bron was the first person to post you won Dancing With the Star n***a was soooo happy for you," one Instagram user said. "First interview you do you say Bron ruined basketball."
"For the record KD joined the team who whooped his a** and literally the best team on the planet," the individual further explained. "Bron went to weak a** Miami and created a team big different ugly a** boy!"
Another person argued, "Yeah he was wrong !! Like Lebron showed him mad love and pulls this B.S????" Someone else then chimed in, "He wouldn't be a nba champ without Lebron so he needs to humble himself… not even playing anymore but worry about someone in his 19th season smdh."
Some others, however, believed that Iman was "not saying anything against" LeBron. One user opined, "If you don't understand basketball you won't truly understand where he's coming from. He's not wrong at all but he should've been extremely clear on what he meant." A different user noted, "He not wrong… basketball has changed and it definitely started with LEBRON… and honestly I don't think his opinion is malicious as ppl trynna make it seem."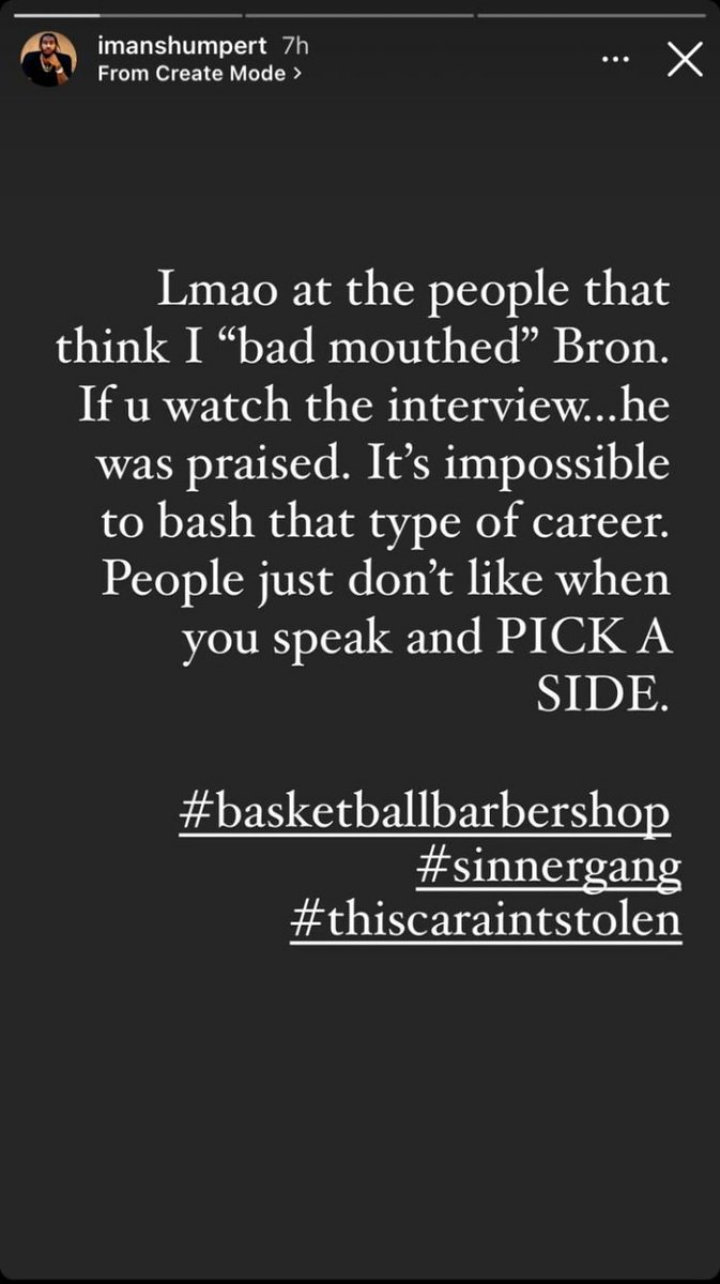 Iman Shumpert denied 'bad mouthed' LeBron James.
Iman himself has denied that he "bad mouthed" the LeBron, who was his teammate for multiple seasons on the Cleveland Cavaliers. "Lmao at the people that think I 'bad mouthed' Bron. If u watch the interview…he was praised. It's impossible to bash that type of career. People just don't like when you speak and PICK A SIDE," he penned on Instagram Story.
Source: Read Full Article